'Tis the season for everyone to do their best to convince Santa that they've been on their best behavior all year.
But Santa can't be fooled. He has a list, he's checked it twice, and he knows exactly which TV characters were naughty or nice.
2020 was a tough year for all of us.
But for every character that deserves a nice Christmas gift is a character who has been so bad that all they should get is a lump of coal under the tree.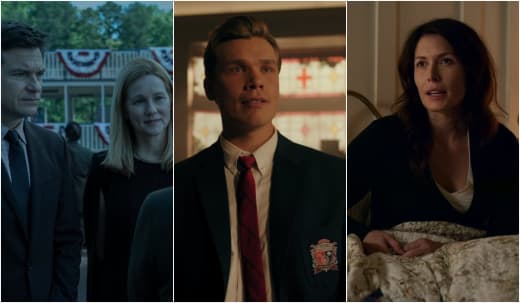 Murder, corruption, kidnapping, jealousy, and even hero complexes have landed all of these characters on Santa's naughty list!
You Season 2 premiered towards the backend of 2019, but Joe and Love were so bad that they truly deserve to be on every naughty list until the end of time.
As Joe's body count continued to rise, Love was revealed to be equally as crazy. And the fact that these two are about to become parents doesn't excuse their stalker-ish and murder-ish behavior.
Even with Love by his side and a baby on the way, Joe has already found his next obsession for You Season 3: the neighbor next door.
You can blame most of the crime in Gotham City on the one and only Alice.
She's a cold-blooded killer who rarely shows any remorse on Batwoman Season 1.
Not even her family is spared from her wrath and paranoia. She has killed her step-mom and the Commander's wife, Catherine, double-crossed her "brother" Mouse by poisoning him, and hatched an elaborate plan to kill her very own sister Batwoman/Kate Kane.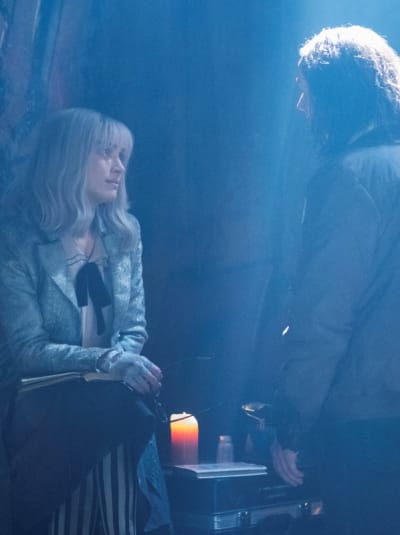 Charmaine was insufferable on Virgin River Season 2. She let her insecurities get the best of her, which resulted in behaviors fueled by jealousy.
She was rude to Mel, who went out of her way to help her during her high-risk pregnancy and constantly made Jack feel guilty for wanting to live his life on his own terms, making it hard to sympathize with her.
And she couldn't take no for an answer. There are theories that she's responsible for shooting Jack, and if that's true, she deserves more than coal!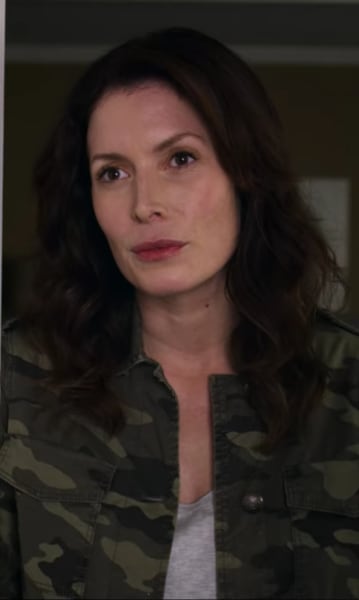 Teddy on Grey's Anatomy Season 17 deserves some kudos for being on the frontline treating COVID patients, so maybe Santa will go easy on her.
However, she certainly earned herself a place on the naughty list for the naughty, sexy times she had with her ex on her wedding day.
And sadly for her, thanks to a butt dial, she broadcasted it so that Owen, his OR, and the entire North Pole could hear it.
Chastain has never seen villains quite like Barrett Cain and Logan Kim on The Resident Season 3, and we're talking about a staff that has dealt with Lane Hunter!
Cain has been driven by his ego for much of the season and always prioritized himself, which is why he kept quiet about the superbug and caused innocent patients to fall ill.
Logan Kim co-conspired with Cain to get Conrad booted, had no respect for any of the employees and only saw dollar bills.
And when it came down to it, he turned his back on Cain to save himself and his reputation.
The show may be titled "good girls," but the only thing Beth, Annie, and Ruby are good at is being bad to the bone.
They've had so many chances to bow out of a life of crime, but instead, they justify their actions by convincing themselves they are doing it all to support their family.
Beth spent so much of her energy hiring a hitman to kill Rio on Good Girls Season 3, but she failed to realize that they've become just as bad as Rio, who also takes a spot on the naughty list for killing Lucy (and possibly Boomer).
The only difference between Rio and the girls is that he owns his actions.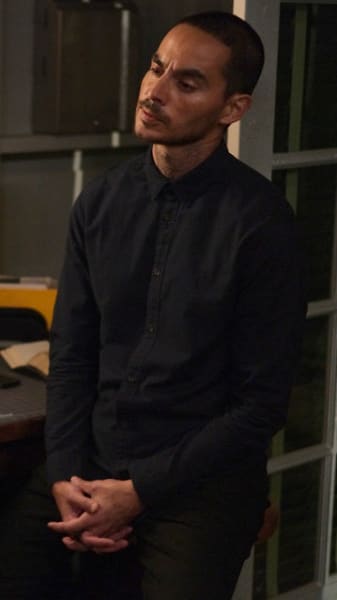 You'll never see Hiram Lodge's name on a "good list." Ever.
He continues to manipulate and sabotage his daughter at every chance he gets. At this point, it's petty.
He also broke out of jail by making his wife seem guilty of murder and weaseled his way into becoming Mayor of Riverdale so he could assert his power over the residents.
However, there are some other Riverdale Season 4 residents whose actions have also landed them on the naughty list!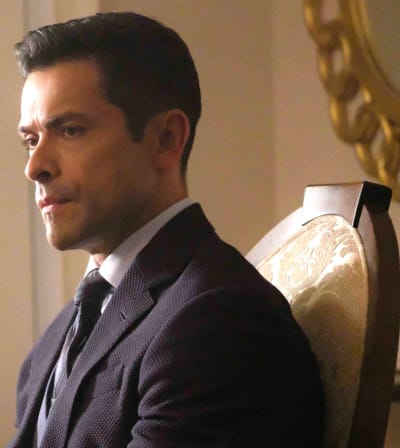 Archie snagged a spot on the list for letting his hero complex get the best of him.
He so desperately wants to be in amongst the action, even if it puts everyone he loves in danger.
And who can forget this season's true villains… the Stonewall Prep Literary Club of Donna Sweett, Joan Berkeley, Bret Weston Wallis, & Jonathan.
These four made it their mission to make Jughead's life a living hell and dragged Betty Cooper down with them.
Follow CRAVEYOUTV on socials
Here's When 'The Santa Clauses 2' Will Return to Bring You Holiday Cheer
Ho ho ho—it's a Christmas miracle.
Tim Allen is gearing up to jump back into the Santa suit as Disney+ announced the premiere date for the second season of The Santa Clauses.
The Santa Clauses 2 will hit the streaming service on Wednesday, Nov. 8, airing its first two episodes of the six-episode season.
Episodes will then air weekly leading up to the Dec. 6 finale!
While there was some hesitation from fans of the original film franchise when it came to the TV spinoff, the first season of the series was positively received with viewers wanting more Christmas magic from Scott Calvin and his jolly family.
As for what's to be expected from season 2, Allen's man in the red suit will face off against a new foe, Magnus Antas, known also as the Mad Santa, played by Modern Family's Eric Stonestreet.
Per the synopsis, Mad Santa reigned during the 14th century and is now trying to reclaim his spot at the North Pole, which we know the Calvins will staunchly protect against any danger, disaster, or threats.
Stonestreet isn't the only heavy-hitter joining the series, however, as comedian Gabriel Iglesias will star as Kris "Kringle" Moreno, the owner and operator of a Christmas-themed amusement park called Santaland," while 30 Rock's Tracy Morgan will bring his comedic chops to the Easter Bunny role. And lastly, Marta Kessler will appear as a "take-no-prisoners gnome" known as Olga, who is also Magnus' sidekick.
So much for that retirement Calvin dreamt up in season 1, right?
In addition to all the new drama, Calvin will also be training his son, Cal, played by Austin Kane, who is set to take over the family business, though, personally, we're still on Team Sandra (Elizabeth Allen-Dick).
Also returning in their series regular roles are Elizabeth Mitchell as Carol aka Mrs. Clause and Devin Bright as Noel, while Matilda Lawler, Santa's chief of staff and Noel's love Betty, will reappear as a recurring guest star.
Liam Kyle as Gary, Isabella Bennett as Edie, Sasha Knight as Crouton, Ruby Jay as Riley, Mia Lynn Bangunan as Pontoon, and Laura San Giacomo as La Befana, the Christmas Witch will also grace the screen.
If you missed the first season of the series, or simply want to catch up, you can check out all of our coverage here!
Hallmark Gets Into the Holiday Spirit With 'Countdown to Christmas' Lineup
Will There Be a Season 4 of 'Only Murders in the Building'?
With just a few episodes left in the third season of Only Murders in the Building and the action ramping up, fans are wondering whether we're about to reach the end of the road with Mabel (Selena Gomez), Charles (Steve Martin) and Oliver (Martin Short), the dynamic murder-mystery-solving-podcasting trio.
It would be a shame to wrap up a series with a cast that has such a genuine bond and chemistry, however, one has to wonder how many murders three people can endure without it taking a toll on their mental health.
This season alone, it seems like they're over death taking such a strong hold over their lives, but then again, getting to solve the unsolved mysteries and helping those wrongly incarcerated get out of prison is important work.
As for writing, Hulu has not given word on whether it will renew or cancel Only Murders in the Building. This means Only Murders in the Building Season 4 is not guaranteed, and it can go either way, however, it does have plenty working in its favor. Each season, there's a better and more star-studded cast, leaving fans wondering how the series can top itself.
There's also plenty of buzz and interest in the show, along with rave reviews, including Emmy wins and nominations. The writers continue finding new and fresh ways to expand the storyline, with season 3 roping in potential suspects outside of the walls of the Arconia (though the murder does still happen there) through Oliver's Broadway play.
There are so many reasons for Hulu to give the series a green light, however, we may have to wait a smidge longer as it's impossible currently due to the ongoing WGA and SAG-AFTRA strike. The strikes have halted production on most shows, and that extends to any talks of renewals.
Until an agreement is reached between the union and the studios, we likely won't get any information about the show's fate, unless there was an agreement for a fourth season in place prior to the strikes.
If there are any developments, we'll update this post quickly and accordingly.
Hallmark Gets Into the Holiday Spirit With 'Countdown to Christmas' Lineup
Move over, spooky season—it's beginning to look a lot like Christmas at Hallmark.
The network is starting the Christmas season in October, unveiling its 40-movie holiday lineup on Tuesday, Sept. 19.
Fans will be thrilled to know that 31 of the movies will air on Hallmark Channel's "Countdown to Christmas" schedule and nine will be available on Hallmark Movies & Mysteries' "Miracles of Christmas."
The beloved TV movie event that fans look forward to each year will kickoff on Oct. 20—yep, while most networks are still airing all of their Halloween content.
The streaming service, Hallmark Movies Now, will also offer early access by a week to two upcoming premieres, along with other perks like two original films available only for streaming—An Ice Palace Romance and Rescuing Christmas—along with extended versions of two 2022 original fan-favorites, A Holiday Spectacular and Three Wise Men and a Baby.
There's plenty of familiar faces returning to the network, including Tyler Hynes, Jonathan Bennett, Brennan Elliott, Dan Jeannotte and Bethany Joy Lenz, along with some new exciting faces making their debut like Virgin River's Mark Ghanimé, Phylicia Rashad, and Bryan Greenberg.
The full lineup is below, so mark your calendars and let the Christmas vibes: