Chemistry is that "thing" between two characters that is so electric, it cannot be ignored, nor can it be forced or faked. You either have it or you don't. But when you do, it's undeniable; a spark between two souls that connects and binds them in a way that viewers just can't shake.
When it's done right on a TV screen between two professional actors, it has the ability to make you forget that you're watching and rooting for a fictional couple.
Chemistry is what drives character development—it sets forth motive, delivers iconic moments and unforgettable lines, and keeps you hooked and coming back for more.
The best type of chemistry is the one that isn't forced — it's natural and effortless and oftentimes, translates off-screen; it can happen between friends that aren't aware of their feelings for each other, a couple that's about to embark on a romantic relationship, lovers who, despite the obvious chemistry, can't seem to make it work, or even enemies turned lovers.
We've narrowed it down to characters with undeniable chemistry that could set off fireworks like it's the 4th of July.
Rio and Beth – Good Girls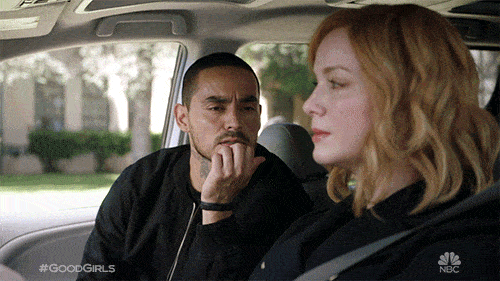 Mick and Jared – Manifest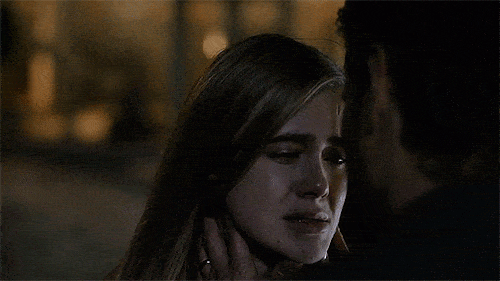 Arman and Thony – The Cleaning Lady
There's not much Arman wouldn't do for Thony—and Thony has risked her life for him plenty of times. As much as they try, they simply can't shake each other, nor can they deny the evident feelings that have formed between them through sheer circumstance. Now that they've got the upper hand, there's no telling how their magnetic relationship will unfold.
Midge and Lenny – The Marvelous Mrs. Maisel
Not every epic love story has to have a happy ending. Midge and Lenny's sure doesn't, but they made a profound impact on each other. Their professional relationship crossed boundaries once, as far as we know, but it was an epic night that was not soon forgotten. Lenny was one of the only successful male comedians who believed in Midge and recognized her talents beyond her good looks; he saw her for the exceptional woman that she was. And while it was never meant to be long-term, it was magical for what it was.
Belly and Conrad – The Summer I Turned Pretty
Ah, young love. Belly and Conrad have a complicated dynamic largely due to hormones and teen angst, but there's no denying their attraction to each other that sometimes veers into forbidden love territory. Even when they fight, it's intense because they care so much about each other. No one is surprised when they finally give into those feelings as they're often thought to be soulmates!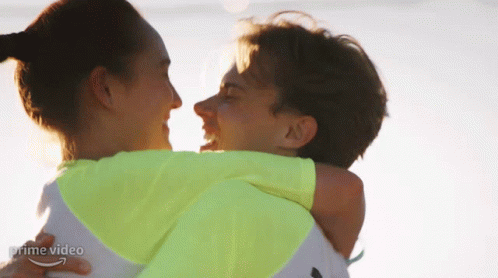 Ruzek and Burgess – Chicago PD
The on-again-off-again couple have endured their fair share of trauma, but they've stuck with each other through it all. There's so much love between them, even if the timing has been wrong on occasion, and no matter how much they fight it, they always find themselves coming back to each other and the little family they formed with Makayla. It's scary to admit how much you love someone sometimes, but it's even scarier to deny yourself that love, a fact Burzek learned with time.
Wyatt and Lucy – Timeless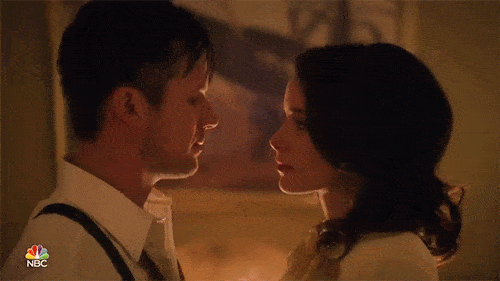 Beth and Randall – This Is Us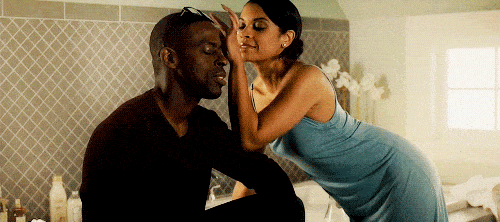 Janine and Gregory – Abbott Elementary
Abbott's best teachers have stayed in the "will they or won't they" phase for quite some time now—despite a kiss that was everything—but it's for the best as they both need time to figure out themselves. That doesn't mean that the chemistry isn't there though—we see all those longing stolen glances and heartfelt realizations—they're just too scared to ruin the foundational friendship when they aren't completely ready. But when it finally happens, the wait will be worth it.
Nancy and Ace – Nancy Drew
Some fans have shipped Nancy and Ace since the beginning, but it's taken the characters quite some time to figure out (and admit) that they have feelings for each other. And the moment they did, a curse was placed on them by a vengeful ancestor of Nancy's, which has only intensified their desire to be together. They are determined to find a way to let their love flourish—and we cannot wait until they can share a kiss without short circuiting things.
Liza and Charles – Younger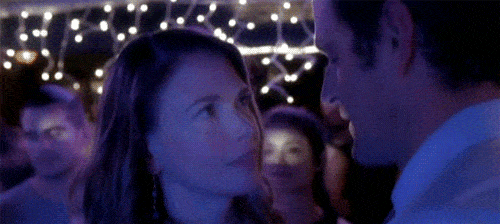 Alex and Michael – Roswell, New Mexico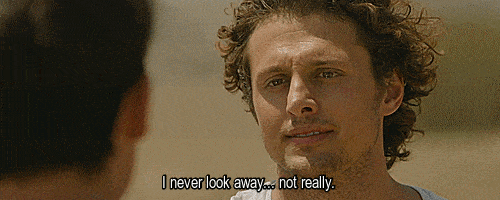 Liv & Fitz – Scandal
Liv and Fitz's love affair was one for the history books. There was so much chemistry, longing and love between them, but their situation was set up for them to fail. Fitz willingly took the country to war to save the woman he loved—talk about toxic. And yet we couldn't get enough of them together.
Jane and Rafael – Jane the Virgin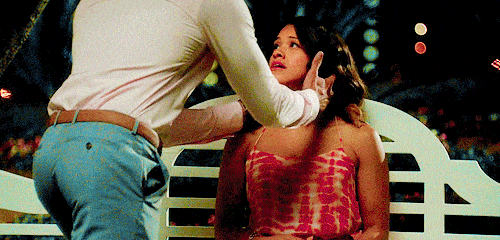 Bellamy and Clarke – The 100
Rick Castle & Kate Beckett – Castle
Follow CRAVEYOUTV on socials
Pat Sajak Kicks Off Final Run on 'Wheel of Fortune' Season 41
The beginning of the end is officially upon us!
Wheel of Fortune Season 41 was set to kick off today, September 11, 2023, with a momentous premiere marking Pat Sajak's final spin with the game show. Unfortunately, due to the Monday Night's NFL Kickoff, the episode will not be airing in its regularly scheduled slot of 6:30 p.m. CT in some markets. Instead, episode 401 was preempted and scheduled on the lineup to air at 3:07 a.m. CT, while the second episode of the season, is set to air normally on September 12th at 6:30 p.m. CT.
The article has been updated to reflect this schedule change.
The longtime host announced his departure this summer. He has helmed the game show for 40 years alongside Vanna White, who is also set to return for the 41st season, though she will be away for a week as she came down with COVID-19 while filming, forcing her to miss a handful of episodes.
Still, it's going to be a season to remember as things will never be the same again once Ryan Seacrest takes over, replacing Sajak in 2024. Sajak first joined in 1981, filling the spot previously held by Chuck Woolery and making the game show an American staple.
However, Sajak was ready to close this chapter of his life, previously declaring, "Well, the time has come. I've decided that our 41st season, which begins in September, will be my last. It's been a wonderful ride, and I'll have more to say in the coming months."
Fans aren't looking forward to the change, with many commenting that it's the "last" season they will watch on the WOF Instagram and Twitter posts promoting the premiere.
Guess who's back?
Back again (for the 41st time)? pic.twitter.com/11U14KQjIk

— Wheel of Fortune (@WheelofFortune) September 5, 2023
Wheel of Fortune Season 41 will kick off with the theme "European Vacation," airing episodes every night of the week at 6:30 pm CT on ABC.
It's unclear if White, who hasn't gotten a raise in 18 years, will continue on with the show once Seacrest takes over, but since she's so iconic and integral to the show's success, we hope that she gets what she deserves!
And we hope everyone enjoys the final season with the iconic duo of Sajak and White!
2023 Fall TV Schedule—Here are the 17 Shows That Need to Be on Your Radar
The 2023 fall TV season is going to look slightly different this year than in previous years amid the ongoing WGA and SAG-AFTRA strikes.
Networks have been working overtime to overhaul the schedules and lineups to present the best content possible, so while new productions are currently paused, there are plenty of already-completed shows in the pipeline that are ready for their premiere, along with some "new-ish" shows that are either coming from streaming or Canada directly to your primetime network.
We're breaking down all of the must-watch and highly-anticipated shows—new and returning—for the fall TV season below! You don't have to look far to find something to enjoy, so let us know what's making your list this season.
Wilderness – Sept 15 on Prime Video
Based on the 2017 novel of the same name written by B.E. Jones, the series focuses on a seemingly perfect couple who have it all whose dream vacation swiftly turns into a nightmare fueled by heartbreak and revenge. The cast includes Jenna Coleman, Oliver Jackson-Cohen, and Ashley Benson.
All Rise – Sept. 16 on Own
If you've been with All Rise since its CBS days, you're going to want to catch the final third season for a proper goodbye and to see how it all ends following the shocking cliffhanger, while also digging into the last legal cases on the series.
American Horror Story – Sept 20 on FX
AHS: Delicate, the 12th installment of the horror franchise, arrives just in time for spooky season. And for the first time ever, a season is based on a novel by Danielle Valentine titled Delicate Condition, which gives plenty of Rosemary's Baby vibes. The talk of the town is the casting, which includes Emma Roberts in the lead role alongside Kim Kardashian, The Resident's Matt Czuchry, and Cara Delevigne. It will be split into two parts, with the first arriving on Sept. 20 on FX and streaming the next day on Hulu. There's currently no premiere date for the second part, however, the AHS spinoff American Horror Stories will also return with a four-episode Halloween event on Hulu on Oct. 26. Get ready for the thrills.
The Irrational – Sept. 25 on NBC
Alec Mercer is "the science guy," who knows a thing or two about psychology and what makes people do certain things, which is particularly useful when trying to solve difficult and high-stakes cases and murders. Not only is the premise catchy and appeals to procedural fans, but its also got a stacked cast with Jesse L. Martin, Maahra Hill, Travina Springer, Molly Kunz, and more.
Sullivan's Crossing – Oct. 4 on The CW
The Canadian series is making its way to The CW, and fans of small-town shows like Virgin River are going to love it!
The series, adapted from the bestselling novels by Robyn Carr (who also penned the aforementioned Netflix hit) stars Morgan Kohan, One Tree Hill's Chad Michael Murray, and Gilmore Girl's Scott Patterson as it follows the journey of a neurosurgeon named Maggie Sullivan who rediscovers her past after leaving Boston for the refuge of her childhood home in Sullivan's crossing following some legal trouble.
Goosebumps – Oct. 13 on Disney+ and Hulu
Re-live your childhood with the Goosebumps live-action series based on R.L. Stine's bestselling books. The first five episodes will drop on Friday, Oct. 13 (fittingly) as part of Disney+'s "Hallowstream" and Hulu's "Huluween" celebrations, with the remaining 5 episodes premiering weekly. The first two episodes will also hit Freeform for "31 Nights of Halloween."
Ghosts UK – Nov. 16 on CBS
Before there was the U.S. version of Ghosts, the U.K. version was the talk of the town. The critically acclaimed series, which inspired the CBS adaptation, will be filling the void this season as the network has acquired the episodes for a November premiere. See how it all started—and compare versions to figure out which one you like better, though I've heard the original is bloody brilliant. Ghosts UK ran for a total of 4 seasons, kicking off in 2019.
Virgin River Holiday episodes – Nov. 30 on Netflix
Virgin River Season 5 just hit the streaming giant on Sept. 7, but fans will be getting a holiday present in the form of two bonus episodes that will have you spending the Christmas season in your favorite scenic small town. Find out what's in store—spoiler, it's likely plenty of cozy vibes with a dash of drama.
Sex Education – Sept 21. on Netflix
The wait is almost over. Following a two-year hiatus, Sex Education is back and better than ever for its final season, consisting of eight total episodes, including a final that clocks in at 83 minutes. You can get all the necessary closure on Sept. 21.
The reboot of the popular 1990s drama is leaping back to NBC this October with two new faces joining the team—Queen of the South's Peter Gadiot and The 100's Eliza Taylor—as series regulars. It's one of the few scripted projects hitting broadcast amid the strike and will feature plenty of incredible guest stars along the way Manifest's Melissa Roxburgh and Blindspot's Francois Arnaud.
Chucky – Oct. 4 on Syfy
The famous foul-mouthed killer doll is back to bring more nightmares straight to your screen. Jennifer Tilly and Brad Dourif will be reprising their roles in the slasher as Chucky infiltrates the nation's capital in an attempt to take over the first family for murderous reasons.
legends never die. i'm about to rise again bitches #chucky pic.twitter.com/TYGkbbemwd

— Chucky (@ChuckyIsReal) July 24, 2022
Lupin – Oct. 5 on Netflix
It's been 2 years since we've last checked in on Assane Diop, now in hiding as he's known as France's most-wanted fugitive, but we'll finally get to catch up with him this October when the third season drops. And a teaser revealed plans for his biggest, boldest, and most "insane" heist to date, setting his sights on the Black Pearl, which becomes the source of many problems after kidnappers take hold of his mother in exchange for the gem. The escapades will stretch a total of 7 episodes.
Loki – Oct 6. on Disney+
It's an MCU world and we're just living in it. You know when McDonald's throws a whole promotion behind your show, it's a big deal. The second installment will find Tom Hiddleston's character trying to make sense of everything that transpired at the end of season 1. And don't worry, he'll still be slipping through time and space, pulled between the past, the present, and the future, as evidenced by plenty of trippy visuals.
The Fall of the House of Usher – Oct. 12 on Netflix
Netflix is taking a bite out of the horror genre with a series inspired by Edgar Allen Poe's work, an 1839 short story of the same name. Roderick Usher (played by The Resident's Bruce Greenwood) is, fittingly, the CEO of a corrupt pharmaceutical company, who has to face his past when his children, the heirs, begin to perish mysteriously. There are elements of pure horror mixed with dark comedy for an offering perfect for spooky season.
View this post on Instagram
Frasier Revival – Oct 12. on Paramount+
Original series star Kelsey Grammer is Dr. Frasier Crane and embarks on a new chapter in a different city that forces him to face new challenges, relationships, and more. There's definitely a nostalgia angle at play, but it's nice reconnecting with a familiar face after all these years.
Fear The Walking Dead – Oct. 22 on AMC
The Walking Dead spinoff is gearing up to air its final set of episodes, with a focus on the core original characters including Madison and Strand's reunion. And there's even a resurrection for a character long presumed dead as a teaser shows Tory Otto is very much alive and ready for sweet revenge. I guess it's to be expected for a show about zombies, right? See how it all ends this October.
NCIS: Syndey – Nov. 13 on CBS
NCIS and NCIS: Hawai'i may be on hiatus, but NCIS: Sydney, the highly anticipated spinoff series, will be entertaining fans this fall. The franchise is expanding, offering plenty of gorgeous new scenery for fans to take in, while keeping in line with what they've come to expect in terms from the elite group, including signature uniforms and action. The cast will include Brit Olivia Swann, leading the NCIS part of the team as NCIS Special Agent Michelle Mackey, with Aussie Todd Lasance as her 2IC AFP counterpart, Sergeant Jim "JD" Dempsey.
When Will the Holiday Episodes of 'Virgin River' Premiere? See the Trailer Now
Virgin River is giving a holiday gift of two bonus episodes.
After all 10 episodes of the fifth season arrive on Sept. 7, fans can look forward to two additional holiday-themed episodes streaming a few months down the line as "part 2" on Thursday, Nov. 30. It will be the show's first-ever Christmas offering, bringing the episode count to 12 in total for season 5.
The 10th episode, the unofficial "season finale," even included a time-jump four months into the future, setting the scene for the additional episodes as Mel and Jack can be seen gearing up for Christmas by decorating their cabin with wreaths and lights.
Mel is chatting with her sister, Joey, as Jack asks if she and the kids are excited for their first Virgin River Christmas.
A few days after the fifth season premiered, Lauren Hammersley, who plays Charmaine, shared the first look at the holiday episodes, revealing what fans can expect—and yes, Christmas in Virgin River looks just as magical as you'd expect.
As the town goes all-out for the Christmas tree decorating competition (the grand prize is a Yule log and bragging rights), Mel, who is sporting some chic new bangs, explains that she's looking for her biological father as she wants to know "what happened."
By the end of the brief trailer, she informs Jack that they've located him, with Preacher noting that he's "still in Virgin River." There are a handful of possibilities as to who it could be, which we break down in full right here!
Lizzie's pregnancy is also addressed as she has doubts about whether she'll be a good mom as Hope (likely) gears up to give her some incredible advice.
And speaking of pregnancies, one of the longest in TV history is finally coming to an end as Charmaine begins experiencing contractions at Doc's practice and Mel jumps in to help.
As for Brady and Brie shippers, there may still be hope for their reconciliation after all as she approaches her ex and accidentally meets him right under the mistletoe. One fan in the comments suggested that she's now doing the chasing, though a later scene, which seems to be a holiday dinner with everyone in town, sees her cozying up to Mike, so it seems she's still very much conflicted on matters of the heart.
The only upsetting storyline includes Preacher, who may have found love with Kaia, but whose life might also blow up now that they've located Wes' body after the fire.
"This thing is about to blow," Mike tells him over the phone as Kaia inquires if he can clue her in on anything.
View this post on Instagram
We have to wait till Nov. 30 to see how everything unfolds, but remember, despite the drama and love triangles, it's still the most wonderful time of the year!
Will There Be a Season 6 of 'Virgin River'? And If So, When?