Thanksgiving is a time to be thankful, but if you're a Carrington, it's also a time of revenge.
On Dynasty Season 3 Episode 7, that revenge came from Cristal Carrington after she realized she was being played by Adam, again.
Adam and Nadia teamed up to get her out of the picture, literally, in order to convince Blake that Adam was the only family member he could rely on.

But this back-and-forth game of pettiness was expected from Adam and Cristal.
They've been going at each other's throats for weeks now; it brought nothing new to the table.
What wasn't expected? The revelation that Fallon was paying Nadia to "get close" to Adam.
I had to pick my jaw back up off the floor.
Why did I ever doubt our girl?

Nadia has been suspicious since her arrival, but we've all been speculating that she had it out for either Fallon or Cristal.
It never even crossed my mind that she could have been tasked with cozying up to Adam, though, it does explain why she's so eager to help him out with his deranged plans.
Fallon's motives aren't entirely clear yet, but it's reassuring to know that she's not always one step behind Adam.
For the longest time, it felt like she was getting consistently played by him when in reality, she's been playing the long game.

Allowing Adam to believe that his relationship with Nadia happened organically makes it easier for her to manipulate him.
And that's what she's been doing since she arrived. It explains why she told Adam that Blake signed over everything in his will to Cristal.
As she said, she's got him "wrapped around her finger" so whatever she suggests, he's likely going to follow her lead.
Let's just hope that Nadia isn't actually falling for him.
There was a brief moment where Cristal let her guard down and tried to help Adam bake a pie, and it was kind of nice.

If she hadn't seen him holding hands with Nadia, they probably could have buried the hatchet.
Showing Adam kindness seemed to encourage him to be a better person, at least temporarily.
They could have made a dynamic team if they could've put aside their competitive nature.
I doubt it's possible to rehabilitate someone who pushed his own birth mother into the fireplace, but his blindness is giving him a new perspective.

At the very least, I don't immediately want to change the channel whenever he's on-screen. That's an improvement.
You could smell Sammy's love interest from a mile away.
It's so cliche that any male character that gets introduced is immediately going to be Sammy's squeeze.
Fletcher's motives seem pure for now, but one can never be too careful on a series filled with backstabbing and drama.
We have to keep Fletcher at arm's length because it's not just Sammy who could get hurt, it's his business, too.
Sammy was able to generate some positive buzz for himself and the hotel by feeding the homeless the most lavish dinner ever.
And it was a solid idea, no doubt.
But apparently, one good idea convinced Anders that he wasn't needed to help manage the hotel anymore.
From a logical standpoint, this doesn't make much sense. Sammy still has no idea what he's doing, but from a storytelling perspective, there's only so much Anders can do when he's limited to interactions with Kirby, Sammy, and sometimes Culhane.
Read the full review at TV Fanatic! 
Follow CRAVEYOUTV on socials
Feelin' generous? Support our site and podcast (Mimosa Talk) on Patreon and KoFi.
Dynasty Review – Fallon Gets In the Streaming Business (3×10)
Fallon is spiraling on Dynasty Season 3 Episode 11, and it's not a good look on her.
Despite all the progress that she's made these past few seasons, Fallon always finds herself back at square one: wanting to get out of Blake Carrington's shadow.
Their back-and-forth tussle between the father and daughter is reminiscent of Dynasty Season 1, but it's pointless drama that doesn't do either of the character's any favors.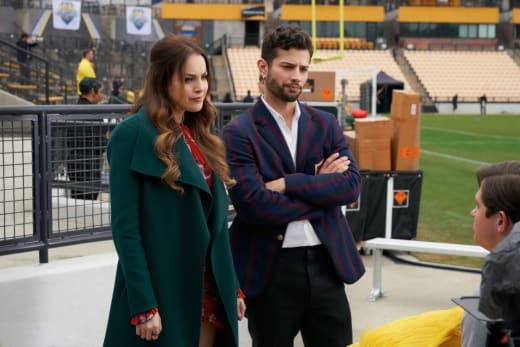 There's no reason that Fallon cannot be independently successful. They can both exist in the same orbit without any sticking their noses into each other's business. The world is big enough for them both.
Hopefully, the realization she had thanks to Culhane will finally stick because, at this point, her character seems to be regressing rather than continuing on a trajectory of female empowerment that we've come to know her for.
Fallon has always had potential, but she botches nearly every plan she's ever had.
They all tend to go up in flames — her plan of going international quite literally — and yet she keeps trying.
On one hand, her drive and ambition are admirable, but on the other, it would be so much more effective if she just picked a lane and stayed in it.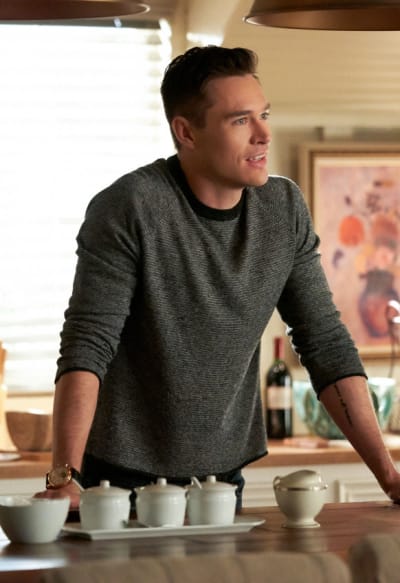 From publishing company to magazine to streaming service, she wants to do everything and thus, she does nothing.
The comments about her streaming service, while hilarious, echoed those thoughts exactly.
No one even knows what she does anymore because she can't stick to anything. If she keeps this up, she really will be the "forgotten Carrington."
On Dynasty Season 3 Episode 10, Fallon started the episode by throwing things, and this time, Blake followed suit even though it turned out to be a nightmare. (I was about to question how many glasses this family went through a week!)
Blake poured so much of himself into rebuilding his image and getting control back, and yet, he didn't recognize that he was acting out to ignore the real problem.
He was running away from the anger and resentment he felt towards Alexis.
Buying up companies left and right was his way of repressing his emotions and pretending the problem didn't exist rather than facing it head-on.
He wanted Cristal to let her anger go, but he failed to notice he had so much of it pent up inside that it was manifesting as nightmares.
However, the nightmares also served as a premonition. The moment Blake realized he needed to get back to his legacy at Carrington Atlantic, it was revealed that Alexis and Jeff Colby were one step ahead of him.
In this regard, the series is returning to its roots and hopefully, to the storylines that enthralled audiences.
The empire that Blake built seems like the right investment if they want to stick him where it hurts, and it's going to be one hell of a fight now that they've already set the stage for the acquisition.
Since Alexis and Jeff announced their marriage, fans have been trying to figure out what their game-plan is and slowly, it's coming together.
Dynasty Review – Saving Kirby from a Cult (3×10)
Operation save Kirby was in full effect on Dynasty Season 3 Episode 10, but the episode felt more like a filler and didn't do much in terms of progressing the overall storyline.
Kirby, though an asset to the show, is a supplemental character whose rescue mission didn't need to take up a full hour.
The best part was seeing Fallon and Adam team up as they pretended to be husband and wife to infiltrate the compound.
Without having to play the deranged brother, Sam Underwood was allowed to shine in his role and almost convinced us to like Adam … almost.
Specifically, he was able to showcase his musical talents in a groovy duet with Fallon. Those two were so happy together.
When Fallon and Adam put aside their difference, they make a great team.
Their dynamic is fun, there's an energy about them, and they hilariously play off of each other.
But that's a testament to how great the actors are at working with all the curveballs thrown their way.
Unfortunately, when it came to their story arcs, the moment didn't fit naturally into the storyline leading up to it.
It's almost as if the writers use what will work for them in that moment and disregard established story arcs and character relationship
If you backtrack, you'll realize that Fallon and Adam aren't on good terms with each prior to this scene.
Adam was kicked out of the house and furious about the fact that he'd lost daddy's support. For him, it's always been about winning over daddy.
He also found out that Fallon was responsible for making him fall for Nadia, a fake doctor, and leading him to believe that Blake slept with her causing him to burn down the winery.
On the flip-side, Fallon just found out that Adam tried to kill her fiancee and was the person responsible for Liam's amnesia.
It seems unlikely that they would forget all that transpired between them and kumbaya their way into some cult-ish commune to save Kirby.
The fact that it was fun to watch doesn't excuse the fact that it didn't make any sense in terms of where we are in the storyline.
Kirby seemed to be waiting for someone to come rescue her and prove that they care enough about her to convince her to leave the cult.
It was a cry for help if there ever was one.
But I can't say I blame her — the Carringtons have been rude to her and her own father couldn't stand up for her.
The moment she realized Fallon was genuine in her desire to make sure she was okay, she walked right out of there without hesitation.
Sadly, Fallon's motivations for helping Kirby weren't driven by love but rather her desire to get revenge on Blake.
Even when it's about Kirby, it's still about Blake.
Also, if anyone wants to center a storyline around a cult, it needs to be done properly. They're serious business.
Cults finesse the deepest, darkest secrets out of you so they can use them to blackmail you into staying.
They'd never let Kirby walk out of there of her own free will, especially when she was about to reach gold status and give them all her money.
Dynasty Midseason Review – Was Blake Guilty of Murder? (3×09)
*Spoilers for the midseason premiere of Dynasty! If you have not watched the episode yet, well, you've been warned so don't spoil it for yourself*
Blake got away with murder on Dynasty Season 3 Episode 9 with the help of Cristal and Fallon.
But really, who's surprised by that?
Usually, courtroom trials aren't the most exciting part of an episode, but when a Carrington is on trial and a Carrington-turned-Colby is on the stand, you just never know what's going to happen within the confines of those four walls.
And a lot happened.
The shock of Alexis' return carried throughout the episode as everyone tried to figure out what she and her new husband, Jeff Colby, were up to.
Fallon can make a thousand jokes about the incestual relationship and they never get old. She dodged a bullet there.
Alexis took the stand as a surprise witness and claimed to have proof that Blake was responsible for Mack's murder, but unfortunately, she failed to provide an airtight alibi.
It took Fallon less than a day to figure out she was lying and expose her for it. Better luck next time, I suppose.
While Alexis' attempts may have failed, the new Alexis didn't.
Elaine Hendrix came in rocking her best Meredith Blake outfit and it's almost as if she hadn't skipped a beat.
Her take on Alexis is refreshing, witty, and her dialogue even seems better than it was before.
There's potential here to elevate Alexis to the ranks of Fallon, who, at times, seems to be carrying the show on her back.
While Blake and Fallon made some jokes at Alexis' expense, for the most part, they just accepted her relationship with Colby for whatever it was.
They had bigger problems on their hands considering Blake was about to go down for murder.
However, Dominique could not accept that her son had married her arch-nemesis.
Seeing a sister-in-law turn into a daughter-in-law is a hard pill to swallow for most people.
Dominique called Alexis out for being a gold-digger who would do anything to get money, but Jeff quickly rebutted all of her insults by saying that the only person using him this whole time was his own mother.
Dominique may have been right about Alexis, but she was also a hypocrite.
Ever since she blew into town, Dominique has been trying to get money from her son, lying about her intentions, and using him to propel Vanessa's career.
How can she stand there and call out anyone else?
Dominique tried to play dirty, but Alexis played dirtier by gently shoving her down the stairs, which cause Dom to leave town.
It's about time, too. Dominique has been around for a whole season and hasn't accomplished much of anything.
Her existence is pointless.
And there's no need to worry about Colby because from the looks of it, he made a deal with the devil that benefits both of them.
Both Jeff and Alexis hate Blake equally; there's strength in numbers so they hoped to put him in jail permanently and get their fortune.
Now that those plans have gone down the gutter, it's unclear what their next move will be.
Blake is like a phoenix, constantly rising from the ashes and getting another chance. It's astonishing that a man who is clearly guilty walks around so confidently and lies straight to his daughter's face about being innocent.
Blake was in the do-or-die mode, sure, but it also tells you everything you need to know about the man Blake is.
He always has a trick up his sleeve whether if be getting rid of the juror or paying off the other one to make it a hung jury.
Without substantial evidence, there will never be a retrial and Blake is a free man.
Fallon should have gotten proof before she helped her father, but regardless of the truth, there's no situation where she would have let her father serve a life sentence.