Looking for the perfect holiday gift for the TV lover in your life?
Look no further! We put together a TV-themed gift guide here at CraveYouTV that will make shopping this holiday season a breeze.
We've drawn inspiration from shows such as Schitt's Creek, The Mandalorian, Virgin River, The Marvelous Mrs. Maisel, The Bachelorette, and more!
Schitt's Creek Wine
This gift is person for the wine enthusiast in your life. Take off the actual wine label and replace it with one of these Schitt's Creek-inspired labels. The labels read: "Ew, Covid," "Merry Schittsmas," "Bebe, it's cold outside," and "I'm trying very hard not to connect with people right now." The best part is that you're also supporting an Etsy shop with your purchase. See it here!
Fancy Charcuterie Board
If you're constantly sitting in front of the TV binge-watching your favorite shows, snacks are a must. The Netflix fanatic in your life will love a cheese board engraved with "Netflix & Cheese." Get it on Etsy.
Baby Yoda
No one can resist the cuteness of Baby Yoda, The Child, Grogu. Call him whatever you want, but don't deny the obvious fact: you need this 11-inch plush! Get him now
! And check out all the other Baby Yoda gifts inspired by The Mandalorian here.
Friends Monopoly
The one where they played Monopoly. The whole game is Friends-themed. "Advance to Ross' Teeth, All the Thanksgivings, Phoebe Gets Married – will you owe rent or reap the rewards?" the description reads. Get it now.
Big Little Liars Sweatshirt
Have you always wanted to be one of the moms of Monterrey? Unless you plan on moving there, you can show off your love for Big Little Lies with this crewneck sweatshirt. Not to mention it's on sale here!
Mrs. Maisel Cosmetic Pouch
Want to look as fabulous as Midge on Amazon Prime's The Marvelous Mrs. Maisel. Now you can store all your beauty essentials in this adorable and fashionable pouch. Get it here.
Novel by Chris Harrison
Chris Harrison is the real MVP of The Bachelor franchise. In his first novel, ABC's host "explores the perils and rewards of risking everything for love."
Eiffel Tower Keychain
This keychain is far from basic. If it was good enough for Emily in Emily in Paris, it's good enough for the traveler in your life. Get it here.
Money Heist Face Mask
If you're going to wear a face mask for the foreseeable future, might as well make a statement and rep the best Netflix show ever invented. Buy it now.
Brothers Bond Merch
Damon and Stefan Salvatore (Ian Somerhalder and Paul Wesley) teamed up to make a bourbon about their brotherhood. You can sign up the biggest The Vampire Diaries fan in your life to get a notification when it finally goes on sale, but in the meantime, there's also some "Brothers Bond" merch to shop around. Get it here.
Happy Sunday Twitterverse. As we weather real storms in the sky bashing our southern shores, viral and political storms on the ground and social media storms- I thought this image was fitting. Edited by a lovely lady named Diksha on Instagram pic.twitter.com/zeil3qqKAZ

— Ian Somerhalder (@iansomerhalder) October 11, 2020
Simpsons Cards Against Humanity
If you love Cards Against Humanity, you're going to love this Simpson's version. Suitable for 17+ Get it now.
Chess Board
Chess is all the rage now thanks to Netflix's The Queen's Gambit. The series has driven an unprecedented surge in chess boards. Whether you're a beginning or a seasoned player, grab a board and channel your inner Beth Harmon. Buy now.
Nostalgic Blockbuster Board Game
Okay, this one is for the movie-buffs who are old enough to remember the excitement of a trip to Blockbuster Video on a Friday night. Big Potato's: Blockbuster Returns game is perfect for anyone who has ever seen a movie. Get it now.
A Cameo from your Favorite Actor
Cameo allows you to send your loved one a personalized message from their favorite celebrity. There are plenty of actors to choose from including Jane the Virgin's Jaime Camil, Virgin River's Martin Henderson, The Originals' Daniel Gillies, Schitt's Creek's Jennifer Roberston, The 100's Eliza Taylor, and even Dawson's Creek's James Van Der Beek. You can browse all the talent HERE!
It's… it's… ROGELIO DE LA VEGA!! @jaimecamil pic.twitter.com/6uWqOKDMJH

— Cameo (@BookCameo) December 3, 2020
Rose Apothecary Mug
Channel your inner David with this mug inspired by TV-fave Schitt's Creek. Get it on Etsy now.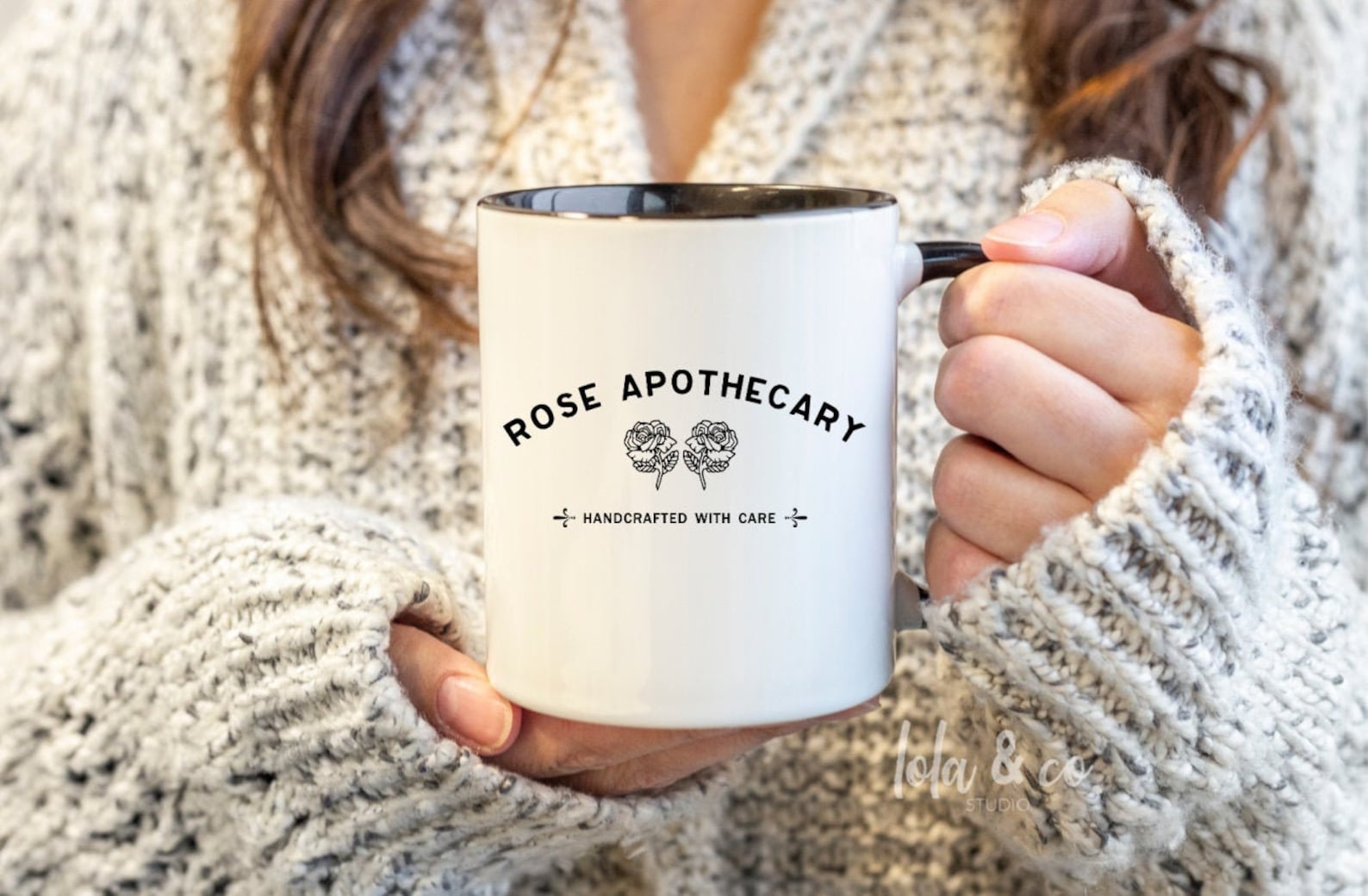 Follow CRAVEYOUTV on socials
'Harry Potter' Live-Action TV Series Might Be Coming to HBO Max Sooner Rather Than Later
Blimey! Harry Potter might be coming to HBO Max.
Deadline reports that a live-action TV series based on the world created in the popular novels-turned-movies could be coming to the streamer.
But don't pack up your flying car just yet.
At this time, the streamer is only holding "exploratory conversations," sources say.
"There are no Harry Potter series in development at the studio or on the streaming platform," HBO Max and Warner Bros. said in a statement clearing up the rumors.
However, that doesn't mean a spinoff series won't eventually happen or isn't a logical move for the franchise.
We've seen Disney embrace lots of success with series' based on the Star Wars or Marvel franchises.
Harry Potter, Hermione, and Ron Weasely may have graduated from Hogwarts, but there's plenty of magical stories within the castle walls just waiting to be told!
Would you be interested in a Harry Potter spinoff? Let us know in the comments below!
WATCH: 'Framing Britney Spears' Documentary Digs Into #FreeBritney Movement and Conservatorship
Are you part of the #BritneyArmy? Have you been following her career religiously since 1998?
If so, you're probably all too familiar with the #FreeBritney movement, which aims to free the pop star from her controversial conservatorship put in place in 2008 after she experienced several mental breakdowns.
The New York Times Presents will dig deeper into the movement with their latest episode, "Framing Britney Spears" set to debut on February 5.
It will air simultaneously on FX and FX on Hulu.
Per the official synopsis, the standalone documentary will feature "people close to Britney Spears and lawyers tied to her conservatorship now reassess her career as she battles her father in court over who should control her life."
A teaser trailer for the documentary was released today with one of the featured guests stating that "the way we treated her was disgusting".
Another guest questions why her dad is making all of her decisions as a third adds that "anytime there's that amount of money to be made, you have to question the motives of everyone."
Watch the trailer below:
Dale Moss Accused of Cheating on 'The Bachelorette's Clare Crawley During Engagement
With a few notable exceptions (we're looking at you, Jake Pavelka; ditto, Arie Luyendyk, Jr.), Bachelor Nation couples tend to offer fairly staid reasons for why their relationship wilted.As they're busily shipping off that Neil Lane diamond and hashing out who gets custody of Chris Harrison in the breakup, the once madly in love duos craft statements about their mutual decision to separate and the deep admiration they still hold for each other. And for a minute there, it appeared Clare Crawley and Dale Moss would be following that script.
Confirming their separation on Instagram Jan. 19, the former NFL athlete shared that it was "the healthiest decision for both of us," noting they continued to want "the best things for one another." He doubled down when approached by a reporter while out in New York City hours later, insisting that "Clare and I have a lot of love for each other."
The split was just one of those things, he continued, blaming his and the Sacramento-based hairstylist's packed schedules. "Honestly, we've just got a lot going on in our lives right now," he explained, adding that they had every intention of remaining in each other's orbits as friends: "Clare and I will be cool."
Wellllllll, unless that's some sort of hip new slang, he shouldn't bet on it.
Because not 24 hours after the 32-year-old and the franchise's 16th lead announced the end of their five-month engagement, leaving the door just slightly ajar for a reconciliation, it became clear that their breakup was more Hannah Brown–Jed Wyatt, less Ben Higgins–Lauren Bushnell. Put plainly, multiple sources familiar with the situation tell E! News they believe Moss has been cheating on Crawley throughout their engagement.
He and the woman in question (E! News has chosen not to name her at this time) have been in communication since at least late 2019, but Moss insisted to Crawley, 39, that theirs was merely a business relationship. Still, "Clare has always been skeptical," says one source with knowledge of the circumstance. "She never trusted the friendship and thought it was shady." And as their nascent romance began to splinter, her worst suspicions were confirmed.
The first source tells E! News the woman "has been talking to her friends about sneaking around with Dale." As for Crawley, continues the source, "she has seen proof" that whenever Moss was in New York City without her, he was with his other flame.
One such occasion came in November—not long after Moss' proposal aired on TV and he brought his bride-to-be home to South Dakota. Spotted enjoying a late-night candlelit dinner at Cipriani Downtown, "It definitely looked like a date," shared an eyewitness, noting the pair appeared to leave hand-in-hand. "Dale looked really smiley and happy with her. They were laughing and flirting."
Suffice to say Crawley isn't the type to subscribe to the it's-not-cheating-if-you're-in-a-different-area-code theory.
Signing on to dole out roses after a memorable stint as Juan Pablo Galavis' runner-up, two rounds of Bachelor in Paradiseand a brief Bachelor Winter Games engagement, she was unequivocal about her intentions to find her forever partner. "I am looking for a man that is just like my dad," she explained during her Good Morning America reveal. "Strong, loving, gentle, compassionate and just a real, genuine, kind man."
Of utmost importance, she stressed, was someone interested in cozy Friday nights on the couch, someone "who doesn't want to be in the spotlight."
Basically, someone not like Moss, as she's come to learn. Because for all of his smooth moves and uncanny ability to, as Crawley put it, "show up for me," Moss seemed to arrive at Palm Springs' La Quinta Resort & Club last summer with visions of podcast hosting, modeling work and sponcon dancing in his head, just like others before him.in other words, he was there for the wrong reasons.
Now, as multiple insiders familiar with their relationship describe Moss as a "fame-seeker," the first source notes the signs were there all along: "It is obvious now. Things are making sense to her now. She didn't want to believe it at first but is now heartbroken."
Because Crawley had been certain she'd be able to sniff out an imposter, knowing what she would and wouldn't put up with. But it turns out intuition is powerless in the face of overwhelming chemistry.
As viewers saw, Crawley believed in her soul that she'd found her guy in Moss from the moment he stepped out of the limo. Sure, she'd done a little Insta digging beforehand and she didn't hate his chiseled abs and mega-watt smile, but in person there was something else, that inexplicable belief this was meant to be. "I definitely feel like I just met my husband," she declared breathlessly.
And the more she and Moss bonded over the loss of her father and his mother and, yes, made out, the more certain she was that the rest of her suitors could pack their bags and go home. "We have this connection where it feels like I've known him forever," she explained to producers. "It's that intangible chemistry that you just can't make up and you can't replace."
Even better, he seemed just as all-in, telling Crawley, "When we met, I felt love and, like, that's what I came here for. I'm falling in love with you through this process. I'm not afraid to say that at all. My heart is open and I'm not gonna fight that."
Can you really blame a girl for getting swept up in it all?
By the time she was flashing a shiny new 4.5-carat diamond, Crawley was so far gone, she bristled at the mere suggestion that what they had was anything less than love at first sight.
"How he makes me feel is literally, like, sunbeams out of my heart, like, into the world," she explained to Harrison at their make-shift After the Final Rose special. "And I know that sounds so stupid, but I just feel it to my core. And whether it took one day or 10 days or two weeks or two years, this man makes me happy."
So she dove head first into a future as Mrs. Dale Moss, giddily referring to the South Dakota State alum as "my husband", announcing her intention to have babies ASAP and dreaming up the perfect way to cement their bond with a collection of island-based elopements. And she brushed off any and all criticism.
"I'd be lying if I said it's been easy because I'm human," she admitted on Good Morning America of people questioning Moss' commitment. "The things people say without knowing the full truth and without seeing exactly how things really happened and genuinely happened, it just blows my mind in a world right now where there's so much negativity and hate and hard things going on right now."
But, actually, the full truth seems to be worse than most suspected.
Because Crawley couldn't shake her anxiety that Moss' friendship wasn't as platonic as he claimed it to be. "Dale would always reassure Clare that it was nothing serious," says the source, but "multiple people have told Clare that Dale was parading around NYC with this girl." Each time, continues the source, "Clare would confront him about his relationship and tried to question him about it, but he would always deny it."
Read the full story now at E! News!