Amazon Prime's 'How to Survive Being Single' Is an Unfiltered Look at Online Dating in a Modern World
How do you survive being single? According to Amazon Prime's first global release of a Spanish-language scripted comedy series, Cómo Sobrevivir Soltero (How to Survive Being Single), all you need is a dating app and a good group of friends.
Much like the streaming service, this is my first venture into a Spanish comedy (my portfolio extends to a few episodes of Netflix's Elite that I started while in quarantine and the anxiety-inducing Money Heist (La Casa de Papel), so I didn't know what to expect. Don't worry, there are subtitles!
Based on the first four episodes, the series has all the makings of a comedy and delivers on its promise of being a show that highlights how much "the dating world has changed in modern Mexico."
The series is aimed at the millennial crowd with a plethora of references about the hook-up culture, Tinder, and a character developed dating + ride-sharing app called "Love Ride" (how is that not a thing yet?), but most importantly, it centers around the framework of friendship and how necessary a good support group is following a breakup with the person you thought was "the one."
The 13-episode series centers on Sebastián (nickname Seba). Sebastián Zurita plays his fictional self and draws inspiration from his real-life dating experiences for a series that's part fiction and part autobiographical. It's unclear which parts happened in real life, but in the short timeframe, Sebastián's journey takes many unexpected turns and seems to be wildly exaggerated for the TV landscape.
At first glance, Sebastián has it made. He's on his way to celebrate the 10-year anniversary of the cult classic film "Dumped" with longtime girlfriend and co-star, Lucia (Pamela Almanza). It's a love-story ripped straight from the headlines.
When we meet couples so early into a series, things can go one of two ways — their relationship flourishes and takes us on a romantic journey or they break up usually because someone cheated. Considering the series is titled "How to Survive Being Single," I'll let you decide which avenue we're going down.
Sebastián has no idea that the title of the film — dumped — is about to become his reality until his proposal is botched in front of the public when a reporter shows him a video of his cheating girlfriend while he's down on one knee. Ouch.
Since the breakup happens in the pilot episode, we don't get to see much of Sebastián's relationship with Lucia prior to the movie premiere, and all we can really rely on are pieces of information given to us throughout the episodes mainly that they stayed together out of comfort and familiarity.
The series hopes that the audience will connect with the material and with Seba's experiences because of our own personal long-term relationships and breakups.
And thus, it intentionally makes Lucia a side-character that Sebastián doesn't give much energy to because she's out of the picture. After the breakup, he's hurt, but he's not interested in talking things through, finding out what went wrong, or getting back together.
He's over it, and he's Mr. Moving On. And for the audience, it's easier to side with and focus on Seba's journey if we don't have any connection to Lucia.
Being out of the game for 10-years means Seba, a self-described romantic, is out of his depth as he plunges into the dating world. He gets a lot of (bad and unwanted) dating advice from his friends, which includes getting over Lucia by getting under someone one.
Not only is Seba broken from being cheated on, but he's also feeling sorry for himself and his diminishing career (he's been typecast in a role that hasn't allowed him much other success, which was a huge ding to his ego while dating Lucia).
As Seba deals with his sorrow and grief, his adventure takes some pretty odd turns, and maybe they're simply odd and unexpected to me because again, I have no idea what to expect from a Spanish-language comedy.
One of those weird storylines is joining a cult leader Christian Chavez, a well-known Mexican singer, songwriter, and actor. Zuritas has been open about giving newcomers and celebrity guests an equal seat at the table, so you can expect plenty of cameo appearances even if the storylines are slightly unconventional.
Chavez runs the cult that aims to make people happy by any means possible, and though it's a strange storyline, it's also reflective of how cult's thrive on vulnerable and impressionable people. All things aside, it was nice to see Sebastián normalize the idea of seeking help, even from this kind of "therapy group," which allowed him to understand the importance of feeling whatever you need to feel in the moment. Sometimes, faking it till you make it just doesn't work. The grief lets you know you're alive.
He then gives into using technology to find love, but navigating the new dating-world proves tricky when his date is a complete nightmare. It's Seba's first date post-breakup and he tries desperately to make it work, but here's the lesson: not every date is going to be perfect, and you won't vibe with every person you meet. That's okay. Once Seba learns that, he's able to open up himself to new opportunities including the beautiful biker woman named Julieta.
It's a real-life "missed connection," and instead of leaving it up to fate and/or coincidence, he prints posters to find her because that's how all great love stories start. Seba is admittedly a bit naive, but the point is, he's relying on dated forms of connecting with someone when the world is trying so hard to usher him into this "new wave" of dating through an app.
The effort that goes into trying to locate Julieta shows that Seba is exactly the kind of guy you're looking for when you go on a dating app. They do exist.
Again, the search for Julieta is an unexpected twist, but the series proves that there is no right or wrong formula here — anything goes in Seba's world, and the sooner the audience accepts that, the more they will enjoy the series.
As previously mentioned, Seba has a group of friends that stand by his side no matter, and it would be unfair to only focus on him when they're such a principal part of the series and his life.
In a sea of single folks looking for love or the occasional hook-up, Daniel (Roberto Flores) and Mafer (Lucía Gómez-Robledo) are the show's only (and strongest) couple, proving that when you find the one, you don't need anything else.
Gonzalo (Octavio Hinojosa)is thirsting over Fabiana (Tato Alexander), the spunkiest of the crew, and it's evident that as she plays hard to get, eventually, she'll give into Gonzalo's efforts.
And then there's Fish (Fabrizio Santini), the recently dumped (off-screen) who seems to understand the single world and his place in it way better than Seba.
Through the initial four 30-minute episodes, Seba proves that while life may not always go your way, it always happens for the right reasons. And being single is better than being with someone who lies and betrays you.
The comedy doesn't seem to be altered to entice an American audience but seeing the successes of other Spanish-language shows, it shouldn't matter.
Love is a universal language… but so are getting your heartbroken and swiping right.
Cómo Sobrevivir Soltero (How to Survive Being Single) debuts on June 26 on Amazon Prime.
Follow CRAVEYOUTV on socials
Big Brother All-Stars Review: Another Boring Week (22×20)
I really truly thought that after last week's insanity, maybe, just MAYBE, we could get another one just like it, where the possible target could be someone in the Committee alliance, but it doesn't seem so. Controversy surrounds the house, and it causing the place to implode in completely boring fashion.
After BB14 winner Ian was sent packing by a 5-3 vote, confusion ran around the house, leading to the 3 dissenting votes wondering who flipped. It was revealed that David, Kevin, Da'Vonne, and Nicole teamed up to try and tie the vote, causing Dani to break the tie. However, with Nicole being a part of the Committee, as well as a mean person to her friend in the house, voted to evict Ian. Kevin was nervous that David might be lying to keep Ian since he likes Tyler so much, but David only wanted to tie it so that all the blame could go on Dani, making Dani and Nicole furious with David. They plan to convince the rest of the house that David was the one that flipped, rather than Nicole
This week's Head of Household competition was a 3D puzzle of a fire hydrant. Kevin, Day, and David know that they could be set up on the block if they don't win, so it comes down to this puzzle. Dani says that she didn't use her power to compete for HOH again because she wants to sit in the shadows and spread seeds around, rather than be in the forefront. The only people who seemed to be doing well on the puzzle where David, Memphis, and Tyler. After failing and misplacing pieces, Memphis put the puzzle together the fastest, and became the new Head of Household. Dani didn't see too enthused to hand the key to him, but she knows that she's safe.
Before moving on to the rest of the episode, I just want to say that Memphis does not deserve to win this game. He was overheard on the feeds saying various racial slurs about some of the HouseGuests. After last season's fiasco, it's insane that nothing has been done about this. The fact that a week after open racism as said in the House, he gets all the power, is just so stupid. I don't have much to say about it anymore, other than I hope that CBS does better in their casting.
When the competition was over, David, Day, and Kevin are the most nervous, considering they do not talk a lot of game with Memphis in the first place (Memphis also doesn't try to talk to them…). Da'Vonne believes that David was the one who did not vote to his word, confiding in Nicole about this, even though it's Nicole who flipped.
Nicole has revealed on the live feeds that she couldn't care less about Ian, pretty much pretending to be his friend, and making fun of him behind his back. Yet the edits make her look like a deceiving and great player and making Day and David look stupid. I'm over the edit on the show this season. I'm just done with it.
Day and David continue to fight over the "rogue vote" that David cast. Day doesn't believe him at all when he says that he voted out Tyler. It turns into a game of he said, she said, since Nicole says she kept Ian, but didn't. This causes David to have a mini breakdown, screaming that even no one who looks like him believe him in the game. It's kind of insane how David, who is the most inexperienced in the game, knows that he's set up, but it's sad seeing that no one will believe him.
What follows next was the selection of the Have-Nots. Da'Vonne selected Christmas, and Christmas was angry and confused as to why she was picked….Does she not realize that she nominated Da'Vonne and almost sent her home?! She assumed she was going to pick Kevin, and I'm confused why she would POSSIBLY think that. David selected Cody, and he was sad because he was about to eat some tacos that he made for the house.
There then was a segment where Christmas, Nicole, and Dani were chilling in the hot tub, and Nicole slipped and fell out. It was insanely pointless and I didn't need to see it.
While Kevin and Da'Vonne were wondering who Memphis was going to nominate, David walked into the room, causing Da'Vonne to immediately leave the room. It was super uncomfortable, and I hate that they don't understand that David is telling the truth.
Memphis reveals in the Diary Room that he wants to target David, but only through backdooring him in case he wins the Veto. Memphis makes a deal with David to try and make it happen, by saying he wants to go after someone else, not play the Veto, or keep the nominations the same. David believes him, but it's a clear lie.
At the nomination ceremony, Memphis says he didn't tell anyone his plan, because he's scared that someone in his alliance will spread it around. He nominates Da'Vonne and Kevin for eviction, which is the first step in his plan to backdoor David, since he's not in the Committee (neither are Day and Kevin). So he's only going after the people of color left in the house, and I'm livid. The show has always been controversial for its treatment of people of color, and here is a prime example. Before the episode ended, the announcement voice said that ZingBot will be making his yearly appearance in the house to roast the House! Hopefully he'll rip them to shreds.
Best Player of the Episode: 
Probably Enzo. He's in a good position in the house, and I think he's playing a solid game.
Worst Player of the Episode: 
Memphis. I don't like the way he's playing, and it's getting to a point where I want the production team to take him out. He's being hateful on the feeds, and it needs to be taken care of.
The Boys Review – Homelander hooks up with Stormfront?! (2 x 05)
Episode 5 of The Boys Season 2 "We Gotta Go Now," ends shockingly with Homelander and Stormfront joining together in more ways than one.
Stormfront, who's actually a Supe formerly known as Liberty, with a history of Neo-Nazism (or some other kind of superiority complex) got under Homelander's skin in the previous episode by killing Kimiko's brother Kenji and scores herself some points on her public image.
Meanwhile, Homelander has been on edge and has increasingly become frustrated with everything that's going on at Vought and the Compound V scandal.
And things take a turn for the worst for the diabolical Suped-up villain when this happens . . .
Watch Where You're Pointing Those Laser Eyes!
As shown in the above video, Homelander accidentally kills an innocent bystander while haphazardly dealing with a Supe-terrorist. Consequently, this drops his approval rating by a whopping 9 and 1/2 points, which definitely doesn't sit well with him.
He struggles to repair public perception regarding the incident and nearly loses his cool at a rally protesting him when he imagines just cutting everyone down with his laser vision.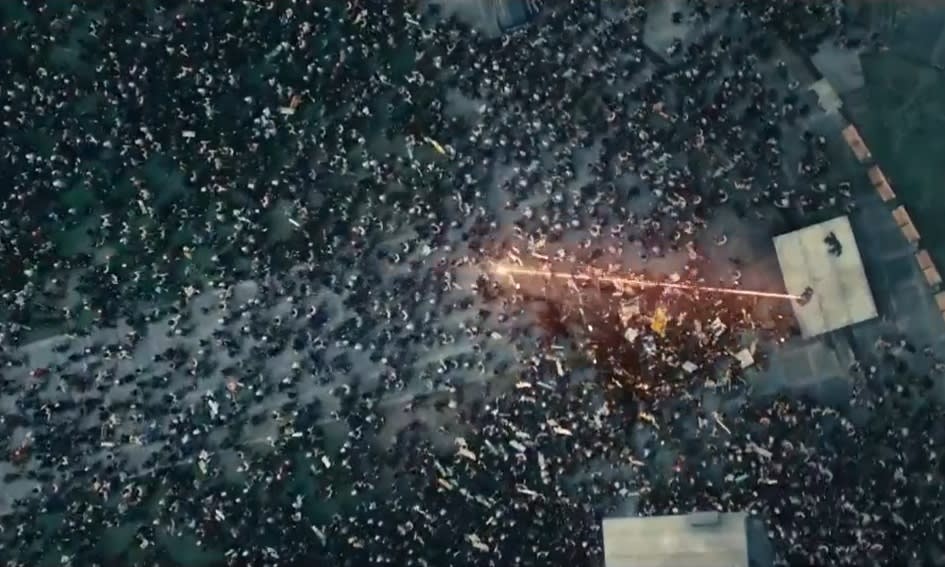 He manages to keep a level-head but his attempt to appease people doesn't go as planned, so he reluctantly seeks the help of Stormfront and her army of meme lords and queens.
As a result, Homelander's approval rating jumps back up 5 points, and he thanks Stormfront for the assist. She then sarcastically asks how he's going to pay her back, and the scene that follows is straight bonkers.
Homelander and Stormfront Get . . . Super-Kinky
What can only be described as a match made in superhero hell, the two deviant Supes engage in some intense, gratuitously masochistic, and superhumanly physical sex.
Their unlikely union has some hellish implications that could lead to some diabolical misdeeds, which means bad news for everyone. How this situation shakes things up is definitely one of the must-see dynamics to look forward to in the series.
Other Key Events In This Episode
Billy goes back to his aunt Judy's home where he leaves his dog, named Terror, for safekeeping. Terror, of course, comes straight from the comic books and his likeness to the source material counterpart is uncanny.
The "Dawn of the Seven" movie (a clear reference to the DC Extended Universe film– there's even a Joss Whedon reshoot joke throw in) is underway that doubles as a sort of farewell performance by A-Train as well as a way for Homelander to mess with Maeve by backhandedly complimenting her sexual orientation and parading her to the public as an LGBTQ+ symbol along with Elena, who gets forcibly roped into the public relations campaign.
On top of that, Starlight and Stormfront have growing tensions on set as both know each other's secrets and blatantly threaten to expose each other. Though neither do so just yet and both continue to bear with the "Girls Get It Done" propaganda.
Billy, in a depressive state after failing to rescue Becca, tries to sacrifice himself to save Hughie, MM, and his aunt Judy against Black Noir, who has tracked them down and set his sights on assassinating Billy. They only escape their demise when Billy issues a clever bluff – exposing Homelander raping his wife and hiding his son Ryan from public view.
Kimiko becomes a hitwoman for hire as a way to cope with her brother's loss, and Frenchie (unsuccessfully) tries to comfort her. The two come at odds and Frenchie walks out on her. That might be the smart move for now because Kimiko is on a rampage and is doing things like, well, this . . .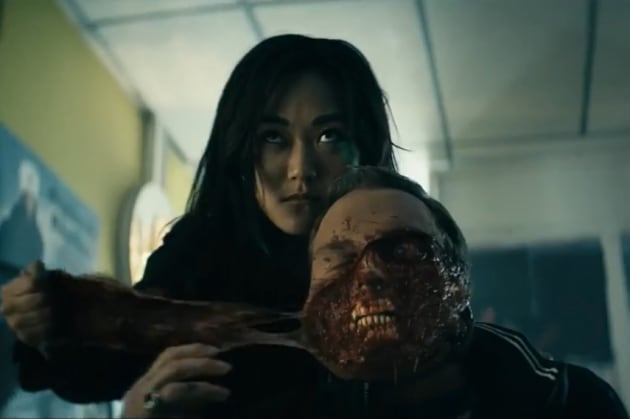 The Deep is married now but it's all so obviously fake. He even goes on an interview with Katie Couric to publicize the relationship all in an ill-conceived attempt to rejoin The Seven.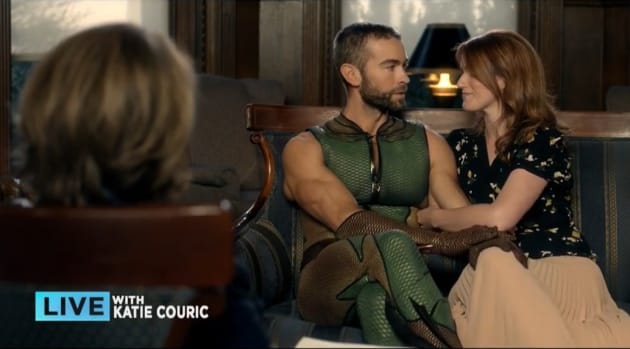 Shawn Ashmore (better known as Bobby Drake/Iceman from the X-Men films) makes a brief appearance having a phone call conversation with Stormfront. He's rumored to be playing Lamplighter, another Supe from the comics.
Episode Rating: 9.0/10
The Boys new season 2 episodes stream on Fridays on Amazon Prime Video.
Big Brother All-Stars Review: The Sixth Eviction (22×19)
A former winner and a BB legend face their Housemates, and one of them will be evicted from the Big Brother house and become the first member of the jury. Things have been crazy the last 48 hours in the house, and NONE of it made the CBS edit, which lead to an anti-climatic eviction, and further proof that the power alliance called the Committee take no chances in the game, leading this to be the most boring All-Star season of any show ever.
Winner of BB 14, and BB 20 runner-up Tyler sit on the block, after David used his Disruptor power to remove himself, and Da'Vonne used the Power of Veto on Kevin, leading to these powerhouses facing eviction. Dani said from the start of her HOH reign that she wants to possibly backdoor Tyler, but all the powers and Veto wins messed up her goal, leaving her to nominate 4 total people this week, which is a lot of pressure. Ian was already a target for The Committee, since he was not in the alliance, and as a former winner, it's an easy target. However, Dani didn't want to send him out right away. Ian knew that he only needs 4 votes to cause a tie, so he has been campaigning hard to everyone to possibly cause a rift and force a tie. I consider Ian one of the best players of all time, and he is good at campaigning, so I was hoping something would come out.
CBS then aired a segment where they show the other winner in the house, Nicole, cry hard over the fact that her best friend might go home. It was never shown that Nicole was one of the people making fun of Ian behind his back, making herself cry before going into a room with him, and lying to his face that she was going to keep him. Nicole is a bold-faced liar, and yes, that's a part of the game, but she's being rude behind his back to the point of attacking him personally. Thank the live feeds for exposing the 99% of what we don't see on the edits.
Ian is convinced that he has the 4 votes needed to tie the vote, and have Dani's support if she has to cast the deciding vote. Dani thinks in the Diary Room that if she had to break a tie, she actually might send Tyler packing, since he is more likely to win the entire game compared to a previous winner. She also talks to the rest of the Committee to possibly keep Ian, but Cody, Enzo, and Memphis are not phased by this and are more than willing to vote out the former winner before an alliance member. Okay, guys, just keep telling yourselves that until you see Julie give Tyler a check $500k.
At the live vote and eviction, Ian spoke about having more to give to the game that he loves so much, and Tyler plugged his jewelry company and his girlfriend's cookbook. At the end of the vote, Ian was evicted on a 5-3 vote. Da'Vonne, David, and Kevin were the 3 votes. Nicole distributed more fake tears to vote out Ian, then quickly regained her composure and went back to the group. Ian hugged everyone, wished everyone luck, and joined Julie outside the house, mask and all. Julie gave Ian a really uncomfortable eviction interview, pausing every few words, and stopped mid-question, and changed questions. Not sure if she was given the right set of question cards or technical difficulty, no idea, but it was odd and I felt bad for Ian. He will be the first member of the jury, and will be in the jury house where he and 8 others will vote for the winner at the end of the season.
Before the Head of Household competition, Julie revealed that Dani did not use her BB Basement power, which could give her the ability to play in the next HOH competition, so she is not competing for power. Good move by her, especially with the week she had. For the competition, the players have to make a 3D puzzle of a fire hydrant, but they have to run back and forth to get pieces. The winner was not shown on the episode, but it will be announced on the live feeds shortly.
Right as she was signing off for the night, Julie revealed that next Thursday, a Big Brother legend will be moving into "the neighbor's house," which could really mean anything. I'm hopinIg it's a legend that could mess with the game, or break up the Committee, cause I'm bored of them.
Who Will Be Nominated?
It all depends on who wins the HOH competition. If it's anyone in the Committee (Memphis, Tyler, Nicole, Enzo, Christmas, Cody), then they will put up a combination of David, Da'Vonne, and Kevin (eye roll, for several reasons). I hope it's either one of the those three, because that can send the house into disarray and I would love to see that happen (cough, cough, MEMPHIS).