Maggie Nichols was the 4th child and first-born girl to Gina and John Nichols of Little Canada, Minnesota. She always had a lot of energy and her mother, who was a fan of gymnastics, decided to enroll her in the sport when she was still in pre-school.
Athlete A, a Netflix original documentary directed by Bonni Cohen and Jon Schenk, tells the story of Maggie and many other gymnasts who suffered sexual abuse at the hands of coaches and more specifically, Dr. Larry Nassar, team doctor for USA Gymnastics for 29 years.
Maggie excelled at gymnastics. She had a natural talent and was the only 10-year-old at Nationals in 2007. She gained the attention of Bela and Martha Karolyi, famed Hungarian coaches who defected to the United States in 1981 and began coaching the US Women's Gymnastics Team.
Athlete A is not an easy watch, but it is an important one. At times both shameful and sad, it shows what adults were willing to overlook to win and to bring gold to the United States.
Centering on the staff at the Indianapolis Star, a small local paper, who's investigative team including Investigations Editor Steve Berta, and Investigative Reporters Marisa Kwiatowski and Mark Alesia, we see how the team broke the story.
In 2016, Kwiatkowski was working on a story about the failures to report sexual abuse in schools when a source pointed her in the direction of a lawsuit brought up against a predatory coach in the gymnastics community who, once accused, rather than being removed, was just relocated to another gym.
The investigative team got a copy of the deposition where it was indicated that USA Gymnastics had been warned about this coach and did nothing. The story entitled "A Blind Eye" went to print while the USA Olympic Team competed for gold during the 2016 Rio Olympics, bringing the interest in gymnastics and the team itself to an all-time high.
Seeing a link on Facebook for the story, former USA Gymnastics gymnast Rachel Denhollander realized what she knew as the truth, that USAG had been burying sexual abuse occurring under their watch for years.
Denhollander reached out to the Indy Star and told them that she was a victim, but that her abuse had not come at the hands of a coach, but by team doctor Larry Nassar. Jessica Howard, another former gymnast, also reached out to the news team with the same story.
Attorney John Manly of Manly, Stewart and Finaldi got a call, this one from former gymnast Jamie Dantzscher after she read the story. He reached out to the Indy Star team and mentioned that his client was implicating Dr. Nassar and USAG.
The team at Indy Star began to wonder if there were three different women who didn't know each other and had the same story, how many more could there be?
Dr. Larry Nassar, along with being the team doctor for USAG, was also a Michigan State University doctor, seeing athletes and students from that school.
During training in 2015 at the Karolyi's camp in Huntsville, Texas, coach Sarah Jantzi overheard Maggie and another athlete discussing Nassar and how Maggie found some of his techniques disturbing. Vaginal entry with his fingers during one particular treatment was brought up and the fellow athlete confirmed that he did that to her as well.
Jantzi spoke to Maggie and got the information and immediately reached out to Maggie's parents. She also brought the information to the attention of Rhonda Gaehn, the Vice President of the USA Gymnastics Women's program.
The next day, President of USA Gymnastics Steve Penny called Maggie's mother and promised her that he would report the incident to the police. Maggie remained at training with the promise to her parents that Nassar would be handled.
Almost a month later, Maggie's parent had not heard anything but were told they now were to speak to investigator Fran Sefler. Penny told them there was an ongoing FBI Investigation.
As Maggie's parents pushed for information, Maggie was suddenly removed from events like appearing in a commercial with fellow gymnast Simone Biles. During the Olympic trials, Maggie's parents weren't treated like the other parents. No cameras, no reserved seats, and although Maggie finished 6th in competition, she was not among those picked for the five-member team or even as one of the three alternates.
Former USAG gymnasts describe a "fine line between coaching and child abuse" happening at the Karolyi camp and of being "beaten down" to the point where when you are abused, you think you are imagining it.
Nassar was described by many of the gymnasts and the only one that was nice to them at the camp, with some abuse sufferers even looking forward to the treatments because he was the only one that seemed to be concerned about them.
The Indy Star team knew that USAG was aware of the abuse, but how much did they know and did they work to cover it up? They found evidence of USAG knowing and working to hide the information from the very start.
After releasing a story on the reports of Nassar's abuse, Michigan State University Police received more than two dozen reports of abut at the hands of Nassar.
Investigator Andrea Munford of the Michigan State University Police and Michigan State Assistant Attorney General Angel Povilaitis began gathering information for prosecution.
After being fired from Michigan State, it was reported that Nassar was treating patients out of his basement of his home and abusing again. With that information, a search warrant was obtained for his home and hard drives containing more than 37,000 pieces of child pornography.
In 2016 Nassar was arrested and charged with the most serious of the cases.
In November of 2017, Nassar agreed to a plea deal on the child pornography, destroying evidence and other charges. As part of the plea deal, survivors of the abuse could make impact statements. Impact statements began in January 2018. Many women came forward and gave their statements.
Nassar was convicted and is serving two 60-year terms.
The Indy Star was not done, nor was Manly. USAG covered the abuse and allowed it to happen. It was also found that during the FBI Investigation, Penny was discussing the opportunity for security positions within USAG with assigned FBI investigators.
A senate hearing was held in June 2018 on the Olympic athlete abuse and what USAG knew. Penny, who was removed from his position in 2017, was called to testify. He exercised his Fifth Amendment rights and would not answer any questions.
Penny was later arrested in October 2018 at a cabin in Tennessee, accused of tampering with the evidence against Nassar.
The Karolyi's closed the training ranch in Texas in January 2018.
The US Department of Justice is currently investigating USAG, the US Olympic Committee and the FBI for its handing of the sexual abuse accusations.
Maggie has continued competing, now at the university level for the University of Oklahoma. She and her team won the National Championships in 2018. Maggie won the all-around at the 2019 NCAA Championships.
The Indy Star continues to cover the story.
Athlete A recalls the 2015 Academy Award winning move Spotlight about the Boston Globe investigative team who broke the story of the cover-up of sexual abuse in the Boston Catholic Diocese. It is hard to watch but important to see.
Viewers will be shocked that this continues to happen, everywhere, even to our most celebrated athletes.
Athlete A gives us an example of why investigative journalism and the news media in general needs to be protected, so that stories like the abuse in the USAG and the Catholic Church are brought to the public's attention.
Follow CRAVEYOUTV on socials
Umbrella Academy Review – Season 2 Finale Ends In Shocking Twist (2 x 10)
Umbrella Academy wrapped up season 2 with the finale episode, "The End Of Something," which pitted the Hargreeves against the Handler and an entire army of Commission assassins. Vanya also saves Harlan, and shocking revelations about Lila come to the surface.
Plus, a shocking twist ending that has huge implications for season 3.
This season's finale ties together every story arc leading up to the end, and it's a thrilling ride that leaves a lot of future plotlines open for anything.
Public Enemy #1

Following the events from the previous episode, the Hargreeves become wanted criminals as they're used as scapegoats for JFK's assassination.
Each of them is inexplicably connected to a historical event or figure as Diego is suspected of being involved with Lee Harvey Oswald.
Luther's ties with Jack Ruby makes him a person of interest. Vanya is believed to be a Soviet spy. Allison's political activism labels her as a radical.
Finally, Klaus is described as a "controversial cult leader and known tax evader." (Which might be a political jab at our current POTUS)
Although Five is surprisingly only seen as an "innocent" hostage of the group, even though he committed the most horrible acts this season.
Also, Vanya confides the message Ben left for Klaus to him, and a burden seems to be lifted from his conscience.
After sensing Harlan is in trouble, Vanya then urges her siblings to go with her to save him.
At first, they're reluctant to do so but after Vanya goes off alone, the siblings join her one at a time, in a hilarious scene with each member squeezing into Vanya's not so spacious station wagon. Luther is the last to get on as the car's body sinks due to his weight.
Farm War
Ironically, out of all the places the siblings touched and interfered with during their time in the 1960s, Vanya getting involved with Harlan at the farm turns out to be the historical anomaly that the Handler detected, which prompted her to summon the full strength of the Commission's assassin army.
While Vanya is stuck trying to help Harlan overcome his uncontrollable powers, the rest of the Hargreeves try to fend off the Commission army.
One particularly awesome scene includes Diego channeling his inner Neo from The Matrix as he stops a barrage of bullets in mid-air to keep them from hitting Five, and he redirects them to a tractor which then explodes.
Eventually, the Hargreeves are backed into a corner as they're forced to take cover from the overwhelming gunfire.
The gunfire interferes with Vanya trying to talk Harlan down as a bullet penetrates the field of power circling around Harlan. He's knocked unconscious, so Vanya is forced to confront the army of assassins.
Vanya comes out of the barn floating and a white glow from her chest starts charging her power. In one move, Vanya disposes of the entire assassin army but when the dust settled, Lila and the Handler are untouched due to a mysterious force field.
Lila's Secret Powers
After Vanya's incredible display of power, Lila immediately retaliates using the same power against the Hargreeves siblings.
In a funny meta-commentary in response to her attack, Klaus says, "She destroyed, like, half the farm with a shock wave. So unoriginal"
Eventually, it's revealed that Lila is able to mimic and redirect the powers of anyone she encounters. Which makes the siblings theorize that she might be like one of them (a super-powered child born on October 1, 1989, as mentioned in season 1).
This is hilariously followed-up by Diego asking the question: "But she's not our biological sister, right?"
Having previously had sex with Lila, Diego worries he might have committed incest, but everyone just gives him a dumbfounded look.
Apart from mirroring Vanya's energy blast, she matches Luther's strength, reverses Allison's rumor, and blinks around like Five.
While Lila keeps the siblings busy, the Handler's true intention is revealed when she tries to convince Harlan to come with her.
Seconds, Not Decades
Lila divulges the details of Kill Order #743 to Five as she reveals that he killed her parents under the orders of AJ.
Five tells her the order was made by the Handler, but Lila doesn't believe him and she promises to kill him slowly.
This is when the rest of the Hargreeves siblings intervene, particularly Diego, who slowly tries to convince Lila to betray the Handler and join them instead because Lila is essentially their "sister."
This is when another funny dialogue is delivered when Luther makes an off-beat remark and says, "Well you know what, love shouldn't hurt this much."
Lila, justifiably, makes a puke gesture.
Shockingly, the Handler comes out of nowhere and shoots the siblings, killing all but Five and Lila. She then confronts the Handler but is killed as well because she knows the truth about her parents.
Then, in another shocking twist, the surviving Swede shows up and kills the Hander. As the Swede approaches Five about to kill him too, Five remembers his father's advice with time-travel ("Seconds, not decades"). He reverses time and saves everyone except for the Handler who the Swede still manages to kill. However, Lila escapes with a briefcase because Diego stop Luther from subduing her.
Five and the Swede then agree to leave each other alone as he says "Enough," which the Swede agrees to.
Klaus then comments "Who the hell was that guy?" referring to the Swede because Klaus had never actually seen him before.
Vanya is then finally able to save Harlan by reabsorbing her powers.
Aftermath:
After the events at the farm,
Herb the analyst is made head of the commission
Sissy tells Vanya she wants to stay in 1963 with Harlan
Allison leaves Ray an inspiring and encouraging letter that underscores the final moments of the episode with an incredible monologue saying:
"Keep faith. Believe that good things will happen because the fight for a better world is never over."
David gets shipped to boot camp.
The Swede is picked up by Klaus' cult, now lead by Keechie.
Harlan is shown to retain some of Vanya's powers
Finally Back In 2019 But…

After Five secures a briefcase, he and the other Hargreeves siblings succeed in going back to April 2, 2019, in a world still intact and apocalypse free.
However, they are shocked to find that Reginald Hargreeves is still alive, and has raised a different group of super-powered children called the Sparrow Academy.
Who are led by a still alive and kicking Ben Hargreeves who asks "Dad, who the hell are these assholes?"
Implying that the timeline has changed and they're once again in a lot of trouble. The episode ends with the Umbrella Academy collectively saying "Shit!"
VERDICT: 10/10
Unlike last season's more doom and gloom ending scene, this season's finale of Umbrella Academy almost seemed like it was headed in a positive direction but pulls the rug from under the audience at the very last second in the best way!
The tease of Ben's potential return in a different role has countless implications for season 3.
First of all, who are the other members of the Sparrow Academy!?
Since Reginald is alive, are Pogo and Grace back in the fold as well?
What's going to happen to the Commission now that the Handler and all its assassins are gone?
Is Lila going to be a factor? If so, will she be good or bad?
So many new questions waiting to be answered after a successful season toying with a mystery that unraveled spectacularly as the season went along.
The next season of Umbrella Academy can't come fast enough and we are all for it!
Is 'The Haunting of Bly Manor' Debuting October 2020 on Netflix?
Halloween may just be saved thanks to Netflix and a fan-favorite horror anthology.
With COVID cancelling Halloween festivities left and right (Salem, Massachusetts cancelled most of their celebrations and a number of upcoming horror films including Halloween, Candy Man, and The Forever Purge postponed indefinitely), fans of the spooky season need something, anything to look forward to.
And it seems like that may just Netflix's sequel to The Haunting of Hill House titled The Haunting of Bly Manor.
The series was originally set to premiere in 2020, but things became uncertain when COVID halted production nationwide.
However, in a July podcast episode on ReelBlend, creator Mike Flanagan revealed that the series wrapped production before pandemic-related shutdown. He also added that his production team was working to complete the season virtually.
HUZZAH! At least, #Halloween has been saved. @flanaganfilm confirmed on a @ReelBlend podcast that @Netflix's sequel to 'The Haunting of Hill House' will come out this year, without fail.

How eager are you to see 'The Haunting of Bly Manor'? pic.twitter.com/B9pe9Xy2VF

— MoviesMatrix 🍿 (@MoviesMatrix) August 6, 2020
"I don't expect to be delayed one bit. We didn't really miss a step," Flanagan said. "We've been jamming through [post-production]. It's been going great. It's definitely later this year. It's not going to get kicked off until 2021 or anything."
That's a wrap on THE HAUNTING OF BLY MANOR. Congratulations to the cast and crew, the familiar faces and the new, and congratulations to the filmmakers who came on board to make this season their own.

— Mike Flanagan (@flanaganfilm) February 21, 2020
There is no set premiere date as of yet, but it's looking like Bly Manor will take from the original and potentially debut as part of the October lineup.
The upcoming season of the anthology looks to another classic ghost story drawing inspiration from Henry James' classic 1898 horror novella The Turn of the Screw.
Here's the official plot for the novel:
On a Christmas Eve night during a gathering a friends, ghost stories are being shared. One of the guests, Douglas, begins to tell the tale of two children (Flora and Miles) and his sister's governess. A handsome bachelor hired the governess to take care of his niece and nephew at his country home in Bly. When strange events transpire on within the manor and the grounds the governess soon becomes convinced the estate is haunted.
Of course, it will be loosely based on the novel because Flanagan hopes to incorporate parts of several other of James' stories.
You guessed it. The HAUNTING OF BLY MANOR, a new chapter in the Haunting series based on the works of Henry James, is coming in 2020. pic.twitter.com/nvhRBEfH2E

— The Haunting of Hill House (@haunting) February 21, 2019
"I think of The Turn of the Screw as the backbone of this season — the through line that carries us from beginning to end. But we get to go off into The Jolly Corner and The Romance of Certain Old Clothes, and so many other of these wonderful ghost stories that people haven't seen adapted before," he told Games Radar. "It's all wrapped up in what seems to be familiar, but that familiarity goes away really early in the first episode. It says, 'We're off on a whole other road.'"
Come fall 2020, fans can expect to see creepy scenes that are bound to leave you afraid of the dark and hiding under the covers, especially since Flanagan is teasing that it will be somehow scarier than Hill House!
Umbrella Academy Review – [SPOILER] Makes Sacrifice To Save Vanya (2 x 09)
In Umbrella Academy's penultimate episode of season 2, "743," one of the Hargreeves willingly makes the sacrifice to save Vanya from triggering doomsday again.
Secrets are revealed at the Commission regarding kill order #743 as well as another cataclysmic anomaly, Five and Luther deal with Five's doppelganger, and Reginald Hargreeves shows his true face, literally.
This episode is a spectacular installment as several narratives fell into place and seemingly unrelated plot points are revealed to hold greater importance than they're made out to be, including clever connections from season 1 that paid off well in this episode.
The best highlight, however, belongs to Vanya and her unexpected savior, Ben.
Ben Saves Vanya And The World From Ending
Following Diego's discovery in the previous episode that Vanya once again triggers the apocalypse, he, Klaus, and Allison go to the FBI building she's detained at to try and prevent the explosion from happening. The three of them valiantly try but fail nonetheless as they can't get close enough to Vanya.
In one hilarious exchange of dialogue, Klaus fearing for their lives tells Diego just in case they don't live through this.
"You look like Antonio Banderas with the long hair," says Klaus, as Diego replies with a genuine face "Thanks, man."
The dialogue is a great way to undercut the dangerous situation and works well to set up Klaus' heroic attempt as he was the closest to reach Vanya.
After seeing his siblings fail to save Vanya, Ben decides to try as he's physically unaffected by Vanya's powers. He possesses Vanya's body and enters her mind.
He ends up in the hallucinated dream world that Vanya created where she trapped herself in as she remembers everything she did in season 1 and becomes depressed.
A heartbreaking dialogue between the two follows as Vanya says, "I'm a monster."
Ben, in the most emotionally captivating monologue this season that's worth watching over and over again, proceeds to encourage her sister.
One line in particular tugs at the heartstrings when he says, "You're not a monster, you're my sister."
His words reach Vanya and her powerful dispersal of energy in the real world begins to dissipate. However, soon after Ben reveals that her powers have taken their toll on his soul and he begins to disintegrate.
He bids a heartfelt farewell to Vanya and asks a simple request: "Can you hug me as I go?" (cue tears… damn ninjas cutting onions again!)
Vanya hugs her brother tightly as he slowly fades away, and right before Ben completely goes, he leaves a message with Vanya to tell Klaus.
Kill Order #743
Following Herb's act of mutiny in helping Diego escape from the Commission, the Handler intimidates Herb into telling Lila that Diego betrayed her.
Meanwhile, AJ who's trapped in a fishbowl manages to signal Herb to investigate the archives for Kill Order #743. Herb finds it and relays the information to Lila who proceeds to seemingly confront her mother about it.
However, Lila misinterprets the order as authorized by AJ when it was actually the Handler who gave the order.
The job is revealed to have been carried out by none other than Five to kill Lila's real parents (as shown in episode 4), which urges Lila to want revenge on him.
The Handler takes advantage of her daughter by manipulating her into believing that the Hargreeves brothers were conspiring from the beginning and that she was a pawn in their plan all along. Lila seems convinced.
In a bizarre scene, after realizing that AJ somehow alerted Herb of the order, she proceeds to eat the helpless goldfish alive.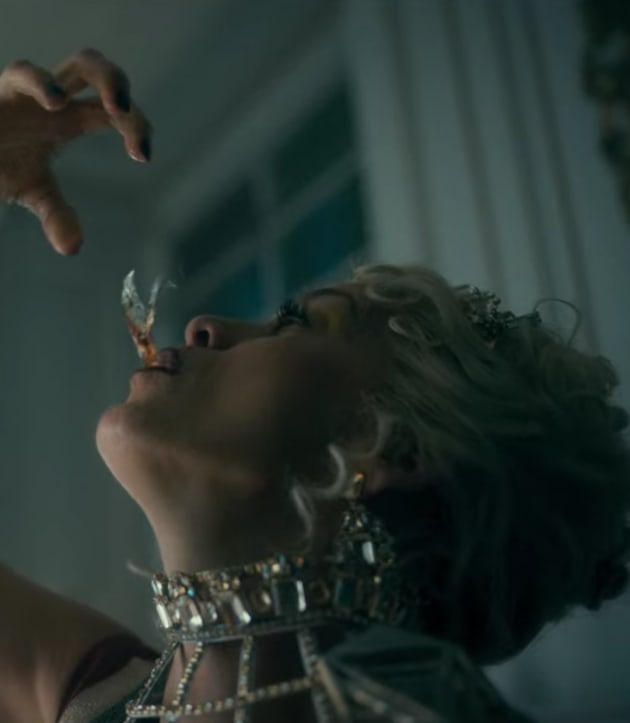 Meanwhile, an anomaly is detected by the Infinite Switchboard. The Handler is alerted and keeps it a secret, and proceeds to kill the employee who discovered it.
Before the episode ends, she ominously declares "Recall all personnel from the field… we're going to war!"
The scene then cuts to the farmhouse where Sissy and Harlan live as a powerful glow akin to Vanya's powers starts to shine. Setting up a final mystery for the finale.
Five Versus Five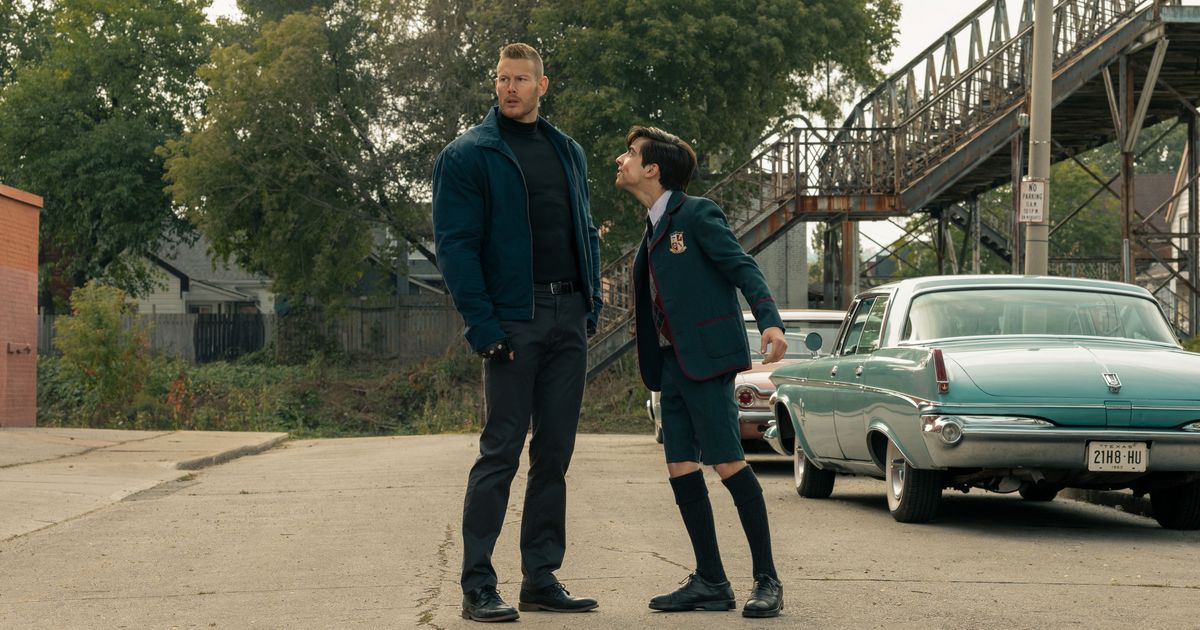 After Five and Luther find Five's doppelganger, they accompany him to the grassy knoll where he was supposed to ensure JFK's assassination.
Everything seems fine until both Fives succumb to the final stage of paradox psychosis, "Homicidal Rage."
The two Fives duke it out in an awesome slow-motion fight scene displaying their teleportation powers to the cleverly chosen tune of "Dancing With Myself" by Billy Idol.
Little Five also hilariously kicks Luther in the gonads to stop him from interfering with the fight.
In a classic twist, however, Luther manages to secure a rifle and has to choose which Five to shoot. He seemingly decides to shoot little Five but ultimately knocks the other Five out.
In a clever easter egg referencing a scene in episode 1 season 1, as little Five opens the temporal portal back to 2019 to get rid of his doppelganger, a fire extinguisher thrown by Klaus goes through the portal and knocks Luther out, which gives the other Five a chance to break free.
In the original scene, Klaus throwing the fire extinguisher only seemed like a throwaway gag for comedic relief, so for it to come back into play as a minor plot twist definitely paid off as a great nod to fans paying attention to every detail.
It also implies that the Umbrella Academy's timelines from season 1 and this season are part of a loop where the events that are happening have happened already, and are happening as they should. (I know that sentence is confusing but so is time-travel, so bear with me)
In the end, Five's older-looking doppelganger goes through the portal but in the process, the time-traveling briefcase is damaged and left unusable.
Other Notes:
Harlan is confirmed to possess some of Vanya's powers as he deflects a bullet accidentally shot by Carl while trying to pry the shotgun away from Sissy. The bullet ricochets off Harlan and accidentally hits and kills Carl.
Reginald is shown confronting the shadowy "Majestic 12" group after JFK's assassination and it's revealed that he did not want JFK to be killed as part of their deal. He tries to sever ties with them since he was lied to but a member of the organization threatens to expose him. An enraged Reginald then takes off his face, revealing that he's more than what he seems to be and kills the members of the organization – in the comics, he's an alien in disguise, which the show seems to be accurately adopting.
Diego is revealed to be the infamous man running across the grassy knoll in the JFK assassination footage as he tried to save the president from being killed.
Reginal, or rather his decoy, is implied to be the infamous "umbrella man" whom historical theorists also suspected had some ties to the JFK assassination.
VERDICT: 10/10
This episode was packed with so many great scenes and dialogue that takes the viewer on a great emotional ride. The action scenes with Five were also epic but Ben saving Vanya was definitely the impetus of the episode that followed through with a strong narrative and a mysterious ending to boot, which leaves the audience anxiously anticipating what the finale of this season has to offer!