Gossip Girl here!
Blake Lively took over Vogue's twitter on Monday Aug 4 and gave fans the answers to all their questions! It seems that ever since GG, Lively hasn't been able to stay away from blogging and tweeting. 
One thing Lively admitted was that she would love the share the screen with hubby Ryan Reynolds again. The duo famously fell in love after co-starring in 2011's The Green Lantern.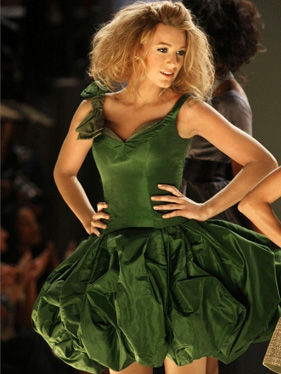 When a fan asked if she would do another movie with her husband of nearly two years, Lively responded, ""In the olden days, a couple could be in every movie together, but it's just not like that anymore. We both wish we could go back to then, because that would be a lot of fun."

There were also questions about Gossip Girl… obviously. One fan asked if she missed her role as NY socialite Serena van der Woodsen. Lively tweeted back saying, ""I miss the people that I worked with, our cast and our crew. But I don't miss the 16-hour days."
One of Lively's favorite seasons to shoot was the first one. Think 2007. "It was the 1st year I lived in New York City and what a way to live in NY," she explained. "It was very special and surreal."
Lively also took the time to explain her participation in the Beyonce and Jay-Z "On the Run" tour promotion video. "It was the first moment in my life where I truly felt cool," she tweeted. "It gave me a high sense of self-esteem for a good 10 min."
Lively is currently working on her lifestyle website Preserve. But we're secretly hoping she gets back to the big– or small– screen very soon. And we wouldn't mind if it was with her dashing husband. 
 Photo Credit: Gossip Girl/The CW
19 TV Characters with Mommy Issues
It may be Mother's Day, but it's important to remember that not all relationships between mother's and their children are ideal.
Not all mothers have been warm and nurturing towards their children which has resulted in a lot of pain and mommy issues.
While daddy issues are more common, there's a handful of characters who suffer because of absent or overbearing mother's, mother's who pushed too hard, or even, abusive mother's.
On the other hand, some mother's are so close with their children, the relationship teeters on obsessive.
See the slideshow at TV Fanatic!
Roswell, New Mexico Renewed For a Second Season!
The stars have aligned for Roswell, New Mexic.
Roswell, New Mexico just got a green light for its second season following last night's momentous, jaw-dropping, and game-changing season 1 finale.
In the finale of The CW's reboot, Noah was killed off after Max tapped into his God-like powers and though it seemed like everything was finally going to settle into normalcy, Max sacrificed himself to bring back Liz's sister, Rosa, who had been preserved all these years in Noah's pod.
The finale saw an uptick in audience — it's biggest since February — which likely assured The CW that giving the series a season 2 was a good idea.
Roswell, New Mexico has amassed a pretty dedicated following; we've all been holding on for some positive renewal news.
Now, what's going to happen with Rosa? How will she assimilate to life in Roswell, New Mexico after being dead for years? And how will they bring back Max?
Pop Up Bar 'Cosmo Carrie's' Brings 'Sex and the City' & Cosmos to Chicago
Sex & the (windy) city.
If you've been missing Carrie, Samantha, Charlotte and Miranda, you have to make your way down to Ironside Bar & Galley's latest Sex & the City inspired pop-up, 'Cosmo Carrie's.'
'Cosmo Carrie's' transforms the basement of the bar into a pink, glamorous ode to the HBO series.
Are you ready to party like it's 1998?
The SATC-inspired bar opened for Valentine's Day, just in time to grab drinks with your besties, but the reception has been so incredible, they've decided to extend the pop-up for another two months!
Manager Dave Andrews and his team created four signature cocktails inspired by the four leading ladies.
Related: 'Sex and the City' Follow Up Series is in the Works
There's the classic Cosmo inspired by Carrie, a Miranda Powersuit Martini which features a splash of prosecco, and a sweet Charlotte Honey Appletini.
As for Samantha, she inspired a "dessert" drink with Godiva dark chocolate and vanilla cold brew coffee.
If Martini's aren't your thing, there's a full specialty menu of drinks designed and named after supporting characters.
The pop-up also features a full-menu with salmon avocado toast, buffalo chicken balls, a New York-style burger, and other delicious bites.
And since everything is all about the 'gram these days, there are plenty of Instagrammable moments throughout the pop-up.
You can pose with the character cardboard cutouts, clink your Cosmo's for a boomerang, or pose with the ladies on the official backdrop.
Grab your girlfriends and make your way down to the nostalgic pop-up before it's over!
Check out the menu HERE and get more info about Cosm Carrie's HERE!