Move over Gwyneth, Blake is taking the reigns!
Blake Lively's highly anticipated lifestyle site, Preserve, has finally launched!
The Gossip Girl alum admitted that launching her personal site has left her feeling "intimidated". Her intimidation might stem from the criticism she received for wanting to start her own lifestyle site, which many people are comparing to Goop, Gwyneth Paltrow's site.  Although I personally think she's going to give Goop a run for its money. 
So what can we expect from Preserve? Let's ask the editor herself!
"Sitting down to write this editor's letter has been the hardest thing I've done yet on my Preserve journey. I'm more intimidated than I should probably admit. I'm no editor, no artisan, no expert. And certainly no arbiter of what you should buy, wear, or eat," she wrote in her humble first "Letter from the Editor".
For Lively, the site is "part magazine, part e-commerce hub, [and] part philanthropic endeavor". The idea behind it is that everyone has a story to tell, but she's not taking all the credit. Preserve is as much everyone's story that she's ever had the pleasure of working with, as much as it is hers.  It's a mixture of the "most dedicated, soulful, wise, patient people I've ever had the honor of working alongside," explained the 26-year-old blonde. 
"Here at Preserve, there are people, stories, essays, videos, and goods that hopefully inspire your home, your style, and your tongue. There's expensive stuff. Inexpensive stuff. And everything in between. But their value, that's up to you. We romanticize it, calling it treasure. What we're simply saying is that we see their worth on every level," Ryan Reynolds' wife wrote. 
In other words, if you ever need inspiration, if you ever need a helpful decorating/style tip, this is the site to check out. I mean, she doesn't need many credentials. She's basically the queen of the red carpet for every high fashion event. So if she wants to give me some decor, fashion, food, love, etc. advice, I'm totally in. I'm just not sure if I'm able to afford it.
That's really the only problem with these e-commerce sites that are being sold to us by stars. Sure, Blake Lively handpicked these items and while their fantastic, in good taste, and look great on pinterest and instagram, do I honestly need to spend $100 on something I could probably find for much cheaper at like TJMaxx? (And side note, yes I do go to TJMaxx?). Not sure. But I won't knock it. You can buy anything from candles, to love letters from New Orleans, to "organic" jewelry, to hot fudge and ketchup. And while I think $8 is a little much for ketchup, to each his own. Maybe it is really the best ketchup you've ever had? I probably won't ever know. 
The site isn't made for poor, young college students in loans, nor is it made for people who don't have a summer home to store all these fancy, irrelevant things. It's for people who have a little more excess cash to waste and want to seem like they have good and "artisan" taste. So let it be. Haven't you ever bought something solely because someone like Lauren Conrad was marketing it and you wanted to be just like her? It's the same thing, except this is a look into Blake Lively's brain and imagination. So if you're  a fan, this is your heaven. 
You can check out the site at www.preserve.us. Let's preserve our story! 
What did you think? Are you a Blake Lively fan? Do you like her new lifestyle site? 
Photo Credit: Preserve
God Friended Me Sneak Peek Clip: Does Arthur Make the Right Decision?
Is the God Account pulling the strings for everyone in Miles' life?
On God Friended Me Season 2 Episode 5, was tasked with decision that would alter the course of his future.
After Bishop Thompson resigned from the church leaving the position of Bishop of New York, the opportunity fell into the retired reverend's lap.
Thompson suggested that Arthur was the only qualified person to fill the role.
The offer would have been a dream come true for Arthur just a few months ago when he and Thompson ran against each other. Obviously, Thompson one.
But since then, Arthur has taken a break from the church; he's in a new phase in his life.
God Friended Me Season 2 Episode 5 Review: The Greater Good
Being retired allows him time to play tennis and hang out with his soon-to-be-wife, Trish, who isn't exactly thrilled to see him recommit to the church.
And still, Arthur continues to be drawn to it because it's his destiny.
Therefore, this decision is momentous.
Does he listen to his fiance's advice and pass or does he accept a position that he's worked towards his whole life?
Luckily, TV Fanatic has an exclusive clip from God Friended Me, which revealed that Arthur doesn't think twice about accepting this second chance.
Watch the clip HERE!
Dynasty's Adam Huber on Liam's Amnesia, #Falliam Future & That Kid Storyline
Adam Huber plays the uber dreamy Liam Ridley, the latest addition to the Dynasty cast.
Huber scored the title of series regular ahead of Dynasty Season 3.
But even without the coveted upgrade, the heartthrob has been a fan favorite since his debut on Dynasty Season 1 Episode 15, you know, the episode where he married Fallon, a complete stranger, on a whim.
Since then, Fallon and Liam have had a tumultuous yet epic relationship.
Nothing about their relationship has been conventional.
After they overcame a love triangle with Culhane, a messy situation with Liam's uncle, a divorce, and Fallon's attempts at winning him back from Ashley, it seemed liked things were going to work out.
Dynasty Season 3 Episode 1 Review: Guilt Trip To Alaska
Fallon proposed to him on the Carrington lake, and despite losing the ring in the water, Liam still said 'yes."
But their happiness was short-lived when her tyrannical brother, Adam, clobbered Liam upside the head and locked him in the pool closet.
After regaining consciousness, Liam crawled over to the pool, fell in, and woke up with amnesia, which is where we left off when I spoke with Huber.
Huber dished about Liam's amnesia, what's next for their relationship, his possible revenge on Adam, and the storyline he's dying like to explore.
Dynasty is back and with it returns all of that Carrington craziness!
Sure.
Amidst all of that, you've been up to series regular. Congrats. Were you expecting it? 
No, I honestly wasn't.
There have been other people. Wakeema, whose on the show and plays Monica Colby. You know, me and her were kind of doing the same thing we were just recurring, and you kind of go until you book another show or they give you a contract.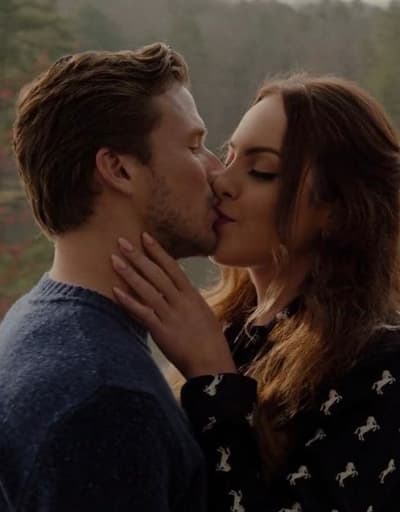 And I was testing actually on another show, NYPD Blue is doing a reboot. I got very close to that. And right around the same time, they asked me to be a series regular.
So, you know, it worked out well. I wasn't getting on PD Blue, so they had me a series regular. No, I was expecting it. I was just kind of chilling. I was just happy to be there.
It's a great role to have. 
Right?
Has the way you approach and prepare for the character changed now that he does have a deeper storyline and is so loved by audiences?
I have been putting, I think, more work into it. I mean, I've always put work into it, and definitely just trying to stay fresh and just trying to understand him.
We're very similar, but we're also different. You want to keep his story fresh. I have a journal that I do character journaling in.
I take what I know, and then just create a story around him.
Like, what was the relationship like with my dad? What is the relationship like with my uncle who is on the show played by C. Thomas Howell? And I do that with all the other people in his life. Does that make sense?
Everything to Know About the Original Shows & Movies Coming to Disney +
Disney+ is gearing up to take over the world, or, at the very least, provide stiff competition to other streaming platforms like Netflix, Amazon Prime, and Hulu.
Launching November 12 in the US, Canada, and the Netherlands (and a week later in Australia and New Zealand), Disney's streaming platform has already made lots of commotion in the entertainment world.
Those who scoffed at adding another streaming service are now re-thinking their stance after hearing Disney's plans for programming.
Not only is Disney+ planning to offer classic films, but they're also rebooting nostalgic favorites, and expanding the Marvel universe with several new shows, both animated and live-action.
Disney+ is bringing your childhood to life. For avid TV watchers, it's the equivalent of going to Disney World or Disneyland.
While the Disney Channel markets with a focus on children, Disney+ is planning to entice children, millennials, and adults alike.
Best of all, their price-point is competitive and appealing. At $7 a month, it's almost half of what Netflix is charging, and they're even offering bundles with ESPN Plus and ad-supported Hulu for just $13, $5 less than what all three combined would cost.
It's hard to continue hating on Disney+ when they have so much working in their favor.
Not convinced just yet? Let's take a look at all the exciting original shows and films that will be hitting the platform!