Breaking Down the 9-Minute 'Emergence' Preview: Does ABC Have a Sci-Fi Hit on Their Hands?
With Labor Day in our rearview mirror, it's time to break down something we've been waiting for all summer: fall tv premieres.
One of the more enticing additions to ABC's fall line-up is the Alison Tomlin led sci-fi drama, Emergence.
Described as a "character-driven genre thriller" that follows Jo (Tomlin), a police chief who rescues a young child, Piper (Billions' Alexa Swinton) at the site of mysterious plane accident.
In the clip, Piper is disoriented and has no recollection of what happened or who she is.
Or so she's letting Jo to believe.
If this sounds oddly familiar, well, that's because it is.
Crashing planes, people with mysterious powers, supernatural energies, a government conspiracy, it's the recipe for every sci-fi thriller ever.
Emergence is, in short, attempting to do what Manifest couldn't.
And it is to the 2019-2020 lineup what Manifest was to the 2018 TV lineup, which is precisely why the success of this show can go in one of two ways.
The brief 9-minute teaser trailer packed more action and answers than all of Manifest's first season. And no, I'm not hating on Manifest because I'm actually rather fond of the series, though, we must acknowledge that they aren't being forthcoming with the answers, which is a major frustration for genre thrillers.
Then, there's the fear of the series getting cancelled prematurely after a short-lived season, which also seems to be the case for genre thrillers. Think Heroes Reborn, The Passage or even Timeless.
It'll be interesting to see if Emergence stands the test of time. But if they deliver on their promise made at San Diego's Com Con to unravel the mystery at a good pace.
"We've been surprised as a cast just how quickly information comes about Piper and revelations for all of us," said Owain Yeoman. "That's very satisfying."
Plus, we have to acknowledge the stellar cast supporting this new drama.
In addition to Tomlin, the "character-drive" thriller also stars Yeoman as Benny Gallagher, Ashley Aufderheide as Mia Evans, Robert Bailey Jr. as Officer Chris Minetto, Zabryna Guevara as Abby Frasier, Donald Faison as Alex Evans, and Clancy Brown as Ed.
Let's break-down the first 9-minutes filled with mystery, intrigue, and a stellar cast that leaves you wanting to know more.
The Crash Landing
An explosion wakes up Jo and her family wake up in the middle of the night. As the family steps outside, they see a bright glowing aura around the crash site. When Jo arrives at the crash site, it's revealed that she's the Chief of Police.
One Surivor 
Despite the crash being so bad that "no one should have survived," a little girl did survive and she's hiding out in the bushes. Jo notices her and establishes trust by pointing out that she's a good guy too just like Woody on the Toy Story shirt that the girl is wearing. The little girl clenches onto Jo who accompanies her to the hospital for treatment. Again, at the hospital, the doctor tells her that there's not a scratch on the child so it's unlikely that she was a passenger on the plane.
No Memory
The doctor tells Jo that the girl most likely has "dissasociative amnesia" explaining that something traumatic must have happened causing her to block everything out. "Something traumatic like a plane crash," Jo asks.
Fake NTSB
A group of NTSB employees arrive at the hospital demanding to speak to the girl and look at her chart. Jo leaves the room leaving behind the girl and tells the hostile NTSB officer that they don't have arrest authority and don't preside over the case. During the commotion, the little girl runs away, which leads us to believe that she didn't lose her memory like she led everyone to believe. She's scared and running away from the NTSB officers who, turns out, are fake. Jo gets a call from her employee at the crash site who says that "no one knows who the first NTSB officers" were.
The Girls Secret Powers
Jo runs to her car and is unable to start it when suddenly, she notices the rain falling on her windshield is being manipulated. Everything begins flickering on and off, her police sirens turn on, and the little girl pops up from the backseat and asks Jo not to be mad. And then, the trailer ends. Who is this little girl? What are her powers? Is she like Eleven from Stranger Things? Who are the bad men coming after her? What do they want from her? How did she survive the crash?
The Time
When ABC announced the 9 minute trailer, they made it a point to say that "at 3:10" the accident happened. Considering how vital the 828 in Manifes'ts Flight 828 was, we're now curious about what the time stamp means.
Watch the trailer below:
If you're bummed that NBC benched Manifest until 2020, we suggest you tap into the forces that are strong within Emergence when it premieres on ABC on Tuesday, September 24.
God Friended Me Sneak Peek Clip: Does Arthur Make the Right Decision?
Is the God Account pulling the strings for everyone in Miles' life?
On God Friended Me Season 2 Episode 5, was tasked with decision that would alter the course of his future.
After Bishop Thompson resigned from the church leaving the position of Bishop of New York, the opportunity fell into the retired reverend's lap.
Thompson suggested that Arthur was the only qualified person to fill the role.
The offer would have been a dream come true for Arthur just a few months ago when he and Thompson ran against each other. Obviously, Thompson one.
But since then, Arthur has taken a break from the church; he's in a new phase in his life.
God Friended Me Season 2 Episode 5 Review: The Greater Good
Being retired allows him time to play tennis and hang out with his soon-to-be-wife, Trish, who isn't exactly thrilled to see him recommit to the church.
And still, Arthur continues to be drawn to it because it's his destiny.
Therefore, this decision is momentous.
Does he listen to his fiance's advice and pass or does he accept a position that he's worked towards his whole life?
Luckily, TV Fanatic has an exclusive clip from God Friended Me, which revealed that Arthur doesn't think twice about accepting this second chance.
Watch the clip HERE!
Dynasty's Adam Huber on Liam's Amnesia, #Falliam Future & That Kid Storyline
Adam Huber plays the uber dreamy Liam Ridley, the latest addition to the Dynasty cast.
Huber scored the title of series regular ahead of Dynasty Season 3.
But even without the coveted upgrade, the heartthrob has been a fan favorite since his debut on Dynasty Season 1 Episode 15, you know, the episode where he married Fallon, a complete stranger, on a whim.
Since then, Fallon and Liam have had a tumultuous yet epic relationship.
Nothing about their relationship has been conventional.
After they overcame a love triangle with Culhane, a messy situation with Liam's uncle, a divorce, and Fallon's attempts at winning him back from Ashley, it seemed liked things were going to work out.
Dynasty Season 3 Episode 1 Review: Guilt Trip To Alaska
Fallon proposed to him on the Carrington lake, and despite losing the ring in the water, Liam still said 'yes."
But their happiness was short-lived when her tyrannical brother, Adam, clobbered Liam upside the head and locked him in the pool closet.
After regaining consciousness, Liam crawled over to the pool, fell in, and woke up with amnesia, which is where we left off when I spoke with Huber.
Huber dished about Liam's amnesia, what's next for their relationship, his possible revenge on Adam, and the storyline he's dying like to explore.
Dynasty is back and with it returns all of that Carrington craziness!
Sure.
Amidst all of that, you've been up to series regular. Congrats. Were you expecting it? 
No, I honestly wasn't.
There have been other people. Wakeema, whose on the show and plays Monica Colby. You know, me and her were kind of doing the same thing we were just recurring, and you kind of go until you book another show or they give you a contract.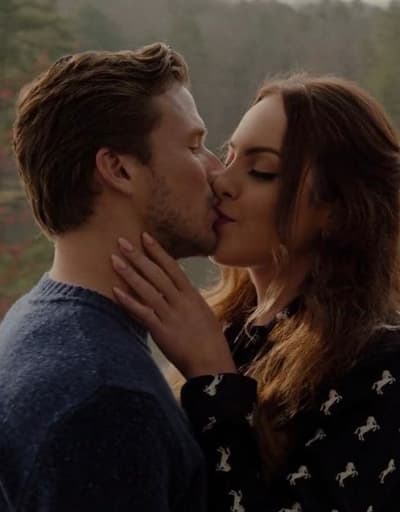 And I was testing actually on another show, NYPD Blue is doing a reboot. I got very close to that. And right around the same time, they asked me to be a series regular.
So, you know, it worked out well. I wasn't getting on PD Blue, so they had me a series regular. No, I was expecting it. I was just kind of chilling. I was just happy to be there.
It's a great role to have. 
Right?
Has the way you approach and prepare for the character changed now that he does have a deeper storyline and is so loved by audiences?
I have been putting, I think, more work into it. I mean, I've always put work into it, and definitely just trying to stay fresh and just trying to understand him.
We're very similar, but we're also different. You want to keep his story fresh. I have a journal that I do character journaling in.
I take what I know, and then just create a story around him.
Like, what was the relationship like with my dad? What is the relationship like with my uncle who is on the show played by C. Thomas Howell? And I do that with all the other people in his life. Does that make sense?
Everything to Know About the Original Shows & Movies Coming to Disney +
Disney+ is gearing up to take over the world, or, at the very least, provide stiff competition to other streaming platforms like Netflix, Amazon Prime, and Hulu.
Launching November 12 in the US, Canada, and the Netherlands (and a week later in Australia and New Zealand), Disney's streaming platform has already made lots of commotion in the entertainment world.
Those who scoffed at adding another streaming service are now re-thinking their stance after hearing Disney's plans for programming.
Not only is Disney+ planning to offer classic films, but they're also rebooting nostalgic favorites, and expanding the Marvel universe with several new shows, both animated and live-action.
Disney+ is bringing your childhood to life. For avid TV watchers, it's the equivalent of going to Disney World or Disneyland.
While the Disney Channel markets with a focus on children, Disney+ is planning to entice children, millennials, and adults alike.
Best of all, their price-point is competitive and appealing. At $7 a month, it's almost half of what Netflix is charging, and they're even offering bundles with ESPN Plus and ad-supported Hulu for just $13, $5 less than what all three combined would cost.
It's hard to continue hating on Disney+ when they have so much working in their favor.
Not convinced just yet? Let's take a look at all the exciting original shows and films that will be hitting the platform!