So much happened in last night's episode that
Dawson and Shay arrive at a remote cabin for a much-needed girls' weekend away from the city… except two minutes into their stay Dawson breaks down, frustrated by her relationship with Casey. Between the never-ending apartment search and his recent injury, they're both stressed and Dawson now doubts her commitment. Shay comes to the rescue with some alcohol and the two friends commiserate over the drama at 51 and even discuss Jones – until the husband-and-wife owners of the cabin interrupt with a feud so loud Dawson and Shay can hear them from next door. Their argument escalates outside and ends with the husband driving away, and immediately wrecking his car!
The vacationing EMTs rush over to the husband and discover him suffering from a possible spinal injury and a major loss of blood. They work fast to save his life, improvising with duct tape and dishrags to stop the bleeding while the couple makes amends (a fact not lost on Dawson). The ambulance arrives not a moment too soon and carts him away, with Dawson left pondering the grand meaning of the moment.
Back at the station, Boden assures Jones she won't be transferred – not by him, at least. She expresses her doubts, disappointed by her father's decision, but takes a personal day to sort out her next move. Casey notices her demeanor and, feeling for her situation, follows up with Chief Jones – but her father won't even hear it. It's not looking good for Candidate Jones.
The same can be said for Bloom. Severide receives a courtesy call from Desk Sergeant Platt at CPD informing him that Bloom came in on a DUI. Severide vouches for him with the understanding that Bloom will attend rehab and Bloom agrees, but shows up late – and drunk – to the first meeting. Upset, Severide senses Bloom's personal secrecy drives him to drink and when Boden takes a call from Bloom's old firehouse in Denver, it sounds like the answer to the mystery lies right around the corner. Mouch has an even bigger mystery to solve: women. After changing his profile pic on the dating site Golden Oldeez, he lands a blind date and, in turn, a room full of opinions on how to win her over. They coach him as best they can… and it all falls apart when the date actually happens. Lucky for him, once he stops trying to impress, he and his date appear to make a real connection.
At Molly's, Jones stops by in search of Dawson – why isn't she answering her phone? Herrmann informs her about the girls' weekend and the shoddy cell service out in the boonies. Disappointed, Jones shares her big news – she will abandon her dream of firefighting and transfer to PR. An unexpected heart-to-heart occurs between the two as Jones reveals her dad's motive – after losing her mom to a car accident, he feels the need to protect Jones at every turn. Herrmann offers up Molly's as solace whenever she needs it; she thanks him, and before leaving, requests that he tell Dawson she dropped by.Jones makes it back to her apartment and, as tears stream down her face, she writes a note and seals it in an envelope. On the front she addresses it to Dawson who arrives home to Casey ready to forgive all the recent relationship strains. Her being away had the same effect on him, but before things can heat up an urgent call stops them cold. Dawson's face drops as she relays the news they just found Jones' body. 
Don't miss an all new episode next week also congrats to the series for another season set to go this Fall! Also our sister show Chicago P.D. has also gained another season so we have that to look forward to.
http://youtu.be/lZLfMJXPhVU
Follow CRAVEYOUTV on socials
NBC Gives Three Season Renewal to One Chicago Shows 'Chicago PD,' 'Chicago Fire,' and 'Chicago Med'
And that's what we call a triple sweep!
Your favorite ER docs, firefighters, and detectives aren't going anywhere anytime soon because NBC just gave the #OneChicago universe a massive pick-up.
All three series in Dick Wolf's "Chicago" franchise will be returning for an additional three more seasons.
That brings Chicago Fire through season 11, Chicago PD through season 10, and Chicago Med through season 8.
https://www.instagram.com/p/B9FqvM6JJmo/
According to Deadline, the renewals are part of a new deal between Wolf and Universal Studios.
"Dick Wolf has proven time and time again that he makes shows audiences love," said Paul Telegdy, Chairman, NBC Entertainment. "We are delighted, excited and proud that as part of this epic deal with Wolf Entertainment, NBC's loyal audience will know that their favorite shows have a certain future for the next three years."
https://www.instagram.com/p/B9FrIPijFDO/
His other highly-rated and highly-performing drama, Law & Order SVU, also snagged three more seasons.
While nabbing three seasons at one time is surely a feat to be proud of, it isn't unheard of at NBC, a network that loves to reward shows that simultaneously perform well live, in DVR viewing, and can also be syndicated. And if they have large, dedicated followings — which all 4 Wolf shows do — it only works in their favor.
The shows join the previously renewed medical drama New Amsterdam and the emotional family drama This Is Us, which was scored a three-season renewal.
https://www.instagram.com/p/B9Fq7e5BwtZ/
Following the exciting news, the shows will have to renegotiate contracts with talent. Since three-years is a pretty massive chunk of time, it's possible that not all of your favorites will stick around for the full-term.
Wolf has found success in both keeping his lead around for the entire duration of a series like Mariska Hargitay on Law & Order: SVU or swapping out the full cast entirely to offer a different perspective and reinvent the wheel. Either way,  it's bound to be successful and lucrative.
Are you excited about the renewals?
Which show is your favorite?
The First 'Chicago Fire' and 'Chicago PD' Crossover of 2020 Is Coming – Watch the Promo
Fans of Chicago PD, Chicago Med, and Chicago Fire will have to wait an additional week for new episodes.
The One Chicago universe is taking a break this Wednesday (February 19) as it gears up for the first crossover of 2020.
The two-part crossover excludes Chicago Med, though the series will kick off the hour with an intense episode of its own, and instead, finds PD and Fire teaming up to respond to a national epidemic.
It even brings back a beloved PD character, although, it's not in a way that you'd expect and might not be all that great for Roman (guest star Brian Geraghty).
Here's what to expect from the crossover airing Wednesday, February 26!
Chicago Fire
In a two-show crossover event with "Chicago P.D.," a series of teen opioid overdoses sees Severide partner with Sean Roman (Brian Geraghty), but begins to suspect there's more to the story than his old friend is telling him. Casey tries to be there for Brett as she considers her birth mother's offer to meet.
Chicago PD
Part 2 of Crossover with Chicago Fire; Intelligence searches for the dealer who caused multiple overdoses and is connected to Roman's missing sister. The case becomes a homicide investigation when they find the dealer's dead body. Guest star: Brian Geraghty.
See the promo below!
Previously on
Chicago Med
, Will Halstead made a questionable decision when he possibly pursued a relationship with Hannah, an addict he met at the clinic.
PD
found Burgess recovering from her miscarriage following a violent beating from a suspect responsible for sex-trafficking innocent women.
Chicago PD: Tracy Spiridakos Teases Fire/PD Crossover, 'Upzek''s' Future, and Relationship with Halstead
Chicago PD and Chicago Fire are teaming up for yet another exciting crossover!
On Wednesday, Feb. 20th, Intelligence and Firehouse 51 will work together after a string of robberies lead to a building fire.
However, Tracy Spiridakos, who plays Hailey Upton, revealed that the situation might get more personal when Voight suspects a firefighter may be involved.
But aside from dosing out justice and catching bad guys, Upton's had a pretty tough season; she's dealt with personal childhood trauma, falling hard for a co-worker, and getting abducted.
When we spoke to Spiridakos, she not only dished about the upcoming crossover, but also elaborated more about the brewing love triangle, the state of her relationship with Burgess, and even gave us some insight about Upton's unique relationship with Halstead.
She also addressed the #Burzek fandom who have shown a bit of animosity towards her character.
And most importantly, she told us about her love for deep dish pizza.
Check out the interview below — you won't regret it.
We have to address Chicago PD Season 6 Episode 14. Upton and Burgess were abducted, and it was one of a few times where the two ladies shared a really powerful scene together. Tell me about that. How did that feel?
It was great. We got to do some stuff in Season 5, the one where we're PIs both of us approached, but this one was especially intense due to not only being abducted but also Burgess finding out about Ruzek at the beginning of the episode and the tension that came with that.
But I really like how at the end, they're bonded beyond anything they've ever been and they're stronger together which is really cool!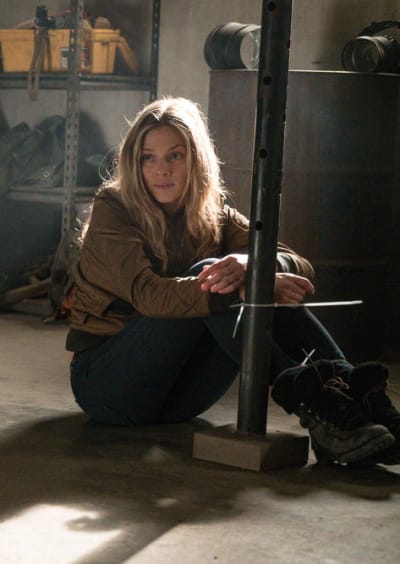 Yeah, I love how Burgess and Upton handled their "guy drama." Rarely do shows allow two grown women to handle something in such a mature fashion. Why was that so important for Chicago PD and specifically, for these two characters?
I think it's important to just show exactly what you just said that two women can have a conversation about something that's going on like that and can walk away from that and just be like "things happen, and I understand where you're coming from and thanks for talking to me about it and we're good."
After what they went through as characters in being abducted and not knowing when Burgess walks in and sees Upton tied up and bleeding and not knowing what happened to her and if she was going to survive or what was going on, I think you get sort of stronger bonded going through something like that.