Was that finale everything I had hoped it would be? No. The death wasn't shocking. It didn't rattle my bones the way I hoped it would. Everything turned out ok, which was predictable. Nothing really had me craving answers. I must say I really enjoyed the part where Dick Wolf depicted the Chicago police in the most accurate way– fat, stuffing their faces, completely oblivious to the robbery that's happening right in front of them. For once I felt like it wasn't just something I mentioned every time I saw them parked up at Dunkin Donuts, but someone was actually realizing that this happened all too often. Thankfully, Burgess was not put in intelligence and was on the scene to protect our city the way a cop should!
Back to the important stuff! This week we were dealing with a huge pain in the butt named Charlie, who appeared randomly out of Linday's past and clearly, didn't change one bit. Last week Lindsay introduced Charlie to Travis, a son he didn't know he had with Linday's best friend Annie. Bringing him back into Annie's life was obviously a huge mistake because Lindsay walked into a domestic abuse situation. Charlie wasted no time beating the crap out of Annie. But it was Lindsay who he was trying to get to.
While he was rotting in prison and exiled from the city, Annie was happily raising his son while Lindsay became a police officer. Clearly, not a fair trade. Charlie was back to do some dirty work and he needed Lindsay to get him what he wanted. If she didn't, he would rat out the huge secret he had on her— back when Lindsay was 16, Annie killed a boy named Ricky Sandoval and she helped him remove and bury the body. If this got out it would literally ruin Lindsay and the career she's worked so hard for.
Charlie's return was eating away at Lindsay. But duty called and the unit got called to a crime scene where tons of water gel explosives had been stolen. I feel like Lindsay had an inkling that Charlie was behind it, but she didn't say anything. Instead, she confided in Jin to find off-the-books access to the water city planning and zoning commission blueprints, which she planned to hand over to Charlie as part one of her duties to keep him from talking. She probably wouldn't have confided in anyone, but Halstead got a little caught up with the man of the hour himself. He paid Mouse (his ears in the city) to get him a meeting with the guy who was looking for some goods. That guy turned out to be Charlie and he totally recognized Halstead. The confrontation between the two guys was uncomfortable, frightening and awkward. Halstead sensed something was up and asked Rozek to stall while he confronted Lindsay about it. She kept reassuring him that she had it handled, but let's be serious, she was crumbling inside. She eventually confided in Voight. I didn't really understand why she was so hesitant. Sure, the dirt that Charlie had on her was bad, but it's not like Voight didn't know about her past. He's the one that saved her, gave her another chance. If anyone in this city could help her out, it would be Voight.
Watching her tell her father figure the truth was brutal mainly because she was so ashamed of her past. Lindsay and Charlie were once lovers. She was 16 and he was 25. Her father was in jail, her mother stopped coming around and she pretty much fell into Charlie's hands. He was her savior and she owed him for putting hot food on the table. But that was then and this is now and now Lindsay is a completely different woman. A strong, honorable woman who had to deal face-to-face with her past. She had to finally face the consequences of her actions. The unit moved out to bust Charlie and his guys before they had time to rob the jewelry store. While Charlie was getting arrested, he screamed that he wanted to testify on the murder of Sandoval in 2002.
Back at the precinct, Voight wanted to lock Charlie up but first, Lindsay wanted to have a few words. Sure, he could give his statement about the murder of Sandoval but Lindsay would testify that she was the one that killed him. She wasn't going to let her best friend get separated from her son. When he complained that she had this whole new life while he rotted in prison she finally admitted that she saved him from being drowned at the bottom of the lake (presumably by Voight). Instead, she pleaded for his life and made a deal that sent him out of town. The smart thing to do would be to give up Red (the guy he was working for), get one year in prison and than start over as a good man when he got out. Charlie took the bait and admitted that Red was hiding out in the BY. All the detectives were trying to figure out what the BY was when Nadiya recalled getting sent to work to an abandoned parking lot in the Back of the Yards neighborhood. Bingo!
Rozek went to check it out and was immediately spotted as an introducer. Gee, could it be the red checkered shirt your wearing bro? The intelligence unit came right as they started shooting at him and Lindsay and Voight went on a speed chase after the van. Long story short, they shot the tires, the van flipped over, Halstead almost got shot if it wasn't for Lindsay who saved his life by shooting their target. It was a comforting moment for the partners, knowing that no matter what they had each others back. At the headquarters, Lindsay thanked Halstead for being there for her and helping her out. "That's why you have backup," he told her grinning. Charlie was right. Halstead has this fiery look in his eyes when it comes to Lindsay. Without words, without admittance he loves her unconditionally and I cannot wait until the writers get to explore that. Especially, with the whole 'no dating co-workers' rule in place.
Meanwhile, Antonio was fully recovered from his gunshot wound (what a speedy recovery) and was more than eager to get back to work. Thank god Voight laid down the law that all he would be doing was manning the desk for a couple of days to make sure he was better. After the season he's had, its not surprising that his wife doesn't want him to work for the unit anymore. Any wife would become scared that she might never see her husband again. But, you also can't take someones passion away from them. Antonio lives and dies for this unit so her nagging him about taking it easy and not stressing was doing just that to him. Saying he was snappy was putting it lightly, especially when he was tasked with mundane jobs like picking up Nadiya from rehab because Lindsay was so swamped with work. Although this task was one with a happy end. Just like Voight had once given Lindsay a second chance, she was giving one to Nadiya and this time she promised she wouldn't blow it. I actually feel like after today, she might become very useful to the unit given her street smarts and ins with the thugs of the city. Seeing their friendship blossom was truly inspiring and really proved Lindsay's character. Unfortunately, Antonio's day wasn't so good. He survived without getting shot, but his heart was broken upon arriving home and reading a note that most likely explained why his wife packed up the kids and left. When season 2 premieres I'm sure we'll find out that she gave him an ultimatum. Either he choses her or the job. It's going to be a sticky situation for him as he loves both probably equally.
Atwater was having a pretty tough first day at intelligence. First off, Olinsky made sure he knew that he didn't deserve the spot as much as Burgess did. Than got shit for not taking orders and than when he finally got his source to let him talk to one of the big players in the explosives robbery, Halstead blew it by revealing their cover. Atwater might be good police, but he's not as clever as he should be for intelligence. I have a feeling that Voight might be disappointed in his choice pretty soon. Burgess also wasn't having a good day with her new, lazy partner (mentioned previously). She also gave Rozek a hard time when she ran into him thanking him for not letting her move up to intelligence. Yet the tension between these two never disappeared. After her long shift, Rozek came by her apartment to say sorry along with 'I like you and I miss you'. That was enough to seal the deal as she passionately kissed him and than they worked their way down to the bedroom. If she can't have intelligence, she might as well have the boy right? There goes any and all hope that he will ever get back with his fiancee. But it was a good moment for Burzek shippers!! What happens if another spot frees up at intelligence though? Will Voight finally see that everyone in his unit is falling in love and just let it be?
Nah, probably not. Voight may be loving but his trust was broken this week after he found out that Jin was snooping around on his computer, before finding him at a secret meeting with Stillwell. He allowed Jin to explain, but wasn't impressed even when he admitted that Stillwell was threatening his father who was busted at an underground gambling casino and owed him a lot of money. Before the episode finished ending the first season of the hit drama, Jin called his father to leave Chicago before downloading all of his computer files, saving them to a hard drive and sending them to someone. Stillwell perhaps? Did he know lying was going to get him killed? It sure seems like thats what he was getting ready for. The next morning he was found dead. Stillwell called Voight to the scene of the crime asking if this was one of his men. Voight did what he does best. He looked Stillwell right in the eye and said yes, it is. Not even shocked that Jin was dead. Why? Because he killed him. We were told the ending was going to reveal something disturbing about Voight and it did. If you crossed him. If you betrayed him, he would get rid of you just like any other joe shmo. It did not matter if you once worked for him. If Jin had been honest, Voight would have probably been able to offer his father much better protection than Stillwell. But he chose to be faithful to the enemy– the one who wants to do everything in his power to bring Voight down. Voight played his cards right as always. He made good with Stillwell giving him what he wanted- a cut from the money he takes of the streets. He got rid of Stillwell's informant and the traitor in his unit and the one man who could ever testify against Lindsay as he was the one who stole the blueprints for her. While Jin's death was sad, I see why Voight felt it was necessary and it didn't have this impact that it was suppose to have. Jin never felt like an integral part of the intelligence unit. He won't be missed, but his skills definitely will be.
What did you think of the finale of Chicago P.D? Were you impressed? Are you excited for season 2?
Follow CRAVEYOUTV on socials
Chicago PD Review – Is Burgess Ready to Be a Mom? (8×03)
Intelligence is kicking off 2021 on a high note.
Following Atwater's powerful storyline, Chicago PD Season 8 Episode 3 shook things up and reminded fans of the good old days when the focus remained largely on the case-of-the-week.
It's been a while since we've seen the team go full-in on a case, especially one as compelling as the murder of Makayla's entire family.
While gang retribution was the go-to motive, the case took a surprising twist when it was revealed that all three family members died protecting the little girl from her father, Tareek, who was recently released from prison.
The case was interesting even without a personal connection, but hinging the plot on a young, innocent girl not only provided an emotional hook, it also allowed the narrative to circle back to Burgess' miscarriage from Chicago PD Season 7.
Voight was determined to nail down a suspect and get justice for the family, so the "by the book" police reform storyline kind of went out the window. Sometimes, I wonder if the series even remembers the plotlines it's introducing.
There wasn't even any reference to Atwater's situation with the racist cops; it's almost as if it never happened.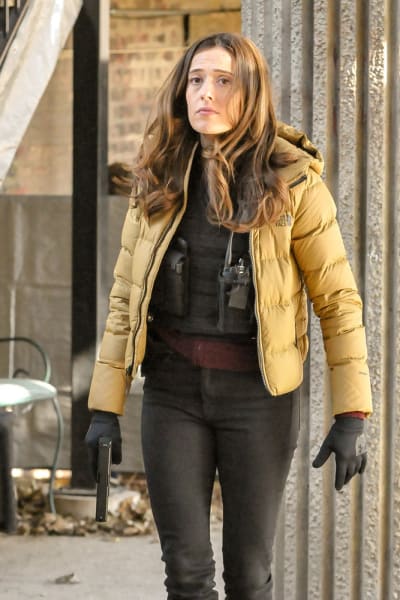 However, it was nice to see that Burgess was still dealing with the aftermath of the miscarriage.
Following such a traumatic experience, Burgess convinced herself that she didn't want children. It was a tactic to protect herself from getting hurt again.
But after forming a personal connection with Makayla, she began to see the possibilities that she could have it all: a family and a career.
Her motherly instincts kicked in when she saw that the girl was in danger — motherly instincts she didn't even know she had.
It was such a treat to see her in "mama bear" mode.
Their bond never seemed forced either as Burgess genuinely cared for the young girl and found her purpose in protecting her. She even put her job on the line to ensure that she could stay by Makayla's side until they found the people hunting her down.
But it begs the question . . . what happens next? Was this the show's way of warming everyone up to the idea of a Burzek baby again?
They already let us down once; I don't want to get ahead of myself and get my hopes up again.
Here's When Last Night's Episodes of 'Chicago Med,' 'Chicago Fire,' and 'Chicago PD' Will Premiere
Fans of the #OneChicago shows — Chicago Med, Chicago PD, and Chicago Fire –– will have to wait an additional week for new episodes.
NBC announced that the originally scheduled episodes were postponed from their original premiere date of Wednesday, January 6 to next Wednesday on January 13.
The network made the decision to preempt the #OneChicago shows with continued breaking news coverage on the chaos at the Capitol after Trump supporters stormed the federal building and delayed the Electoral College vote count.
Yesterday's premieres marked the show's return from the winter hiatus. NBC wasn't the only network to delay originally scheduled programming as ABC and CBS both aired news instead.
Tonight on NBC: Continuing coverage from NBC News. Originally scheduled episodes of Chicago Med, Chicago Fire, and Chicago P.D. will air next week.

— NBC Entertainment (@nbc) January 7, 2021
Here are the synopsis for all three shows premiering next week!
Chicago Med:
Dr. Charles and April team up to take on a mysterious patient in the ED; Dr. Halstead is forced to make a life-or-death decision for one of his trial patients; Dr. Marcel is confronted by his past when a former acquaintance is brought into the ED.
Chicago Fire:
A mishap on the aerial ladder in the midst of a fire rescue leaves Mouch shaken and questioning his abilities; Kidd looks for support from Severide while Casey and Brett discuss their future.
Chicago PD:
Ruzek and Burgess discover a child walking alone in the middle of the street, and when they take her home, they discover that her entire family has been murdered; Upton is approached with a job offer from the FBI.
Chicago PD Review – Kevin Atwater Gives 'Em Hell (8×02)
We're only two episodes into Chicago PD Season 8 and Atwater is not only carrying the show, but he's taking it to new heights.
The way he managed to turn the tables around on Kenny Nolan on Chicago PD Season 8 Episode 2 and push his back up against the wall, well, it was beautiful to watch.
Ever since owning his truth and standing up against racism, Atwater has been bullied and intimidated at every turn. When it began to affect his family, both at home and in Intelligence, he realized he could no longer stand back and wait.
Nolan was barking orders and hoping to break Atwater, and while he did look paranoid at times, I love that Atwater stood his ground.
The only way Atwater could regain the upper hand was to play Nolan at his own game.
I've never seen anything more satisfying than Atwater sitting at Nolan's dining room table giving him a play-by-play of how he'd go out of his way to ruin his whole life if he didn't back down.
When I say it may be the best scene on television that I've ever seen, I truly mean it.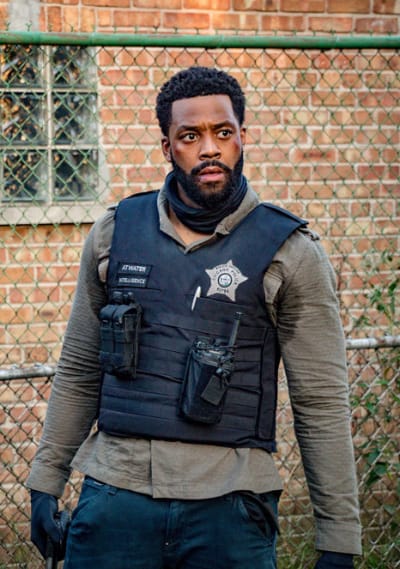 The good guys don't always win, but this time, the right guy did. No one messes with Atwater.
Atwater channeled his inner-Voight, but he did so in a way without using his fists.
The look of defeat on Nolan's face was priceless.
Obviously, the back-and-forth between Atwater and Nolan couldn't go on forever, but I was curious to see how the series would go about resolving it.
For a moment, I was terrified that the only solution would be for Atwater to give up his badge or accept that his career would never advance, but all those options included Atwater giving up and throwing in the towel.
And Voight was right — the moment Atwater stopped being a cop is the moment they would have won.
With the roles reversed, Atwater has successfully proven that he will always stand up for what he believes in.
He's making a change, albeit small, but it's a step in the right direction.
And if any good is to come of this "new world," then it better be karma hitting Nolan square in the forehead.
Atwater won the battle against the racist cops, but unfortunately, he's still losing the battle on the home front.
The scene with the kids refusing to take a basketball from him was heartbreaking, but hopefully, by doing the job differently, he'll make an impact that will lead to further positive changes.
The fight is far from over, but at least these kids have a good one looking out for them.
The purest thing on Chicago PD is the bromance between Ruzek and Atwater.
I know that they said everyone has Atwater's back, and it's true in theory, but Ruzek took an actual bullet for Atwater.
And then his reaction was basically "no sweat, bro." It was solid.
Though, the whole situation with patrol not responding was disturbing.
No one man should have enough power to bark such an order and endanger the lives of his blue brothers.
I wish more patrol stood up to Nolan, just as I wish there was more love given to Atwater from the rest of Intelligence.