"This just went from a gang hit to a gang war."
First off, congrats to Chicago P.D for getting renewed for season two. They clearly deserve it, especially being run by big boss Voight, whose never intimidated by anything or anyone and keeps his people totally in check. This week's episode deserves a hats off for being completely brilliant and not letting any characters go to waste. It's remarkable writing and storytelling.
Now to the main question on everyones mind…. #didHalsteaddoit???  Throughout these past ten episodes, we've learned that Halstead had a younger brother who was raped and killed by Lonnie Radigan, his neighbor. Lonnie's father keeps protecting him, but Halstead just can't let it go. He asks his buddy in intelligence to do him a favor off the books and monitor Lonnie's actions. The latest development? He used his credit card at a home depot to buy some camping equipment along with a rope and duck tape. This sends Halstead over the edge and during one of his runs with Lindsey makes a pitt stop to go tell Lonnie he knows his plans. "He's a pedophile and a murderer," he screams before getting kicked off the property. Clearly the restraining order against him means nothing to him. Well, Stillwell is trying to have intelligence wrapped around his finger and he's been watching Halstead, telling Voight to keep his people in check. Per orders, Voight lays it out to Halstead that he shouldn't be getting involved and this was his last warning. Foreward to the next morning and Lonnie is found dead, strangled at the neck by a rope and Stillwell calls in Voight. Question is, did Halstead do it? I'm thinking definitely not. Maybe it was Lonnie's father? Or Lonnie committed suicide? Truthfully,  I think it was Stillwell trying to mess with Voight's unit. Either way, this development will be just enough the rattle the cages and have everyone turn on their partner now a suspect in a murder case.
The main story this week, aside from that insane cliffhanger, was that Olinsky's daughter was a witness to a gang shooting. She was out at a party when her friend Russell, from the Chief Park Lords, was shot by a member of the Latin Priests because he was on their territory. Well, as the only witness to the crime, Olinsky does not want his daughter to testify. He'll do anything to protect her and Voight will do anything to protect his men, so using her is out of the question. Intelligence takes the case from the detectives in order to find the killer and save Olinsky's daughter. If she testify's as a witness, she basically becomes their next target. She recalls Russell calling the man who shot him Calaka. A couple of hours later, we know that Calaka is part of the Latin Priests and that Russell was a low level runner for T-Mac Pierce.
They find T-Mac at his house and take him into custody. Props to Lindsey for tackling a dude about 20 times bigger than her although I'm not sure it would ever really happen in real life. T-Mac doesn't want to talk, only admits that his guys will catch Calaka and give him what he deserves. Well, Detective Sumner did some digging behind Voight's back and found out that T-Mac bought his mother the house with straight up drug money. That's grounds for the cops to seize the house and his mother will go onto living "off a shopping cart" according to Voight. T-Mac finally makes his boys call off the search and kill for Calaka. Voight needs him alive to admit to his crime so that they don't have to use the witness.
Meanwhile, Lindsey and Antonio find one of the guys uncle's shops and figure out that he's been getting manipulated to seel PSP out of the front of his store. When they check the rest of the shop, they find a hidden room, and an underground torture chamber with a finger that most likely belongs to Calaka. Basically, the gang was upset at Calaka for starting a gang war, so they punished him and took him to a safe house. Which is where Rozek's brilliant plan comes into play!
He did everything to help his partner this week and remembered that they have guys who usually steal women's phones around the downtown area, so he borrows Burghess, dresses her up as a tourist and gives her a phone with a GPS. When the kid steals her phone, the two than go to his house and find out they've been given a false lead. The kid just has a problem according to his sweet old lady guardian. That is until Rozek's phone gets stolen, he chases the kid all the way back to the same house, they break in and find the old lady with a bunch of other troubled teenage kids. She admits that she uses them to steal phones so they can sell to the Latin Priests to keep these kids off the street. The good news? She's got the address!
The whole intelligence unit moves into the space where the Latin Priests have their "phone factory." Lindsey follows the blood to a room where they've been hiding Calaka and they take him into custody. Voight's methods of getting people to admit to something doesn't seem to work on Calaka though. He's too smart to know that these people don't want to use their witness and they won't actually kill him because they need him to confess. Something he hasn't done to any of his previous 15 arrests. It's not really a shocker either. This guy isn't a stranger to pain. He can clearly take his fair share. Dragging him to the precinct, he makes a statement about how he recalls the witness was really pretty and that sets Voight completely over the edge. I do like me some angry Voight!
Other Thoughts
-Voight getting arrested seems to be the talk of the town. I do think his team deserves an explanation.
-Detective Sumner is a genius and could prove to be totally useful if Voight would let her do something other than busy work.
– Rozek and Burghess are totally into each other. And Rozek doesn't seem to fond of his fiancee or her sexy sexts.
– Antonio helping out that barber shop owner get his disability checks was seriously so admirable! Good people still exist!
Follow CRAVEYOUTV on socials
Chicago PD Review – Is Burgess Ready to Be a Mom? (8×03)
Intelligence is kicking off 2021 on a high note.
Following Atwater's powerful storyline, Chicago PD Season 8 Episode 3 shook things up and reminded fans of the good old days when the focus remained largely on the case-of-the-week.
It's been a while since we've seen the team go full-in on a case, especially one as compelling as the murder of Makayla's entire family.
While gang retribution was the go-to motive, the case took a surprising twist when it was revealed that all three family members died protecting the little girl from her father, Tareek, who was recently released from prison.
The case was interesting even without a personal connection, but hinging the plot on a young, innocent girl not only provided an emotional hook, it also allowed the narrative to circle back to Burgess' miscarriage from Chicago PD Season 7.
Voight was determined to nail down a suspect and get justice for the family, so the "by the book" police reform storyline kind of went out the window. Sometimes, I wonder if the series even remembers the plotlines it's introducing.
There wasn't even any reference to Atwater's situation with the racist cops; it's almost as if it never happened.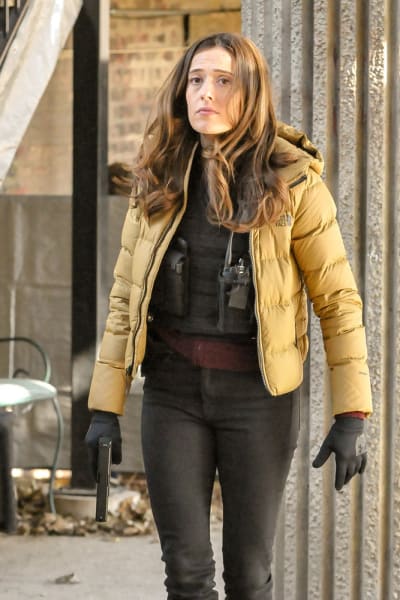 However, it was nice to see that Burgess was still dealing with the aftermath of the miscarriage.
Following such a traumatic experience, Burgess convinced herself that she didn't want children. It was a tactic to protect herself from getting hurt again.
But after forming a personal connection with Makayla, she began to see the possibilities that she could have it all: a family and a career.
Her motherly instincts kicked in when she saw that the girl was in danger — motherly instincts she didn't even know she had.
It was such a treat to see her in "mama bear" mode.
Their bond never seemed forced either as Burgess genuinely cared for the young girl and found her purpose in protecting her. She even put her job on the line to ensure that she could stay by Makayla's side until they found the people hunting her down.
But it begs the question . . . what happens next? Was this the show's way of warming everyone up to the idea of a Burzek baby again?
They already let us down once; I don't want to get ahead of myself and get my hopes up again.
Here's When Last Night's Episodes of 'Chicago Med,' 'Chicago Fire,' and 'Chicago PD' Will Premiere
Fans of the #OneChicago shows — Chicago Med, Chicago PD, and Chicago Fire –– will have to wait an additional week for new episodes.
NBC announced that the originally scheduled episodes were postponed from their original premiere date of Wednesday, January 6 to next Wednesday on January 13.
The network made the decision to preempt the #OneChicago shows with continued breaking news coverage on the chaos at the Capitol after Trump supporters stormed the federal building and delayed the Electoral College vote count.
Yesterday's premieres marked the show's return from the winter hiatus. NBC wasn't the only network to delay originally scheduled programming as ABC and CBS both aired news instead.
Tonight on NBC: Continuing coverage from NBC News. Originally scheduled episodes of Chicago Med, Chicago Fire, and Chicago P.D. will air next week.

— NBC Entertainment (@nbc) January 7, 2021
Here are the synopsis for all three shows premiering next week!
Chicago Med:
Dr. Charles and April team up to take on a mysterious patient in the ED; Dr. Halstead is forced to make a life-or-death decision for one of his trial patients; Dr. Marcel is confronted by his past when a former acquaintance is brought into the ED.
Chicago Fire:
A mishap on the aerial ladder in the midst of a fire rescue leaves Mouch shaken and questioning his abilities; Kidd looks for support from Severide while Casey and Brett discuss their future.
Chicago PD:
Ruzek and Burgess discover a child walking alone in the middle of the street, and when they take her home, they discover that her entire family has been murdered; Upton is approached with a job offer from the FBI.
Chicago PD Review – Kevin Atwater Gives 'Em Hell (8×02)
We're only two episodes into Chicago PD Season 8 and Atwater is not only carrying the show, but he's taking it to new heights.
The way he managed to turn the tables around on Kenny Nolan on Chicago PD Season 8 Episode 2 and push his back up against the wall, well, it was beautiful to watch.
Ever since owning his truth and standing up against racism, Atwater has been bullied and intimidated at every turn. When it began to affect his family, both at home and in Intelligence, he realized he could no longer stand back and wait.
Nolan was barking orders and hoping to break Atwater, and while he did look paranoid at times, I love that Atwater stood his ground.
The only way Atwater could regain the upper hand was to play Nolan at his own game.
I've never seen anything more satisfying than Atwater sitting at Nolan's dining room table giving him a play-by-play of how he'd go out of his way to ruin his whole life if he didn't back down.
When I say it may be the best scene on television that I've ever seen, I truly mean it.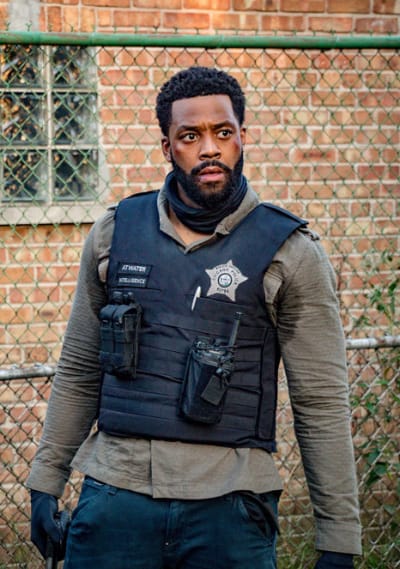 The good guys don't always win, but this time, the right guy did. No one messes with Atwater.
Atwater channeled his inner-Voight, but he did so in a way without using his fists.
The look of defeat on Nolan's face was priceless.
Obviously, the back-and-forth between Atwater and Nolan couldn't go on forever, but I was curious to see how the series would go about resolving it.
For a moment, I was terrified that the only solution would be for Atwater to give up his badge or accept that his career would never advance, but all those options included Atwater giving up and throwing in the towel.
And Voight was right — the moment Atwater stopped being a cop is the moment they would have won.
With the roles reversed, Atwater has successfully proven that he will always stand up for what he believes in.
He's making a change, albeit small, but it's a step in the right direction.
And if any good is to come of this "new world," then it better be karma hitting Nolan square in the forehead.
Atwater won the battle against the racist cops, but unfortunately, he's still losing the battle on the home front.
The scene with the kids refusing to take a basketball from him was heartbreaking, but hopefully, by doing the job differently, he'll make an impact that will lead to further positive changes.
The fight is far from over, but at least these kids have a good one looking out for them.
The purest thing on Chicago PD is the bromance between Ruzek and Atwater.
I know that they said everyone has Atwater's back, and it's true in theory, but Ruzek took an actual bullet for Atwater.
And then his reaction was basically "no sweat, bro." It was solid.
Though, the whole situation with patrol not responding was disturbing.
No one man should have enough power to bark such an order and endanger the lives of his blue brothers.
I wish more patrol stood up to Nolan, just as I wish there was more love given to Atwater from the rest of Intelligence.