"Don't **** with my city."
Chicago P.D snapped on its first episode introducing a drug cartel storyline, that doesn't seem to far from home. As a Chicagoan, seeing a show about a corrupt police system with dangerous hood streets isn't really something shocking to me. This episode felt more like I was watching the channel 9 news at 9 than watching an actual FICTIONAL show. I don't want this to make people think that Chicago is really as bad as T.V makes it seem. It's not. Just some parts of it!!! For the sake of the show, I'm going to steer away from commenting on how this is a Chicago Fire spinoff because I would like it to stand on its own, aside from its sister show.
What does concern me is the lack of suspense/progress that we might see from this show. I mean, a lot of it can become really predictable and very monotone. It is also quite stereotypical. Maybe that's good, maybe it isn't. I don't think it will be bad, but you never know! The show opened up to mediocre ratings! Anyways, here's the rundown. Voight is the head of intelligence and was recently hired after getting himself out of jail. Somehow he landed the most important job in the city. God truly is on his side. The jealousy seeping from everyone throughout the episode is ridiculous. Maybe this man got the job because he has street smarts and can think on a level of a criminal, which is probably something you would want to have on the force. Am I right? Anyways, he's got a pretty solid team that he's working it.
Voight's team is on a mission to crack down on the heroine dealers that have already left three young adults dead. Voight obviously uses his street connections and cred to get some info on the dealers. Their first suspect is golden.  Lindsey and Halstead pose as dope buyers but as Halstead pretends that he's a regular buyer, he fails to realize he's actually talking to the man himself. Thankfully, Lindsey saves the day by stopping Halstead from crossing the threshold and to his death sentence. When they call for back up, he has flown the scene leaving behind a decapitated man inside and a 13-year-old boy in the closet. Voight takes D'Anthony in and tries to help him get free from the gang. D'Anthony obviously has no one to trust and he ends up being the source that get Voight to his next suspect. If theres any confusion on how police crew get leads, well its all word of mouth.
Basically, they need to find Pulpo, a dangerous dealer whose spent some time in Columbia, where he picked up a nasty little habit of chopping people's heads off as a sign that the cartel was there. The rest of the episode is a chase to find Pulpo, with minimal introductions to the major characters and teases about their life stories.  Officer Burges story was one that really didn't impress me as she's not on the intelligence team yet (I'm sure that will change in episode 2 once they need to fill a spot of a soldier down), but she's also being bossed around and sent on pointless missions. It's too much of a clutter for the first episode and definitely not necessary.
Lindsey has known Voight for over 13-years and everyones kind of wondering what their relationship is. Right off the bat they have this father-daughter connection. She mentions he saved her a while back so I'm wondering, maybe she was a druggie herself? It will be interesting to hear the story eventually. Halstead is Lindsey's partner and totally jealous of her connection with Voight. He's also totally smitten with her and it was adorable to watch him stand up for her and kick some ass to the losers on the street trying to spit the game they don't have!! When he did that, I felt like for a second he was standing up for me all those times I've been harassed on the Chicago streets.  We were also introduced to Detective Antonio Dawson's wife and two kids in the beginning of the episode and I knew right off the bat that they would play into something dramatic. (More on that in a minute).
The last couple of minutes were the most intense! Voight finally got the team to their final lead. They were onto Pulpo. But he wasn't fully informed of the evidence as someone on the force was toying with him. The result of this little "game" was one of his own being brutally shot and killed. Julie was introduced in the beginning of the episode also with a husband and two kids. It was surprising to see the producers kill of someone from the team so early on and despite not really knowing anything about her, I was saddened by it. This obviously pissed off Voight, who is really trying to clean up his city and clean up his act. But if that wasn't enough to leave you speechless at the end, once they captured Pulpo, it became clear that Pulpo and Antonio had some past business. While Antonio was trying to figure out where Pulpo's hitmen were, his son was kidnapped by them and probably taken as bait in order for the cops to have a reason to let Pulpo out if Antonio ever wants to see his son again.
Overall, decent premiere. I'll definintely be tuning back in. After just a short hour I was curious to find out more of these people's backstories and see whose really protecting my town!
Follow CRAVEYOUTV on socials
Feelin' generous? Support our site and podcast (Mimosa Talk) on Patreon and KoFi.
Chicago PD Review – Rojas and Upton Get In Trouble with Voight (7×18)
We finally got an Upton and Rojas team up on Chicago PD Season 7 Episode 18, but it wasn't what any of us were expecting.
Both ladies tried to take matters into their own hands and ended up on Voight's bad side, which, if you remember from my review of Chicago PD Season 7 Episode 17, is not a pleasant side.
While Rojas had a few anxiety-inducing missteps this episode, which largely stemmed from a loved one being involved in a major case, much of Voight's anger was directed at Upton.
And she deserved it.
I don't know what got into her, but where was the Upton who always keeps Halstead in check?
Instead, she got personally involved in the case because she wanted to help Rojas and made an extreme decision that triggered Voight. (Fans were probably pleased to see that he's still got it!)
Voight was upset for a few reasons. For starters, because Upton was a superior who should have known better.
And unlike Rojas, who immediately acknowledged that what she did was wrong and apologized, Upton never felt bad about it.
She naively assumed she had the same authority as Voight.
Her judgment was clouded by her desire to put Gael away and get Reyes the deal, so she did what she had to do and planted fake evidence without showing any remorse.
While Gael deserved what was coming, it wasn't Upton's place to plant evidence merely to get justice. That sets a dangerous precedent.
Cops need to be held to a standard and uphold a moral code. If Upton is so comfortable crossing this line because it benefits her and a friend, will she be able to see the line the next time around?
If she had done it with Voight's permission, it would have been a slightly different story since Voight would have taken the rap. Plus, he's in a position to make such calls, but she specifically went behind his back and made the decision herself without even looping him in.
Then, instead of owning up to it, she explained that she thought it was what "he would have done" knowing damn well she kept it a secret because Voight wouldn't have allowed such behavior.
Voight has never wanted his unit to go down the same path he has, and I love that he didn't think twice about showing her tough love.
It shows that there are some rules he won't break, but also, that he cares enough about Upton to intervene.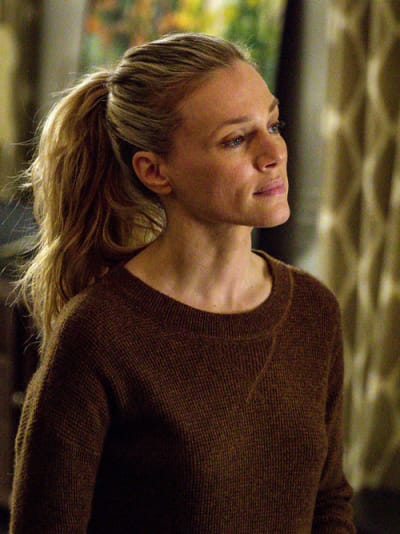 Now, I don't watch Law & Order: SVU, but it would be really great if she actually got to guest-starred on an episode since he volunteered her to the New York team. Does anyone know if that's happening?
Since Rojas was personally involved in the case, it made us automatically more invested in the plot because the stakes were higher.
Chicago PD Review – Voight's Plan Gets Foiled by Staples & He's Not Happy (7×17)
You do not, I repeat, do not want to upset Hank Voight. Ever.
But that's exactly what Paul Staples from homicide did on Chicago PD Season 7 Episode 17.
Staples didn't give off the impression that he was a newbie, but what established professional (in homicide, of all things) has no knowledge of Voight, the power he wields in this city, or how he gets things done?
Voight knows everyone, and everyone knows Voight.
Staples' actions made him look green and unprofessional and gave him zero credibility from the get-go.
Frank Rochester, Voight's good friend and CI during the episode, said that the cause of death was male ego. He was referring to himself with that statement and how he triggered Lamar, but it perfectly summarized Staples' actions.
Staples came onto the scene thinking he could call the shots. He proved that when he grabbed Voight's arm and said: "who do you think you are."
That was mistake number one. We all knew it was over for him. Staples, who do you think you are?
He didn't just make a bad impression on Voight and his team, but he was also in it for the wrong reasons.
He was motivated by personal reasons as he explained one of his CI's was killed in the part of town where the shooting took place, and this was his way of getting revenge.
But his biggest flub was that he disrespected and undermined Voight's authority by blowing the cover.
Voight has dealt with some straight-up buffoons in his long career, but Staples was quite frankly the most irritating.
I think I speak for the #OneChicago fandom when I say he had it coming. I even read some tweets that said "punch him again," and I can't argue with that.
The punch Voight threw was so well deserved especially after Staples tried to justify his actions and dared to say that the only thing that mattered was that they made the arrest.
I don't know where this dude got his training, but the arrest is not the end all be all, at least, not in Voight's unit; it's only a teeny, tiny, small chunk of it.
Voight has a responsibility to his CI and whoever is undercover, which in this case was Atwater.
Chicago PD Review – Upton and Halstead Deal with an Domestic Abuse Case (7×16)
The case on Chicago PD Season 7 Episode 16 hit close to home for Upton.
The series previously established that Upon comes from a home affected by domestic abuse, and we saw her bring those experiences to the table when dealing with a case that started as armed robbery and quickly took a nasty turn into something more.
Michelle, a witness and "good samaritan" at the scene of the armed robbery, turned out to be the wife of the robber who refused to cooperate because she was too scared of what her husband would do to her.
As Upton and Halstead investigated — the dynamic duo is back! — they unearthed several cases of abuse including a brutal one that landed her in the hospital. Her excuse was that she "fell off her bike."
Because of Upton's past, she understood Michelle because she'd seen the same thing with her mother.
She knew that victims tend to become used to the abuse and lose hope, which is why it's hard to get them to co-operate.
But Upton knew how to get through to Michelle to get her on board because she could put herself in her shoe's and think the way she thinks,
And even once she agreed, it was risky because there was always the chance that Michelle would change her mind.
It happened when she decided to give Shane yet another chance and tried convincing him to stay instead of getting a confession, which she was tasked with doing.
Her flip is what forced Upton and Halstead to get involved and foil the case they were trying to build up.
Upton was so calm while surveilling Michelle and Shane because it was her reality for so long.
She knew what a normal domestic argument sounded like, and she knew when it was time to move in. She also understood that oftentimes intruding doesn't make anything better.
It paints an incredibly sad picture of Upton's childhood — I can almost see her as a young girl just covering her head with a pillow to block out the fighting — and one that was nicely juxtaposed with Halstead.
Every fiber of his being was screaming at him to run in there and make the violence stop.