The streets of Chicago are a very dangerous place…. especially for cops! This weeks the intelligence unit went head-to-head with two rival drug gangs. It was a street battle between the Croatians and the Columbians over 8-million buckaroos being imported into the country!
The unit gets a call that there's been a huge massacre at the bank. Two survivors are left on the scene; Eric Gonzalez the head of security and worker, Luke Perko. Both give their recounts of what happened but their alibi's aren't strong enough and soon intelligence starts poking holes in their stories. Perko initially said that the robbers we black guys, but witnesses who saw the robbers take their masks off confirmed they were white males.  Racist much? Detective Sumner and and Antonio go to Perko's hospital to further interrogate him… well, to make him confess his participation in the crime. Basically, his brother is an ex-Croation drug member, who got wind of the huge sum of money being imported to his brother's workplace. He convinced him to let the Croatians steal the money. Little did he know, his cellmate– a Columbian gang leader– overheard him talking and informed his people of the Croations steal and that they were to re-steal it from them. Perko stayed alive because he aided the Croatians and Gonzalez probably just hid out hoping they wouldn't find him and he could continue aiding the Latin Kings. But after the Columbian's got hold of the money, they needed to tie up loose ends and sent one of their men to light Perko up. Olinsky and Rozek saw the scene unfold and while Olinsky tried to save Perko but his gasoline burns ultimately killed him.
The Columbians clearly didn't think Gonzalez would rat them out, but he was too quick to inform them that the gang leaders Rolo and Ramirez could be traced by their purchase of white hookers from the Zen agency.  Intelligence replaced the Zen agency hookers with their own women, Burgess– who volunteered hoping to up her chances at getting into intelligence. They weren't about to send Burgess in with some any old skank so Lindsey brought in her recently clean friend Nadiya who was once a Zen girl.
Honestly, this episode had me fearing for Burgess's life only because she hasn't proven to be one that can really defend or stand-up for herself. She's definitely not the type to be a convincing hooker. But oh how wrong was I! Burgess looked the part and she damn well acted the part. I mean, if I was being sent into a dangerous gang house to be their whore, I'd be pretty much crapping my pants. But no, she kept her cool and even called the guy 'papi'. Work it girl. If anyone deserves a spot intelligence, it's Burgess! She got the job done and even found a window of opportunity to sneak away and call in back up. That's some risky stuff. Although in reality, I don't think a line about using condoms would have really worked…. I don't think they really care about safety first. Correct me if I'm wrong.
Anyways, intelligence jumped in right at the knick of time (well not before Nadiya was forced to do a line of coke causing her to relapse). They saved Nadiya and captured Rolo, but before Rozek was able to reach Burgess, she'd been badly beat by Ramirez who than fled through the bathroom window. Rozek ran after him but was a victim of Ramirez's wrath before fleeing the scene only to be chased down by Halstead. Ramirez fled to what seemed like his house, where a gangster/cops beat down broke out in the kitchen, while his terrified mother (I'm assuming) watched in horror. Unfortunately, Ramirez had the slicker moves, badly hurt Halstead and got away.
While intelligence caught a guy and found the money, they left a loose end– Ramirez. Which is clearly pretty crappy for them, but makes all my wishes from last weeks post come true! I wanted the show to have more lengthy cases; ones that can't be solved in one day. That just seems more realistic and adds a more serialized tone to the show. Well I got my wish. This loose end brought back an old rival for intelligence and Antonio; Pulpo. Pulpo was the gangster whose people kidnapped Antonio's son in the first few episodes of the season! Well, intelligence isn't on the case anymore and they are to co-operate fully with the new agents on the case, who requested to have Pulpo freed from jail in order to use him as bait for Ramirez. Isn't it crazy how the law system works? We free one bad seed to capture another and make promises to give them shorter sentences and what not. It's so corrupt. It's so Chicago.
My second 'wish' for this show was to get a little more involved with the characters personal lives. I understand there's quite a lot of agents to keep up with, but I feel like I'd be more obsessed with the show if I felt connected on a personal and work level with these guys. Last week we saw the beginning of Lindsey's relationship with Severide, which dissapointed me a little because I was kind of on the Lindsey and Halstead train. But it seems they've both moved on from their 5-minute fling as this week Halstead was getting freaky with Ali, who we now know is the daughter of the family he always goes to visit. It seems that they were sort of like his 'foster family' and thats why he felt so passionate and emotional about Ben's murder. Ali was Ben's sister. I have a feeling we'll be seeing a lot more of her.
We also got to know Seargant Platt a little better and no, she isn't gay! Thank's for clearing that up for us Rozek. Although knowing that she slept with most of the men on the police force doesn't really help either. It was nice seeing Platt's vulnerable side aside from her usual snappy and sarcastic demeanor. She asked Rozek to come out with her Friday night for date night with her father, whose check helps her pay for her nice home in Lincoln Park. The only way she'll get money is if she brings around a man he thinks she's in love with. Seems rather ridiculous but it made for a nice moment between these two co-workers. She also confronted Rozek about his feelings for Burgess, which were really strengthened this week. When she volunteered to play the hooker you could see the terror in Rozek's eyes. Whether he wants to or not, he really cares about her. And in all honesty, he doesn't seem to worried or upset by his feelings for her even though he's still engaged. I get the feeling he doesn't really care about Wendy.
While I enjoy watching the show and being on the edge of my seat for a full 45-minutes I do feel like the shows on-air schedule kind of shoots itself in the foot. It makes me lose interest not because the shows bad, but because it has more hiatus weeks than it does weeks on air! For crying out loud the show is on for two weeks and than gets like a three week hiatus, resumes for another two weeks and goes on hiatus again. I need to watch consecutively and consistently without so many breaks in between! After this I have to wait till April 29 for the two-day crossover episode and than what? It's the season finale!! I need consistency!
Other Thoughts
– Voight calling people bro is the definition of epic.
– The way he motivates his suspects to talk is really brilliant. Here, let me stick your hand down this garbage disposal and turn it on until you freak out and tell me what I need to know. Yeah, I'd like to have the balls to do that!
-I'm starting to like Rozek's character more and more. He started off as this pretty boy that didn't belong but now, he's really taking the lead. Halstead better step it up.
– Did Sumner call internal affairs? When Voight's arch-nemesis arrived, Voight looked like he was going to emotionally destroy Sumner for making him trust her. What's she really up to?
– Really, I could not be a police officer. Whenever these chasing scenes start I think to myself, "Why doesn't he just shoot him?" Than I realize, that's not how it works. You're not allowed to shoot someone that's un-armed or facing backwards to you. But technically that never stopped Voight right?
– Whatever happened to Olinsky's daughter testifying? Did that case just come to an end? You see what I mean about consistency!!
– Nadiya and Lindsey have formed a nice little bond. It makes me look at Lindsey in different light. She's not just a cop, she's a human being who wants to help. And she motivated Nadiya to do the right thing, even if her one favor caused her to relapse. She saved a girls life. I have a feeling if the show continues on, Nadiya has it in her to become an officer!
Follow CRAVEYOUTV on socials
Chicago PD Season Finale Review – Kevin Atwater Faces a Troubling Ally From His Past (7×20)
It's been a hot minute since we got a Kevin Atwater-focused episode, but it wasn't surprising that he found himself torn and conflicted after being thrust into yet another black vs. blue debate.
Atwater's situation on Chicago PD Season 7 Episode 20 connected back to his undercover work on Chicago PD Season 6 Episode 13 while serving as the perfect ending to a shortened season.
Atwater has always known that when it comes to matters of black versus blue, there's a bit of a gray area that doesn't lean in his favor.
While I've been wanting the series to give Atwater the ability to explore different moral conflicts, at the same time, the episode was so powerful and relevant, that I can't bring myself to complain.
It also sets up an interesting dynamic moving forward as it pins Atwater (with the backing of Intelligence) against high-ranking officials in the police force.
And it perfectly and necessarily highlights the corruption that goes on within an institution that should be (keyword) trusted by all citizens of different walks of life.
In my review of Chicago PD Season 6 Episode 13, I noted that whenever an episode focuses on Atwater, I find myself with this "pit-of-my-stomach anxiety that I can't seem to shake," and more than a year later, that still rings true.
As in previous episodes, LaRoyce Hawkins brought his best work to navigate a particularly layered and emotionally complex episode.
Atwater was forced to work alongside a troubling ally Tommy Doyle. You might remember him as the racist cop who previously pointed a gun at him when he was undercover, so we knew things were bound to get ugly. We just didn't know how ugly.
Doyle went from being a street cop to a detective following his messy altercation with Atwater because clearly,  Chicago rewards racist behavior.
Kenny assured Voight that the promotion was because Doyle was hard-working and didn't have anything to do with the fact that he came from three generations of cops, but we know that's not true.
His problematic behavior was excused and a blind eye was turned because of the people he knew.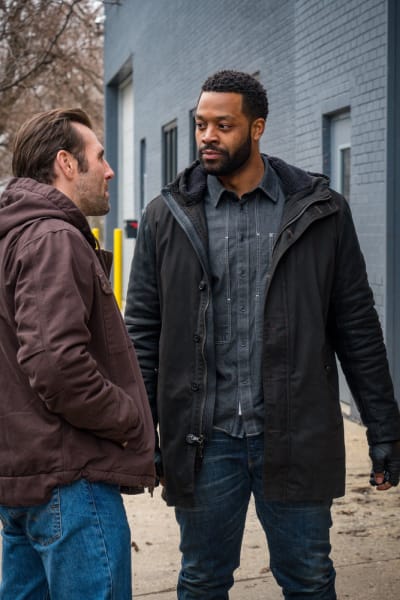 Now, I'm not saying all of his friends and supporters are equally as racist as he is, but his father did make a rather questionable comment about Kevin's "great Irish name," so do with that what you will.
At first, Doyle and Atwater played nice. Doyle apologized for what happened in the past (which Atwater forgave but did not forget) and even jumped in to save Atwater's life while undercover by standing in front of a gun.
Atwater is a good, professional cop who always puts aside his personal conflicts, so it wasn't surprising that they swiftly took down the head of the illegal gun-trafficking ring.
Doyle figured the win called for a celebration and despite Atwater's objections, the two went to grab "one beer."
Man, I wish Atwater just went home to have the chill night that he had planned instead.
At first, I couldn't figure out where the storyline was headed when Doyle began bringing up the past during their drive.
One thought was that Doyle simply putting on an act and would try to lash out at Atwater when they were alone.
Chicago PD Review – Ruzek Witnesses a Kidnapping (7×19)
Intelligence brought their A-game on Chicago PD Season 7 Episode 19 as a twisted case left audiences questioning which father was the good father.
Both Wade and Gary were trying to find their children, and initially, it was difficult to see which father was doing the right thing.
From the outside looking in, Gary's situation did not look good since he orchestrated a kidnapping to find his son, Dylan, and held Charlotte at gunpoint.
When he initially reached out for help, the cops immediately wrote him off because his son had a history of drug abuse and mental health issues.
It's the same argument that Wade tried to make to discredit Dylan. He called him a "troubled kid" who was making up stories and even said that Gary was trying to blackmail and shake him down.
Also, let me point out that PD's portrayal of the detective that presided over Gary's missing person's report was your classic slimebag in some knock off '80s looking detective suit.
It was hilarious in contrast to Atwater and Rojas, two detectives who understand the plight of the underprivileged and less fortunate.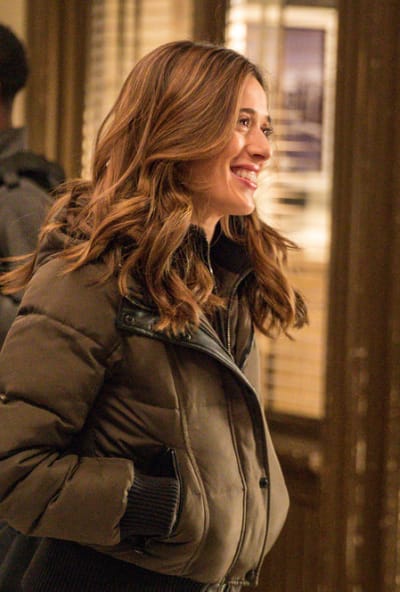 It's the very reason why they didn't immediately believe Wade was a saint simply because he had money and looked presentable.
The first warning sign about Wade was that he said he was living a good and "honest" life while still being considered the "richest man in Chicago."
Intelligence has been in this business long enough to know that when you see a man who owns a furniture store and lives in a mansion, you should be a little skeptical.
There were a few likely scenarios that I thought would come into play like Wade being involved in some shady criminal activity or owing someone money.
Turns out, he was involved in something shady, but it wasn't the kind of shady I imagined.
While Wade seemed like a worried and concerned father at first, the man lost all credibility when he lied to Voight about not knowing that his daughter was missing.
From that point on, Wade's lies simply kept adding up until Voight had absolutely no reason to trust anything he said.
And for good reason. Wade's main goal wasn't to find his daughter or to save her, it was to protect himself and his secret. It's exactly why he entrusted his own security guard to find Charlotte rather than getting the cops involved.
He knew if he called the cops, they would find out the truth.
It was shocking to see how many lies Wade would spin when the truth was already out there: he killed a man so that he wouldn't be outed to his family.
You know it's bad when the cops trust the kidnapper over you.
Wade was a disgrace of a man and father. He was going to allow someone to shoot his daughter so that he could keep his secret.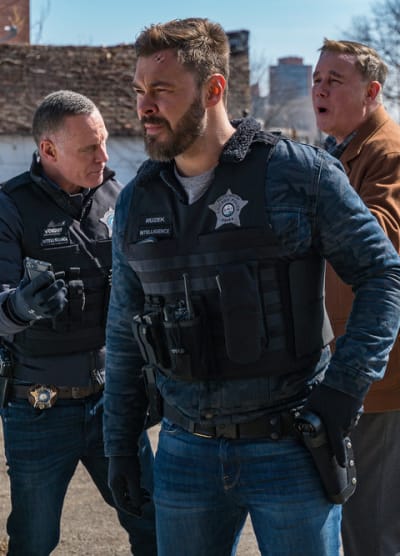 I can understand wanting to protect your family from the truth, but Wade's secret was out already, there was no turning back, and simply telling the truth could have saved his daughter and ended this mess, and yet, he still couldn't own up to it.
I kept thinking that the plot would take another twist and that Wade wouldn't be responsible for Dylan's murder, but sadly, that never happened.
Chicago PD Review – Rojas and Upton Get In Trouble with Voight (7×18)
We finally got an Upton and Rojas team up on Chicago PD Season 7 Episode 18, but it wasn't what any of us were expecting.
Both ladies tried to take matters into their own hands and ended up on Voight's bad side, which, if you remember from my review of Chicago PD Season 7 Episode 17, is not a pleasant side.
While Rojas had a few anxiety-inducing missteps this episode, which largely stemmed from a loved one being involved in a major case, much of Voight's anger was directed at Upton.
And she deserved it.
I don't know what got into her, but where was the Upton who always keeps Halstead in check?
Instead, she got personally involved in the case because she wanted to help Rojas and made an extreme decision that triggered Voight. (Fans were probably pleased to see that he's still got it!)
Voight was upset for a few reasons. For starters, because Upton was a superior who should have known better.
And unlike Rojas, who immediately acknowledged that what she did was wrong and apologized, Upton never felt bad about it.
She naively assumed she had the same authority as Voight.
Her judgment was clouded by her desire to put Gael away and get Reyes the deal, so she did what she had to do and planted fake evidence without showing any remorse.
While Gael deserved what was coming, it wasn't Upton's place to plant evidence merely to get justice. That sets a dangerous precedent.
Cops need to be held to a standard and uphold a moral code. If Upton is so comfortable crossing this line because it benefits her and a friend, will she be able to see the line the next time around?
If she had done it with Voight's permission, it would have been a slightly different story since Voight would have taken the rap. Plus, he's in a position to make such calls, but she specifically went behind his back and made the decision herself without even looping him in.
Then, instead of owning up to it, she explained that she thought it was what "he would have done" knowing damn well she kept it a secret because Voight wouldn't have allowed such behavior.
Voight has never wanted his unit to go down the same path he has, and I love that he didn't think twice about showing her tough love.
It shows that there are some rules he won't break, but also, that he cares enough about Upton to intervene.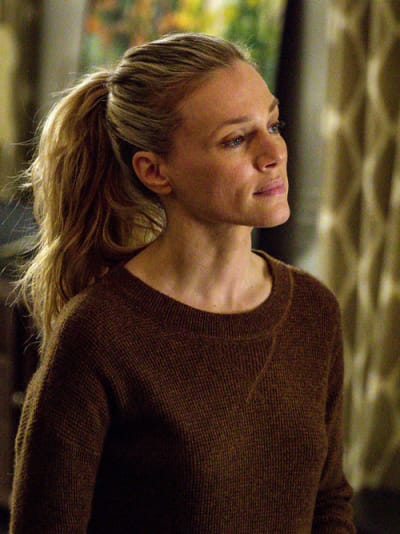 Now, I don't watch Law & Order: SVU, but it would be really great if she actually got to guest-starred on an episode since he volunteered her to the New York team. Does anyone know if that's happening?
Since Rojas was personally involved in the case, it made us automatically more invested in the plot because the stakes were higher.