This weeks Chicago P.D felt like a completely different show than last week. There wasn't even a mention of what happened in the crossover episode. Instead, the focus was on our favorite hispanic drugster, Pulpo. Think back two weeks ago when the intelligence unit was hunting down a man named Munoz. They sent in Nadia and Burgess as undercover prostitutes to bust these guys, but Munoz somehow got away. Well, the protective forces of Chicago now want to use Pulpo as a resource in capturing Munoz once and for all.
Obviously, Antonio is against this for many reasons, one including the kidnapping of his son in the first couple of episodes and the death of his partner. Voight also doesn't trust Pulpo and he sure has reason not to. Before Pulpo even agrees to speak, he has a huge list of demands that need to be met. He than tells the intelligence unit that they need to send Antonio as Tico, one of Pulpo's guys. The plan is to drive a truck full of cocaine, to some other guy, who drives it over to the warehouse, where Munoz will be. They can capture him and all is well. But, once the force gets to the warehouse, the gangsters tell them that Munoz would never have shown his face here. Apparently, these two are rivals. Voight flips out on Pulpo for lying to them and sending them on a false trail, while risking the lives of one of their own… again!
Meanwhile, Lindsay and Halstead are doing some research to see if Pulpo had anyone close that they could manipulate him with. They track down a number that he called 144 times right before he got arrested. It leads to a woman, who convincingly admits that Pulpo was a stalker and wouldn't leave her alone. "I hope he rots in hell," she exclaimed. It was super convincing and she would have totally gotten away with it, if not for the little kid who came around the corner and looked totally like Pulpo's child. The agents brought Pulpo's girlfriend and son to the station, and used her as bait. In order to keep his loved one out of jail and his son out of the foster care system, he needed to tell them the truth about how to get to Munoz. It seemed to do the trick.
Pulpo explained that Munoz was going to try to kill a man during a mexican festival at the Aragon Ballroom. How was he so sure? Because the man was the last person standing in Munoz' way. Once he would be dead, Munoz had full ownership of the cartel. The unit took the story to be true and met at the carnival the next morning. It didn't take long for Munoz to fire shots into the crowd, harming some of the man's bodyguards. Voight helped them duck for cover, while Halstead and Olinsky tried to shoot Munoz down. Munoz was taken down, unfortunately with a bullet to the head.
Aside from the action, Charlie, an old friend of Lindsay's paid the station a visit. He looked and smelled of trouble, especially considering her past. She finally encountered him when leaving with Halstead and you could tell, he was someone she did not want to see. Apparently, Charlie was a guy she used to run with, and by run with, she means deal and do drugs. When Voight got wind of Charlie's return, he kind of flipped out on Lindsay explaining that the deal was that he would take her in and give her a life as long as Charlie never stepped foot in Illinois again. Why is he back? What could he want with Lindsay and her friend Ana? I smell trouble!!!
In other relationship news, Rozek made it very clear to Burgess that while he might have been sending her mixed signals, that was going to stop because he was going to work on his relationship with Wendy. Leave it to a pretty guy to be a complete douche about the way he treats women, right? Poor Burgess had really fallen for him, so she was obviously devastated. Srgt. Platt told her to splash some cold water on her face and tell herself he was never really hers.  Technically, he wasn't. She had fallen for a man that was engaged. But that didn't make it hurt less. She confided in her partner, Atwater, who told her that there were better fish in the sea. Yet, karma's kind of a bitch. Wendy came by to the station a couple of hours later to tell Rozek that she was going to move in with her folks for a little. Trouble in paradise? Oh yeah. No, she didn't find out about his little crush on a co-worker, but she did realize that he was different now. She never knew when he would be home, if he would be safe. This unit had changed him and they just weren't working anymore. She handed the distraught Rozek the ring back. It wasn't long before he asking Atwater if he had seen Burgess. Props to Atwater who told Rozek to stay away from her because he was messing with her head. "So either you leave her alone, or me and you will have to get into it," he declared. You go boy! Put Rozek in his place! *sigh* men!
Voight continued to have problems with the people above him, mainly Stillwell who was watching his every move and complaining that he wasn't putting enough people behind bars because he was making side deals with them on the street. Obviously, there was a rat in the intelligence unit and Voight believe her name was Sumner. There was two shocking revelations surrounding this story line. One, Sumner is actually dating Stillwell. Gross times twenty! I'm assuming that's how she got placed in the unit. Their encounter revealed that she was his side chick, as his relationship with his wife was falling apart. He wanted to spend some time with her, but she's a feisty woman. Not until that divorce is final dude! Surprisingly though, she isn't the rat! She might be involve with him romantically, but she's a legit cop/ detective and she's staying out of it. The rat is actually Jin, the tech guy!! Isn't that shocking?! The secret meeting between Jin and Stillwell revealed that he has been spilling Voight's secrets this whole time. Ohh when Voight finds out! He's going to owe Sumner a huge apology!!
And of course, the last couple of seconds were key in this episode as they set up next weeks season finale!! (When all the finale's air, I'm going to be totally brain-dead). The detective watching over Pulpo promised that he was going to let him see his family before they took him back to the prison. Antonio was against it, but ultimately had to oblige. The last we see is Pulpo hugging his kid, who didn't seem to like his father too much. (I don't blame him). Than Pulpo hugs his wife goodbye. What happens next, we can only speculate. Rounds of shots are heard throughout the precinct. When Voight and the rest of the IU make it downstairs, they see that Pulpo has escaped with his family and there's officers down, including the Detective and Antonio, who is shot unconscious holding a gun in his hand. How did Pulpo do it? Did his wife help? How are they going to find him now? It's going to be Voight's top priority and from the previews, it looks like he isn't following rules when it comes to one of his own! What does that mean? It means that when found, Pulpo isn't going to jail. He's going ten feet under!!!!
Share your thoughts and reactions with us!
Follow CRAVEYOUTV on socials
Chicago PD Review – Is Burgess Ready to Be a Mom? (8×03)
Intelligence is kicking off 2021 on a high note.
Following Atwater's powerful storyline, Chicago PD Season 8 Episode 3 shook things up and reminded fans of the good old days when the focus remained largely on the case-of-the-week.
It's been a while since we've seen the team go full-in on a case, especially one as compelling as the murder of Makayla's entire family.
While gang retribution was the go-to motive, the case took a surprising twist when it was revealed that all three family members died protecting the little girl from her father, Tareek, who was recently released from prison.
The case was interesting even without a personal connection, but hinging the plot on a young, innocent girl not only provided an emotional hook, it also allowed the narrative to circle back to Burgess' miscarriage from Chicago PD Season 7.
Voight was determined to nail down a suspect and get justice for the family, so the "by the book" police reform storyline kind of went out the window. Sometimes, I wonder if the series even remembers the plotlines it's introducing.
There wasn't even any reference to Atwater's situation with the racist cops; it's almost as if it never happened.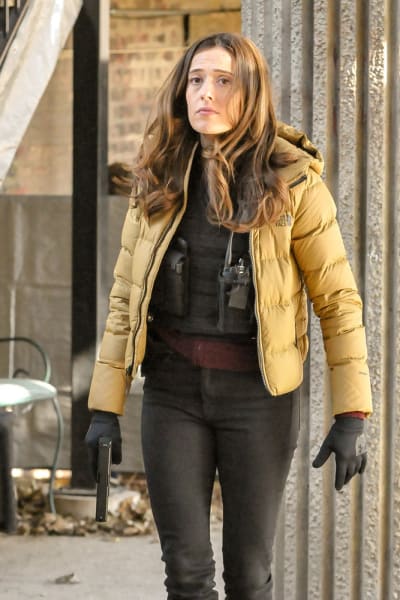 However, it was nice to see that Burgess was still dealing with the aftermath of the miscarriage.
Following such a traumatic experience, Burgess convinced herself that she didn't want children. It was a tactic to protect herself from getting hurt again.
But after forming a personal connection with Makayla, she began to see the possibilities that she could have it all: a family and a career.
Her motherly instincts kicked in when she saw that the girl was in danger — motherly instincts she didn't even know she had.
It was such a treat to see her in "mama bear" mode.
Their bond never seemed forced either as Burgess genuinely cared for the young girl and found her purpose in protecting her. She even put her job on the line to ensure that she could stay by Makayla's side until they found the people hunting her down.
But it begs the question . . . what happens next? Was this the show's way of warming everyone up to the idea of a Burzek baby again?
They already let us down once; I don't want to get ahead of myself and get my hopes up again.
Here's When Last Night's Episodes of 'Chicago Med,' 'Chicago Fire,' and 'Chicago PD' Will Premiere
Fans of the #OneChicago shows — Chicago Med, Chicago PD, and Chicago Fire –– will have to wait an additional week for new episodes.
NBC announced that the originally scheduled episodes were postponed from their original premiere date of Wednesday, January 6 to next Wednesday on January 13.
The network made the decision to preempt the #OneChicago shows with continued breaking news coverage on the chaos at the Capitol after Trump supporters stormed the federal building and delayed the Electoral College vote count.
Yesterday's premieres marked the show's return from the winter hiatus. NBC wasn't the only network to delay originally scheduled programming as ABC and CBS both aired news instead.
Tonight on NBC: Continuing coverage from NBC News. Originally scheduled episodes of Chicago Med, Chicago Fire, and Chicago P.D. will air next week.

— NBC Entertainment (@nbc) January 7, 2021
Here are the synopsis for all three shows premiering next week!
Chicago Med:
Dr. Charles and April team up to take on a mysterious patient in the ED; Dr. Halstead is forced to make a life-or-death decision for one of his trial patients; Dr. Marcel is confronted by his past when a former acquaintance is brought into the ED.
Chicago Fire:
A mishap on the aerial ladder in the midst of a fire rescue leaves Mouch shaken and questioning his abilities; Kidd looks for support from Severide while Casey and Brett discuss their future.
Chicago PD:
Ruzek and Burgess discover a child walking alone in the middle of the street, and when they take her home, they discover that her entire family has been murdered; Upton is approached with a job offer from the FBI.
Chicago PD Review – Kevin Atwater Gives 'Em Hell (8×02)
We're only two episodes into Chicago PD Season 8 and Atwater is not only carrying the show, but he's taking it to new heights.
The way he managed to turn the tables around on Kenny Nolan on Chicago PD Season 8 Episode 2 and push his back up against the wall, well, it was beautiful to watch.
Ever since owning his truth and standing up against racism, Atwater has been bullied and intimidated at every turn. When it began to affect his family, both at home and in Intelligence, he realized he could no longer stand back and wait.
Nolan was barking orders and hoping to break Atwater, and while he did look paranoid at times, I love that Atwater stood his ground.
The only way Atwater could regain the upper hand was to play Nolan at his own game.
I've never seen anything more satisfying than Atwater sitting at Nolan's dining room table giving him a play-by-play of how he'd go out of his way to ruin his whole life if he didn't back down.
When I say it may be the best scene on television that I've ever seen, I truly mean it.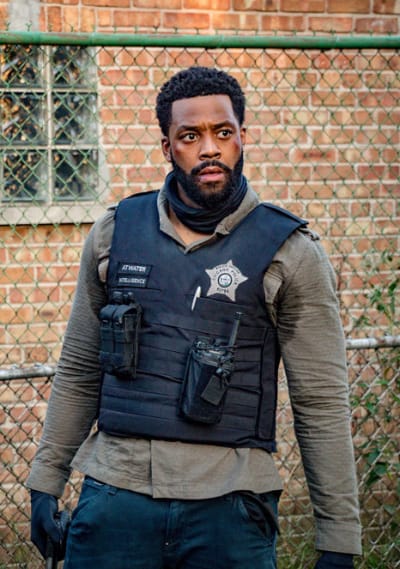 The good guys don't always win, but this time, the right guy did. No one messes with Atwater.
Atwater channeled his inner-Voight, but he did so in a way without using his fists.
The look of defeat on Nolan's face was priceless.
Obviously, the back-and-forth between Atwater and Nolan couldn't go on forever, but I was curious to see how the series would go about resolving it.
For a moment, I was terrified that the only solution would be for Atwater to give up his badge or accept that his career would never advance, but all those options included Atwater giving up and throwing in the towel.
And Voight was right — the moment Atwater stopped being a cop is the moment they would have won.
With the roles reversed, Atwater has successfully proven that he will always stand up for what he believes in.
He's making a change, albeit small, but it's a step in the right direction.
And if any good is to come of this "new world," then it better be karma hitting Nolan square in the forehead.
Atwater won the battle against the racist cops, but unfortunately, he's still losing the battle on the home front.
The scene with the kids refusing to take a basketball from him was heartbreaking, but hopefully, by doing the job differently, he'll make an impact that will lead to further positive changes.
The fight is far from over, but at least these kids have a good one looking out for them.
The purest thing on Chicago PD is the bromance between Ruzek and Atwater.
I know that they said everyone has Atwater's back, and it's true in theory, but Ruzek took an actual bullet for Atwater.
And then his reaction was basically "no sweat, bro." It was solid.
Though, the whole situation with patrol not responding was disturbing.
No one man should have enough power to bark such an order and endanger the lives of his blue brothers.
I wish more patrol stood up to Nolan, just as I wish there was more love given to Atwater from the rest of Intelligence.