Antonio gets into a bit of trouble on this weeks Chicago PD. We all knew his gig with Asher and his slutty wife would eventually get him in trouble, but no one expected it would be this severe!
In the first few minutes, we see Antonio working his side gig. Leila and Asher are fighting outside of a sex club. Asher commands Antonio to stop at a gas station and get him some cigarettes. When he returns to the car, he finds his "boss" dead from a gunshot wound to the head. Great security work Dawson. Real great stuff. This guy just can't catch a break. His life at home is falling apart as his wife demanding a divorce. All he has now is his job, which he's in jeopardy of losing after he finds out Asher was an international convict. You know I blame Roman for all of this. I never liked him to begin with. Plus, he was to eager to get Antonio on the gig. Maybe he was trying to get Antonio out of the unit to make room for himself? Yes, I understand that's highly unlikely, but still.
Antonio remembers that Asher and Leila fought about some guy named Terry. He brings in Leila for questioning and she reveals that in order to spice up their marriage, they would have sex with Terry occasionally. However, she had nothing to do with the murder.. or so she says. Another key part of the murder was that 3-million-diamonds were stolen from the back seat of his car. Roughly 3-million according to Leila. 
Intelligence links Asher to a jewelry business in Portage Park, which used to do business with the diamond smuggler 10-years ago. When they go to visit him, the man runs to his panic room. Why is he so scared of the Chicago PD? Maybe because Chi PD has no problem getting a dude to seriously blow out the door. They aren't messing around here. He admits that a guy came in asking to move some diamonds around, but when he realized the dude worked for Asher, he told him no.
They obviously need to talk to Terry, but the judge won't issue a warrant because the sex club is highly protected. You know men in power love paying for sex. Family life is so boring right? Rozek is really eager to go to the club undercover but unfortunately they don't let single people in. It has to be the perfect couple, with ravishingly good looks… of course I'm talking about Halstead and Lindsey. Upon entering, Lindsey asks the bartender for a guy they played with about a month ago. He tells them he hasn't seen Terry since then, so she takes him to the "room" (red room of pain anyone) instead. Inside, Halstead reveals their CPD and threatens to take him in. The guy ID's Terry, saying he was in here earlier asking about a jeweler because his wife gave him back his ring. He was talking to some couple about where to pawn it off.
Meanwhile, back at the precinct, intelligence found something in Asher's will. According to his wishes, after death everything, all of his money, goes to his alma mater. This means Leila doesn't get a damn penny. And what does a gold digger do when she can't get gold? Obviously has her husband killed and steals the diamonds/money.
The bartenders ID leads them to store, where the dealer says he accepted the diamonds because his sex-obsessed nephew vouched for the guy. Soon after, he realized the diamonds he had given him were fake. Antonio makes him set up a meeting with Terry, telling him to lie and say they got a buyer sooner than usual. When Terry meets him in downtown, Antonio or Roman take him down without any back up. 
During questioning, Antonio makes it very clear to him that Leila has been using him. She's played her hards brilliantly. There's no paper/electronic trace that she ever communicated with Terry aside from the times she saw him at the club. She promised him they would run away together which was motive for Terry to commit the crime. He wanted to be with her and he knew he couldn't be unless he got rid of Asher. She switched out the diamonds before-hand, only needing to worry about someone getting rid of her husband so she could be free. She left unscathed and she knew it. She was proud of how her good looks were able to manipulate men. Unfortunately, the same cannot be said for Terry whose now going to be serving life for murder. Poor guy, so blindsided by a whore. 
Leila came to visit Antonio one last time. You could tell she grew a liking to him, especially when he played the part of aggressive cop. Without a warrant for her arrest, she was free to skip town and go to Florida with all that new money. My only thing is never speak to soon. While he may not have had enough evidence against her now, I hope some day in the future, he finds something that will put her in a lifetime of misery. She deserves it. Not saying a woman should ever stay in an un-happy marriage, but resorting to having` your husband killed is pretty extreme. Plus, she almost lost Antonio his job.
Thankfully, it didn't happen because Olinksy forged all the papers that proved Antonio had been working for Asher for the past 9-months undercover. That little detail must of slipped Voight's mind when they initially came asking Antonio about his involvement. Woops. See, all you need to rewrite history, is a little motivation. The great thing about working for the intelligence team is that it's like one big family. Everyone has each others back. And you know you want someone like Voight covering your ass when things hit the fan. 
Which is why Lindsey is so hesitant about leaving intelligence to start how own task force. Sure, the opportunity sounds amazing but will Steve ever be as good a boss as Voight? Will he ever protect her the way Voight does– have her back when something crazy happens? Doubt it. One thing that struck a chord with me, and with Lindsey, was when he said "you're catching a rep as Voight's girl" like that's such a bad thing or something. Maybe Voight doesn't have the best rap sheet, but I'd like to be compared to Voight anyday. He brings order to the streets with passion and always vouches for his people. It's why he's noble and why so many people are loyal to him. Honestly, if Lindsey left intelligence it would mess everything up. And no doubt she'd have to do things against Voight and her fam. 
What did you think of this weeks episode? I give it a 7/10. It was definitely fun watching Antonio get into a bit of a mess that didn't actually include his children being kidnapped for a change. Also, shout-out to my best friends boyfriend who was an extra on this weeks episode and played the part of the sex-club doorman, like a star! 
Other Memorable Moments
Platt helping Olinsky get a house, but only because she gets a 2% cut.

One obvious observation is that working in intelligence causes you to fall out with your family. Antonio is going through a divorce, Olinksy lives in a garage and his wife is cheating on him. There's so much dedication to the job, there isn't a healthy balance and that causes strains on relationships. Therefore, I don't think Lindsey and Halstead should get together.

Need an update on Rozek and Burgess asap. She's still trying to get into intelligence. It was nice seeing her team up with her old partner Atwater today.

If Voight were to chose Roman over Burgess for intelligence, I'd be so upset. But, I don't think he likes Roman much… for good reason.
Photos: NBC Universal
Follow CRAVEYOUTV on socials
Chicago PD Review – Kevin Atwater Gives 'Em Hell (8×02)
We're only two episodes into Chicago PD Season 8 and Atwater is not only carrying the show, but he's taking it to new heights.
The way he managed to turn the tables around on Kenny Nolan on Chicago PD Season 8 Episode 2 and push his back up against the wall, well, it was beautiful to watch.
Ever since owning his truth and standing up against racism, Atwater has been bullied and intimidated at every turn. When it began to affect his family, both at home and in Intelligence, he realized he could no longer stand back and wait.
Nolan was barking orders and hoping to break Atwater, and while he did look paranoid at times, I love that Atwater stood his ground.
The only way Atwater could regain the upper hand was to play Nolan at his own game.
I've never seen anything more satisfying than Atwater sitting at Nolan's dining room table giving him a play-by-play of how he'd go out of his way to ruin his whole life if he didn't back down.
When I say it may be the best scene on television that I've ever seen, I truly mean it.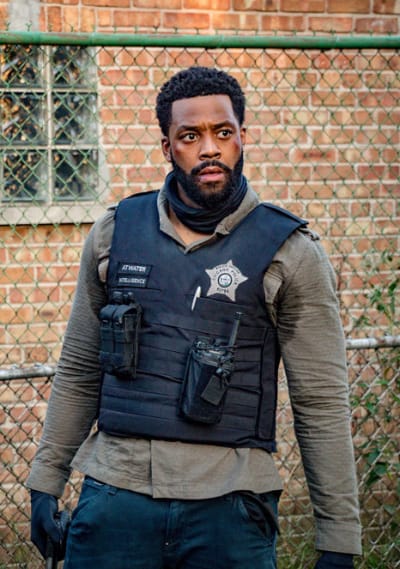 The good guys don't always win, but this time, the right guy did. No one messes with Atwater.
Atwater channeled his inner-Voight, but he did so in a way without using his fists.
The look of defeat on Nolan's face was priceless.
Obviously, the back-and-forth between Atwater and Nolan couldn't go on forever, but I was curious to see how the series would go about resolving it.
For a moment, I was terrified that the only solution would be for Atwater to give up his badge or accept that his career would never advance, but all those options included Atwater giving up and throwing in the towel.
And Voight was right — the moment Atwater stopped being a cop is the moment they would have won.
With the roles reversed, Atwater has successfully proven that he will always stand up for what he believes in.
He's making a change, albeit small, but it's a step in the right direction.
And if any good is to come of this "new world," then it better be karma hitting Nolan square in the forehead.
Atwater won the battle against the racist cops, but unfortunately, he's still losing the battle on the home front.
The scene with the kids refusing to take a basketball from him was heartbreaking, but hopefully, by doing the job differently, he'll make an impact that will lead to further positive changes.
The fight is far from over, but at least these kids have a good one looking out for them.
The purest thing on Chicago PD is the bromance between Ruzek and Atwater.
I know that they said everyone has Atwater's back, and it's true in theory, but Ruzek took an actual bullet for Atwater.
And then his reaction was basically "no sweat, bro." It was solid.
Though, the whole situation with patrol not responding was disturbing.
No one man should have enough power to bark such an order and endanger the lives of his blue brothers.
I wish more patrol stood up to Nolan, just as I wish there was more love given to Atwater from the rest of Intelligence.
Chicago PD Review – Fighting Ghosts (8×01)
Intelligence is back in action, but things are looking a bit different on Chicago PD Season 8 Episode 1.
Despite ending prematurely due to COVID-19, Chicago PD Season 7 segued perfectly into the police reform storyline brought upon by the death of George Floyd and the Black Lives Matter movement.
On PD, Shawn Paige, the man gunned down by Doyle, is Chicago's version of Floyd and allows the series to navigate the murky waters of Black cops versus the blue wall.
The episode led to some very heavy yet important conversations that made it clear that doing the "right" thing was going to test everyone's limits this season.
Atwater faces the biggest challenge, but per usual, Laroyce Hawkins bravely stepped up to the challenge and nailed every scene.
I've likely said this before, but I really mean it this time — give this man all the awards!
It's clear that sticking to his original statement was the right thing to do because he's telling the truth despite the pushback from Doyle's crew, who view Atwater's decision of painting Doyle as the aggressor in Paige's death as being a "snitch."
Apparently, there's nothing worse than turning on your fellow brothers in blue.
Except that they had no problem turning on him when they assumed he crossed the line and broke the code.
Ruzek wasn't lying when he said Doyle's crew played dirty. Not only did they jump Atwater to send a message, but they also planted heroin in his car.
Thankfully, he found it before it landed him in hot water, but all these antics tell you everything you need to know about these good and respectable cops.
It would have been nice if others stood united with Atwater and acknowledged that he wasn't just doing what he "thought" was right, but rather, doing what was right.
Atwater can't be the only one who realizes that things need to change.
He can't be the only one to ever deal with racist cops and feel cornered because there's corruption in every department.
He can't be the only one who hurts to see his own people suffer at the hands of injustice.
The only person who seemed to have Atwater's back was Ruzek, which was comforting to see, but it didn't do much in terms of protecting Atwater.
He's tough, but he shouldn't have to fight this battle alone.
Even Voight tried to sway him into altering his statement, and while it seemed to come from a place of real concern, it's not what Atwater needed or wanted from his Sergeant.
Atwater is clearly ready to fight. He'll do whatever it takes to bring about change and expose not only dirty cops but dirty tactics.
I mean, did you see the way he stood up to Voight and put him in his place?
In the heat of the moment, Voight would have thrown everything away. His anger got the best of him, but if he resorted to throwing Miguel in the cage, he wouldn't have been any better than the bad guys that he's trying to put away.
Voight will have the hardest time with these new world adjustments.
WATCH: #OneChicago Teams Tackle COVID-19 in New Promo Ahead of November 11
Wednesday's most watched dramas are planning their epic return.
Ahead of the November 11 premiere for Chicago Med, Chicago Fire, and Chicago PD, NBC revealed a teaser that shows the heroes tackling COVID-19 headfirst.
"When this community hurts, when it reaches out its hand, we pull it to its feet, and we respond," Battalion Chief Wallace Boden states in the promo.
Med's doctors jump into action as April tells ex Choi that she has to put her life on the line to help patients who are "sick, frightened, and alone."
Fire's paramedic's Brett and Mackey respond to a house call and run into some trouble when a man points a gun at them.
Meanwhile, PD's Atwater deals with the fallout of "snitching" on the police. While he explains he was doing "the right thing," the white cops don't seem to agree as Ray threatens to take his badge.
Check it out below:
Related Reads: Everything We Know About 'Chicago PD' Season 8 – Police Reform, COVID, and More!