Part two of the #OneChicago crossover continued on Chicago PD Season 7 Episode 15.
Much like this season's earlier crossover —  which found Chicago's best battling a man-made disease — this 2-hour crossover had a compelling story that integrated both squads from both shows.
The transition was so seamless, it was hard to tell where Chicago Fire ended and PD began.
Brian Geraghty's return as Sean Roman was a nice addition, though, his character's approach to life was a little troubling from the get-go. Everything he did went against his police training.
It wasn't the Roman we've come to know and love, and while it's understandable that he's changed or toughened up since leaving the force, it was a difficult adjustment for fans.
Finding his sister was his top priority, but at what expense? Roman was putting himself in danger, he put Severide in danger (in the first half of the episode – read the review here), and it wasn't how an ex-cop, much less a good ex-cop, would ever act.
I'm glad Roman's desire to keep Intelligence away from the case had nothing to do with his fallout with Burgess.
Burgess went through a failed engagement with Ruzek and managed to have a civil and functional relationship with him this whole time, so it wouldn't make sense for things to remain awkward between her and Roman.
Instead, Roman was trying to find his sister himself because he was worried that she would be punished for selling the teens the tainted drugs that killed them and would be charged for it.
Intelligence couldn't blame him for trying to protect her, and so Voight allowed Roman to be included in the case. While it was necessary from a plot standpoint, it wasn't his smartest police decision.
Roman wasn't a cop anymore; he was a civilian who had the capability of doing harm.
I'm not sure if it's because of Roman's return, or the rough and gritty nature of the episode, but it felt like we time-traveled back to the good ole' days of Chicago PD Season 1.
Voight had a different, more authoritative aura about him despite Burgess taking the lead and running point with Roman.
She's been getting a lot of screentime lately, which has allowed her to express her range and really dig into a character that was often sidelined in the earlier seasons.
Seeing where the storyline was headed with Roman, it was slightly concerning that they were going to make his character commit a crime he couldn't bounce back from and ruin him and his reputation entirely.
And they sort of did while also finding a logical way to redeem him and drive the point about loss home and back to Burgess.
It was obvious that the person behind Logan Peters' murder was Roman.
Roman's behavior in the first part of the crossover was careless and indicated that he would do something mindless since he was willing to do anything and cross any lines to find his sister.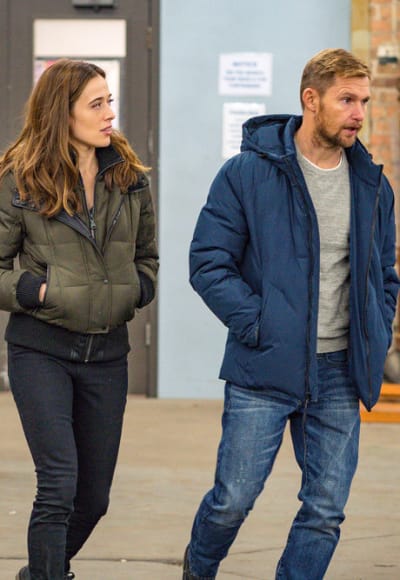 When he found out who the killer was, he didn't think twice about retaliating. And, as we saw in the church, he was ready to pay the price for his sins.
Burgess knew Roman — she knew when he was lying, so she should have predicted that he would act irrationally.
But, as a former cop, Roman should have covered his tracks better.
Nothing may have been outright linking to him, but Intelligence would've figured it out eventually with or without Burgess' help.
She was simply able to make the connection quicker because she recognized the car that was linked to the scene belonged to his cousin, whom she met, and was able to connect the "witness" as his former informant.
Follow CRAVEYOUTV on socials
Chicago PD Review – Instinct (8×07)
The only thing more dangerous than a drug dealer taking out other drug dealers is an unstable CI.
And that's just what Intelligence encountered on Chicago PD Season 8 Episode 7.
Man, that was one hell of an episode. It was messy, emotional, heartbreaking, and, at times, frustrating.
It's been a while since an episode focused solely on Adam Ruzek kept me on the edge of my seat, but Patrick Flueger brought his all to this episode. I felt every single one of his emotions.
Chicago PD Review – Equal Justice (8×06)
It's been a while since we've had an episode dedicated to Jay Halstead, but some things never change.
On Chicago PD Season 8 Episode 6, Halstead once again got too personally invested in a case featuring a suspect-turned-unlikely-ally.
There was nothing wrong with the episode, per se, as it was a solid standalone episode with a strictly procedural-format. However, compared with other recent episodes that took a more personal approach, it fell flat.
There was a feeble attempt at making the situation personal to Halstead as he briefly mentioned seeing his own father in Latrell, a man who would do anything for his son, but it didn't come close to the greatness that we've seen from the Burgess and Atwater-focused episodes lately.
Chicago PD Review – Burgess Makes a Big Decision (8×05)
Burgess started off the hour getting drunk and hooking up with Ruzek, but by the end of Chicago PD Season 8 Episode 5, she was driving home as a foster mom.
As they say, a lot can change in the span of 24 hours!
Burgess-centric episodes are always top-notch; they're right up there next to Atwater-centric episodes. And the powers that be even blessed us with a Burgess and Atwater scene, which has become all too scarce these days.
Don't get me wrong, I love the Burgess and Ruzek team-up, but as this episode proves, it's nice — and even enlightening — when other members of Intelligence interact with each other. They don't have to be siloed to their romantic partners all the time.
Burgess and Atwater had such a close relationship in the early seasons of the series that it makes sense that he would be her go-to for advice. It was nice to see that acknowledged again.
While Burgess seemed to have her mind mostly made up about wanting to foster Makayla, running it by Atwater, who could remain impartial (unlike Ruzek) and had some personal experience with raising kids, helped solidify her decision.
Burgess obviously understands the hardships of fostering a child, especially a child that has undergone trauma, but with everything going on in the world, it was important that she also factored in race and her career into her decision.
After having considered every angle, Burgess determined she was up for the challenge. My only hope is that the series specifically addresses how she's going to juggle being a foster mom with her demanding career. Will she take on less while she navigates motherhood?
It was also important for Ruzek to weigh in on her decision, and I'm glad she ran it by him because it's an acknowledgment that it will affect their relationship as well.
Prior to her decision to foster, #Burzek spent the night together. He even suggested that they start seeing each other on a regular basis. Admittedly, I get way too giddy whenever Burgess and Ruzek are together; they fit so well and their chemistry is palpable.
If you keep going back to the same person over and over again, you're either crazy or in love. In this case, I think they're crazy in love but choosing to remain cautious.
When Burgess mentioned that she wanted the whole "mess" of a boyfriend, a wedding in a banquet hall, and babies, she may have been trying to scare Ruzek away, but it wasn't working because he wants all of that too.
Adding Makayla into the equation obviously shakes things up, but I think Ruzek will step up to the plate and be a huge source of support for them.
And hopefully, Burgess will accept the help and stop pushing him away. It's about time that they just admit that they have feelings for each other and that they're better off together than apart.
Either way, we know Ruzek is going to be involved in this child's life in some shape or form because, romantic relationship or not, he's always going to be in Burgess's life.
Whereas Atwater came from a place of acknowledging that the journey is tough but rewarding, Ruzek wanted to make sure that Burgess wasn't trying to replace what they lost when she miscarried.
It was a valid concern.
The thought that Burgess was just trying to fill a void crossed my mind, but you can tell Burgess cares about Makayla and feels genuinely connected to her.
They've both gone through trauma, so maybe together they can start the healing process.
I'd be lying if I said I didn't turn into a ball of mushy goo when Burgess looked into her rearview mirror and saw Makayla smiling back at her. It's the first time we've seen that precious little girl smile, which means that Makayla feels comfortable and trusts Burgess.