Intelligence brought their A-game on Chicago PD Season 7 Episode 19 as a twisted case left audiences questioning which father was the good father.
Both Wade and Gary were trying to find their children, and initially, it was difficult to see which father was doing the right thing.
From the outside looking in, Gary's situation did not look good since he orchestrated a kidnapping to find his son, Dylan, and held Charlotte at gunpoint.
When he initially reached out for help, the cops immediately wrote him off because his son had a history of drug abuse and mental health issues.
It's the same argument that Wade tried to make to discredit Dylan. He called him a "troubled kid" who was making up stories and even said that Gary was trying to blackmail and shake him down.
Also, let me point out that PD's portrayal of the detective that presided over Gary's missing person's report was your classic slimebag in some knock off '80s looking detective suit.
It was hilarious in contrast to Atwater and Rojas, two detectives who understand the plight of the underprivileged and less fortunate.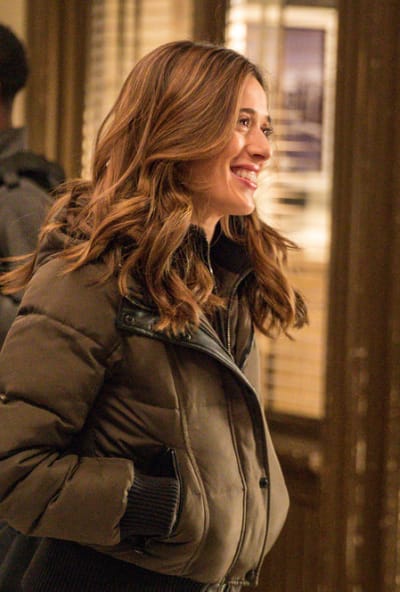 It's the very reason why they didn't immediately believe Wade was a saint simply because he had money and looked presentable.
The first warning sign about Wade was that he said he was living a good and "honest" life while still being considered the "richest man in Chicago."
Intelligence has been in this business long enough to know that when you see a man who owns a furniture store and lives in a mansion, you should be a little skeptical.
There were a few likely scenarios that I thought would come into play like Wade being involved in some shady criminal activity or owing someone money.
Turns out, he was involved in something shady, but it wasn't the kind of shady I imagined.
While Wade seemed like a worried and concerned father at first, the man lost all credibility when he lied to Voight about not knowing that his daughter was missing.
From that point on, Wade's lies simply kept adding up until Voight had absolutely no reason to trust anything he said.
And for good reason. Wade's main goal wasn't to find his daughter or to save her, it was to protect himself and his secret. It's exactly why he entrusted his own security guard to find Charlotte rather than getting the cops involved.
He knew if he called the cops, they would find out the truth.
It was shocking to see how many lies Wade would spin when the truth was already out there: he killed a man so that he wouldn't be outed to his family.
You know it's bad when the cops trust the kidnapper over you.
Wade was a disgrace of a man and father. He was going to allow someone to shoot his daughter so that he could keep his secret.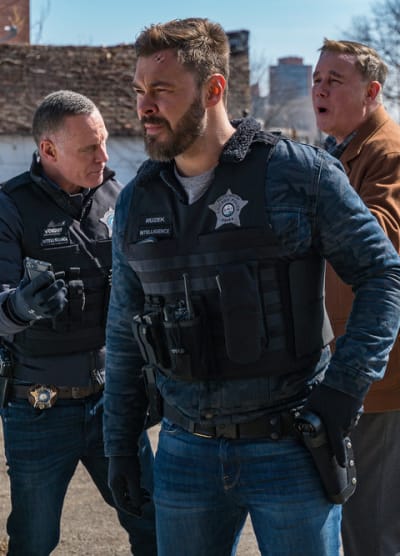 I can understand wanting to protect your family from the truth, but Wade's secret was out already, there was no turning back, and simply telling the truth could have saved his daughter and ended this mess, and yet, he still couldn't own up to it.
I kept thinking that the plot would take another twist and that Wade wouldn't be responsible for Dylan's murder, but sadly, that never happened.
Follow CRAVEYOUTV on socials
Chicago PD Review – Instinct (8×07)
The only thing more dangerous than a drug dealer taking out other drug dealers is an unstable CI.
And that's just what Intelligence encountered on Chicago PD Season 8 Episode 7.
Man, that was one hell of an episode. It was messy, emotional, heartbreaking, and, at times, frustrating.
It's been a while since an episode focused solely on Adam Ruzek kept me on the edge of my seat, but Patrick Flueger brought his all to this episode. I felt every single one of his emotions.
Chicago PD Review – Equal Justice (8×06)
It's been a while since we've had an episode dedicated to Jay Halstead, but some things never change.
On Chicago PD Season 8 Episode 6, Halstead once again got too personally invested in a case featuring a suspect-turned-unlikely-ally.
There was nothing wrong with the episode, per se, as it was a solid standalone episode with a strictly procedural-format. However, compared with other recent episodes that took a more personal approach, it fell flat.
There was a feeble attempt at making the situation personal to Halstead as he briefly mentioned seeing his own father in Latrell, a man who would do anything for his son, but it didn't come close to the greatness that we've seen from the Burgess and Atwater-focused episodes lately.
Chicago PD Review – Burgess Makes a Big Decision (8×05)
Burgess started off the hour getting drunk and hooking up with Ruzek, but by the end of Chicago PD Season 8 Episode 5, she was driving home as a foster mom.
As they say, a lot can change in the span of 24 hours!
Burgess-centric episodes are always top-notch; they're right up there next to Atwater-centric episodes. And the powers that be even blessed us with a Burgess and Atwater scene, which has become all too scarce these days.
Don't get me wrong, I love the Burgess and Ruzek team-up, but as this episode proves, it's nice — and even enlightening — when other members of Intelligence interact with each other. They don't have to be siloed to their romantic partners all the time.
Burgess and Atwater had such a close relationship in the early seasons of the series that it makes sense that he would be her go-to for advice. It was nice to see that acknowledged again.
While Burgess seemed to have her mind mostly made up about wanting to foster Makayla, running it by Atwater, who could remain impartial (unlike Ruzek) and had some personal experience with raising kids, helped solidify her decision.
Burgess obviously understands the hardships of fostering a child, especially a child that has undergone trauma, but with everything going on in the world, it was important that she also factored in race and her career into her decision.
After having considered every angle, Burgess determined she was up for the challenge. My only hope is that the series specifically addresses how she's going to juggle being a foster mom with her demanding career. Will she take on less while she navigates motherhood?
It was also important for Ruzek to weigh in on her decision, and I'm glad she ran it by him because it's an acknowledgment that it will affect their relationship as well.
Prior to her decision to foster, #Burzek spent the night together. He even suggested that they start seeing each other on a regular basis. Admittedly, I get way too giddy whenever Burgess and Ruzek are together; they fit so well and their chemistry is palpable.
If you keep going back to the same person over and over again, you're either crazy or in love. In this case, I think they're crazy in love but choosing to remain cautious.
When Burgess mentioned that she wanted the whole "mess" of a boyfriend, a wedding in a banquet hall, and babies, she may have been trying to scare Ruzek away, but it wasn't working because he wants all of that too.
Adding Makayla into the equation obviously shakes things up, but I think Ruzek will step up to the plate and be a huge source of support for them.
And hopefully, Burgess will accept the help and stop pushing him away. It's about time that they just admit that they have feelings for each other and that they're better off together than apart.
Either way, we know Ruzek is going to be involved in this child's life in some shape or form because, romantic relationship or not, he's always going to be in Burgess's life.
Whereas Atwater came from a place of acknowledging that the journey is tough but rewarding, Ruzek wanted to make sure that Burgess wasn't trying to replace what they lost when she miscarried.
It was a valid concern.
The thought that Burgess was just trying to fill a void crossed my mind, but you can tell Burgess cares about Makayla and feels genuinely connected to her.
They've both gone through trauma, so maybe together they can start the healing process.
I'd be lying if I said I didn't turn into a ball of mushy goo when Burgess looked into her rearview mirror and saw Makayla smiling back at her. It's the first time we've seen that precious little girl smile, which means that Makayla feels comfortable and trusts Burgess.