Intelligence brought their A-game on Chicago PD Season 7 Episode 19 as a twisted case left audiences questioning which father was the good father.
Both Wade and Gary were trying to find their children, and initially, it was difficult to see which father was doing the right thing.
From the outside looking in, Gary's situation did not look good since he orchestrated a kidnapping to find his son, Dylan, and held Charlotte at gunpoint.
When he initially reached out for help, the cops immediately wrote him off because his son had a history of drug abuse and mental health issues.
It's the same argument that Wade tried to make to discredit Dylan. He called him a "troubled kid" who was making up stories and even said that Gary was trying to blackmail and shake him down.
Also, let me point out that PD's portrayal of the detective that presided over Gary's missing person's report was your classic slimebag in some knock off '80s looking detective suit.
It was hilarious in contrast to Atwater and Rojas, two detectives who understand the plight of the underprivileged and less fortunate.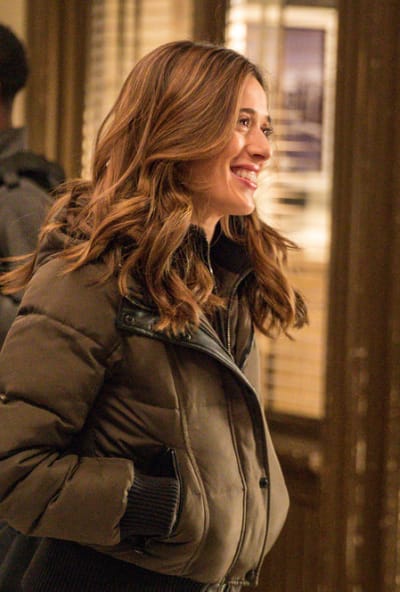 It's the very reason why they didn't immediately believe Wade was a saint simply because he had money and looked presentable.
The first warning sign about Wade was that he said he was living a good and "honest" life while still being considered the "richest man in Chicago."
Intelligence has been in this business long enough to know that when you see a man who owns a furniture store and lives in a mansion, you should be a little skeptical.
There were a few likely scenarios that I thought would come into play like Wade being involved in some shady criminal activity or owing someone money.
Turns out, he was involved in something shady, but it wasn't the kind of shady I imagined.
While Wade seemed like a worried and concerned father at first, the man lost all credibility when he lied to Voight about not knowing that his daughter was missing.
From that point on, Wade's lies simply kept adding up until Voight had absolutely no reason to trust anything he said.
And for good reason. Wade's main goal wasn't to find his daughter or to save her, it was to protect himself and his secret. It's exactly why he entrusted his own security guard to find Charlotte rather than getting the cops involved.
He knew if he called the cops, they would find out the truth.
It was shocking to see how many lies Wade would spin when the truth was already out there: he killed a man so that he wouldn't be outed to his family.
You know it's bad when the cops trust the kidnapper over you.
Wade was a disgrace of a man and father. He was going to allow someone to shoot his daughter so that he could keep his secret.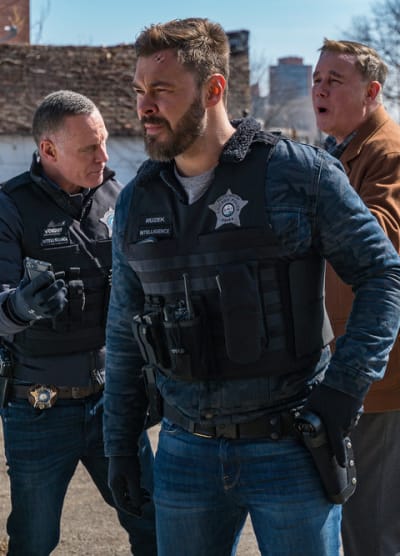 I can understand wanting to protect your family from the truth, but Wade's secret was out already, there was no turning back, and simply telling the truth could have saved his daughter and ended this mess, and yet, he still couldn't own up to it.
I kept thinking that the plot would take another twist and that Wade wouldn't be responsible for Dylan's murder, but sadly, that never happened.
Follow CRAVEYOUTV on socials
Chicago PD Review – Trouble Dolls (8×13)
It's been a rough season for Kim Burgess, but after Chicago PD Season 8 Episode 13, it seems like things are finally starting to look up for her.
Any time an episode focuses on Burgess, you know it's going to be good.
Marina Squerciati continues to deliver outstanding performances on both a personal and professional level for Burgess.
The episode had it all: it touched upon Burgess's work-life balance, addressed Makayla's struggles with adjusting to her new life, and dealt Burgess and Ruzek's falling out following the fight on Chicago PD Season 8 Episode 10.
It's almost as if the writers read our concerns and addressed the storylines we've been wanting to see.
It also shows that the series can juggle storylines that tackle both the personal and professional aspects of a character's life in one episode.
Now, let's give everyone a life outside of work because it allows for stronger storylines all around.
Initially, Burgess and Makayla's home life seemed pretty great (how cute was that little at-home play?), but soon, it became clear that Makayla was suffering trauma as a result of what happened in her life.
I'm so glad the series didn't just gloss over that part because it would've been unrealistic.
Makayla watched her whole family get murdered by the father that also hunted her down. That's not something you just get over.
She may not fully comprehend the weight of what happened, but she'll feel the effects of that loss for the rest of her life.
And while it's great that she has someone in her corner like Burgess who wants to protect her and make her feel safe and loved, there's no denying that Burgess's job is dangerous.
As the therapist pointed out, Burgess may leave her work life at the door, but Makayla has seen her with a gun.
To some extent, she knows that if something were to happen to Burgess, she's all alone once again.
Burgess is her person.
Burgess was in denial by thinking that she didn't need to assign a custodial guardian for Makayla.
Deep down inside, she wanted to pretend that everything would be okay, but she was ignoring the fact that she has a high-risk job.
Every time that she responds to a call — in uniform or not — she's putting her life at risk.
I love that the emotionally heartbreaking case helped Burgess make the right decision.
She had a close call with a suspect after a bullet gently grazed her jacket, but it was a brutal reminder that the situation could've been much worse.
Intelligence deals with the toughest cases and pursues the worst criminals, and Burgess's life is always on the line.
After everything that Makayla has been through, she deserves a backup.
And there's no one more fitting than Ruzek.
We knew he would be Burgess's go-to — after all, he was going to be the father of her child — but it still allowed for a tender moment between the two and what seemed like the beginning of a reconciliation.
Even though Burgess questioned Ruzek's character, which strained the foundation of their relationship, we knew he would say yes.
He's always there for Burgess because they have an unbreakable bond.
Read the full review at TV Fanatic!
Chicago PD Review – Due Process (8×12)
Finally, an episode dedicated entirely to Voight!
First thing's first, Chicago PD Season 8 Episode 12 was a brutal reminder to always make sure you're getting into the correct rideshare.
Always check the license plate and share your location with friends! You can never be too careful.
The case-heavy episode found Intelligence pursuing a serial rapist and killer that was recently released from jail.
And it gave us Voight at his best.
Despite every bone in his body telling him to throw Caleb Hoff into a cage and mess him up, Voight remained calm (for the most part) and level-headed, which allowed him to put the guy away for good.
Kenny's car can't say the same, but it's better if Voight unloads his frustration out on an object rather than a person in this case.
Intelligence had to be very careful with how they handled the case because Hoff recently won a lawsuit against the city for police misconduct.
The detective working his case, Lisa Martinez, used force on his roommate to search his room and get evidence, which obviously meant that his case was thrown out.
Police brutality is never encouraged, but this was an example of a situation where the monster walked free because of a technicality.
Read the full review at TV Fanatic!
Chicago PD Review & Interview – Tracy Spiridakos on Big #Upstead Moment (8×11)
Upton's childhood trauma bubbled up to the surface on Chicago PD Season 8 Episode 11.
This isn't the first time the series has touched upon Upton's past, but audiences were able to get a better grasp at the hell she went through while growing up in a household of domestic abuse.
Up until now, she never fully confronted how it affected her into adulthood.
On Chicago PD Season 8 Episode 3, Upton couldn't even bring herself to visit her father after he suffered a heart attack.
The truth is, she's been running from her past for her whole life, but the trauma has finally caught up with her and it's significantly affecting every aspect of her life including her career and her promising, new relationship.
And she's beginning to realize that if she lets this bruised part of herself continue to get in the way, it could jeopardize everything she's ever cared about.
The case was solid with or without an anchor to Upton's personal life as the outcome wasn't obvious. Also, how gruesome was that scene of the mother with her teeth pulled out and her fingertips burnt off?
Upton responded to a call that involved a young child who has endured a lifetime of emotional and physical abuse.
She immediately felt drawn to the little girl, Becca, as she saw herself in her pained yet hopeful face.
And Upton went to great lengths to help her. On one hand, her determination played a key role in solving the case, but on the other hand, it was dangerous because she was willing to break the rules and go against Voight's orders.
Since she was fueled by emotion, she wasn't thinking clearly, which made it easy for her to misstep and cross a line.
Throughout the episode, I wanted to shake Upton and tell her to snap out of it, but she was so focused. It almost felt like she thought she could save herself by saving Becca.
Coming from a dysfunctional family gives Upton good instincts. Her personal involvement in the case is largely the reason Intelligence found Becca in time.
However, it also forced her to reassess her approach.
After her heart-to-heart with Voight, Upton realized that she couldn't go on like this and pretend that her past wasn't seeping into her present.
A childhood fueled by control, manipulation, betrayal, and abuse also made it hard for Upton to form a real connection with another person.
Even before she took on the case, Upton bolted right after Halstead said the L-word.
While it's a huge moment in their relationship, for Upton, it was a trigger because she's only ever known a dysfunctional level of love.
Whenever someone would say "I love you," there was always a catch. So, when Halstead said it, she was waiting for the other foot to drop.
Instead of allowing herself to get hurt, she wanted to beat him to the punch and run the other way.
That's why her eventual decision to open up to Halstead and be vulnerable and transparent about her fears and insecurities was a huge step.
I love that Halstead didn't try to "fix" Upton; He simply listened to what she needed while promising to be patient and stay by her side.
I wasn't completely sold on #TeamUpstead prior to this episode because I'm used to the relationships on this series crumbling for one reason or another, but I'm digging the direction that this is going in.
Not every relationship starts in the honeymoon phase, and it's clear Halstead cares enough about her to support her and help her get to a good point.
Hopefully, the series continues with the storyline and doesn't drop Upton's emotional turmoil.
We don't need a whole episode dedicated to her working through her issues, but it would be nice to see some continuity whenever #Upstead's relationship gets future screen time.
We got to chat with Tracy Spiridakos, who plays Hailey Upton, about the game-changing episode!