It was back to business on Chicago PD Season 7 Episode 14.
Rojas got her time in the spotlight as Burgess took a backseat to deal with the aftermath of her brutal miscarriage.
The series didn't spend too much time addressing what happened, but it did show Burgess getting discharged from the hospital and trying to navigate this new reality with Ruzek. Neither one of them has been able to process what happened or grieve properly.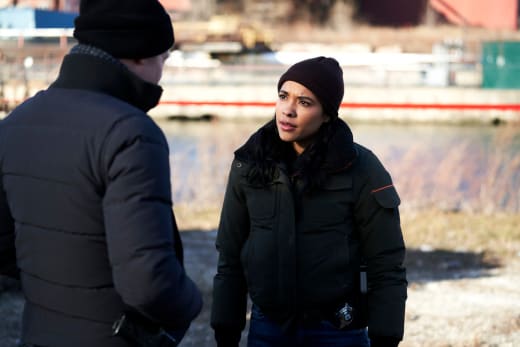 Ruzek showed that he was still planning to be there for Burgess, and his offer to make french toast was a sweet gesture, but no amount of sweet breakfasts and dessert can numb that pain.
Burgess wanted to take some time for herself, which is understandable but also concerning.
She's doing that thing again where she's closing herself off and pushing everyone away including Ruzek who is likely feeling an immense amount of pain and disappointment as well.
While there's nothing wrong with wanting some time alone, hopefully, this doesn't spiral into Burgess going down a dark and destructive path.
There's no turning back to the clock on this miscarriage storyline, but it could bring them closer together even as friends as they console each other and gain strength to move on and decide what's next.
Ruzek experienced a whirlwind of emotions that included accepting that he was going to be a father and then accepting that he wasn't going to be a father all in the same breath.
It's a difficult time for both of them, so it would be understandable if Ruzek too some time off too, but it seems Adam's way of dealing is to just throw himself back into his work.
It was awesome that Platt and Voight checked in on Burgess and Ruzek and made sure they felt supported, but I wish we saw a little more support from the other members of Intelligence.
I would have loved for Atwater to check in on Burgess considering their close bond. After all, he is the first person she told about the pregnancy.
And I do wish the female friendships on the series were stronger. Upton, Rojas, and Burgess need to stick together, so it would have been great if they reached out to her to see if she needed anything. Even a quick call simply acknowledging her pain would have sufficed.
Much of the action focused on Rojas and gave us some insight into her backstory. Since Rojas' addition to the team, the audience hasn't seen much of her as she's served as more of a background character.
Now, we're finding out that she had a tough childhood; she was in the system and spent time living in the streets.
The mention of her past was brief, but it was refreshing that Rojas owned it rather than act like a victim because of it.
As with every other case involving the members of Intelligence, her past came in handy when dealing with a victim and solving the case.
The case was tricky as Intelligence was forced to figure out whether or not Sammy was telling the truth about what happened to Roberto or if it was a figment of his imagination.
Sammy, who was suffering from paranoid schizophrenia, gave the case an interesting perspective while also allowing the audience to experience reality from his point of view.
His inclusion in the case tackled mental health in a way we've never seen on the show, and it made for some powerful storytelling.
Follow CRAVEYOUTV on socials
Feelin' generous? Support our site and podcast (Mimosa Talk) on Patreon and KoFi.
Chicago PD Review – Rojas and Upton Get In Trouble with Voight (7×18)
We finally got an Upton and Rojas team up on Chicago PD Season 7 Episode 18, but it wasn't what any of us were expecting.
Both ladies tried to take matters into their own hands and ended up on Voight's bad side, which, if you remember from my review of Chicago PD Season 7 Episode 17, is not a pleasant side.
While Rojas had a few anxiety-inducing missteps this episode, which largely stemmed from a loved one being involved in a major case, much of Voight's anger was directed at Upton.
And she deserved it.
I don't know what got into her, but where was the Upton who always keeps Halstead in check?
Instead, she got personally involved in the case because she wanted to help Rojas and made an extreme decision that triggered Voight. (Fans were probably pleased to see that he's still got it!)
Voight was upset for a few reasons. For starters, because Upton was a superior who should have known better.
And unlike Rojas, who immediately acknowledged that what she did was wrong and apologized, Upton never felt bad about it.
She naively assumed she had the same authority as Voight.
Her judgment was clouded by her desire to put Gael away and get Reyes the deal, so she did what she had to do and planted fake evidence without showing any remorse.
While Gael deserved what was coming, it wasn't Upton's place to plant evidence merely to get justice. That sets a dangerous precedent.
Cops need to be held to a standard and uphold a moral code. If Upton is so comfortable crossing this line because it benefits her and a friend, will she be able to see the line the next time around?
If she had done it with Voight's permission, it would have been a slightly different story since Voight would have taken the rap. Plus, he's in a position to make such calls, but she specifically went behind his back and made the decision herself without even looping him in.
Then, instead of owning up to it, she explained that she thought it was what "he would have done" knowing damn well she kept it a secret because Voight wouldn't have allowed such behavior.
Voight has never wanted his unit to go down the same path he has, and I love that he didn't think twice about showing her tough love.
It shows that there are some rules he won't break, but also, that he cares enough about Upton to intervene.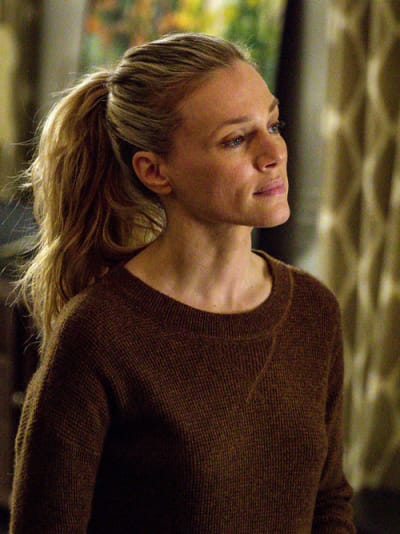 Now, I don't watch Law & Order: SVU, but it would be really great if she actually got to guest-starred on an episode since he volunteered her to the New York team. Does anyone know if that's happening?
Since Rojas was personally involved in the case, it made us automatically more invested in the plot because the stakes were higher.
Chicago PD Review – Voight's Plan Gets Foiled by Staples & He's Not Happy (7×17)
You do not, I repeat, do not want to upset Hank Voight. Ever.
But that's exactly what Paul Staples from homicide did on Chicago PD Season 7 Episode 17.
Staples didn't give off the impression that he was a newbie, but what established professional (in homicide, of all things) has no knowledge of Voight, the power he wields in this city, or how he gets things done?
Voight knows everyone, and everyone knows Voight.
Staples' actions made him look green and unprofessional and gave him zero credibility from the get-go.
Frank Rochester, Voight's good friend and CI during the episode, said that the cause of death was male ego. He was referring to himself with that statement and how he triggered Lamar, but it perfectly summarized Staples' actions.
Staples came onto the scene thinking he could call the shots. He proved that when he grabbed Voight's arm and said: "who do you think you are."
That was mistake number one. We all knew it was over for him. Staples, who do you think you are?
He didn't just make a bad impression on Voight and his team, but he was also in it for the wrong reasons.
He was motivated by personal reasons as he explained one of his CI's was killed in the part of town where the shooting took place, and this was his way of getting revenge.
But his biggest flub was that he disrespected and undermined Voight's authority by blowing the cover.
Voight has dealt with some straight-up buffoons in his long career, but Staples was quite frankly the most irritating.
I think I speak for the #OneChicago fandom when I say he had it coming. I even read some tweets that said "punch him again," and I can't argue with that.
The punch Voight threw was so well deserved especially after Staples tried to justify his actions and dared to say that the only thing that mattered was that they made the arrest.
I don't know where this dude got his training, but the arrest is not the end all be all, at least, not in Voight's unit; it's only a teeny, tiny, small chunk of it.
Voight has a responsibility to his CI and whoever is undercover, which in this case was Atwater.
Chicago PD Review – Upton and Halstead Deal with an Domestic Abuse Case (7×16)
The case on Chicago PD Season 7 Episode 16 hit close to home for Upton.
The series previously established that Upon comes from a home affected by domestic abuse, and we saw her bring those experiences to the table when dealing with a case that started as armed robbery and quickly took a nasty turn into something more.
Michelle, a witness and "good samaritan" at the scene of the armed robbery, turned out to be the wife of the robber who refused to cooperate because she was too scared of what her husband would do to her.
As Upton and Halstead investigated — the dynamic duo is back! — they unearthed several cases of abuse including a brutal one that landed her in the hospital. Her excuse was that she "fell off her bike."
Because of Upton's past, she understood Michelle because she'd seen the same thing with her mother.
She knew that victims tend to become used to the abuse and lose hope, which is why it's hard to get them to co-operate.
But Upton knew how to get through to Michelle to get her on board because she could put herself in her shoe's and think the way she thinks,
And even once she agreed, it was risky because there was always the chance that Michelle would change her mind.
It happened when she decided to give Shane yet another chance and tried convincing him to stay instead of getting a confession, which she was tasked with doing.
Her flip is what forced Upton and Halstead to get involved and foil the case they were trying to build up.
Upton was so calm while surveilling Michelle and Shane because it was her reality for so long.
She knew what a normal domestic argument sounded like, and she knew when it was time to move in. She also understood that oftentimes intruding doesn't make anything better.
It paints an incredibly sad picture of Upton's childhood — I can almost see her as a young girl just covering her head with a pillow to block out the fighting — and one that was nicely juxtaposed with Halstead.
Every fiber of his being was screaming at him to run in there and make the violence stop.