We finally got an Upton and Rojas team up on Chicago PD Season 7 Episode 18, but it wasn't what any of us were expecting.
Both ladies tried to take matters into their own hands and ended up on Voight's bad side, which, if you remember from my review of Chicago PD Season 7 Episode 17, is not a pleasant side.
While Rojas had a few anxiety-inducing missteps this episode, which largely stemmed from a loved one being involved in a major case, much of Voight's anger was directed at Upton.
And she deserved it.
I don't know what got into her, but where was the Upton who always keeps Halstead in check?
Instead, she got personally involved in the case because she wanted to help Rojas and made an extreme decision that triggered Voight. (Fans were probably pleased to see that he's still got it!)
Voight was upset for a few reasons. For starters, because Upton was a superior who should have known better.
And unlike Rojas, who immediately acknowledged that what she did was wrong and apologized, Upton never felt bad about it.
She naively assumed she had the same authority as Voight.
Her judgment was clouded by her desire to put Gael away and get Reyes the deal, so she did what she had to do and planted fake evidence without showing any remorse.
While Gael deserved what was coming, it wasn't Upton's place to plant evidence merely to get justice. That sets a dangerous precedent.
Cops need to be held to a standard and uphold a moral code. If Upton is so comfortable crossing this line because it benefits her and a friend, will she be able to see the line the next time around?
If she had done it with Voight's permission, it would have been a slightly different story since Voight would have taken the rap. Plus, he's in a position to make such calls, but she specifically went behind his back and made the decision herself without even looping him in.
Then, instead of owning up to it, she explained that she thought it was what "he would have done" knowing damn well she kept it a secret because Voight wouldn't have allowed such behavior.
Voight has never wanted his unit to go down the same path he has, and I love that he didn't think twice about showing her tough love.
It shows that there are some rules he won't break, but also, that he cares enough about Upton to intervene.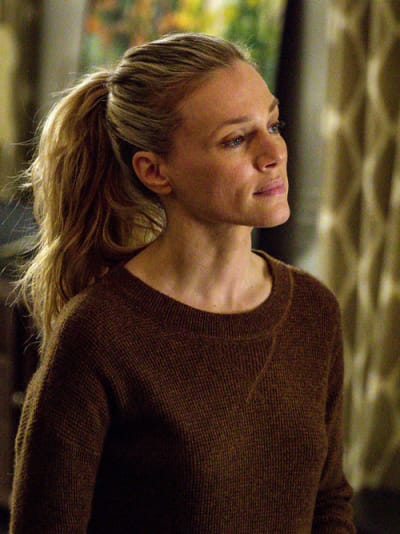 Now, I don't watch Law & Order: SVU, but it would be really great if she actually got to guest-starred on an episode since he volunteered her to the New York team. Does anyone know if that's happening?
Since Rojas was personally involved in the case, it made us automatically more invested in the plot because the stakes were higher.
Follow CRAVEYOUTV on socials
Chicago PD Review – Instinct (8×07)
The only thing more dangerous than a drug dealer taking out other drug dealers is an unstable CI.
And that's just what Intelligence encountered on Chicago PD Season 8 Episode 7.
Man, that was one hell of an episode. It was messy, emotional, heartbreaking, and, at times, frustrating.
It's been a while since an episode focused solely on Adam Ruzek kept me on the edge of my seat, but Patrick Flueger brought his all to this episode. I felt every single one of his emotions.
Chicago PD Review – Equal Justice (8×06)
It's been a while since we've had an episode dedicated to Jay Halstead, but some things never change.
On Chicago PD Season 8 Episode 6, Halstead once again got too personally invested in a case featuring a suspect-turned-unlikely-ally.
There was nothing wrong with the episode, per se, as it was a solid standalone episode with a strictly procedural-format. However, compared with other recent episodes that took a more personal approach, it fell flat.
There was a feeble attempt at making the situation personal to Halstead as he briefly mentioned seeing his own father in Latrell, a man who would do anything for his son, but it didn't come close to the greatness that we've seen from the Burgess and Atwater-focused episodes lately.
Chicago PD Review – Burgess Makes a Big Decision (8×05)
Burgess started off the hour getting drunk and hooking up with Ruzek, but by the end of Chicago PD Season 8 Episode 5, she was driving home as a foster mom.
As they say, a lot can change in the span of 24 hours!
Burgess-centric episodes are always top-notch; they're right up there next to Atwater-centric episodes. And the powers that be even blessed us with a Burgess and Atwater scene, which has become all too scarce these days.
Don't get me wrong, I love the Burgess and Ruzek team-up, but as this episode proves, it's nice — and even enlightening — when other members of Intelligence interact with each other. They don't have to be siloed to their romantic partners all the time.
Burgess and Atwater had such a close relationship in the early seasons of the series that it makes sense that he would be her go-to for advice. It was nice to see that acknowledged again.
While Burgess seemed to have her mind mostly made up about wanting to foster Makayla, running it by Atwater, who could remain impartial (unlike Ruzek) and had some personal experience with raising kids, helped solidify her decision.
Burgess obviously understands the hardships of fostering a child, especially a child that has undergone trauma, but with everything going on in the world, it was important that she also factored in race and her career into her decision.
After having considered every angle, Burgess determined she was up for the challenge. My only hope is that the series specifically addresses how she's going to juggle being a foster mom with her demanding career. Will she take on less while she navigates motherhood?
It was also important for Ruzek to weigh in on her decision, and I'm glad she ran it by him because it's an acknowledgment that it will affect their relationship as well.
Prior to her decision to foster, #Burzek spent the night together. He even suggested that they start seeing each other on a regular basis. Admittedly, I get way too giddy whenever Burgess and Ruzek are together; they fit so well and their chemistry is palpable.
If you keep going back to the same person over and over again, you're either crazy or in love. In this case, I think they're crazy in love but choosing to remain cautious.
When Burgess mentioned that she wanted the whole "mess" of a boyfriend, a wedding in a banquet hall, and babies, she may have been trying to scare Ruzek away, but it wasn't working because he wants all of that too.
Adding Makayla into the equation obviously shakes things up, but I think Ruzek will step up to the plate and be a huge source of support for them.
And hopefully, Burgess will accept the help and stop pushing him away. It's about time that they just admit that they have feelings for each other and that they're better off together than apart.
Either way, we know Ruzek is going to be involved in this child's life in some shape or form because, romantic relationship or not, he's always going to be in Burgess's life.
Whereas Atwater came from a place of acknowledging that the journey is tough but rewarding, Ruzek wanted to make sure that Burgess wasn't trying to replace what they lost when she miscarried.
It was a valid concern.
The thought that Burgess was just trying to fill a void crossed my mind, but you can tell Burgess cares about Makayla and feels genuinely connected to her.
They've both gone through trauma, so maybe together they can start the healing process.
I'd be lying if I said I didn't turn into a ball of mushy goo when Burgess looked into her rearview mirror and saw Makayla smiling back at her. It's the first time we've seen that precious little girl smile, which means that Makayla feels comfortable and trusts Burgess.