Chicago PD Season Finale Review – Kevin Atwater Faces a Troubling Ally From His Past (7×20)
It's been a hot minute since we got a Kevin Atwater-focused episode, but it wasn't surprising that he found himself torn and conflicted after being thrust into yet another black vs. blue debate.
Atwater's situation on Chicago PD Season 7 Episode 20 connected back to his undercover work on Chicago PD Season 6 Episode 13 while serving as the perfect ending to a shortened season.
Atwater has always known that when it comes to matters of black versus blue, there's a bit of a gray area that doesn't lean in his favor.
While I've been wanting the series to give Atwater the ability to explore different moral conflicts, at the same time, the episode was so powerful and relevant, that I can't bring myself to complain.
It also sets up an interesting dynamic moving forward as it pins Atwater (with the backing of Intelligence) against high-ranking officials in the police force.
And it perfectly and necessarily highlights the corruption that goes on within an institution that should be (keyword) trusted by all citizens of different walks of life.
In my review of Chicago PD Season 6 Episode 13, I noted that whenever an episode focuses on Atwater, I find myself with this "pit-of-my-stomach anxiety that I can't seem to shake," and more than a year later, that still rings true.
As in previous episodes, LaRoyce Hawkins brought his best work to navigate a particularly layered and emotionally complex episode.
Atwater was forced to work alongside a troubling ally Tommy Doyle. You might remember him as the racist cop who previously pointed a gun at him when he was undercover, so we knew things were bound to get ugly. We just didn't know how ugly.
Doyle went from being a street cop to a detective following his messy altercation with Atwater because clearly,  Chicago rewards racist behavior.
Kenny assured Voight that the promotion was because Doyle was hard-working and didn't have anything to do with the fact that he came from three generations of cops, but we know that's not true.
His problematic behavior was excused and a blind eye was turned because of the people he knew.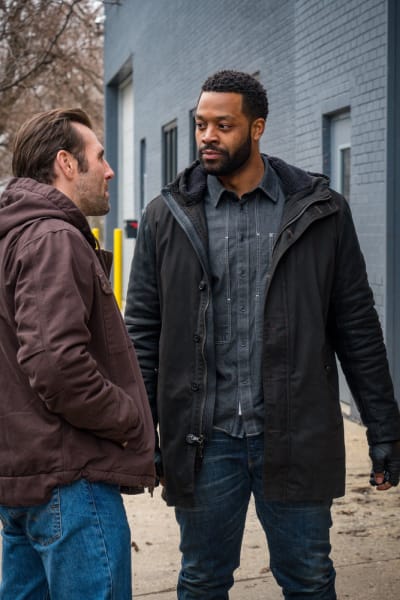 Now, I'm not saying all of his friends and supporters are equally as racist as he is, but his father did make a rather questionable comment about Kevin's "great Irish name," so do with that what you will.
At first, Doyle and Atwater played nice. Doyle apologized for what happened in the past (which Atwater forgave but did not forget) and even jumped in to save Atwater's life while undercover by standing in front of a gun.
Atwater is a good, professional cop who always puts aside his personal conflicts, so it wasn't surprising that they swiftly took down the head of the illegal gun-trafficking ring.
Doyle figured the win called for a celebration and despite Atwater's objections, the two went to grab "one beer."
Man, I wish Atwater just went home to have the chill night that he had planned instead.
At first, I couldn't figure out where the storyline was headed when Doyle began bringing up the past during their drive.
One thought was that Doyle simply putting on an act and would try to lash out at Atwater when they were alone.
Follow CRAVEYOUTV on socials
Chicago PD Review & Interview – Tracy Spiridakos on Big #Upstead Moment (8×11)
Upton's childhood trauma bubbled up to the surface on Chicago PD Season 8 Episode 11.
This isn't the first time the series has touched upon Upton's past, but audiences were able to get a better grasp at the hell she went through while growing up in a household of domestic abuse.
Up until now, she never fully confronted how it affected her into adulthood.
On Chicago PD Season 8 Episode 3, Upton couldn't even bring herself to visit her father after he suffered a heart attack.
The truth is, she's been running from her past for her whole life, but the trauma has finally caught up with her and it's significantly affecting every aspect of her life including her career and her promising, new relationship.
And she's beginning to realize that if she lets this bruised part of herself continue to get in the way, it could jeopardize everything she's ever cared about.
The case was solid with or without an anchor to Upton's personal life as the outcome wasn't obvious. Also, how gruesome was that scene of the mother with her teeth pulled out and her fingertips burnt off?
Upton responded to a call that involved a young child who has endured a lifetime of emotional and physical abuse.
She immediately felt drawn to the little girl, Becca, as she saw herself in her pained yet hopeful face.
And Upton went to great lengths to help her. On one hand, her determination played a key role in solving the case, but on the other hand, it was dangerous because she was willing to break the rules and go against Voight's orders.
Since she was fueled by emotion, she wasn't thinking clearly, which made it easy for her to misstep and cross a line.
Throughout the episode, I wanted to shake Upton and tell her to snap out of it, but she was so focused. It almost felt like she thought she could save herself by saving Becca.
Coming from a dysfunctional family gives Upton good instincts. Her personal involvement in the case is largely the reason Intelligence found Becca in time.
However, it also forced her to reassess her approach.
After her heart-to-heart with Voight, Upton realized that she couldn't go on like this and pretend that her past wasn't seeping into her present.
A childhood fueled by control, manipulation, betrayal, and abuse also made it hard for Upton to form a real connection with another person.
Even before she took on the case, Upton bolted right after Halstead said the L-word.
While it's a huge moment in their relationship, for Upton, it was a trigger because she's only ever known a dysfunctional level of love.
Whenever someone would say "I love you," there was always a catch. So, when Halstead said it, she was waiting for the other foot to drop.
Instead of allowing herself to get hurt, she wanted to beat him to the punch and run the other way.
That's why her eventual decision to open up to Halstead and be vulnerable and transparent about her fears and insecurities was a huge step.
I love that Halstead didn't try to "fix" Upton; He simply listened to what she needed while promising to be patient and stay by her side.
I wasn't completely sold on #TeamUpstead prior to this episode because I'm used to the relationships on this series crumbling for one reason or another, but I'm digging the direction that this is going in.
Not every relationship starts in the honeymoon phase, and it's clear Halstead cares enough about her to support her and help her get to a good point.
Hopefully, the series continues with the storyline and doesn't drop Upton's emotional turmoil.
We don't need a whole episode dedicated to her working through her issues, but it would be nice to see some continuity whenever #Upstead's relationship gets future screen time.
We got to chat with Tracy Spiridakos, who plays Hailey Upton, about the game-changing episode!
Chicago PD Review – The Radical Truth (8×10)
Disco Bob made quite a mess for himself on Chicago PD Season 8 Episode 10.
The Ruzek-focused episode was a nice welcome back following a brief hiatus. And it let our boy Patrick Flueger shine. But that's not really surprising, is it?
Bob Ruzek's 30-year career with the CPD has been a bit strained, as has his relationship with his son, Adam.
The two haven't always seen eye-to-eye, but that's the thing about parents and kids — there's always a level of love there no matter what happens.
Here's When Chicago Med, Chicago Fire, and Chicago PD Will Air Season Finales in 2021
It's hard to believe that it's almost finale time for the #OneChicago shows on NBC.
Due to production delays brought on by the COVID-19 pandemic, Chicago Med, Chicago PD, and Chicago Fire got off to a late start in mid-November (instead of the usual mid-September premiere), but that pandemic hasn't made a huge impact on the quality of the episodes.
In fact, the shows have been delivering some of their strongest episodes to date! (You can check out Chicago Med, Chicago Fire, and Chicago PD reviews now!)
However, with shorter seasons on tap, the schedule has been pretty wonky and consisted of several breaks in between, so we don't blame you if you're having trouble keeping up. That's why we're here to clue you in.
New episodes of the trio of shows return on March 31, 2021.
As for the finales, NBC hasn't announced any official finale dates.
However, according to TVLine, the current seasons will wrap up on Wednesday, May 26, 2021, which would align with their pre-COVID finales even if the episode count is a bit shorter than in the year's prior.
Once NBC confirms to official finale date, we'll update this post, but at least you can find comfort in knowing that we still have a solid several weeks with Chicago's bravest and boldest!