Chicago PD Season Finale Review – Kevin Atwater Faces a Troubling Ally From His Past (7×20)
It's been a hot minute since we got a Kevin Atwater-focused episode, but it wasn't surprising that he found himself torn and conflicted after being thrust into yet another black vs. blue debate.
Atwater's situation on Chicago PD Season 7 Episode 20 connected back to his undercover work on Chicago PD Season 6 Episode 13 while serving as the perfect ending to a shortened season.
Atwater has always known that when it comes to matters of black versus blue, there's a bit of a gray area that doesn't lean in his favor.
While I've been wanting the series to give Atwater the ability to explore different moral conflicts, at the same time, the episode was so powerful and relevant, that I can't bring myself to complain.
It also sets up an interesting dynamic moving forward as it pins Atwater (with the backing of Intelligence) against high-ranking officials in the police force.
And it perfectly and necessarily highlights the corruption that goes on within an institution that should be (keyword) trusted by all citizens of different walks of life.
In my review of Chicago PD Season 6 Episode 13, I noted that whenever an episode focuses on Atwater, I find myself with this "pit-of-my-stomach anxiety that I can't seem to shake," and more than a year later, that still rings true.
As in previous episodes, LaRoyce Hawkins brought his best work to navigate a particularly layered and emotionally complex episode.
Atwater was forced to work alongside a troubling ally Tommy Doyle. You might remember him as the racist cop who previously pointed a gun at him when he was undercover, so we knew things were bound to get ugly. We just didn't know how ugly.
Doyle went from being a street cop to a detective following his messy altercation with Atwater because clearly,  Chicago rewards racist behavior.
Kenny assured Voight that the promotion was because Doyle was hard-working and didn't have anything to do with the fact that he came from three generations of cops, but we know that's not true.
His problematic behavior was excused and a blind eye was turned because of the people he knew.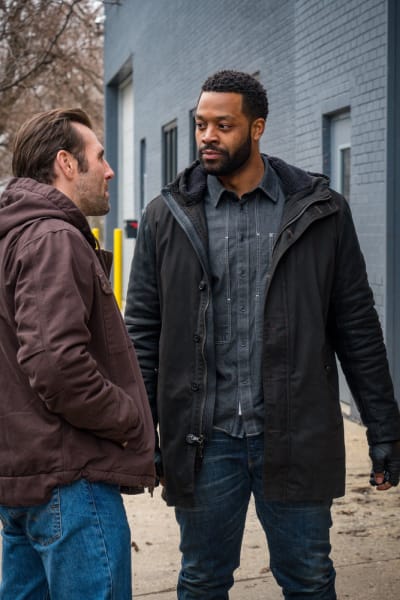 Now, I'm not saying all of his friends and supporters are equally as racist as he is, but his father did make a rather questionable comment about Kevin's "great Irish name," so do with that what you will.
At first, Doyle and Atwater played nice. Doyle apologized for what happened in the past (which Atwater forgave but did not forget) and even jumped in to save Atwater's life while undercover by standing in front of a gun.
Atwater is a good, professional cop who always puts aside his personal conflicts, so it wasn't surprising that they swiftly took down the head of the illegal gun-trafficking ring.
Doyle figured the win called for a celebration and despite Atwater's objections, the two went to grab "one beer."
Man, I wish Atwater just went home to have the chill night that he had planned instead.
At first, I couldn't figure out where the storyline was headed when Doyle began bringing up the past during their drive.
One thought was that Doyle simply putting on an act and would try to lash out at Atwater when they were alone.
Follow CRAVEYOUTV on socials
Is Adam Ruzek Leaving 'Chicago PD'?
Following Chicago PD Season 5's finale, it's understandable that fans are worried about Adam Ruzek's fate as it hangs in the balance.
Questions and concerns immediately began popping up, with many wondering if Patrick Flueger is leaving the series.
For now, it's unclear as the episode that ended the season left things on a bit of a cliffhanger in terms of Ruzek's health.
During the episode, Ruzek, who was working undercover for months to thwart Richard's, a white supremacist's deadly terrorist plan, blew his own cover to Richard's daughter, Sam, who was trying to skip town after her dad moved up the date for his attack.
Ruzek and the Intelligence team then convinced Sam to inform on her dad and his crew in exchange for immunity for herself and her son, Callum, which she did.
He then advised them to pack up their things and head over to a safe house, which she proposed as a little getaway to Callum. Unfortunately, Cal was so brainwashed by his grandfather that he immediately called him to let him know that his mom was trying to leave.
When Ruzek approached him and saw him on the phone, Cal pulled out a gun. Ruzek tried to diffuse the situation but Cal pulled the trigger, hitting Ruzek in the abdomen. He immediately started bleeding out and collapsed to the ground. Once Sam realized what was happening, she grabbed her son and made a run for it, leaving Ruzek alone to die. Thankfully, he was able to reach Kim Burgess and within minutes, he was in an ambo on his way to Med.
Unfortunately, once he went into surgery, the doctors provided no additional updates, though Platt assured a very concerned Burgess that they got to him quickly.
It's tough to say if Ruzek will survive, especially with so many Chicago PD and Chicago Med exits happening this year, however, Ruzek is one of the fan-favorite characters, so I can't see him leaving the series anytime soon. He's strong and he's a fighter, and he has a lot to live for—he just made things official with Burgess, he's a father to Makayla, and he's an integral part of Intelligence.
My guess is that he will survive the surgery, but he'll be sidelined for a bit and will likely have to go through some rehab and therapy in the same way Burgess did after her near-death experience.
This seems to be a still from an upcoming episode that shows Ruzek still alive post-surgery—though unconscious—with Burgess by his side, which is promising.
While I can't say anything definitively, I firmly believe that Adam Ruzek is not leaving Chicago PD just yet. And we likely won't know more until Chicago PD Season 9 returns in the fall.
You can read our Chicago PD Season 10 Episode 22 review right here.
Chicago PD Season Finale Review – A Better Place (1022)
That was a heavy episode of Chicago PD—and it was a heavy case for the Intelligence unit, one that has been building to this point all season.
Chicago PD Season 10 Episode 22 did not play out as I thought it would, but I think it's safe to say that it didn't pan out the way any of the officers thought it would, including Adam Ruzek.
Ruzek was working this undercover case for months—and it was grueling, taking a toll on his mental health and wellbeing.
He dedicated so much of his time, spending day in and day out with Richard, Sam and her son, Callum, and away from his own family, only to have absolutely no new information or details about this "plan."
All he really knew was that Richard was a white supremacist who was trying to push his views onto his grandson, and he was orchestrating some kind of massive plan that would include multiple targets and casualties—it was later revealed the targets were Black elementary school children.
And it was all going to be set into motion one morning when Sam frantically called to tell him she was skipping town because her father moved up the date to that morning. I think Ruzek should've realized that it was strange that Richard didn't call him since he was supposed to be running point on the plan, but he was also so invested that he was desperate to get any information. He knew that this man was dangerous and he needed to stop him at any cost.
So, when Sam threatened to go rogue, he jumped in and blew his cover, which wasn't ideal, but it was the only option he had at that moment. If he let Sam go, so would his shot at getting any information.
The unfortunate thing is that Ruzek wasn't paying attention to Callum, or, rather, he underestimated him because he was just a child. He knew Richard was trying to influence Callum, but he didn't realize the hold he had or how deeply manipulative Richard actually was. Richard also seemingly didn't trust Ruzek as much as Ruzek thought he did, so there were a lot of hiccups that may have been eliminated if he just kept a closer eye on them. That being said, I can't imagine living two lives and trying to make sense of all of it in the limited downtime you have left. Ruzek was pulling double duty and he was feeling the pressure of it all.
The only thing that convinced Sam to talk was immunity for her and her son, but again, she was also naive to what was going on with her son when it came to her father. She wanted to protect Callum and do what was best for him, but she didn't realize that her father had already dug his claws into that boy in a way that was not going to end well.
Sam was suspicious of everyone except her own child, who was the easiest target for Richard as he had his undivided attention and trust and could brainwash him without even lifting a finger.
When they proposed going away for a trip, it was my first thought to follow Callum upstairs to make sure he wasn't making contact with his grandfather. Why did that not occur to Ruzek? Again, I think he just underestimated that boy because he's a child, but as Sam mentioned, hate is a thing that's taught. Callum was taught all these ideologies that his grandfather truly believed, and he didn't know any better, so he believed them as well.
And when confronted by Ruzek, he sensed danger and took the shot. It was the hardest thing to watch because Ruzek was genuinely trying to help that boy.
He believed in them, he believed in Sam—he stood up for her when everyone suggested that she needs to be punished for her role the plan—and when it came down to it, not only did her son shoot him, but she turned her back on Ruzek and left him there to die.
I was convinced that maybe there was a redemption arc here for Sam, but while she knew what her father was doing was wrong, there was no hope for her. She was already a monster. Her intentions were to protect her kid, but she went about it the wrong way. She made an enemy out of the people that were doing her a huge favor.
It's true that Adam lied to her, but if she put those feelings of betrayal aside, she'd realize that leaving him there to potentially bleed out would not end well for her, nor was it the way to keep her son safe.
And the real enemy, her father, was out there and on his way to claim her son, the son that Ruzek vowed to protect above anything else. Why in the world would she ever think she could outrun the truth and that it would somehow make this already terrible situation better?
Thankfully, Adam was able to wipe the blood off of his fingers and reach Kim, though it was tense there for a second and I was, admittedly, very worried about him.
Ruzek went into surgery immediately, and while there's no word on his condition, I'm of the mindset that if Burgess survived her near-death experience, he will too. And now, they'll be able to bond over this as I'm sure the trauma of what happened will stick around with him for a while. Kim has already done all the work, so she'll be able to be a source of support.
Before losing consciousness, Ruzek made Burgess promise that she'd get to Callum before Richard, and she made sure to do right by that promise.
Ruzek has a big heart, and honestly, it's his Achilles Heel sometimes. That being said, it's also the reason we love him—Ruzek extends so much care and concern for the children in his life. He bonded with Callum, he saw how special he was, and he couldn't let anything happen to him.
Unfortunately, the situation got messy rather quickly as Sam took way too long to surrender, and by that time, Richard already found them. Again, I don't know what lead to such poor decision-making on her part and why she wasted so much time when her father was a constant imminent threat.
Voight arrived in the knick of time to stop Richard from escaping with Callum, but it was clear that this wouldn't be an easy win for the cops. Usually, when someone is being held hostage, they don't actually want to go with the person, but Callum did want to go with his grandfather. We saw the extent of how effective Richard's brainwashing was as Callum agreed that he was ready to die for the cause and had pure hatred in his eyes while staring down the cops who were threatening his grandfather.
And then it happened—the final blow, a shot taken by Atwater. It was a necessary and valid shot, but unfortunately, it also cemented all of Richard's beliefs right in front of Callum's eyes.
His grandfather was shot, with no remorse, by a Black police officer. It reinforced everything he's been taught because all he saw was race. It lit a hatred inside Callum unlike any other. And it was eerie because you could see all of it happening through sheer glances. If looks could kill, Callum's would burn a hole through Atwater.
It's going to be hard to reset Callum's way of thinking now, which is unfortunate. I could see him restarting his grandfather's operation and finishing what he started, and that's a terrifying thought.
It's unclear if this is the last we've seen of them, but I hope it isn't. I hope we see what happens to Sam. Will they walk back the immunity deal? And how will they handle Callum since he did shoot a cop intentionally? The "he's a child" excuse can only go so far, but it's evident that this might not be a one-off behavior. Will therapy be able to reverse the damage? I doubt Ruzek would ever press charges, but it's also a security issue if Callum is simply let go to let all that hatred fester. And where will he go if his mom is arrested? There are a lot of lingering questions.
As for Ruzek, well, I genuinely hope he pulls through. This is not the way to go out, especially after he just made things official with Burgess.
I do, however, think this moment will inspire Burgess to get married to Ruzek when he finally gets better. It's not only the "life is short" realization (though that surely comes into play), but since she wasn't his wife, she wasn't given any information nor was she allowed to go any further. You could see that really took a toll on her considering the strength of their bond.
What did you think of the episode? Are you surprised with how things ended with Richard? Do you think Ruzek will survive?
Chicago PD Review – New Life (1021)
Dante Torres (played by Benjamin Levy Aguilar) had a lot of important decisions to make when his old life of crime bled in with his new life as an Intelligence officer.
On Chicago PD Season 10 Episode 21, things got personal for Torres, and it allowed audiences to get to know him on a deeper level.
We might feel like he's been around for a while, but the truth is, he's still very much the new guy so there's a lot to explore with his storylines and background.
This one was particularly interesting because it lifted the veil on his past life working for Aritza, a well-known dealer in the neighborhood.
People change, they grow up, and they get their priorities straight—the man that Torres is now and the young man he was back then are not the same. However, the reason he's a cop is still very much the same as why he agreed to work for Aritza in the first place: to protect his people.
When Torres got the note on his car, he acted immediately and called for backup to help Aritza even if it threatened his new gig. He tried to keep his connection and relationship with Aritza a secret, but he still pursued the case because it was the right thing to do.
Again, Torres is new, so there isn't that established trust between him and Voight just yet. Torres was sure that he would be fired once they found out about his past—he never considered that Voight would understand and help him keep it in the past.
Voight also wasn't sure if he could completely trust Torres. When Torres was threatening Vega, Voight stood back and watched to see how he would handle it or if he'd cross a line. It was all new territory for them, but the one thing that was evident is that Voight wanted to believe in Torres. He also saw himself in Torres' tactics as it felt like something right out of the Voight-playbook.
The moment, tense and nerve-wracking as it may have been for everyone (including Torres, who didn't know if it would be enough to get Vega to crack), established an understanding between them. Voight realized that Torres was a man he could rely on, who never actually killed anyone and only understood how waterboarding works because he endured the trauma to get out from under Aritza's grasp. And, in turn, Torres realized that Voight would always have his back when it mattered.
The episode also explored Torres' fractured relationship with Mia. If you'll recall, Torres was previously responsible for putting her brother, Quico, behind bars, which meant that they were no longer on speaking terms despite knowing each other all of their lives. It underlined just how much Torres has sacrificed to pursue a career with the Chicago police department. His neighborhood and the people in it have all basically turned their backs on him, though he explains that there are some people who respect and trust him; he's either the hero or the enemy— there is no in-between.
Torres is basically going through the same situation that Atwater faces time and time again with his community thinking of him as a traitor rather than someone who simply wants to serve and protect and prove that not all cops are bad cops.
Mia ended up being the one who sent Torres the note as she felt guilty for inadvertently causing Aritza's death. She explained that she needed money so she took a job for a rival leader, Sergio Navarro, and thought that all she had to do was flirt with Aritza. Instead, she ended up luring him to his death.
Thankfully, by cooperating with the cops, she was able to avoid any charges, which was honestly kind of surprising since she still played a role in the murder.
While Torres vowed to protect her and keep her safe, she made the smart decision to leave Illinois as she was staring down a life of crime. There was nothing good waiting for her here and she would likely benefit from a fresh start. And though Torres didn't want to let go, it was for the best. Sometimes, you can't reconcile two parts of your life—and that's why so many people date their co-workers on this show!
We're learning so much more about Torres, and though I liked him from the get-go, I appreciate him even more now. He's also a welcome shake-up to the team and someone that offers a different perspective on things.
He was the reason that they found out that Upton was missing in the previous episode, and she made sure that he understood that she was there for him if he ever needed it. Everyone on that team has gone through it in some way or another, so they understand what this job can do to a person if they don't have the proper support. I'm glad that there's a team camaraderie here that extends to the new guy!
The upcoming episode is the season finale, and we'll finally get closure on the undercover gig that Ruzek has been working! How do you think it will all go down?
Did you enjoy the Torres-centric episode?