Intelligence is kicking off 2021 on a high note.
Following Atwater's powerful storyline, Chicago PD Season 8 Episode 3 shook things up and reminded fans of the good old days when the focus remained largely on the case-of-the-week.
It's been a while since we've seen the team go full-in on a case, especially one as compelling as the murder of Makayla's entire family.
While gang retribution was the go-to motive, the case took a surprising twist when it was revealed that all three family members died protecting the little girl from her father, Tareek, who was recently released from prison.
The case was interesting even without a personal connection, but hinging the plot on a young, innocent girl not only provided an emotional hook, it also allowed the narrative to circle back to Burgess' miscarriage from Chicago PD Season 7.
Voight was determined to nail down a suspect and get justice for the family, so the "by the book" police reform storyline kind of went out the window. Sometimes, I wonder if the series even remembers the plotlines it's introducing.
There wasn't even any reference to Atwater's situation with the racist cops; it's almost as if it never happened.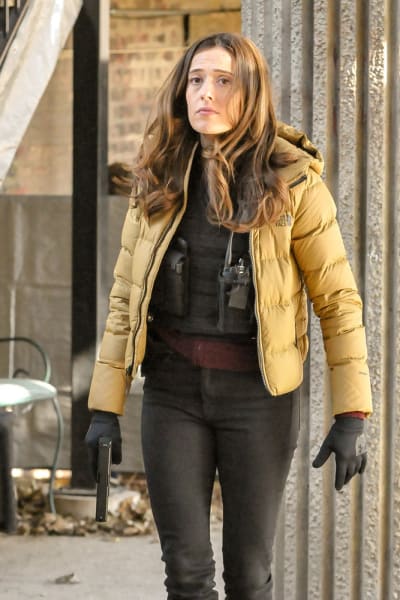 However, it was nice to see that Burgess was still dealing with the aftermath of the miscarriage.
Following such a traumatic experience, Burgess convinced herself that she didn't want children. It was a tactic to protect herself from getting hurt again.
But after forming a personal connection with Makayla, she began to see the possibilities that she could have it all: a family and a career.
Her motherly instincts kicked in when she saw that the girl was in danger — motherly instincts she didn't even know she had.
It was such a treat to see her in "mama bear" mode.
Their bond never seemed forced either as Burgess genuinely cared for the young girl and found her purpose in protecting her. She even put her job on the line to ensure that she could stay by Makayla's side until they found the people hunting her down.
But it begs the question . . . what happens next? Was this the show's way of warming everyone up to the idea of a Burzek baby again?
They already let us down once; I don't want to get ahead of myself and get my hopes up again.
Follow CRAVEYOUTV on socials
Chicago PD Season 10 Premiere Review – Let It Bleed
Intelligence is back in action, but Anna's death has rocked their leader, Hank Voight.
Chicago PD Season 10 kicked off about two weeks after the team's takedown of Los Temidos, but Voight was struggling to make sense of it all. His grief manifested in action as he went rogue to patrol the streets of Little Village in order to take down anyone who tried to take over the corner and deal. Is he losing it a bit? Yeah. Is it insanity? Definitely. Are we here for it as an audience? Absolutely.
We knew that he was going to take her death hard as it was clear from the beginning that he wanted to keep her safe and give her and her son, Rafa, a better life when it was all over. When that didn't happen, Voight felt like he failed her.
And his personal crusade against the neighborhood was his way of ensuring that her death wasn't in vain; that it mattered.
Unfortunately, it wasn't a sustainable solution. As Upton pointed out, Intelligence simply cannot police one city block when there are so many other issues to focus on. And Voight's private patrols weren't exactly "private" as everyone took notice and simply turned the other way hoping that he would eventually come to his senses.
It all culminated in a new drug case that involved a five-year-old boy accidentally overdosing on some heroin cut with fentanyl.
Everyone was adamant that Voight hand the case over to narcotics, but honestly, it seemed like a case Intelligence would've tackled regardless of Voight's involvement in the neighborhood. If the tainted drugs already took the life of one minor, what's to say they wouldn't do more damage if the dealer wasn't stopped early on?
Voight, however, was more determined to get the dealer because of Anna's death, so it caused him to make some questionable that Upton wasn't exactly keen on.
And while I can't blame her for worrying about Voight's motives, the way she approached the situation wasn't exactly ideal either. Upton continues to think that she can just waltz in and do whatever she wants without listening to orders, which continues to show her entitlement when it comes to the job. Voight's actions may have been questionable, but it was Upton's rebellion against his rules that ultimately almost cost them the case and put lives in danger.
When Voight sent in Torres (new series regular Benjamin Levy Aguilar), a probationary police officer who was on "loan" to them, he truly believed that he was doing the right thing. And I have to believe that no matter what mindset Voight is in, he wouldn't just play with someone's life on a hunch. He knows the risks and makes strategic calls. It hurt him to lose Anna because she was a good person, and it doesn't seem like he wanted any more casualties, especially a budding new cop that has been a great addition to his team. And since it was clear that Enzo was a loose cannon and his actions were unpredictable, I don't think Voight would've taken chances he didn't believe in.
He wanted to continue letting the situation with Torres and Enzo play out because he trusted that Torres had the skills to get the job done. If Upton had just followed Voight's call, they would have nabbed him with the drugs in hand and put him behind bars for a very long time.
Instead, she decided she knew better and "got closer" to the situation in a careless manner. When the gate slammed, Enzo got spooked and began shooting at both Torres and the CI. Thankfully, no one was hurt, but it could've ended terribly for everyone involved.
They were eventually able to get Enzo, but only because of Voight's quick thinking, which Upton didn't agree with, again. Why is she still part of this unit when she clearly doesn't think Voight is fit enough to run it?
After Upton's screw-up, she didn't even have the gall to apologize to Voight. Instead, she turned the tables on him and told him he hasn't been a very good leader lately. While there may be some truth to what she's saying, it really wasn't the right place nor time to bring it up.
And I'm glad Voight shut it all down. He's realizing that Upton and Halstead have gotten a little too comfortable around him and no longer respect his authority, which can't happen if this unit is to function seamlessly.
We know Halstead is leaving the series this season, and I think his desire to protect Voight will ultimately lead to his decision to exit the unit. He protected Voight this episode and stood by him, while also acknowledging that he was taking it a bit too far. Being a contrast to Voight is going to take a toll on him personally and will likely be what breaks him. It definitely seemed like Upton was setting the scene for his exit by informing Voight that he was going to drag Halstead down with him unless he leaves first.
In the end, Voight got a wake-up call from the new Chief, Patty (they seem to have a history), who informed him that he's graciously allowed him to grieve for two weeks, but he really needs Voight to step up to the plate again and save Chicago. In fact, his words were "the whole city is going to hell," which was rather dramatic, but puts pressure on Voight and the team to do their job. It also promises the backing and support of the new Chief, and it seems like he will help Voight get away with stuff because he knows that he's the man that will get things done.
The city is better off with him because he's made this job his entire life. Nothing else matters more to him.
In a full-circle moment, he also informed Voight that he pushed through half a million payment to Rafa, Anna's son who is now living in Iowa. Voight pulled through in his promise to take care of him.
And while Anna's name was never mentioned when Intelligence was being honored for their heroics in taking down Los Temidos, they were all very much aware that it wouldn't be possible without her sacrifice. She didn't die "for nothing" as she once informed Voight, and that may lessen the blow of her death ever so slightly.
Lastly, we knew Torres was going to join Intelligence permanently, but it wasn't entirely clear how it was going to happen since he's still a rookie cop until the Chief personally granted him to Voight's unit. Voight didn't seem to have an opinion on it, but we'll see how Torres factors in once Voight is officially his boss. It's going to be interesting to see Torres' story play out since he's so green, but he's also a go-getter that has what it takes to succeed. He's got street smarts, which will come in handy, he knows how to play the game, and he's not afraid. The only question is—will he mesh with the team?
The series made it clear that season 10 is going to hit reset as Voight's unit is tasked with getting back to saving the city. And with the Chief telling Voight he'll keep him on a "long leash" and give him more cash, my guess is that fans who have been waiting for dark Voight to return might get their wish after all. How will that affect Halstead, Upton and the rest of the squad? Only time will tell.
What did you think of the Chicago PD Season 10 premiere? Are you happy that they finally offered some closure following Anna's death?
Squad Up! Benjamin Levy Aguilar Promoted to Series Regular for 'Chicago PD' Season 10
Intelligence will see a new and familiar face when Chicago PD Season 10 kicks off this fall.
The detective squad welcomes a new recruit as fan-favorite Benjamin Levy Aguilar, who played Torres, has been tapped as a series regular, Deadline reports.
For those who don't remember, patrol officer Dante Torres was first introduced in the episode "New Guard." Halstead (Jesse Lee Soffer) took him under his guidance, and though the two didn't initially get along, Torres eventually opened up to Halstead and clued him into the dark past that made him want to pursue a career as a cop.
After the episode aired, we didn't see Torres again, but fans never forgot about him.
Aguilar's portrayal resonated with the fandom as it seemed as though the consensus was that he would be a good fit for the unit, allowing for a little more diversity. His rough-around-the-edges personality can offer the series ample potential to tackle some really hard-hitting stories. His past as a former gang member can provide some expert insight into dealing with the ongoing gang situation in Chicago, and overall, it'll be nice to shake things up a bit by adding new blood, a new personality, and a new approach into the mix.
Plus, the unit is overdue in welcoming some new members after losing Olinsky (Elias Koteas), Antonio (Jon Seda), and Lindsay (Sophia Bush) over the years.
While it's unclear how Torres will get looped back into working with Hank Voight's (Jason Beghe) unit, expect to see him on your screens when Chicago PD Season 10 kicks off on September 21 at 10/9c on NBC along with Chicago Med and Chicago Fire!
You can recap Torres' first episode right here (in which I raved about him and underscored that he would be a good fit for the team) and catch up on the Chicago PD finale here so you're all caught up when the fall season starts back up!
Only Murders in the Building – Did Cinda Canning Frame Mabel? (2×06)
Chicago PD Season Finale Review – You and Me (9×22)
Wow, that was an emotionally heartbreaking conclusion to a multi-episode arc on Chicago PD.
Anna gave it her all to bring down Escano and Los Temidos, but it wasn't without casualties.
On the Chicago PD Season 9 finale, Anna got too muddled in the case and lost her way. And admittedly, Voight also lost control of the situation.
He didn't want to admit it, but this is the first time that we've seen Voight slightly unhinged by a case. It was also the first time we've seen him so emotionally connected to a CI.
Upon realizing that they were burned, Voight extracted Anna, who began spiraling almost immediately at the thought of what comes next.
Voight tried to assure her that it wasn't over and that he wouldn't let anything happen to her, but Anna lost faith in herself and Voight a long time ago. She was convinced that without any evidence against Escano, she would end up like all of his men — dead.
The gutwrenching thing is that if Anna had just listened to Voight and trusted that he was good for it, she would've come out of this on the other side because everything that Voight promised came to fruition. If she stayed put, she would've been in witness protection for a short moment, she would've reconnected with Rafa, and she would've been able to see the fruits of her labor. She would have watched as the Chicago PD made the biggest drug bust in history all thanks to her.
She would have gotten her revenge, she would have gotten recognition, and she would have gotten a fresh start.
But sadly, none of that happened. From the moment they found Escano on the ground bleeding out at the bakery, it was a downward spiral.
Escano's dying declaration was that Anna stabbed him.
Anna went off the rails, escaped the safe house, and killed the man she thought was going to kill her. She didn't think that Voight would follow through, so in her mind, killing Escano was worth the risk because at least she would be safe.
Voight thought he could still salvage the case, and he went to great lengths to save Anna mostly because the guilt of bringing her into this was consuming him.
He never wanted it to go south, and when he's in charge of cases, they usually don't, so he was almost navigating new territory.
But he was willing to risk it all to make sure that she got out as promised.
I wanted to hate Anna for leaving behind such a mess, but the truth is, I understood her motivation and fear. The kill was, in a twisted sense, justified.
The ASA questioning is what really set Anna's rogue plan into motion because it fed into her biggest fear — that they didn't have anything on Escano.
They didn't have any evidence of him committing any crimes, so there was nothing to move on. It wasn't far-fetched to think that he would become a ghost and fade away into the background, and Anna worried that she'd constantly be looking over her shoulder after betraying him.
The fact that Voight lied to her also played a role because she didn't feel like she could trust him. It's hard to trust that a cop doesn't have his own best interest at heart, and Anna couldn't see that Voight wasn't like the others.
She led him, Jay, and Hailey ("where you go, I go") on a wild goose hunt that ultimately ended in a way too public situation.
Voight was all about doing things on the down-low, but Anna's actions brought too much attention to everything. There was a time when Voight could have likely figure out an escape plan, but once she pointed the gun at him in the middle of the street, it was a lost cause.
At that point, Anna wasn't in the right state of mind. She was spiraling because she killed a man, she was spiraling because she wanted to get away — it was a mix of fear and adrenaline all wrapped up in an explosive combo.
Voight tried to talk her down from a ledge, but the more he pressed, the more she pushed back until she finally pulled the trigger and shot him in the shoulder.
From there, it was all a whirlwind. Everything happened so fast that I had to rewind and rewatch a few times.
Of course, Hailey and Jay both took a shot at Anna when they saw her shoot Voight because a shot at the police is a shot at the police, it doesn't matter what relationship you have.
But even then, Voight remained by her side because he knew he dragged her to the depths of hell partly for selfish reasons.
Anna's actions weren't indicative of her personality, they were a byproduct of the situation she was placed in. I can't say she was forced into the situation because she willingly volunteered her efforts throughout the investigation — and while Voight did push her a few times when she said she wanted out, it's because they invested too much time building up the trust.
The moment she took the shot, you could tell she regretted it. Her final words were an apology to Voight; It seemed as though she regained a form of lucidity after being shot and realized that she contributed heavily to the deteriorating situation.
Unfortunately, Anna didn't survive the two gunshot wounds to the chest. She died at the hospital with Voight by her side. It was a truly emotional moment, especially when you consider the guilt that he'll carry with him and the fact that she didn't get to see Rafa one last time. But mostly, it was tragic because it didn't have to be this way.
As doctors were trying to revive her as she coded, their "clear's" paralleled the "clear's" echoing from the unit as they searched the stash house.
And it was a gold mine as they unearthed so many drugs all linked to some of the biggest drug dealers in the city.
It's a shame Anna never got to see this moment come to life, but she can rest easy knowing that she helped Chicago clean up its streets. No other young woman or man is ever going to fall victim to Escano's evil ways.
My only wish is that we found out how Escano caught onto Anna. Was he the one who ordered her rape and was able to identify her?
The fact that moments prior to his death he blew up a truck full of drugs would have allowed Voight to easily pin this on a rival gang. Ugh, I'm just so sad Anna didn't reach the finish end!
It was refreshing to see Jay finally in Voight's corner. Halstead has his moments. He's a pretty straight and narrow kind of guy, but even he couldn't deny that Anna didn't deserve to pay the price for what occurred.
I do, however, like that he reminds Voight that he needs to button up the situation. Voight sort of had rose-colored glasses on as he assumed his will to help Anna would be enough, but Halstead came at it more pragmatically. He wanted to find an actual solution that would stick and keep everyone safe — Anna and the team.
Upton rode my last nerve because she just couldn't get off her damn high horse. Why is she so infuriating? It's understandable that she wouldn't want to go down this road again, but the judgment was so sickening. Covering up a murder was fine when it was a case that she felt passionate about, but because she didn't really care for Anna, she wanted to hold some moral high ground.
Wanting to stay on the right path is admirable, but you can't be a hypocrite about it. Instead of preaching about it, it would've been helpful if she gave some kind of solution instead. She could've shown some remorse or some desire to help Anna out of the mess.
I don't have to remind her that where there's a will, there's a way, even if it doesn't seem obvious at first. And I love that Halstead hit back by reminding her that they went the extra mile for her when she needed it.
The thing with Voight is that he doesn't just go astray or cover up crimes for anyone — when he does it, it's understandable because he knows that the system is rigged and often favors the person that should be paying the ultimate price.
Sometimes, you just have to return the favor, Hailey.
This job has never been black or white, and she's naive to think that eliminating the gray spaces is possible. She came around in the end, but honestly, it was too late at that point. I know this sounds mean, but maybe she should've just taken some time following the explosion to recover.
I love Ruzek, Bugress, and Atwater. They remain unproblematic. When Voight says to keep it off the books, they're all like "weird, but okay." They didn't question — they just followed orders and delivered the Los Temidos gang on a silver platter. That's not always the case with them, but they definitely get a gold star this time around.
Voight was also a beast when he convinced Chapman — sorry, forced — to give pull strings and get him arrest warrants.
He knew that he could deliver the cartel to Chapman, and if she agreed to help, he would credit her with the bust and build up her career.
Chapman made the right choice in the end because wow, you do not want to get on Voight's bad side. He knows the moves to destroy a career just as quickly.
A special shout-out goes out to whoever managed to get everyone on board with a shirtless Voight. It was a bold choice considering it wasn't exactly a "thirst trap" friendly moment, but I'm petitioning for more opportunities like this one.
And lastly, props to Carmela Zumbado on her performance! Her character was such a riveting addition to the season, so it was a shame to see her go out like that!
What did you think of the finale? Was a part of you hoping that Anna would somehow turn her whole life around and go from CI to murderer to detective? Did you think Voight pushed too hard to save Anna or was it justified? Do you think Voight is too corrupt for the gig or does he have integrity by helping those who have helped him?
Share your thoughts in the comments — and we'll see you for new episodes in the fall!