A formerly dirty cop hunts down dirty cops on Chicago PD Season 7 Episode 12.
Of course, Voight was never dirty in the same sense that Tyler, Gibbs, and Packer were, but it's interesting to see where the line gets drawn.
What defines a dirty cop that needs to be taken down versus a dirty cop that's doing what he needs to and walks freely with his powers unchecked?
In terms of how the storyline unraveled, this was one of the stronger episodes of the season.
It was a little difficult to keep up with at times considering all the moving parts and new characters, but it was captivating and unpredictable.
The focus wasn't on any one character up until the very end when Hailey got her revenge. Instead, everyone worked together towards one main goal: bringing down corruption from within.
It's always a little mystifying to see cops, the people who promise to serve and protect, get messed up in shady dealings. Being a dirty cop is the exact opposite of what it means to be a cop.
However, it's also shocking that there's nothing in place to guarantee that drugs sent to the burner get burnt.
There are no checks and balances as everything seems to be based on faith and trust.
If it's that easy and untraceable to get your hands on drugs — Halstead called it a damn buffet — I'd expect it to be happening a lot more frequently.
The case required Intelligence to display a certain level of stealth since the men they were going after — Tyler, Gibbs, and Packer — were all veteran cops who thought the same way they did.
They were running a smooth operation and would be easily alerted if something was going awry.
Intelligence had one shot to get this right, and they had to play it close to home to obtain enough evidence to even build a case.
And even when they had concrete proof, there was a possibility it wouldn't stick based on how high up the ranks these cops were.
Of course, the case connected to Darius Walker, again.
At first, it seemed like the writers took the easy way out of yet another storyline by looping in the man connected to nearly ever crime and criminal in Chicago.
But this time, Walker's character was necessary.
The audience may be experiencing Walker burnout, but we have to give it to him — he's a damn good villain.
He's one of the better, well written bad guys this series has ever seen.
Walker always had an angle or an agenda, he wasn't afraid to stand up to Voight, he was unapologetic in his ruthlessness, and he wasn't above killing people when he deemed it necessary.
Follow CRAVEYOUTV on socials
Feelin' generous? Support our site and podcast (Mimosa Talk) on Patreon and KoFi.
The First 'Chicago Fire' and 'Chicago PD' Crossover of 2020 Is Coming – Watch the Promo
Fans of Chicago PD, Chicago Med, and Chicago Fire will have to wait an additional week for new episodes.
The One Chicago universe is taking a break this Wednesday (February 19) as it gears up for the first crossover of 2020.
The two-part crossover excludes Chicago Med, though the series will kick off the hour with an intense episode of its own, and instead, finds PD and Fire teaming up to respond to a national epidemic.
It even brings back a beloved PD character, although, it's not in a way that you'd expect and might not be all that great for Roman (guest star Brian Geraghty).
Here's what to expect from the crossover airing Wednesday, February 26!
Chicago Fire
In a two-show crossover event with "Chicago P.D.," a series of teen opioid overdoses sees Severide partner with Sean Roman (Brian Geraghty), but begins to suspect there's more to the story than his old friend is telling him. Casey tries to be there for Brett as she considers her birth mother's offer to meet.
Chicago PD
Part 2 of Crossover with Chicago Fire; Intelligence searches for the dealer who caused multiple overdoses and is connected to Roman's missing sister. The case becomes a homicide investigation when they find the dealer's dead body. Guest star: Brian Geraghty.
See the promo below!
Previously on
Chicago Med
, Will Halstead made a questionable decision when he possibly pursued a relationship with Hannah, an addict he met at the clinic.
PD
found Burgess recovering from her miscarriage following a violent beating from a suspect responsible for sex-trafficking innocent women.
Chicago PD Review – Paranoid Schizophrenia (7×14)
It was back to business on Chicago PD Season 7 Episode 14.
Rojas got her time in the spotlight as Burgess took a backseat to deal with the aftermath of her brutal miscarriage.
The series didn't spend too much time addressing what happened, but it did show Burgess getting discharged from the hospital and trying to navigate this new reality with Ruzek. Neither one of them has been able to process what happened or grieve properly.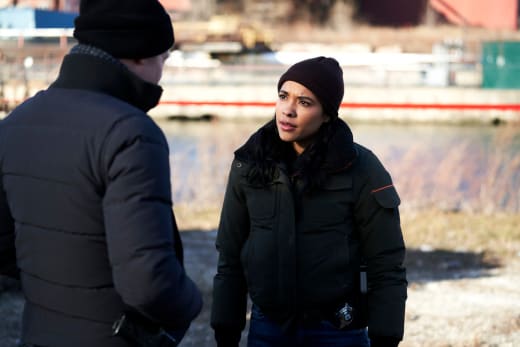 Ruzek showed that he was still planning to be there for Burgess, and his offer to make french toast was a sweet gesture, but no amount of sweet breakfasts and dessert can numb that pain.
Burgess wanted to take some time for herself, which is understandable but also concerning.
She's doing that thing again where she's closing herself off and pushing everyone away including Ruzek who is likely feeling an immense amount of pain and disappointment as well.
While there's nothing wrong with wanting some time alone, hopefully, this doesn't spiral into Burgess going down a dark and destructive path.
There's no turning back to the clock on this miscarriage storyline, but it could bring them closer together even as friends as they console each other and gain strength to move on and decide what's next.
Ruzek experienced a whirlwind of emotions that included accepting that he was going to be a father and then accepting that he wasn't going to be a father all in the same breath.
It's a difficult time for both of them, so it would be understandable if Ruzek too some time off too, but it seems Adam's way of dealing is to just throw himself back into his work.
It was awesome that Platt and Voight checked in on Burgess and Ruzek and made sure they felt supported, but I wish we saw a little more support from the other members of Intelligence.
I would have loved for Atwater to check in on Burgess considering their close bond. After all, he is the first person she told about the pregnancy.
And I do wish the female friendships on the series were stronger. Upton, Rojas, and Burgess need to stick together, so it would have been great if they reached out to her to see if she needed anything. Even a quick call simply acknowledging her pain would have sufficed.
Much of the action focused on Rojas and gave us some insight into her backstory. Since Rojas' addition to the team, the audience hasn't seen much of her as she's served as more of a background character.
Now, we're finding out that she had a tough childhood; she was in the system and spent time living in the streets.
The mention of her past was brief, but it was refreshing that Rojas owned it rather than act like a victim because of it.
As with every other case involving the members of Intelligence, her past came in handy when dealing with a victim and solving the case.
The case was tricky as Intelligence was forced to figure out whether or not Sammy was telling the truth about what happened to Roberto or if it was a figment of his imagination.
Sammy, who was suffering from paranoid schizophrenia, gave the case an interesting perspective while also allowing the audience to experience reality from his point of view.
His inclusion in the case tackled mental health in a way we've never seen on the show, and it made for some powerful storytelling.
Chicago PD Review – A Devastating Turn of Events for #Burzek (7×13)
There's nothing I can say to lessen the blow of this episode for #Burzek fans. Even if you aren't a fan of the pairing, the events that unfolded shook the #OneChicago universe to its core.
While the Burgess-centric episode itself was strong and showed her dedication to the job, the conclusion of Chicago PD Season 7 Episode 13 was brutal, unexpected, and unnecessary.
We knew a pregnancy that sidelined Burgess was going to be tough for her to accept, but no one expected this outcome nor for it to be done in such a gruesome and graphic way.
On her first day working in dispatch, Burgess stumbled upon a massive sex-trafficking ring that spanned multiple midwest cities and recruited lost, homeless, and helpless women.
It's unclear why Burgess's storylines always center around rape, sexual assault, and sex-trafficking, but it also doesn't matter because the episode was masterfully executed and shone a light on a very serious topic.
It also gave us a little more insight into Burgess's past and why she became a cop.
I could be wrong, but I don't think it was ever mentioned that Burgess grew up in an affluent community in St. Charles or that her family didn't support her dreams of becoming a cop.
However, that information also made me wonder how Burgess, a woman who doesn't have any demons in her closet, is so good at understanding girls like Mira and Victoria and knowing the right things to say to get them to do what she wants.
It's almost as if Burgess spoke their language without ever being in their shoes.
It was impressive.
Almost as impressive as Burgess knowing in her gut that something wasn't right after answering the 9-1-1 call
A big middle-finger to the responding officers who followed up on the call, missed the signs, and tried to blame Burgess's hormones for thinking something was wrong.
Sure enough, her gut was onto something.
What seemed like a domestic abuse case on the surface unearthed a full-blown prostitution ring.
If Daniel, one of the pimps, hadn't left George's body in the elevator, Intelligence would have had a much harder time building up what happened in the apartment.
On Daniel's part, it was a huge misstep, but a saving grace for Intelligence and the women.
However, Intelligence failed to take proper precautions when it came to Burgess.
For starters, Voight should have made sure that Burgess was on desk duty the entire time.
He was nice enough to allow her to work the case with Intelligence since it was her intuition that got them there in the first place, but he should have known that she would want to jump in on the action.
But no one else is to blame except for Burgess.
She's an adult who doesn't need a babysitter. She made her decisions and had to suffer the consequences.
What I can't seem to understand is why Burgess was without a partner when going to check hotels?
She took it upon herself to join her team when she should have been at the precinct, but once Voight realized that she was working in the field, he should have had someone join her.