We're only two episodes into Chicago PD Season 8 and Atwater is not only carrying the show, but he's taking it to new heights.
The way he managed to turn the tables around on Kenny Nolan on Chicago PD Season 8 Episode 2 and push his back up against the wall, well, it was beautiful to watch.
Ever since owning his truth and standing up against racism, Atwater has been bullied and intimidated at every turn. When it began to affect his family, both at home and in Intelligence, he realized he could no longer stand back and wait.
Nolan was barking orders and hoping to break Atwater, and while he did look paranoid at times, I love that Atwater stood his ground.
The only way Atwater could regain the upper hand was to play Nolan at his own game.
I've never seen anything more satisfying than Atwater sitting at Nolan's dining room table giving him a play-by-play of how he'd go out of his way to ruin his whole life if he didn't back down.
When I say it may be the best scene on television that I've ever seen, I truly mean it.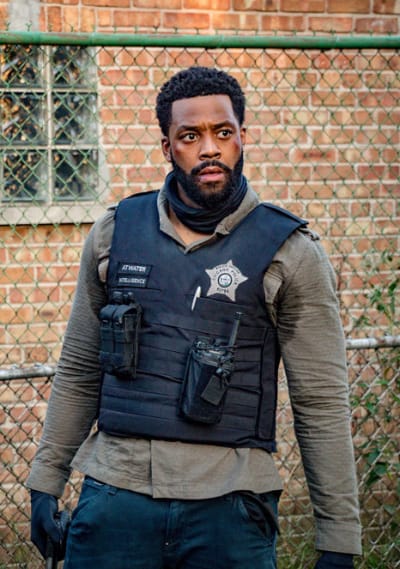 The good guys don't always win, but this time, the right guy did. No one messes with Atwater.
Atwater channeled his inner-Voight, but he did so in a way without using his fists.
The look of defeat on Nolan's face was priceless.
Obviously, the back-and-forth between Atwater and Nolan couldn't go on forever, but I was curious to see how the series would go about resolving it.
For a moment, I was terrified that the only solution would be for Atwater to give up his badge or accept that his career would never advance, but all those options included Atwater giving up and throwing in the towel.
And Voight was right — the moment Atwater stopped being a cop is the moment they would have won.
With the roles reversed, Atwater has successfully proven that he will always stand up for what he believes in.
He's making a change, albeit small, but it's a step in the right direction.
And if any good is to come of this "new world," then it better be karma hitting Nolan square in the forehead.
Atwater won the battle against the racist cops, but unfortunately, he's still losing the battle on the home front.
The scene with the kids refusing to take a basketball from him was heartbreaking, but hopefully, by doing the job differently, he'll make an impact that will lead to further positive changes.
The fight is far from over, but at least these kids have a good one looking out for them.
The purest thing on Chicago PD is the bromance between Ruzek and Atwater.
I know that they said everyone has Atwater's back, and it's true in theory, but Ruzek took an actual bullet for Atwater.
And then his reaction was basically "no sweat, bro." It was solid.
Though, the whole situation with patrol not responding was disturbing.
No one man should have enough power to bark such an order and endanger the lives of his blue brothers.
I wish more patrol stood up to Nolan, just as I wish there was more love given to Atwater from the rest of Intelligence.
Follow CRAVEYOUTV on socials
Chicago PD Review – Instinct (8×07)
The only thing more dangerous than a drug dealer taking out other drug dealers is an unstable CI.
And that's just what Intelligence encountered on Chicago PD Season 8 Episode 7.
Man, that was one hell of an episode. It was messy, emotional, heartbreaking, and, at times, frustrating.
It's been a while since an episode focused solely on Adam Ruzek kept me on the edge of my seat, but Patrick Flueger brought his all to this episode. I felt every single one of his emotions.
Chicago PD Review – Equal Justice (8×06)
It's been a while since we've had an episode dedicated to Jay Halstead, but some things never change.
On Chicago PD Season 8 Episode 6, Halstead once again got too personally invested in a case featuring a suspect-turned-unlikely-ally.
There was nothing wrong with the episode, per se, as it was a solid standalone episode with a strictly procedural-format. However, compared with other recent episodes that took a more personal approach, it fell flat.
There was a feeble attempt at making the situation personal to Halstead as he briefly mentioned seeing his own father in Latrell, a man who would do anything for his son, but it didn't come close to the greatness that we've seen from the Burgess and Atwater-focused episodes lately.
Chicago PD Review – Burgess Makes a Big Decision (8×05)
Burgess started off the hour getting drunk and hooking up with Ruzek, but by the end of Chicago PD Season 8 Episode 5, she was driving home as a foster mom.
As they say, a lot can change in the span of 24 hours!
Burgess-centric episodes are always top-notch; they're right up there next to Atwater-centric episodes. And the powers that be even blessed us with a Burgess and Atwater scene, which has become all too scarce these days.
Don't get me wrong, I love the Burgess and Ruzek team-up, but as this episode proves, it's nice — and even enlightening — when other members of Intelligence interact with each other. They don't have to be siloed to their romantic partners all the time.
Burgess and Atwater had such a close relationship in the early seasons of the series that it makes sense that he would be her go-to for advice. It was nice to see that acknowledged again.
While Burgess seemed to have her mind mostly made up about wanting to foster Makayla, running it by Atwater, who could remain impartial (unlike Ruzek) and had some personal experience with raising kids, helped solidify her decision.
Burgess obviously understands the hardships of fostering a child, especially a child that has undergone trauma, but with everything going on in the world, it was important that she also factored in race and her career into her decision.
After having considered every angle, Burgess determined she was up for the challenge. My only hope is that the series specifically addresses how she's going to juggle being a foster mom with her demanding career. Will she take on less while she navigates motherhood?
It was also important for Ruzek to weigh in on her decision, and I'm glad she ran it by him because it's an acknowledgment that it will affect their relationship as well.
Prior to her decision to foster, #Burzek spent the night together. He even suggested that they start seeing each other on a regular basis. Admittedly, I get way too giddy whenever Burgess and Ruzek are together; they fit so well and their chemistry is palpable.
If you keep going back to the same person over and over again, you're either crazy or in love. In this case, I think they're crazy in love but choosing to remain cautious.
When Burgess mentioned that she wanted the whole "mess" of a boyfriend, a wedding in a banquet hall, and babies, she may have been trying to scare Ruzek away, but it wasn't working because he wants all of that too.
Adding Makayla into the equation obviously shakes things up, but I think Ruzek will step up to the plate and be a huge source of support for them.
And hopefully, Burgess will accept the help and stop pushing him away. It's about time that they just admit that they have feelings for each other and that they're better off together than apart.
Either way, we know Ruzek is going to be involved in this child's life in some shape or form because, romantic relationship or not, he's always going to be in Burgess's life.
Whereas Atwater came from a place of acknowledging that the journey is tough but rewarding, Ruzek wanted to make sure that Burgess wasn't trying to replace what they lost when she miscarried.
It was a valid concern.
The thought that Burgess was just trying to fill a void crossed my mind, but you can tell Burgess cares about Makayla and feels genuinely connected to her.
They've both gone through trauma, so maybe together they can start the healing process.
I'd be lying if I said I didn't turn into a ball of mushy goo when Burgess looked into her rearview mirror and saw Makayla smiling back at her. It's the first time we've seen that precious little girl smile, which means that Makayla feels comfortable and trusts Burgess.