We're only two episodes into Chicago PD Season 8 and Atwater is not only carrying the show, but he's taking it to new heights.
The way he managed to turn the tables around on Kenny Nolan on Chicago PD Season 8 Episode 2 and push his back up against the wall, well, it was beautiful to watch.
Ever since owning his truth and standing up against racism, Atwater has been bullied and intimidated at every turn. When it began to affect his family, both at home and in Intelligence, he realized he could no longer stand back and wait.
Nolan was barking orders and hoping to break Atwater, and while he did look paranoid at times, I love that Atwater stood his ground.
The only way Atwater could regain the upper hand was to play Nolan at his own game.
I've never seen anything more satisfying than Atwater sitting at Nolan's dining room table giving him a play-by-play of how he'd go out of his way to ruin his whole life if he didn't back down.
When I say it may be the best scene on television that I've ever seen, I truly mean it.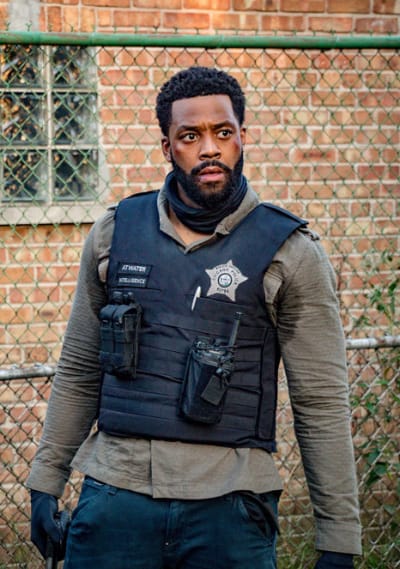 The good guys don't always win, but this time, the right guy did. No one messes with Atwater.
Atwater channeled his inner-Voight, but he did so in a way without using his fists.
The look of defeat on Nolan's face was priceless.
Obviously, the back-and-forth between Atwater and Nolan couldn't go on forever, but I was curious to see how the series would go about resolving it.
For a moment, I was terrified that the only solution would be for Atwater to give up his badge or accept that his career would never advance, but all those options included Atwater giving up and throwing in the towel.
And Voight was right — the moment Atwater stopped being a cop is the moment they would have won.
With the roles reversed, Atwater has successfully proven that he will always stand up for what he believes in.
He's making a change, albeit small, but it's a step in the right direction.
And if any good is to come of this "new world," then it better be karma hitting Nolan square in the forehead.
Atwater won the battle against the racist cops, but unfortunately, he's still losing the battle on the home front.
The scene with the kids refusing to take a basketball from him was heartbreaking, but hopefully, by doing the job differently, he'll make an impact that will lead to further positive changes.
The fight is far from over, but at least these kids have a good one looking out for them.
The purest thing on Chicago PD is the bromance between Ruzek and Atwater.
I know that they said everyone has Atwater's back, and it's true in theory, but Ruzek took an actual bullet for Atwater.
And then his reaction was basically "no sweat, bro." It was solid.
Though, the whole situation with patrol not responding was disturbing.
No one man should have enough power to bark such an order and endanger the lives of his blue brothers.
I wish more patrol stood up to Nolan, just as I wish there was more love given to Atwater from the rest of Intelligence.
Follow CRAVEYOUTV on socials
Chicago PD Review – Fighting Ghosts (8×01)
Intelligence is back in action, but things are looking a bit different on Chicago PD Season 8 Episode 1.
Despite ending prematurely due to COVID-19, Chicago PD Season 7 segued perfectly into the police reform storyline brought upon by the death of George Floyd and the Black Lives Matter movement.
On PD, Shawn Paige, the man gunned down by Doyle, is Chicago's version of Floyd and allows the series to navigate the murky waters of Black cops versus the blue wall.
The episode led to some very heavy yet important conversations that made it clear that doing the "right" thing was going to test everyone's limits this season.
Atwater faces the biggest challenge, but per usual, Laroyce Hawkins bravely stepped up to the challenge and nailed every scene.
I've likely said this before, but I really mean it this time — give this man all the awards!
It's clear that sticking to his original statement was the right thing to do because he's telling the truth despite the pushback from Doyle's crew, who view Atwater's decision of painting Doyle as the aggressor in Paige's death as being a "snitch."
Apparently, there's nothing worse than turning on your fellow brothers in blue.
Except that they had no problem turning on him when they assumed he crossed the line and broke the code.
Ruzek wasn't lying when he said Doyle's crew played dirty. Not only did they jump Atwater to send a message, but they also planted heroin in his car.
Thankfully, he found it before it landed him in hot water, but all these antics tell you everything you need to know about these good and respectable cops.
It would have been nice if others stood united with Atwater and acknowledged that he wasn't just doing what he "thought" was right, but rather, doing what was right.
Atwater can't be the only one who realizes that things need to change.
He can't be the only one to ever deal with racist cops and feel cornered because there's corruption in every department.
He can't be the only one who hurts to see his own people suffer at the hands of injustice.
The only person who seemed to have Atwater's back was Ruzek, which was comforting to see, but it didn't do much in terms of protecting Atwater.
He's tough, but he shouldn't have to fight this battle alone.
Even Voight tried to sway him into altering his statement, and while it seemed to come from a place of real concern, it's not what Atwater needed or wanted from his Sergeant.
Atwater is clearly ready to fight. He'll do whatever it takes to bring about change and expose not only dirty cops but dirty tactics.
I mean, did you see the way he stood up to Voight and put him in his place?
In the heat of the moment, Voight would have thrown everything away. His anger got the best of him, but if he resorted to throwing Miguel in the cage, he wouldn't have been any better than the bad guys that he's trying to put away.
Voight will have the hardest time with these new world adjustments.
WATCH: #OneChicago Teams Tackle COVID-19 in New Promo Ahead of November 11
Wednesday's most watched dramas are planning their epic return.
Ahead of the November 11 premiere for Chicago Med, Chicago Fire, and Chicago PD, NBC revealed a teaser that shows the heroes tackling COVID-19 headfirst.
"When this community hurts, when it reaches out its hand, we pull it to its feet, and we respond," Battalion Chief Wallace Boden states in the promo.
Med's doctors jump into action as April tells ex Choi that she has to put her life on the line to help patients who are "sick, frightened, and alone."
Fire's paramedic's Brett and Mackey respond to a house call and run into some trouble when a man points a gun at them.
Meanwhile, PD's Atwater deals with the fallout of "snitching" on the police. While he explains he was doing "the right thing," the white cops don't seem to agree as Ray threatens to take his badge.
Check it out below:
Related Reads: Everything We Know About 'Chicago PD' Season 8 – Police Reform, COVID, and More!
Everything We Know About 'Chicago PD' Season 8 – Police Reform, COVID, and More!
It's been seven months since we last caught up with the members of Intelligence on Chicago PD.
Since Episode 20, the world has changed quite drastically with the onset of a global pandemic and the Black Lives Matter movement protesting police brutality.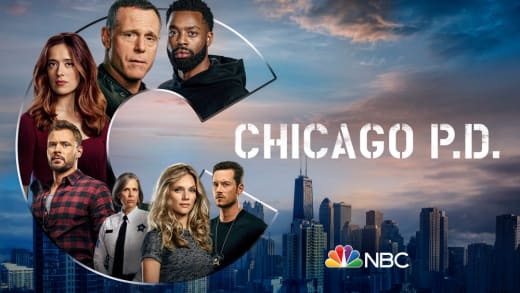 Understandably, this brings into question our favorite police procedural. How will the series handle the unavoidable new realities?
Here's everything we know as we gear up for Chicago PD Season 8!
Police Reform
Tackling police brutality is going to be more of an uphill battle for Chicago PD as Intelligence is known to cross lines and boundaries in the name of justice.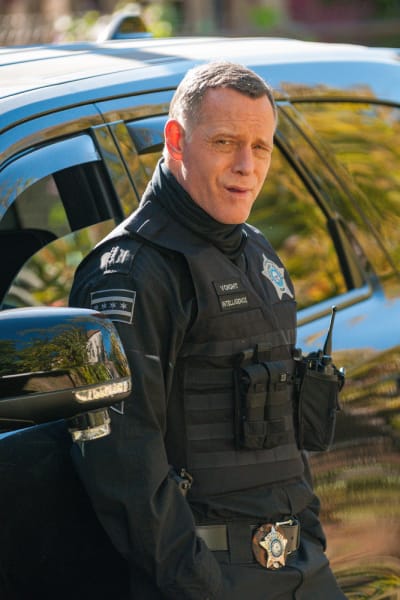 As times are changing, the show needs to address this very real issue. Showrunner Rick Eid told TVInsider that police reform will be at the forefront of the season and it boils down to Sgt. Voight, who has a reputation of being a bit of a "corrupt cop."
According to Eid, Voight will have to figure out if he's "part of the problem or part of the solution" after facing backlash from not only the community but also his superiors.
Per the official synopsis for Chicago PD Season 8 Episode 1, "the team responds to the shooting of a 5-year-old girl andmust work the case while facing the heightened attention on police reform."
Jason Beghe, who plays Voight, seems eager for the change in light of recent events.
"Because of all the stuff that's going on with police and Black Lives Matter, for the three weeks before shooting, we were in heavy communication with each other and certain advisers," Beghe told FBI: Most Wanted's Julian McMahon during Wolf Entertainment's "Unscripted" video on Monday, October 26.
"We're continuing from there and kind of drawing out the bigger things. As we pick up, it's post-George Floyd. My character is a real old school, 'I know what I'm supposed to do but I do what I have to do,' kind of guy. He breaks the rule and that stuff ain't flying anymore," he said.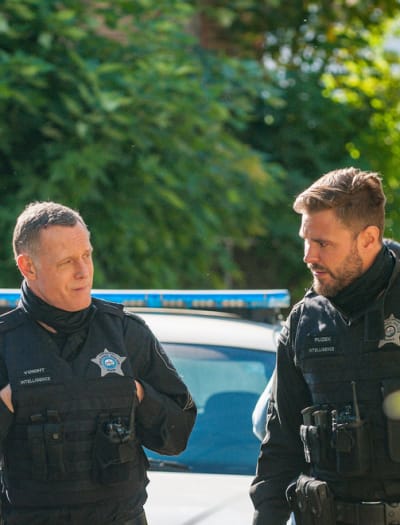 There's a New Superintendent in Town
And she's holding Voight accountable! As TVFanatic previously reported, Nicole Ari Parker is set to recur on Chicago PD as Superintendent Samantha Miller. The deputy superintendent hails from Atlanta and is described as "a progressive, ardent proponent of police reform."
According to Eid, Miller's goal is to abolish the "warrior cop" mentality that has fueled Chicago's police for far too long. In order to do that, she wants to help Voight and Intelligence adapt to a new reality and "views Intelligence as integral in this mission."
She believes that if she can change Voight, the rest of the force will follow suit. But it won't be easy as we all know Voight plays by his own set of rules.
Black Versus Blue
The synopsis also teases that "Atwater is targeted by officers who want to hurt him for standing against the blue wall."
Chicago PD didn't know it at the time, but when Chicago PD Season 7 wrapped prematurely, it handed itself directly into the narrative that would segway perfectly into the real-life racial tensions stemming from the brutal murder of George Floyd.