We're only two episodes into Chicago PD Season 8 and Atwater is not only carrying the show, but he's taking it to new heights.
The way he managed to turn the tables around on Kenny Nolan on Chicago PD Season 8 Episode 2 and push his back up against the wall, well, it was beautiful to watch.
Ever since owning his truth and standing up against racism, Atwater has been bullied and intimidated at every turn. When it began to affect his family, both at home and in Intelligence, he realized he could no longer stand back and wait.
Nolan was barking orders and hoping to break Atwater, and while he did look paranoid at times, I love that Atwater stood his ground.
The only way Atwater could regain the upper hand was to play Nolan at his own game.
I've never seen anything more satisfying than Atwater sitting at Nolan's dining room table giving him a play-by-play of how he'd go out of his way to ruin his whole life if he didn't back down.
When I say it may be the best scene on television that I've ever seen, I truly mean it.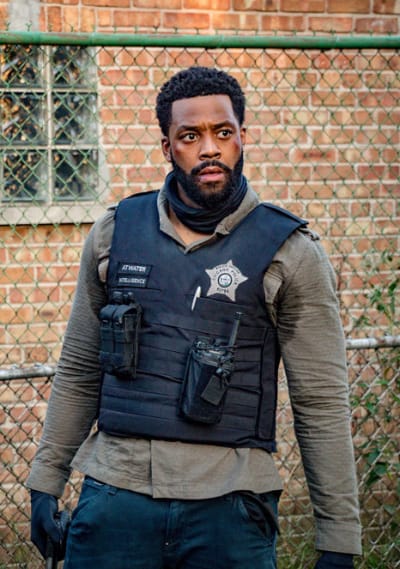 The good guys don't always win, but this time, the right guy did. No one messes with Atwater.
Atwater channeled his inner-Voight, but he did so in a way without using his fists.
The look of defeat on Nolan's face was priceless.
Obviously, the back-and-forth between Atwater and Nolan couldn't go on forever, but I was curious to see how the series would go about resolving it.
For a moment, I was terrified that the only solution would be for Atwater to give up his badge or accept that his career would never advance, but all those options included Atwater giving up and throwing in the towel.
And Voight was right — the moment Atwater stopped being a cop is the moment they would have won.
With the roles reversed, Atwater has successfully proven that he will always stand up for what he believes in.
He's making a change, albeit small, but it's a step in the right direction.
And if any good is to come of this "new world," then it better be karma hitting Nolan square in the forehead.
Atwater won the battle against the racist cops, but unfortunately, he's still losing the battle on the home front.
The scene with the kids refusing to take a basketball from him was heartbreaking, but hopefully, by doing the job differently, he'll make an impact that will lead to further positive changes.
The fight is far from over, but at least these kids have a good one looking out for them.
The purest thing on Chicago PD is the bromance between Ruzek and Atwater.
I know that they said everyone has Atwater's back, and it's true in theory, but Ruzek took an actual bullet for Atwater.
And then his reaction was basically "no sweat, bro." It was solid.
Though, the whole situation with patrol not responding was disturbing.
No one man should have enough power to bark such an order and endanger the lives of his blue brothers.
I wish more patrol stood up to Nolan, just as I wish there was more love given to Atwater from the rest of Intelligence.
Follow CRAVEYOUTV on socials
Chicago PD Season Finale Review – The Other Side (8×16)
This may have been one of the best Chicago PD finales ever.
Emotions were running high on Chicago PD Season 8 Episode 16 as Intelligence raced against the clock to find Burgess, who was kidnapped by a dangerous crime ring.
And they found themselves a unit divided.
Reform has been a major topic this season as Intelligence navigated a world where they were forced to follow rules and do things by the book, and it was a point of contention when it came down to rescuing Burgess.
Ruzek and Voight were down to do whatever was necessary to bring her home, but that attitude didn't sit well with Atwater and Halstead.
Ruzek threw caution to the wind as his only mission was to save his girl and bring her back home to her daughter, Makayla.
He called out "gun" when there was none, he pointed a gun at an innocent man's head simply to get him to talk, he and disregarded warrants at every turn.
It was a bit reckless, but understandable considering the circumstance.
And yet, he should've never been allowed on the case in the first place as he was too emotionally invested and had too much on the line.
Despite their on-again-off-again relationship, Burgess is the love of his life. He would move mountains for her. And there's not a doubt in my mind that he would kill for her.
Atwater tried to level with him, but Ruzek was filled with blind rage and fear.
Instead of getting through to him, he provoked Ruzek even more, and in turn, he said some pretty hurtful things to him in the heat of the moment.
It was unfair of Ruzek to call out Atwater for not doing everything in his power to save Burgess.
Atwater and Burgess are best friends, so her kidnapping affected him just as much as it affected Ruzek.
He understood how dire the situation was, but he also knew they weren't going to get anywhere by leading with emotions and breaking the rules.
Eventually, Hailey stepped in as Switzerland and the voice of reason.
She understood what Ruzek was feeling but appealed to his sensible side by reminding him that he couldn't cross a line for Makayla's sake.
If anything were to happen to Burgess, he promised to be her guardian, and he needed to step up for her now more than ever.
Considering Ruzek and Upton's previous relationship, I love that she was the one who reminded him to be the better person rather than encouraging him to stoop down to Kent and Roy's level.
Reminding him about Makayla and that Burgess would've wanted him to take care of her was the only thing that got through to him.
I found myself straddling the line between Team Ruzek and Voight and Team Atwater and Halstead.
Ruzek's decision to go all in to find Burgess made sense for so many reasons but mostly because the Superintendent just lost her son because they waited too long and followed the rules.
He wanted to avoid the same fate for Burgess.
Time was definitely of the essence considering how ruthless Kent and Roy were.
Personally, if it was my loved one's life was on the line, I'd probably take the same approach as Ruzek.
In my review of Chicago PD Season 8 Episode 15, I advocated for bending the rules in situations when it was necessary like when someone's life was on the line, but this episode changed my mind a bit.
Yes, you can get answers if you break the rules and threaten people, but they didn't even try to exhaust their by-the-book options first.
Ruzek and Voight were too quick to gravitate towards doing whatever was necessary when, in the end, Jay and Atwater's plan yielded the best and quickest results.
It took them less time to locate the Buick via foot grid than it did for Voight to beat the location out of Roy.
In fact, Roy never gave it up. All it did was work Voight up and force Upton to cross a line.
In this case, violence was not the answer.
Read the full review at TV Fanatic now.
Chicago Med Season Finale Review – Dr. Choi Gets Shot (6×16)
The stakes were at an all-time high on the Chicago Med Season 6 finale.
Dr. Choi's life hung in the balance after he was shot in the chest by Neil, a delusional patient that Dr. Dean Asher treated against his will on Chicago Med Season 6 Episode 14.
For those who need a refresher, Asher removed Neil's appendix when he became unconscious, which Neil said meant that he was forced to live in a simulation forever.
The man is clearly delusional and likely should've been given help before being discharged after his procedure.
But since he didn't, he ended up shooting the Chief of the ED.
Since Dean felt personally responsible for the shooting, he took it upon himself to treat Dr. Choi even if it meant clashing with all of the hospital staff.
Seriously, is there a doctor that Dean hasn't butted heads with?
His intense course of treatment didn't sit well with Will, April, or Sam Abrams, and they were sure to let him know.
It's one thing for a doctor to be confident in his treatment methods. In fact, it's awesome when every doctor has a different approach and they all talk about the best course of action.
But it's completely offputting when a doctor allows his egotistical side to take flight and doesn't listen to anyone else's advice, even an expert in his field.
And that's exactly what Dean did.
He didn't mince words or care about anyone else's opinion. And though he ended up making the right call, there were definitely better ways of going about it.
In fact, Dean kept gaslighting every single doctor and nurse, including Choi, who was only in the parking lot because he was concerned about Dean's questionable behavior towards patients. When he brought it up, Dean turned it on Choi and suggested he was only coming after him to "knock him down a peg."
Dean is literally unable to take responsibility for his own actions, so it makes it that much more concerning that Goodwin enlisted him as the interim Chief of the ED. That is definitely not going to sit well with anyone.
That is if there's anyone left for Dean to manage.
April got her acceptance letter to the nursing program, so it's safe to say that we won't be seeing her walking the ED halls.
And since Yaya DaCosta isn't returning next season, I was surprised that the series chose to reintroduce her romance with Choi. Maybe she just wanted to express her feelings for him after seeing him almost die, but if they aren't going to get back together then what's the point?
Torrey DeVitto is also leaving the series, but the way her storyline ended made sense.
After Halstead took the fall for stealing the Kender trial drugs and giving them to an unauthorized patient, Goodwin fired him. She explained that it was yet another incident of reckless behavior, and she wasn't completely wrong. Halstead has a pretty messy track record that has put the hospital at risk multiple times.
This time, he broke Goodwin's trust, lost Gaffney profits, and hurt many patients who could've benefitted from the trial.
When Nat found out that Will took the fall for her, she ran to Goodwin and came clean.
However, does it really matter?
Nat may have taken the drugs initially, but when Will found out, he didn't report her. Instead, he stole more drugs to help her mother. His actions were just as inappropriate as hers, so I'd argue that Goodwin was right in her decision to fire him.
In fact, they should both be fired as this isn't either of their first times stepping out of line.
However, you know Goodwin will reinstate Halstead and fire Natalie, which will naturally lead to her exit from the series.
On the plus side, they found a viable heart donor for Natalie's mother. And although the heart wasn't perfect, it still gave her another shot at life. There were a few moments where things seemed dicey, but everything turned out great in the end.
Some might even say everything Natalie did, including putting her job in jeopardy, was worth it.
Natalie and Crockett's relationship may be over, sadly, but it helped Crockett break out of his shell. He was forced to open up, trust, and give love another chance. He'll forever be grateful to Natalie for giving him that.
My least favorite storyline included Dr. Charles and the Russian patient, who assaulted his landlord after a rat infestation.
The writers introduced another Russian doctor, Micah, to help with translations, who ended up being an alcoholic, I think? It was all confusing and random.
When Dr. Charles confronted Micah, he elaborated that back in the Soviet Union days, political dissidents were diagnosed with "sluggish schizophrenia, which allowed them to be sent to psychiatric institutes.
But instead of offering help, psychiatry was weaponized. Those who defied the government were essentially tortured in these establishes, which is why Micah freaked out when he woke up and saw that he was admitted. He was suffering from PTSD. It's definitely a heartbreaking situation, but it was random, and though they tried to connect it to Neil's delusions, it fell flat.
And finally, Maggie's secret is out in the open. I'm glad she didn't tell Vanessa the truth because she knew she needed to respect her boundaries, but Vanessa figured it all out on her own.
I feel like the writers kind of glossed over this storyline a bit and rushed it. They definitely could've replaced the Russian storyline with more on the Maggie and Vanessa front.
We didn't know much about Vanessa or if she knew she was adopted, but when she confronted Maggie, she revealed that she knew and never wanted to seek out her birth mother.
And despite mentioning that she found it strange that Maggie was so drawn to her, we don't really know how Vanessa figured out that Maggie was her birth mother or even felt the need to do some research into Maggie.
However, now that they're both on the same page, they can move forward. Vanessa informed Maggie that she didn't want anyone to know the truth because she didn't want them to think that she only got the job because of her connections. Maggie respected that, though, she probably should've told her that Goodwin already knows.
Now, the ball is in Vanessa's court, so we'll see where this relationship goes from here. At least Vanessa called Maggie out and let her know that what she did wasn't right and a total breach of trust!
Alright, I'm turning it over to you! What did you think of the Chicago Med finale?
Chicago PD Review – The Right Thing (8×15)
The penultimate episode of Chicago PD gave us an action-packed hour that tapped into Superintendent Miller's personal life for the first time ever.
Voight was introduced to Miller's son, Darrell, on Chicago PD Season 8 Episode 15 and got way more than he bargained for following the meeting.
Darrell sought Voight out because he needed his help.
When Intelligence took on Darrell's case, they thought it was going to be a quick case to help out a friend who was in way over his head with a local drug dealer, but instead, they unearthed something much more sinister.
Darrell didn't survive the hour, but it wasn't because Intelligence didn't do their best to save him; it was because Miller was adamant that Voight and his team do things "by the book."
There are times when doing things by the book pays off, and other times when it's required to bend the rules a little to ensure that a life is spared.
In this case, it was an ugly lesson for Miller that sometimes, the law doesn't always work in your favor.
Voight may be too eager to bend the rules on occasion, and admittedly, some of his methods and approaches may be unconventional, but he's also the best at his job.
It's why he runs Intelligence, and it's why he has one of the best teams on the force.
Intelligence knows what they're doing, so why not let them do their job?
Asking for forgiveness later would've been much better than living the rest of your life feeling guilty that you contributed to your child's death.
Darrell made some pretty terrible choices, there's no denying that.
It seems that making bad choices and getting into trouble has been a recurring theme throughout most of his life.
And it didn't help that no one seemed to take Darrell seriously. From Atwater to his mom to Kent, Darrell kept being told that he was essentially a privileged screw-up.
It's not surprising that he was so determined to make things right and prove everyone wrong.
I think that constantly being told how messed up he was likely also prevented Darrell from being upfront with Voight, Atwater, Ruzek, and the team.
It's obvious that Darrell knew more than he was letting on about what was happening inside the strip club.
Sure, he wanted to pay off his debt, but he also knew that Kent and Roy were trafficking underage girls and wanted to help them.
When Atwater and Ruzek told him to lay low, he didn't listen because he wanted to save Sasha.