Chicago PD: Tracy Spiridakos Teases Fire/PD Crossover, 'Upzek''s' Future, and Relationship with Halstead
Chicago PD and Chicago Fire are teaming up for yet another exciting crossover!
On Wednesday, Feb. 20th, Intelligence and Firehouse 51 will work together after a string of robberies lead to a building fire.
However, Tracy Spiridakos, who plays Hailey Upton, revealed that the situation might get more personal when Voight suspects a firefighter may be involved.
But aside from dosing out justice and catching bad guys, Upton's had a pretty tough season; she's dealt with personal childhood trauma, falling hard for a co-worker, and getting abducted.
When we spoke to Spiridakos, she not only dished about the upcoming crossover, but also elaborated more about the brewing love triangle, the state of her relationship with Burgess, and even gave us some insight about Upton's unique relationship with Halstead.
She also addressed the #Burzek fandom who have shown a bit of animosity towards her character.
And most importantly, she told us about her love for deep dish pizza.
Check out the interview below — you won't regret it.
We have to address Chicago PD Season 6 Episode 14. Upton and Burgess were abducted, and it was one of a few times where the two ladies shared a really powerful scene together. Tell me about that. How did that feel?
It was great. We got to do some stuff in Season 5, the one where we're PIs both of us approached, but this one was especially intense due to not only being abducted but also Burgess finding out about Ruzek at the beginning of the episode and the tension that came with that.
But I really like how at the end, they're bonded beyond anything they've ever been and they're stronger together which is really cool!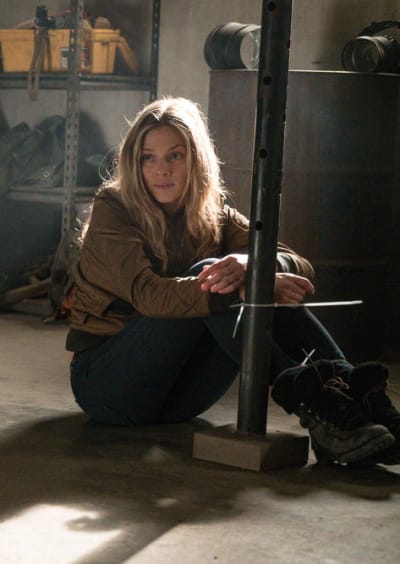 Yeah, I love how Burgess and Upton handled their "guy drama." Rarely do shows allow two grown women to handle something in such a mature fashion. Why was that so important for Chicago PD and specifically, for these two characters?
I think it's important to just show exactly what you just said that two women can have a conversation about something that's going on like that and can walk away from that and just be like "things happen, and I understand where you're coming from and thanks for talking to me about it and we're good."
After what they went through as characters in being abducted and not knowing when Burgess walks in and sees Upton tied up and bleeding and not knowing what happened to her and if she was going to survive or what was going on, I think you get sort of stronger bonded going through something like that.
Follow CRAVEYOUTV on socials
What to Watch December 2020: 'Selena: The Series,' 'Blue Bloods,' 'Shameless, 'Sabrina' and More!
The holidays are upon us and with that, some much-needed time to just sit back and relax with loved ones.
And there's no better way to bond with others than by watching TV!
Here are all the exciting additions coming to primetime, cable, and streaming in December?
What are you adding to your binge-watch list?
SEAL Team – CBS (December 2)
Season 4 returns with a 2-hour season premiere with the team's potential shakeup. Per the synopsis: "Bravo Team enters enemy territory in the snowy Spin Ghar Mountain Range to capture Al-Hazred, the leader of a terrorist group and son of the terrorist leader that Jason took down early in his career and made him Bravo One."
Selena: The Series – Netflix (December 4)
The spirit of Selena Quintanilla comes to life in Netflix's biopic starring Christian Serratos. Re-live the story of the Tejano music and iconic Mexican-American pop star. We interview Madison Taylor-Baez, who plays young Selena in the series. Check it out now.
The Hardy Boys – Hulu (December 4)
The Hardy Boys are back… and they're on the case. To fill the Nancy-Drew sized void in your life, Hulu is rebooting the mystery series that will deliver action packed twists you didn't see coming!
The Great British Baking Show: Holidays – Netflix (December 4)
There's nothing like getting into the holiday spirit with some tasty treats. The third season of the baking competition finds former bakers competing in holiday-themed challenges.
MacGyver, Magnum P.I., and Blue Bloods – CBS (December 4)
The trio of veteran CBS dramas returns on the first Friday of the month for season 5, season 3, and season 11, respectively.
Shameless – Showtime (December 6)
The final season (season 11) is upon us. It's time to say goodbye to the Gallagher family after nearly 10 years together.
Euphoria – HBO (December 6)
While this isn't a second season announcement, HBO will air two special episodes bridging the gap between season 1 and 2, which has been halted due to the coronavirus pandemic.
Part 1: Rue pic.twitter.com/DZvGVZvBNz

— Zendaya (@Zendaya) November 26, 2020
Grinch the Musical – NBC (December 9)
Your heart might grow three sizes when you see Matthew Morrison take on the cynical creature in the theatrical event.
High School Musical: The Musical: Holiday Special – Disney+ (December 11)
Celebrate the holiday with the cast of HSMTMTS as they sing their favorite joyful songs and recall some holiday memories.
Bridgerton – Netflix (December 25)
Shondaland is here to give you your next obsession. Shonda Rhimes' first Netflix show following her transition from ABC is based on the popular best-selling book. It follows eight children of the late Viscount Bridgerton in Regency in the early 1800s England.
Letterkenny – Hulu (December 26)
The comedy sitcom about the residents of Letterkenny, a small community in Canada, returns for its ninth season!
Chilling Adventures of Sabrina – Netflix (December 31)
It's time to say goodbye to the Spellman clan, but not before one last hurrah. The fourth and final season of the Riverdale spinoff premieres on the final day of 2020. According to the synopsis,"The Eldritch Terrors descend upon Greendale [and] the coven must fight each terrifying threat one-by-one (The Weird, The Returned, The Darkness to name a few), all leading up to… The Void, which is the End of All Things.
Movies
Godmothered – Disney+ (December 4)
Based on the trailer and the fact that Isla Fisher stars in the film, it's giving me Enchanted vibes, which is a great thing. Jillian Bell stars as Eleanor, an inexperienced fairy godmother-in-training hoping to help Mackenzie Walsh (Fisher).
The Prom – Netflix (December 11)
Ryan Murphy return to the streaming giant with a musical, based on the critically acclaimed 2018 Broadway musical. It follows a star-studded cast (Meryl Streep, Nicole Kidman, Keegan-Michael Key, James Corden and Andrew Rannells) of Broadway stars who visit a small-town in Indiana to help a high school girl named Emma attend to prom with her girlfriend.
The Midnight Sky – Netflix (December 23)
Times are bleak, but this post-apocalyptic space thriller hopes that you'll indulge anyway. It follows George Clooney's Augustine, a lonely scientist in the Arctic, hoping to contact astronauts to warn them against returning home tp Earth, where a mysterious catastrophe has taken place. Meanwhile, the astronauts, led by Felicity Jones, wonder why contact with Mission Control has seized.
Soul – Disney+ (December 25)
The highly-anticipated Pixar film arrives as a treat from Santa. After its theatrical release was delayed due to the COVID pandemic, the film will hit the streaming service with its star-studded cast of Jamie Foxx, Tina Fey, Daveed Diggs, Phylicia Rashad, Angela Bassett, and Graham Norton.
Chess Boards Are Sold Out and You Can Thank Netflix's 'The Queen's Gambit'
Queen's Gambit is taking the chess world by storm.
In a case of art influences life, sales of chess boards have skyrocketed thanks to the Netflix limited series.
The series, set in the 1950s, trails the rise of a young orphan, Beth Harmon (Anya Taylor-Joy), who finds chess to be an outlet, leading her to become a female prodigy.
Spin Master, a Toronto-based toy merchant, said that chess sales have increased by "triple digits" since the show's premiere on October 23.
Goliath Games has also noted a surge of more than 1,000 percent, NPR notes.
"Our October sales for chess were up 178% over the same period last year," Mary Higbe, director of marketing at Goliath Games, said. "That's a big increase. But something else unexpected happened at the end of the month. Now, she says, "our chess sales are up 1,048%."
EBay has made similar findings, reporting a 215 percent spike in sales of chess sets.
Related Reads: You Can Get Free Streaming Subscriptions in December Thanks to Beautyrest
The New York Times found that wooden sets have trumped plastic sets.
Even before the series debuted, interest in chess sets was spiking due to COVID.
Will this make finding a Christmas present harder?
Toy analyst Gerrick Johnnson told NPR: "Good luck finding a chess set this holiday!"
The popularity also extends to groups such as the US Chess Federation, which revealed that membership also jumped for the first time since the onset of the pandemic.
To sum it up… 2020 is the year where both chess sets and toilet paper are scarce.
You Can Get Free Streaming Subscriptions in December Thanks to Beautyrest
The one thing that has been keeping us all sane through what feels like a never-ending pandemic? TV shows!
Especially now as the winter months creep in and it becomes darker earlier than every, we're turning to streaming services to find some comfort.
If you're a TV show lover, like myself, you're probably subscribed to several services because you watch an array of shows and the costs ADD UP!
Well, how would you like it if all of those streaming services were free in December? That means all the Netflix, Hulu, Disney+, Amazon Prime Video, and more for free!
Doesn't that sound like the perfect Christmas gift?!
Beautyrest, the ultimate brand in luxury mattresses, wants to cover streaming subscriptions during the month for 100 lucky people. 10 of those lucky people will even snag a Beautyrest mattress so that they can catch some R&R this winter (while watching shows, of course).
How can you enter the contest?
Now through December 5, send an email to BeautyrestUpgrade@icfnext.com with one sentence on why you deserve an upgrade for a chance to win.
Beautyrest will choose 100 winners through a random drawing on or around Monday, Dec. 7. If you're a winner, you'll be notified via email. You'll need to reply within 48 hours to the email, so make sure you check your inbox!
Visit Beautyrest.com/FirstClassUpgrade for full rules and additional information on how you can score the ultimate binge-watching experience in bed.