Chicago PD: Tracy Spiridakos Teases Fire/PD Crossover, 'Upzek''s' Future, and Relationship with Halstead
Chicago PD and Chicago Fire are teaming up for yet another exciting crossover!
On Wednesday, Feb. 20th, Intelligence and Firehouse 51 will work together after a string of robberies lead to a building fire.
However, Tracy Spiridakos, who plays Hailey Upton, revealed that the situation might get more personal when Voight suspects a firefighter may be involved.
But aside from dosing out justice and catching bad guys, Upton's had a pretty tough season; she's dealt with personal childhood trauma, falling hard for a co-worker, and getting abducted.
When we spoke to Spiridakos, she not only dished about the upcoming crossover, but also elaborated more about the brewing love triangle, the state of her relationship with Burgess, and even gave us some insight about Upton's unique relationship with Halstead.
She also addressed the #Burzek fandom who have shown a bit of animosity towards her character.
And most importantly, she told us about her love for deep dish pizza.
Check out the interview below — you won't regret it.
We have to address Chicago PD Season 6 Episode 14. Upton and Burgess were abducted, and it was one of a few times where the two ladies shared a really powerful scene together. Tell me about that. How did that feel?
It was great. We got to do some stuff in Season 5, the one where we're PIs both of us approached, but this one was especially intense due to not only being abducted but also Burgess finding out about Ruzek at the beginning of the episode and the tension that came with that.
But I really like how at the end, they're bonded beyond anything they've ever been and they're stronger together which is really cool!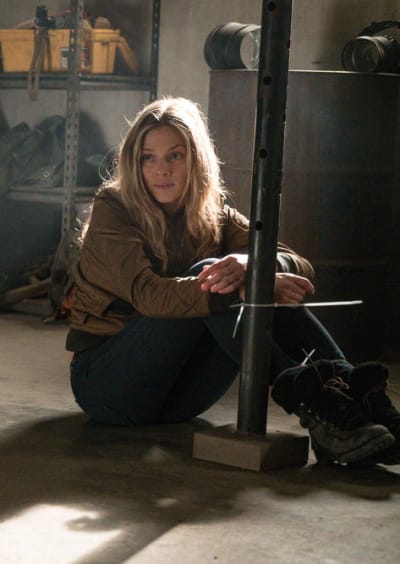 Yeah, I love how Burgess and Upton handled their "guy drama." Rarely do shows allow two grown women to handle something in such a mature fashion. Why was that so important for Chicago PD and specifically, for these two characters?
I think it's important to just show exactly what you just said that two women can have a conversation about something that's going on like that and can walk away from that and just be like "things happen, and I understand where you're coming from and thanks for talking to me about it and we're good."
After what they went through as characters in being abducted and not knowing when Burgess walks in and sees Upton tied up and bleeding and not knowing what happened to her and if she was going to survive or what was going on, I think you get sort of stronger bonded going through something like that.
Follow CRAVEYOUTV on socials
Was 'La Brea' Renewed For Season 3?
La Brea fans, you have something to celebrate.
NBC has given an early season 3 renewal to the prehistoric sci-fi series. The network gave the green light right just before season 2 kicked off on Jan. 31, returning from hiatus with two back-to-back episodes. (Read our review!)
Per TVLine, La Brea will get six episodes in the third season with the possibility of scoring more down the line. And if no additional episodes are green-lit, six feels like a solid number that would be enough to provide a solid conclusion for dedicated fans.
The series averaged about 5.4 total weekly viewers, including DVR audiences, in its first season run, however, its midseason return fared rather poorly with 2.1 million and 2 million for both episodes, respectively. All of that could change once playback numbers are factored in proving that the drama was worth saving after all.
The series, which premiered in September 2021—and fills the sci-fi gap left behind by shows like Timeless and Debris—follows a group of people who fall through a mysterious sinkhole in Los Angeles and find themselves transported to 10,000 B.C.
Will There Be a Season 4 of 'Big Sky'?
Big Sky ended on a high note on Wed, Jan. 18, wrapping up a whirlwind season filled with murder, mystery, and deception.
And naturally, fans are already craving more, especially as each season of the series delves into a new storyline centered in Helena, Montana, and involving Dewell & Hoyt's Cassie Dewell and Jenny Hoyt.
As of now, ABC has not renewed Big Sky for a fourth season, and it may be months before we get any insight into the matter.
In terms of ratings, the series kept steady with 2.4 million viewers and a 0.2 demo, which means ABC could go either way with their decision.
The fact that they brought in the big guns like Reba McEntire and Jensen Ackles for this season likely means the network believes in the series—and it's hard to argue with the dedicated fanbase that has stuck around through every twisted and over-the-top plot.
The third season wrapped up many lingering storylines, giving fans closure to the mystery plaguing the season, however, there's always more to explore when it comes to the dynamics between the core characters. And something tells me, there's no shortage of criminal activity in Helena.
While Cassie and Cormac finally made things official, fans were likely hoping to see a bit more romance for Jenny and Ackles' Beau. The show has been toying with their chemistry, sparking a "will they or won't they" debate, but when it finally came down to solidifying their relationship, they left it open-ended. While it may have been frustrating to fans, it's likely the show's hope that it's enough to convince ABC to green light another season to allow them to explore these relationships further.
When TV Insider asked Ackles if he'd return for a fourth season, he explained, "I don't know. They haven't even picked up the show yet for Season 4, so I don't know if anybody's coming back for Season 4 yet. That's above my pay grade."
However, he added, "But if they do decide to pick up a Season 4 — which I would hope they would, I think the show's really great, and I think it's got a lot of story left to tell — I don't know. They had me for one season. They were probably like, well, let's just bring him in for one, and we'll see how it goes, and then we'll go from there. So they're waiting to hear what happened with the show, and then they'll probably talk to [showrunner] Elwood [Reid] and try to figure out what to do with the characters, those that are returning and those that they want to return."
Seems promising!
Once ABC gives the word—we'll update this post accordingly. In the meantime, don't be shy, read our review of the Big Sky Season 3 finale right here.
Why Is Taylor Kinney Leaving 'Chicago Fire'?
Shocking news Firehouse 51—Taylor Kinney is exiting Chicago Fire.
Deadline reported the news on Friday, Jan. 20, revealing that the actor, who anchors the show as Kelly Severide, will be taking a break from the series.
Kinney has been a staple on the Dick Wolf drama since its inception in 2012 and is a huge reason why the series has retained such a dedicated viewership.
While an official reason was not provided, and a rep for the show did not offer a comment, sources close to production told the outlet that Kinney is taking a "leave of absence" to deal with a personal matter. No word on what the situation is.
The cast and crew were reportedly informed of the leave right before the news broke, with the writer's room likely having to rewrite scripts to accommodate the change.
It's unclear whether this will be a permanent leave, nor is there any info about how he will be written out for now.
Kinney has not addressed the news himself as of writing.
This is the latest shocking exit in the #OneChicago world as Jesse Lee Soffer, who plays Jay Halstead on Chicago PD, exited earlier this season, while Brian Tee hung up his coat earlier this season on Chicago Med after portraying Ethan Choi since 2015.