There was a shotgun killing spree on this weeks Chicago PD, which involved all of Voight's old mobster friends. Voight's back story and history is one we've always questioned and after last weeks reveal about how he played internal affairs to get his job and made a deal to act like a bad guy, he's getting the cold shoulder. Especially from Erin who feels a little betrayed. What is his actual commitment to the job? Although from the looks of it, it seems like he's really in it to just serve and protect, only covering up for those closest to him. He hasn't done anything "bad" or "illegal" in a while… he just knows how to get what he wants.
He gets emotionally involved in this case, which ends up taking an interesting and unexpected turn. There are 3 murders halfway through the episode, of guys who were all connected to each other. Initially, intelligence thinks the murderer was a father who was involved with these men, getting money for his laundry business. They cornered him in the hospital, where he was sitting by his wife's side– she had tried committing suicide because of all the pressure of losing the business. Traces back to his name revealed he hadn't purchased a shotgun.
In the meantime another murder occurs, and this time, there's a witness left behind in the trunk of the car. The young girl watched her father get murdered by a young man in a hoodie, before he turned the shotgun at her, ultimately locking her in the trunk. Sketches revealed that the shooter was actually the man's 17-year-old son. The squad drove over to the last victims house, Enrio, a man Voight tried to use for help earlier, but wasn't met with open arms. Tough falling out. He was still alive, his arm only injured. Halsted was cornered by the young man in a tense moment. Thankfully, the kid didn't shoot, and Halsted, Atwater and Lindsay tried chasing him down, losing him on the train tracks. That was a close moment wasn't it? They have such a quick bounce back rate they don't even sit down to think about how dangerous what they did just was– it's always onto the next one.
The kid stole a car and drove back to the hospital, where he was standing with the shotgun pointed at anyone who came near him. Halstead took it upon himself to beg the kid to lower his weapon, bravely stepping out in front of it, without his weapon on him. He explained that he knew what this kid was feeling, that they wouldn't try him as an adult, all things that were pretty much lies. But hey, at least they get the job done right? The kid is arrested, and all is well in Chicago…. for like 30-minutes.
Erin meets with her mother again, who is just ecstatic about being clean for 7-months and getting married to this new, great man. She's not really in it to fix her relationship with her daughter, so Erin Erin doesn't empathize letting her mother know that she's been down this "I'm clean" road before. She reminds her of a time when she was 9 when she saw her mother overdosed on the floor. The story is tragic, and kind of gives viewers a glimpse into why Erin is the way she is. She recalled carrying her mother into a bath-tub full of ice-cubes to help her sober up, knowing she couldn't call CPD because CPS would take her away. When she woke up, all she said was "get me my cigarettes," hence the title for the episode. A sad story, to which her mom replied basically saying that they shouldn't re-hash the past. Erin soon realized her mother only wanted to meet with her so that the new husband wasn't wondering why she didn't talk to her adult daughter. Some things never change.
I feel like the other characters story lines have been put on the back burner this season as we focus a lot on the crime and murders of Chicago. There are a lot I know, but I want to see some development with Rozek and Burgess. When will everyone finally find out? Will it ruin her chances at intelligence? How is Nadia fitting into her new position? How is Olinsky's daughter doing after her crime-witness situation? And what about Antonio and his family. The concentration has been solely on Voight, Lindsey and Halstead, which I don't mind, but I need more. A show with so many characters is tricky.
The shocker came towards the end of the episode. Since last week we've known Halstead in a lot of danger! He has a million dollar bounty on his head. That hasn't stopped him from working the streets and going out to drink by himself late at night. He's a brave soul that one. After Lindsay's meeting with her mother,  she meets Jay at the bar. She briefly teases him about sleeping with the bartender, although he likes to call it playing scrabble, but he actually has a favor. His apartment was broken into, probably a result of the bounty, and he needs a place to crash until the drama subsides. Erin agrees that he can stay at her place, and the two share a brief moment, before a man walks in shooting directly at Halstead. Erin acts quickly, yells for him to get down, grabs her weapon and begins shooting back. Halstead avoids a bullet, but the bartender isn't so lucky, getting hit in the neck. The man gets away unfortunately, which leads us into the captivating and heart racing promo for next week. 
Halstead feels like he's at fault for the bartenders near-death experience, and puts himself at risk in order to face the men that want his head on a stick… signing off papers that he went on his own free will so intelligence isn't reliable. This obviously won't go over good, since felons cannot be trusted. We see Erin freak out saying "We need to get him out of there" before a car flips over. JAY! Really, who is letting him do such crazy shit? We need him alive you know! 
Follow CRAVEYOUTV on socials
Chicago PD Review – Is Burgess Ready to Be a Mom? (8×03)
Intelligence is kicking off 2021 on a high note.
Following Atwater's powerful storyline, Chicago PD Season 8 Episode 3 shook things up and reminded fans of the good old days when the focus remained largely on the case-of-the-week.
It's been a while since we've seen the team go full-in on a case, especially one as compelling as the murder of Makayla's entire family.
While gang retribution was the go-to motive, the case took a surprising twist when it was revealed that all three family members died protecting the little girl from her father, Tareek, who was recently released from prison.
The case was interesting even without a personal connection, but hinging the plot on a young, innocent girl not only provided an emotional hook, it also allowed the narrative to circle back to Burgess' miscarriage from Chicago PD Season 7.
Voight was determined to nail down a suspect and get justice for the family, so the "by the book" police reform storyline kind of went out the window. Sometimes, I wonder if the series even remembers the plotlines it's introducing.
There wasn't even any reference to Atwater's situation with the racist cops; it's almost as if it never happened.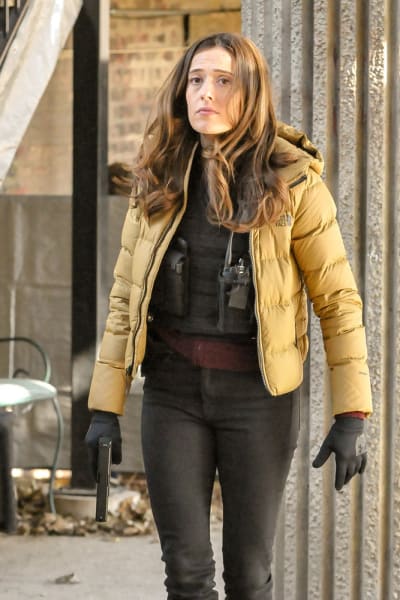 However, it was nice to see that Burgess was still dealing with the aftermath of the miscarriage.
Following such a traumatic experience, Burgess convinced herself that she didn't want children. It was a tactic to protect herself from getting hurt again.
But after forming a personal connection with Makayla, she began to see the possibilities that she could have it all: a family and a career.
Her motherly instincts kicked in when she saw that the girl was in danger — motherly instincts she didn't even know she had.
It was such a treat to see her in "mama bear" mode.
Their bond never seemed forced either as Burgess genuinely cared for the young girl and found her purpose in protecting her. She even put her job on the line to ensure that she could stay by Makayla's side until they found the people hunting her down.
But it begs the question . . . what happens next? Was this the show's way of warming everyone up to the idea of a Burzek baby again?
They already let us down once; I don't want to get ahead of myself and get my hopes up again.
Here's When Last Night's Episodes of 'Chicago Med,' 'Chicago Fire,' and 'Chicago PD' Will Premiere
Fans of the #OneChicago shows — Chicago Med, Chicago PD, and Chicago Fire –– will have to wait an additional week for new episodes.
NBC announced that the originally scheduled episodes were postponed from their original premiere date of Wednesday, January 6 to next Wednesday on January 13.
The network made the decision to preempt the #OneChicago shows with continued breaking news coverage on the chaos at the Capitol after Trump supporters stormed the federal building and delayed the Electoral College vote count.
Yesterday's premieres marked the show's return from the winter hiatus. NBC wasn't the only network to delay originally scheduled programming as ABC and CBS both aired news instead.
Tonight on NBC: Continuing coverage from NBC News. Originally scheduled episodes of Chicago Med, Chicago Fire, and Chicago P.D. will air next week.

— NBC Entertainment (@nbc) January 7, 2021
Here are the synopsis for all three shows premiering next week!
Chicago Med:
Dr. Charles and April team up to take on a mysterious patient in the ED; Dr. Halstead is forced to make a life-or-death decision for one of his trial patients; Dr. Marcel is confronted by his past when a former acquaintance is brought into the ED.
Chicago Fire:
A mishap on the aerial ladder in the midst of a fire rescue leaves Mouch shaken and questioning his abilities; Kidd looks for support from Severide while Casey and Brett discuss their future.
Chicago PD:
Ruzek and Burgess discover a child walking alone in the middle of the street, and when they take her home, they discover that her entire family has been murdered; Upton is approached with a job offer from the FBI.
Chicago PD Review – Kevin Atwater Gives 'Em Hell (8×02)
We're only two episodes into Chicago PD Season 8 and Atwater is not only carrying the show, but he's taking it to new heights.
The way he managed to turn the tables around on Kenny Nolan on Chicago PD Season 8 Episode 2 and push his back up against the wall, well, it was beautiful to watch.
Ever since owning his truth and standing up against racism, Atwater has been bullied and intimidated at every turn. When it began to affect his family, both at home and in Intelligence, he realized he could no longer stand back and wait.
Nolan was barking orders and hoping to break Atwater, and while he did look paranoid at times, I love that Atwater stood his ground.
The only way Atwater could regain the upper hand was to play Nolan at his own game.
I've never seen anything more satisfying than Atwater sitting at Nolan's dining room table giving him a play-by-play of how he'd go out of his way to ruin his whole life if he didn't back down.
When I say it may be the best scene on television that I've ever seen, I truly mean it.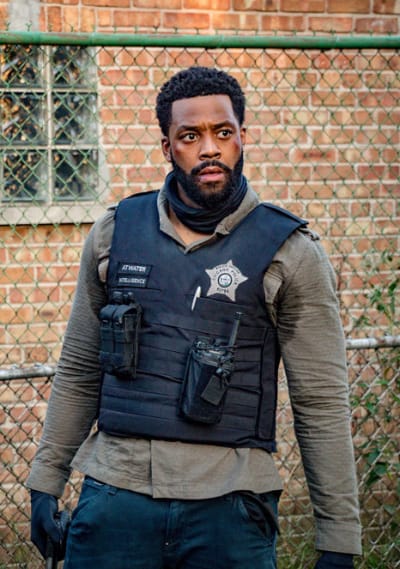 The good guys don't always win, but this time, the right guy did. No one messes with Atwater.
Atwater channeled his inner-Voight, but he did so in a way without using his fists.
The look of defeat on Nolan's face was priceless.
Obviously, the back-and-forth between Atwater and Nolan couldn't go on forever, but I was curious to see how the series would go about resolving it.
For a moment, I was terrified that the only solution would be for Atwater to give up his badge or accept that his career would never advance, but all those options included Atwater giving up and throwing in the towel.
And Voight was right — the moment Atwater stopped being a cop is the moment they would have won.
With the roles reversed, Atwater has successfully proven that he will always stand up for what he believes in.
He's making a change, albeit small, but it's a step in the right direction.
And if any good is to come of this "new world," then it better be karma hitting Nolan square in the forehead.
Atwater won the battle against the racist cops, but unfortunately, he's still losing the battle on the home front.
The scene with the kids refusing to take a basketball from him was heartbreaking, but hopefully, by doing the job differently, he'll make an impact that will lead to further positive changes.
The fight is far from over, but at least these kids have a good one looking out for them.
The purest thing on Chicago PD is the bromance between Ruzek and Atwater.
I know that they said everyone has Atwater's back, and it's true in theory, but Ruzek took an actual bullet for Atwater.
And then his reaction was basically "no sweat, bro." It was solid.
Though, the whole situation with patrol not responding was disturbing.
No one man should have enough power to bark such an order and endanger the lives of his blue brothers.
I wish more patrol stood up to Nolan, just as I wish there was more love given to Atwater from the rest of Intelligence.