Love triangles are the most popular trope on television.
It's the "go-to" storyline for nearly every series looking to cause friction between a group of characters.
And it's usually done regardless of whether or not it makes sense for a character's arc.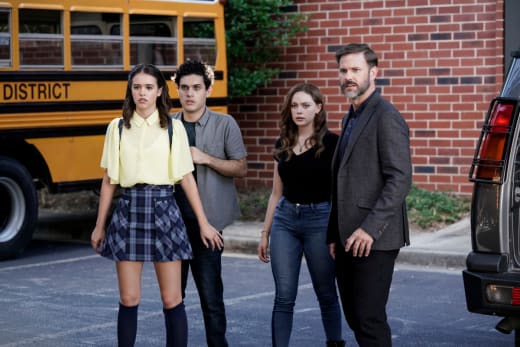 Love triangles have become such a staple on show's that my passive-TV-watching husband has asked me if it's a requirement to be in love with two people at once.
My answer? When it comes to television, absolutely yes.
Julie Plec is known as a repeat offender; she loves nothing more than to include love triangles for every character in her series.
Just take a look at her track record: On The Vampire Diaries, the love triangle centered around Elena Gilbert, a high school student torn between two elder vampires, the Salvatore Brothers. They were drawn to her because of her uncanny resemblance to their former lover, Katherine.
TVD's Caroline, step-mother of Lizzie and Josie Saltzman on the current Legacies, was also torn between a few men, including Stefan Salvatore and baddie, Klaus Mikealson.
And now, her daughter and Klaus's daughter are embroiled in their very own love triangle with brooding Pheonix Landon, but the circumstances surrounding their situation are vastly different than those of their parents.
Plec stepped her game up and revamped her approach to the love triangle . . . Pun-totally-intended.
The supernatural nature of these shows has long allowed writers and characters to explore different realities, but Legacies managed to do something unique with the often familiar trope that its predecessors, The Vampire Diaries and The Originals, never could.
This new approach doesn't necessarily better the storyline if you hate love triangles, to begin with, but it terms of how it unfolds, it's less predictable and gives characters more to play with.
Follow CRAVEYOUTV on socials
We Need to Acknowledge Vanessa Morgan's Comments About Black Characters Being Portrayed as 'Sidekicks'
Vanessa Morgan is fed up with how black people are portrayed in the media.
And she should be.
Morgan, who plays Toni Topaz on Riverdale, took to social media to say she's "tired of us being portrayed as thugs, dangerous or angry scary people. Tired of us also being used as side kick non dimensional characters to our white leads."
"Or only used in the ads for diversity but not actually in the show," she continued, adding, "It starts with the media. I'm not being quiet anymore."
I'm not being Quite anymore. ✊🏽 #BlackLivesMatter pic.twitter.com/JXgJic4mrR

— Vanessa Morgan (@VanessaMorgan) May 31, 2020
We've seen many African American actors assume the very roles she mentioned, but one that stood out in particular was "sidekick" as it described the 28-year-old star's character on The CW.
While Toni's on-screen girlfriend, Cheryl Blossom (Madeline Petsch), is far from one-dimensional, Toni often lurks in the shadows until it's time to prop up Cheryl. She rarely gets any screen time without her other half, she has no storyline outside of her relationship, and she's lucky if she gets a few sentences in a scene.
This isn't a fault of Morgan's castmates, who she defended writing that her role "has nothing to do with my fellow classmates/friends. They don't write the show. So no need to attack them, they don't call the shots & I know they have my back."
My role on Riverdale has nothing to do with my fellow castmates/friends. They don't write the show. So no need to attack them, they don't call the shots & I know they have my back. ♥️

— Vanessa Morgan (@VanessaMorgan) June 2, 2020
Toni Topaz has been reduced to a sidekick through absolutely no fault or her own, and being sidelined is not a reflection or her acting. And yet, she's the one suffering, even noting that she's the lowest paid regular on the series.
To truth of the matter is, Toni has been underutilized in a series that should be tapping into her potential as one of the only few women of color.
For this reason, Morgan has made it her mission to evoke change: "To my black fans, I have now made it my purpose to fight for us. To the six-year-old me who had no role model that looked like me on TV. This is for you. We aren't your token black non-dimensional characters. This is being black in Hollywood. I will fight for YOU."
To my black fans, I have now made it my purpose to fight for us. To the six year old me who had no role model that looked like me on TV. This is for you. We aren't your token black non dimensional characters. This is being black in Hollywood. I will fight for YOU 🖤 https://t.co/OgsB5ZjDjE

— Vanessa Morgan (@VanessaMorgan) June 3, 2020
Toni isn't the only character suffering as the writers seem to struggle to find story arcs for many characters outside of the core four, but it happens more often to the female character than it does to someone like Kevin Keller or Reggie, two characters we've seen the series attempt to integrate into the storyline as much as they can.
This isn't the first time the series has struggled to write storylines for a woman of color as the same thing happened to Ashleigh Murray, who plays/played Josie McCoy on the series for several seasons. Despite having her own musical group in high school, Josie and the Pussycats, there never seemed to be a compelling storyline for Josie, the character which many argue was the strongest, most realistic, and most grounded. It was a shame, and thankfully, the TV powers that be pushed her towards the Riverdale spinoff, Katy Keene, where she gets the shine equally amongst her diverse counterparts. That series is still led by a heterosexual white woman, but the representation on the series far outweighs that of Riverdale.
Murray has gotten to shine and be included in the cast the way she's always been meant to; she's no longer a sidekick to meet a quota.
Murray supported Morgan writing, "These are the ways we can implement real change. The beginnings of concrete conversations and plans of action that will mold our future for the better. We are not asking for special treatment. We are asking for equal treatment."
These are the ways we can implement real change. The beginnings of concrete conversations and plans of action that will mold our future for the better. We are not asking for special treatment. We are asking for equal treatment. https://t.co/5IEK3iM81D

— Ashleigh Murray (@iamamurray) June 1, 2020
Morgan's statements came on the heels of a since-deleted comment that claimed Murray was written off the series because she was a "diva" who refused to share the screen with others.
"You don't know what the f** you're talking about and don't talk about my friend like that. Another thing i hate BLACK women being called DIVAS for sticking up for themselves. Maybe the show should write for her like the white characters," Morgan responded.
The problem extends way past these two Archie Comic shows, however. It's become all too common for shows marginalize black characters… The Vampire Diaries' treatment of Bonnie Bennett (played by Kat Graham), one of the few character's of color on the series, is a prime example.
Bonnie was technically a "core character" but never got the core character treatment. She was a strong-willed, selfless, and badass witch, but she was reduced to a character that was constantly forced to make sacrifices for her friends, put their needs above their own, and carry their pain.
A moral compass, fixer, and the only woman bold enough to call out Damon Salvatore, Bonnie had the potential to have some of the best and most powerful storylines, and instead, they always revolved around her besties, Elena and Caroline. It wasn't about Bonnie as an individual, it was about how Bonnie could help them achieve greatness.
Bonnie was always the loophole, she lacked proper character development, and for a series that thrived on ships, she barely got a love interest until the very end. And even then, he was killed off leaving Bonnie to suffer in silence… again.
Bonnie held her own, but she never got her own.
We've seen this play out in other shows like Dynasty. Jeff (Sam Adegoke) and Monica Colby (Wakeema Hollis) could make great antagonists for Blake Carrington, and there is a lot of family drama to dig into when it comes to the Carrington's and the Colby's, but instead, they are reduced to having limited storylines that are constantly getting dropped and downplayed. The lack of direction was so evident that Monica has taken a hiatus from the series.
Even shows that are getting many issues right seem to fumble when it comes to representation and characters of color.
Season 3 of Chilling Adventures of Sabrina started on the right track with Prudence (Tati Gabrielle) and Ambrose (Chance Perdomo) venturing to New Orleans to seek out help from a Haitian Voodoo Priestess in New Orleans. MarySue writes it best explaining that the scenes set up the exploration of African traditions before sidelining the storyline completely and watering down the character of Mambo Marie. The series aims to be inclusive, but it reduces its impeccable talent from Prudence, Ambrose, and even Roz (Jaz Sinclair), who is turned to stone for a lot of the season, seem to be there, to being sacrifices that allow white characters to shine and become more powerful.
It's 2020, the Black Lives Matter movement has gained more momentum and support than every before (tragically, due to the a heartless death of George Floyd, a black man, a the hands of a white cop), and while it may not seem like empowering black characters is something that tops the list of priorities, it should be. Representation starts at home and on our TV screens.
It's past the time to make necessary changes in storytelling.
People want to feel represented, they want diversity, and they want relatable characters on shows that are well-rounded and representative of our societies. There's no excuse.
And yes, there's room if you write for people of color as human beings who are just as worthy of good storylines as their white counterparts.
Morgan's voice was heard by Riverdale and Katy Keene creator, Roberto Aguirre Sacasa, who apologized and vowed to "do better," and "honor her and the character she plays."
"Riverdale will be part of the movement, not outside of it," he wrote.
#hearvanessamorgan @BLMLA #riverdale ❤️ pic.twitter.com/gnlI8Dh9yz

— RobertoAguirreSacasa (@WriterRAS) June 5, 2020
The intention should have been there from the beginning, but progress is progress. Let's hope he keeps his promise.
5 Powerful Shows, Movies, and Documentaries to Watch to Learn About Racial Injustice
Guest post: Hiba Abdillahi
There's a problem in our country. If you've been watching new news or checked in on social media, you have seen the murder of African American men at the hands of police (most recently, the tragic death of George Floyd while in police custody), racially-motivated encounters, and, as a result, protests, riots, and lootings that have spanned nationwide.
The conversation about racial injustice, racial inequality, and systematic racism has never been louder or more charged up, and for those of you who may not know much about it or have never experienced it first hand, it's a time to get educated.
The list of shows and documentaries that cover what it's like to be black in America and capture institutionalized racism continues to multiply quickly as streaming services.
But we've narrowed it down to a list of 5 shows, movies, and documentaries that can be a starting point for you and your family to help you understand how root of violence against black Americans and how it affects everyone.
1. When They See Us (Netflix)
The jarring Netflix mini-series by Ava Duvernay is based on the story of the Central Park Five, a group of five black Latino boys failed by the justice system after they were wrongfully convinced of raping and assaulting a woman in Central Park in 1989.
How much do you know about the U.S prison boom? Once again filmmaker Ava DuVernay explores issues of race, justice, and mass incarceration in the United States in the Academy Award-nominated documentary.
Sometimes we need to look back, to see how we can move forward. This documentary is based on an unfinished manuscript by James Baldwin and covers the history of racism in America, focusing on the stories of Civil Rights leaders Medgar Evers, Malcolm X and Martin Luther King, Jr.
4. Dear White People (Netflix)
We could all use some comic relief these days while educating ourselves, of course. This comedy-drama series on Netflix follows a group of black college students at an Ivy League (predominately white) college. The series covers plenty of racial topics young African-Americans face including cultural bias, social injustice, misguided activism, and slippery politics.
5. If Beale Street Could Talk (Hulu)
It's the story we've seen play out in our society time and time again. Based on the novel by James Baldwin, the 2018 drama focuses on a young black man imprisoned for a crime he didn't commit and a young back couple fighting for justice and the American dream.
Bonus: Just Mercy
Michael B. Jordan's film follows the real-life story of defense attorney Bryan Stevenson, who fought to clear Walter McMillian (played by Jamie Foxx), wrongfully convicted of murder and placed on death row.
Warner Bros. announced it will be free on all digital streaming platforms during the month of June to teach people about systemic racism.
Click here to find out how you can donate to honor George Floyd.
Rick and Morty Finale Review – Attack of Beth's Clone (4 x 10)
Rick & Morty wrapped-up season 4 with a Star Wars homage episode, titled "Star Mort Rickturn of the Jerri," that revisited the Clone Beth and Phoenix Person / Tammy story arcs.
The seeds of this finale, of course, were planted way back in season 3 episode 10 "The Rickchurian Mortydate" where Beth discussed the idea with Rick of having herself cloned, so she can live two lives.
In the same episode, a post-credits tag showed Tammy, the treacherous Galactic Federation agent / Summer's ex-BFF, reviving her ex-lover / Rick's BFF Phoenix (formerly Bird) Person into a cybernetic body – a la Darth Vader.
For a long time, absolutely nothing was ever explicitly established on-screen to further develop these arcs, that is, until now.
A TALE OF TWO CLONES
Beth has been a pretty low-key character this season and has only played a major role in a couple of episodes, but she came back big time toward the end, gaining momentum from episode 9, and following through with a bombshell revelation in the finale.
Since "The Rickchurian Mortydate," it's revealed in this episode that Beth was actually cloned by Rick per her request, and there have been two Beths leading completely different lives simultaneously.
One Beth (let's call her Space Beth) pursued adventure in the galaxy as a rebel hero fighting against the New Galactic Federation (NGF), just like Rick did when he was younger.
This version of Beth has cybernetic enhancements as well and has been put on the NGF's "Most Wanted" list, which basically fulfills a recurring gag in her character that she is basically Rick, but a woman.
Too smart for her own good, jaded to a fault, and limitlessly stubborn.
Space Beth even has her own spaceship, which she uses to go back to Earth after finding out that Rick planted a proximity bomb on her neck in case she comes anywhere near the other Beth.
She attempts to kill Rick in this episode because of this and gloats to her father that she's replaced him as the most dangerous being in the galaxy.
Even the NGF admits this saying that Rick becomes a "non-threat" when he is left alone.
Regardless, this Beth seems satisfied with her personal accomplishments and has reached her full potential as a badass and a person.
In the words of Morty,  "Like father, like god damn daughter."
Meanwhile, the other Beth (aka "Normal Beth") stayed home on Earth where she reconciled with Jerry, whom she was on the verge of divorcing, and fixed her broken albeit insanely dysfunctional family.
She even managed to get everyone, including Rick, to do periodic family psychiatric therapy sessions.
This version of Beth decided to live a "normal" life and became less like Rick.
Nevertheless, she is equally satisfied, fulfilled, and self-aware of the life she had chosen.
In other words, this Beth is happy.
She isn't even shocked at the idea that she may be a clone when Space Beth shows up.
Nothing phases her anymore because she knows who she is, and has developed a healthy acceptance of it.
This is a direct contrast to her father who, despite knowing who he is (essentially a near unparalleled genius god scientist), can not come to terms with his own existence and has a deeply suppressed depression because of it.
The episode explores these dynamics in a subtle way but does so in the signature dark comedic style that the show is known and loved for.
In the end, when the space dust settled Jerry, Morty and Summer now seem to accept having two different Beths as the norm.
"I love having two moms," said Summer.
Followed by Jerry who quickly responded, "I love having two wives."
However, when Rick tries to tell which Beth is the clone via a Mindblower Vial memory, he made it so even he wouldn't remember, his family berates him for being a bad father and claim they don't even want to know.
Rick watches it alone, and the memory reveals that he removed the labels "Real Beth" and "Clone Beth" from the tanks he used to clone Beth, and shuffled them, so it's impossible to know who his real daughter is.
This makes Rick come to a self-realization that he is indeed a terrible father because he would be content in killing either one of the Beths if he favored one over the other.
It should be interesting to see where the show takes this development next season.
Will Space Beth bring a new dynamic to the show permanently? Or will they just kill her off-screen?
Could go either way with this show at this point.
THE RISE AND FALL… AND RISE AGAIN? OF PHOENIX PERSON
It was simply amazing to see these two characters again and in the canon storyline this time.
They were last seen in"Never Ricking Morty," but were basically a figment of imagination in that episode.
Tammy, before meeting her poetic demise at the hands of Rick and Summer in this episode, led the NGF to Earth to look for Beth aka "Blade Smith" and take her in.
And the absurdly morbid way she was used to defeat Phoenix Person, by Jerry no less, is a scene that should be watched because it's simply too difficult to put into words.
Seriously, it's messed up and hilarious at the same time.
Before that though, he has a super awesome sci-fi fight scene with Rick where he almost kills him.
In the end, Rick saves his best friend from the brink of death (the parallels with Anakin/Darth Vader continue) and stores him in the garage in hopes of rehabilitating him.
So while the arc of Tammy is permanently shut, there is potential for more Bird/Phoenix Person appearances in the future!
BATTLE FOR THE INVISIBILITY BELT
As usual with this show now, you can never trust the promos.
Though the invisibility belt did play a major role in the main arc of the episode, it was mostly relegated to B-storyline.
Basically, Morty and Summer fight over it so they can both do pervy teenager stuff.
And they kind of used it against the NGF invasion, which is sponsored by Wrangler jeans, apparently.
But in the end, it's used by Jerry to save the day. Go figure.
VERDICT:
It's tough to do a Star Wars homage because it's been done before many many many times.
Rick & Morty does it by explicitly not doing it in overtly obvious ways.
They hide it in plain sight, within the characters, within the story arcs, within a blink and you'll miss it moment, or a cleverly placed easter egg.
And that's what made this episode special.
It had the essential elements of Star Wars, but the characters and the narrative are all original concoctions.
From Tammy acting essentially as the Empire, to Phoenix Person filling the role as Darth Vader.
Which, of course, implies that Rick is Obi-Wan.
Morty and Summer are the clumsy Luke and Leia.
So Beth essentially became something like a Rey figure?
Does that mean Jerry is Kylo Ren? Oh god why.
Anyway, the finale is a masterpiece and scores . . .
10/10