Love triangles are the most popular trope on television.
It's the "go-to" storyline for nearly every series looking to cause friction between a group of characters.
And it's usually done regardless of whether or not it makes sense for a character's arc.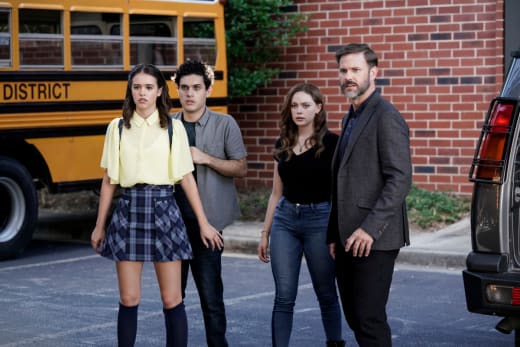 Love triangles have become such a staple on show's that my passive-TV-watching husband has asked me if it's a requirement to be in love with two people at once.
My answer? When it comes to television, absolutely yes.
Julie Plec is known as a repeat offender; she loves nothing more than to include love triangles for every character in her series.
Just take a look at her track record: On The Vampire Diaries, the love triangle centered around Elena Gilbert, a high school student torn between two elder vampires, the Salvatore Brothers. They were drawn to her because of her uncanny resemblance to their former lover, Katherine.
TVD's Caroline, step-mother of Lizzie and Josie Saltzman on the current Legacies, was also torn between a few men, including Stefan Salvatore and baddie, Klaus Mikealson.
And now, her daughter and Klaus's daughter are embroiled in their very own love triangle with brooding Pheonix Landon, but the circumstances surrounding their situation are vastly different than those of their parents.
Plec stepped her game up and revamped her approach to the love triangle . . . Pun-totally-intended.
The supernatural nature of these shows has long allowed writers and characters to explore different realities, but Legacies managed to do something unique with the often familiar trope that its predecessors, The Vampire Diaries and The Originals, never could.
This new approach doesn't necessarily better the storyline if you hate love triangles, to begin with, but it terms of how it unfolds, it's less predictable and gives characters more to play with.
Follow CRAVEYOUTV on socials
The Masked Singer Recap – Group C Finally Compete, But Lips Mask Couldn't Stick (4 x 05)
This week's episode of The Masked Singer introduced us to the final block of singers in Group C that comprises five new mystery celebrities.
After the show was delayed last week due to the MLB World Series showcase, the show returned to form with five outstanding performances from the latest group, but at the end of the night, the Lips was revealed to be legendary daytime television talk show host Wendy Williams.
Williams was correctly identified by both Nicole Scherzinger and Jenny McCarthy-Wahlberg as soon as she sang her first note. Ken Jeong missed the mark as usual.
She performed "Native New Yorker" by Odyssey but it wasn't enough to keep her on the show. She seemed glad to be eliminated though because her costume was so heavy she could not perform standing as she needed to be rolled out on a couch and sat during her entire performance.
The highlight of her reveal, however, was how the judges' demeanor all seemed to suddenly change once Williams started talking to them as if she's a teacher talking to a bunch of nervous school children who just got in trouble.
Thicke, especially, seemed rather reserved as Williams asked if he was staying out of trouble. Also, because he guessed her identity wrong somehow.
Other Performers from Group C.
(From L-R: Broccoli, Jellyfish, Lips, Mushroom, and Squiggly Monster. Image c/o FOX)
Group C will return to compete in next week's episode (barring any unforeseen delays again). The Mushroom was the strongest competitor of the night as his falsetto garnered the best reaction from the panelists.
Mushroom
Song:  "This Woman's Work" by Kate Bush
Judge guesses: Donald Glover, Usher, and Frank Ocean
Squiggly Monster
Song: "Have You Ever See the Rain," by Creedence Clearwater Revival
Judge guesses: Ray Romano, Brad Garrett, Al Franken, and (Ken Jeong's guess) Dr. Anthony Fauci
Jellyfish
Song: "Big Girls Don't Cry," by Fergie
Judge guesses: Gabby Douglas, Chloe Grace Moretz, Awkwafina, and Sofia Richie
Broccoli
Song: "House Is Rockin'"/"Whole Lotta Shakin' Going On," by Stevie Ray Vaughan and Jerry Lee Lewis
Judge guesses: Bill Murray, Howie Mandel, and Steve Guttenberg
Note: Apologies to our loyal CraveYouTV readers, but due to the MLB World Series interfering with the regular showtimes of The Masked Singer and causing confusion, I missed writing the fourth episode (which aired October 14th) of this season where the Baby Alien from Group B was unmasked as NFL professional player Mark Sanchez.
None of the judges were able to guess his identity, but his most unusual costume was one of the most memorable among this season's singers.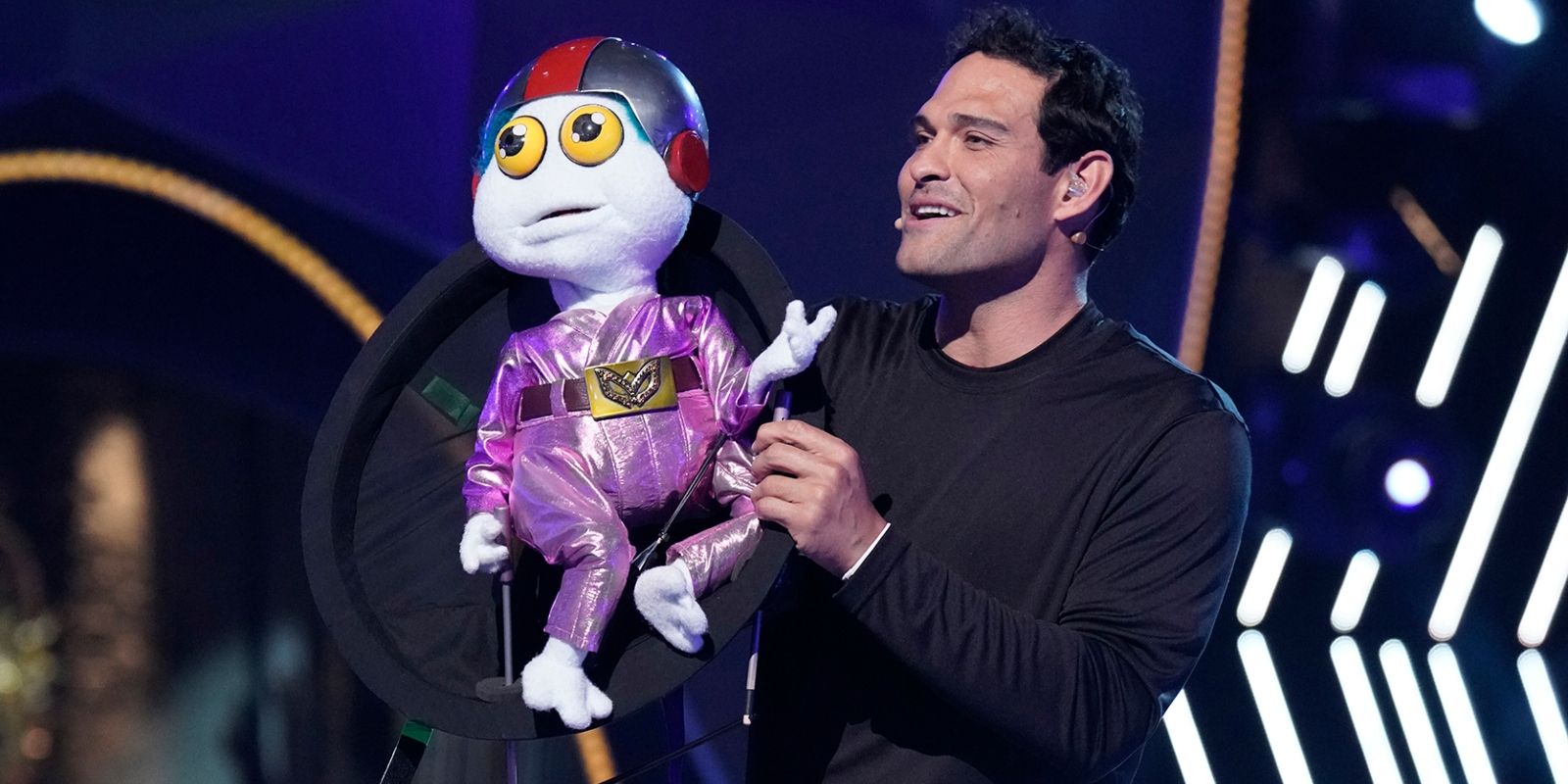 The Masked Singer Season 4 new episodes air Wednesdays 9/8 central on FOX.
Is Randall's Birth Mother His New Therapist on 'This Is Us' Season 5? Here's What the Writers Said
For several seasons, Randall (Sterling K. Brown) has struggled navigating life as a Black man raised in a white family.
Tensions really escalated when he found out that his adoptive mother, Rebecca Pearson, had known his biological father, William, his entire life and kept him a secret despite knowing how much he wanted information on his biological family.
After years of dealing with identity and anxiety issues, Randall eventually went to therapy to deal with the stress brought on by his mother's illness, his run for City Council, and the burglarization of his home.
There's a stigma that follows seeking out therapy, especially when it comes to Black men, so Randall's decision was bold and important.
It wasn't easy at first to open up, but eventually, the therapist was able to break through his tough exterior. When This Is Us Season 5 premiered, Randall seemed in a much better place mentally — the tremors were gone! — as he continued virtual therapy amid the coronavirus pandemic.
He also dealt with racial relations brought on by yet another heinous murder of a Black man in America prompting protests known as the Black Lives Matter movement.
Important and difficult conversations were had with his family, specifically Kate, which led him to realize that he needed to change therapists.
While he initially made the conscious decision to pursue a therapist that was a white woman, just like adoptive mother, as he grew more secure in his identity, he realized he needed someone that he could fully open up with and not hide the "Black parts" from.
He needed a Black therapist.
Randall's realization happens at the same time as the shocking twist that his biological mother, Laurel, (who audiences thought died shortly after birth due to an overdose) was actually resuscitated and likely survived.
This Is Us is such a meticulously planned show that the writers managed to weave in COVID and BLM into an episode so organically that it was impossible for the audience to tell when or how it was altered. It just fit.
So, there's reason to believe that the timing of Randall's decision and the reveal that his mother may be alive isn't an accident.
What if his new therapist is his biological mother? It's a popular theory and one that the This Is Us writers already debunked, but should we believe them?
She is not going to end up as Randall's therapist. #ThisIsUs

— ThisIsUsWriters (@ThisIsUsWriters) October 28, 2020
It's possible that she's either too old to still be practicing or no longer alive.
However, that doesn't mean Randall's new therapist isn't a long-lost brother or sister that he didn't know about?
There has to be some connection.
Randall has always sought out answers about his biological family, who he is, and where he comes from. Even after meeting William and mending things with him, Randall continues to have a void because he never knew his biological mother. His "mommy issues" stem from the abandonment (which we now know wasn't intentional as he was wanted) by his biological mom and the deception by his adoptive mother.
For a show centered around family and the importance of family, it would only make sense for them to pursue this avenue and allow Randall to further explore his background on a deeper level.
What do you think, Cravers? If Randall's mom isn't the therapist, how does this storyline play into Randall's overall arc?
All the Reese Witherspoon TV Shows You Have to Watch
Reese Witherspoon is a culture icon.
The actress is responsible for bringing to life some of the most iconic roles in both movies and television. Her foray from the big-screen into television has been nothing short of enjoyable and impressive as it's given her a blank canvas in which she can show off her incredible range.
No character is too big or too small for Witherspoon.
It would have been easy for Witherspoon to typecast herself or become boxed into the role of "ditzy yet ambitious blonde" following the success of Legally Blonde in 2001, but Reese never allowed it. Since stepping into the limelight in 1991, she's continuously pushed and reinvented herself to become one of the hardest working actresses and executive producers in the business.
Is Season 3 of Big Little Lies Happening? Reese Witherspoon and Laura Dern Want Ice Cube and J.Lo to Appear
Everywhere you turn, you'll see Reese's moniker on something even if she isn't starring in it!
Many of her TV shows are even produced under her own Hello Sunshine umbrella, which she developed when she found herself lacking progressive and aspiring roles.
Turns out, Reese always knew what was best for Reese, and we're so glad she continues giving us that's compelling, nuanced, and emotional.
Here are the Reese Witherspoon shows you have to watch!
Little Fires Everywhere (Hulu)
The Hulu miniseries is based on the 2017 novel of the same name and follows the intertwined fates of the picture-perfect Richardson family and a mother-daughter duo who upend the lives that they've become accustomed to. Not only does Witherspoon star as Elena Richardson opposite Scandal's Kerry Washington, she also served as executive producer.
The Morning Show (Apple TV+)
The drama is an unfiltered look at the cutthroat world of morning television and the lives of the people who bring you the news each morning. Witherspoon stars as green reporter Bradley Jackson opposite Jennifer Aniston and Steve Carrell.
The award-winning series is based on the bestseller by Liane Moriarty. The drama tells the story of helicopter moms, successful husbands, rumors, and a murder in the usually tranquil beachy town of Monterey, California. There's a lot more to these women that meets the eye, and they all have their fair share of secrets they want to keep including Witherspoon's neurotic Madeline. The show is filled with star power with Nicole Kidman, Shailene Woodley, Laura Dern, and Zoe Kravitz.
Friends
Before she could run, Witherspoon had to walk, but she did so on one of the most popular sitcoms ever. While she didn't have the biggest role, she's one of the most notable characters as she played Rachel Green's (Jennifer Aniston) youngest sister, Jill. She was featured in two episodes of season six.
Get Organized with the Home Edit (Netflix)
Witherspoon, an executive producer on the series, appears in one episode, but if you log into Netflix, her episode is used to promote the series and entice you into watching. The reality series finds expert home organizers Clea and Joanna helping clients declutter their spaces! Get ready to feel inspired!