Love triangles are the most popular trope on television.
It's the "go-to" storyline for nearly every series looking to cause friction between a group of characters.
And it's usually done regardless of whether or not it makes sense for a character's arc.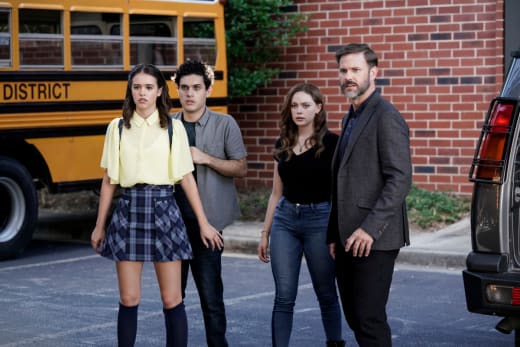 Love triangles have become such a staple on show's that my passive-TV-watching husband has asked me if it's a requirement to be in love with two people at once.
My answer? When it comes to television, absolutely yes.
Julie Plec is known as a repeat offender; she loves nothing more than to include love triangles for every character in her series.
Just take a look at her track record: On The Vampire Diaries, the love triangle centered around Elena Gilbert, a high school student torn between two elder vampires, the Salvatore Brothers. They were drawn to her because of her uncanny resemblance to their former lover, Katherine.
TVD's Caroline, step-mother of Lizzie and Josie Saltzman on the current Legacies, was also torn between a few men, including Stefan Salvatore and baddie, Klaus Mikealson.
And now, her daughter and Klaus's daughter are embroiled in their very own love triangle with brooding Pheonix Landon, but the circumstances surrounding their situation are vastly different than those of their parents.
Plec stepped her game up and revamped her approach to the love triangle . . . Pun-totally-intended.
The supernatural nature of these shows has long allowed writers and characters to explore different realities, but Legacies managed to do something unique with the often familiar trope that its predecessors, The Vampire Diaries and The Originals, never could.
This new approach doesn't necessarily better the storyline if you hate love triangles, to begin with, but it terms of how it unfolds, it's less predictable and gives characters more to play with.
Follow CRAVEYOUTV on socials
What to Watch in August 2020 Including 'Lucifer,' 'Big Brother,' and 'Chemical Hearts'
The coronavirus pandemic has impacted our lives in numerous ways including shutting down and postponing TV show and film productions, which has led to a content drought even with so many streaming services.
Of course, if you've been putting together a list of TV shows that you've been wanting to binge for years, this is the time to do it and you absolutely won't run out of content, but if you're looking for new programming or new seasons of shows, you'll likely feel like your options are a bit limited.
As I was browsing for new shows to watch in the month of August, I figured I'd throw together a list of my findings to help you keep up with all the new offerings.
We have to help each other get through these tough times — we're all in this together (go ahead, sing it!).
Below, you'll find some of the new shows, films and documentaries premiering this month!
Big Brother – CBS (August 5)
There's a lot of buzz around Season 22 of Big Brother. Coming off the heels of a pandemic delay, the long-running summer series is changing things up by announcing the cast live during the premiere as opposed to the traditional reveal of houseguests days in advance. It's unclear who and how many houseguests will be living in the house, but it is the second all-stars edition, so be ready for some familiar faces!
The Muppets – Disney Plus (July 31)
The old gang of fuzzy friends is back together again! Muppets Now is described as an "unscripted series featuring three different segments of a game show, a cooking show, and a talk show." It premiered on July 31 with new episodes debuting weekly through the month of August. New-age kids will love it, and there's a whole nostalgia factor for adults that makes this fun for the whole family!
Lucifer – Netflix (August 21)
Lucifer fans, it's happening — it's almost here. Fans couldn't be more grateful that Netflix saved the series, but the end is near as the sixth season was announced as the last. But let's not think about that now because for now, the fifth season is due towards the end of August, and fans are eager to dig more into Lucifer's backstory.
Lovecraft Country – HBO (August 16)
One of the most exciting offerings of the month is the the drama horror series based on the 2016 acclaimed novel of the same name. It finds Atticus Black, a young Black man living in a Jim Crow America in the 1950s, who embarks on a cross-country road trip to find his missing father with his friend Letitia and his Uncle George.
Selling Sunset – Netflix (August 7)
Your reality TV guilty pleasure is back for a season 3 just three months after season 2 dropped. The realtors at The Oppenheim Group are ready to sell more homes, make more money, and stir up more drama.
Cobra Kai – Netflix (August 28)
From Youtube to Netflix, here's your chance to catch up on the first two seasons of the Karate Kid spinoff before season 3 drops later this year. If you haven't seen the original Karate Kid films, you may want to check them out first as the series picks up where the first three films left off.
The Umbrella Academy – (July 31)
Technically, season 2 of the series dropped July, but unless you took the whole day off, you didn't get the binge-watch all 10-episodes before the clock struck August. The Hargreeves siblings find themselves displaced in the 1960s with the apocalypse they were trying to thwart following closely behind.
90s Black Sitcoms
There's been a lack of Black sitcoms on streaming services, but Netflix is course-correcting by adding your favorites throughout the next few months. Moesha will be available starting August 1. The first three seasons of The Game will be added on August 15. Sister, Sister are coming at you on September 1, The Parkers on October 1, and Half & Half and One on One will be available on October 15. Mark your calendars!
Movies
Project Power – Netflix (August 14)
Summer action flicks are no longer debuting in theaters — they're available from the comfort of your couch. Jamie Foxx and Joseph Gordon-Levitt are fighting dealers responsible for selling a drug that gives people temporary superpowers. What could go wrong?
Chemical Hearts – Amazon Prime (August 21)
If you've been missing Lili Reinhart while Riverdale is on hiatus, you have to check out this teen romance drama about the trials and tribulations of young love. Henry Page, a hopeless romantic who has never fallen in love, aims to become the editor of a high school paper until Grace Town, a transfer student, becomes his new partner.
Dora the Explorer – Netflix (August 3)
Get exploring with Dora and friends! The live-action Nickelodeon adaptation arrives at Netflix to explore a lost city in South America as Dora aims to save her parents. It's like Tomb Raider for youngin's, and audiences loved it based on the reviews! If you're looking for a family-friendly film to watch under the stars in your backyard, this is it!
Work It – Netflix (August 7)
Dance movies are an acquired taste with many not reaching the heights of Step Up (the original, come on guys). Alicia Keys aims to change that in her new Sabrina Carpenter-led flick, described as a coming-of-age comedy about Quinn Ackerman, an overly ambitious senior who attempts to join a dance team to get her way into her dream college. But when the team rejects her, she creates her own team, and they need all the coaching they can get!
Documentary
World's Most Wanted – Netflix (August 5)
Netflix is big on documentaries for one reason — Netflix audiences eat them up. Coming in August, World's Most Wanted focuses on, you guessed it, some of the world's most wanted criminals who have avoided capture "despite massive rewards and global investigations."
Black Is King – Disney+ (July 31)
Again, the visual album premiered at the end of July, but you're either going to watch it in August or you'll be rewatching the stunning cinematography several times in the upcoming month. Beyonce's work of art has gotten much praise from critics and fans alike as it explores a the journey of a young African king cast from his family with motifs of "betrayal, love and self-identity" told through powerful Black voices. It's a visual component to the Beyonce-curated 2019 Lion King album.
Best Tweets About Beyonce's Visual Album 'Black Is King' on Disney+
Beyonce's highly-anticipated visual album Black Is King is available to stream on Disney+.
Much of the BeyHive stayed up way into the night to watch yet another stunning piece of artwork from the queen of pop that continuously reinvents herself.
The overall consensus? Black Is King is saving 2020.
Check out some of the best tweets about the documentary, that Disney+ describes as a "celebratory memoir for the world on the black experience."
Twitter is even celebrating because every time you like a tweet with the hashtag #BlackIsKing, two little lions will pop up. That alone is worth going and liking every tweet you see!
Beyoncé changed the world with the that ST drop.

Beyoncé stopped the world with that LEMONADE drop

Beyoncé saved the world with that BLACK IS KING drop#BlackIsKing pic.twitter.com/XPyT6T0IEe

— Niamh🥀 (Fan Acc) (@msyonceslay) July 31, 2020
I don't like the way "Lemonade" visuals look basic to me now that "Black Is King" is out.#BlackIsKing pic.twitter.com/KcnWSLq4Bk

— Yoncé Vocals⁷ (@YonceVocals) July 31, 2020
Let's talk about HER because Lord🔥❤️❤️❤️❤️ #BlackIsKing https://t.co/Iz4z0qg6Vj

— 애상 Sarah❤️ (@YerixKimLip) July 31, 2020
to see the Disney intro lead to THIS type of art. #BlackIsKing pic.twitter.com/crmgwNtsLZ

— aura. ✨ (@Regiiinee) July 31, 2020
The way Beyoncé and Kelly look at each other makes me😭 #BlackIsKing pic.twitter.com/2vRKX6oLCc

— Mars. (@MarsinCharge) July 31, 2020
Me watching #BlackIsKing later tonight and Wiz pops up😭pic.twitter.com/xkiiJ9LfcT

— 🥀 (@damilolaabeo) July 31, 2020
me going down the timeline liking everything with #BlackIsKing pic.twitter.com/7ggafz4oWN

— boo boo the fool 🖤 (@amandaoee_) July 31, 2020
The way #BlackIsKing kept getting better and better and better all through to the end. I'm speechless!! pic.twitter.com/Qv3I0DjjTM

— Ann Marie Lastrassi (@Kay_Mantanga) July 31, 2020
My eyes are teary 🥺
Beyoncé did the damn thing!!
The only person that tops her is her #BlackIsKing pic.twitter.com/VGa7ULw4s4

— Izzie (@Izzieekong_) July 31, 2020
Good morning to everyone especially Beyoncé. #BlackIsKing pic.twitter.com/41EzeNzKFM

— Heather Concannon (@hmmconcannon) July 31, 2020
Me after watching all of #BlackIsKing 😭😭😭🥺🥺🥺 pic.twitter.com/Z6Qw1fOCWi

— 🔊 ➐ (@speakeronloud) July 31, 2020
Beyoncé is in her own lane, she keeps topping herself every Era, literally nobody else is seeing her. The greatest visual artist of all time. #BlackIsKing pic.twitter.com/JsOpW0NC89

— BEYONCÉ IS NOT YOUR MATE (@KLAYCH33) July 31, 2020
This was actually a big win for South Sudanese people. Thank you @Beyonce 🇸🇸🙌🏿😭 #BlackIsKing pic.twitter.com/A7CSnWRkwc

— SudoSpice 👑🇸🇸 (@nyanabuk) July 31, 2020
If these aren't our new Disney Princesses 🥺🤍 #BlackIsKing pic.twitter.com/ScYKtyS84C

— The Hive 🧚‍♀️ (@beyicon) July 31, 2020
Money Heist: Who Is Alicia Sierra and How Is She Connected to the Professor and the Overall Heist?
There's no shortage of intriguing and enigmatic characters on Netflix's Money Heist (La Casa de Papel), but season 3 of the crime drama introduced fans to Alicia Sierra (Najwa Nimri), lead police investigator in the Bank of Spain heist, and quite frankly, the most puzzling character to date.
Sierra is an exciting and worthy replacement for former police inspector Raquel Murillo aka Lisbon, who left her policing days behind to join the Professor's merry band of robbers following their first heist at the Royal Mint.
With a lollipop in hand, Sierra is ready to stop the robbery of the bank in its tracks and finally bring the criminals to justice. Her actions and decisions bring a new level of unpredictability to the series, which makes her a worthy opponent for the Professor. Raquel played by his rules, but Sierra has figured out his rules and kept up with them… almost too well.
She's in it to win it, and prior to her introduction, we hadn't seen anyone who was equally as cunning as the Professor.
She's defined by her brutality; while others would shudder at the thought of using family members as leverage, she's overjoyed to cross the line on multiple occasions including when she uses Nairobi's son and Raquel's ailing mother to manipulate them.
Sierra isn't just crazy good at her job, she's simply crazy… and that allows her to go head-to-head with the Professor, with or without the support of law enforcement. She's a sociopath, in her own way, that's equally as complex, ruthless, intelligent, and confident as both the Professor and Berlin.
There are also many parallels between her and Raquel as they've both been outsmarted by the Professor on a few occasions, they both lost the support of their team while working the heist investigations, they were both turned into scapegoats for agency, and they both used their instinct to successfully hunt the Professor down.
But there's a key difference that sets Sierra apart from Raquel — she's not in love with the Professor.
Raquel pursued the Professor, but she was also blinded by love. The trust they developed when she didn't know who he truly was made it easier for her to understand that, though flawed, his intentions behind the heist were noble.
Sierra, on the other hand, was motivated to find the Professor to finish a job. She never once lost sight of the prize, and one could say her dedication to the job and capturing the bad guys has been fueling and motivating her.
The dramatic season 4 cliffhanger, which ended with Sierra finding the Professor's hideout and ambushing him by pointing a gun at his head, proves we'll dig deeper into her character come season 5.
She may have the upper-hand as things stand now, but there's a huge chance the Professor will manipulate and outsmart her while giving us some much-needed background about her.
The vagueness about Sierra's villainous character has drawn much attention from fans who are theorizing how she'll play into the storyline moving forward.
All we know for certain is that she and Raquel attended police training together, her husband died a few months ago due to cancer (we don't even know who German is or if he's important to the story), and that she's pregnant (and even that's questionable).
The thought that Sierra may be faking her pregnancy crossed my mind while binge-watching the series.
Even before Sierra was roped into leading the investigation at the Bank of Spain, she was responsible for inhumanely torturing Rio through illegal tactics such as waterboarding and burying him alive.
Much of her actions indicate that she doesn't have much of a maternal bone in her body, and it's possible that she's faking her pregnancy to gain sympathy from the public in the instance that her sadistic actions come to light.
The sympathy card has worked on many occasions for the Professor and his robbers, and realistically, we're all less likely to judge a pregnant woman's action. It could be the reason why the agency attempted to place the blame solely on her when the Professor exposed their torture tactics on a civilian.
There have also been other moments where Sierra is seen smoking, gorging on junk food, and drinking caffeine. All of that compounded with the stress of the job cannot be good for a woman in such an advanced pregnancy.
One could chalk this up to personal quirks and Sierra's unhealthy coping mechanisms, or, it could be a huge red flag that the pregnancy isn't real. Don't even get me started about the stamina needed to spend hours interrogating someone or hunting down the Professor without any assistance.
There's an added level of suspense to having a pregnant maniac in charge — especially so far along in the pregnancy — because the audience is always wondering when she'll go into labor.
The most likely (and predictable) scenario lends itself to Sierra going into labor while pointing the gun at the Professor. It would catch her off guard, put her at a disadvantage, and force her to rely on the Professor to help her give birth. It would also allow the Professor to regain control of the situation.
Even though he has some of the most meticulously thought-out plans that anticipate every possible outcome, luck has a tendency of working in his favor.
But that's the key to all of this — anticipation. The Professor has played out every possible scenario in his head. Even the ones that have taken him by surprise have, at some point, crossed his mind, so it's unlikely that he'd be careless enough to leave behind a trail leading directly back to him.
If Raquel was able to find his first hideout, the chances are high that he would consider that another agent, one that isn't blinded by love and is more cutthroat than Raquel, would be able to track him down, too.
Not to mention the Professor also has an advantage this time around because Raquel knows Sierra personally and can predict how she'd act in certain situations.
By making Rio's torture private, he could've anticipated that the agency would try to save face by placing the blame on Sierra, like they did with Raquel, and thus, figured she would seek him out. It's entirely possible that the license plate and the footage of him threatening a cop that led Sierra to him was all part of the plan.
He laid the breadcrumbs and she fell into his trap thinking it was a victory. Maybe she's a necessary part of the plan to help the gang escape from the Bank of Spain alive and with the gold?