Deception, jealousy and lies were at the core of a fantastic season finale.
I'd say the season's ups and downs are worth watching simply for their shocking finales.
By the end of Dynasty Season 2 Episode 22, two dead bodies were pulled out of the Carrington lake, Liam was drowning in the pool (at least someone uses the amenities), Blake betrayed everyone, Dominique betrayed Colby, Kirby betrayed Fallon, and Adam was more deranged than ever before.
Yeah, it was a hot mess, but I was eating up every second.
This is what we've been wanting from a nighttime soap!
Adam will eventually get what's coming to him, I have no doubt about that, but for now, he's ripping the Carrington family apart.
His anger is almost at capacity, and I'm waiting for the moment he implodes.
Breaking the glass at Atlantix HQ was bad, but we need everyone to witness just how unhinged he is.
Adam has made it his mission to destroy everyone in the family while winning over his father's love.
And while we expect him to do some crazy things, he went a little overboard on this episode.
First off, he's responsible for sending Fallon the letter revealing that Liam has a 10-year-old child which he gave up for adoption.
A major bombshell like that deserved way more attention, yet it was only used to amplify the animosity between Liam and Adam.
How much do you want to bet we'll meet Liam's kid one day if he survives?
Liam should have known better than to confront Adam without anyone present, but I guess none of them deem Adam a huge risk, though Fallon should be more cautious considering he pushed Alexis face-forward into the fire.
Now, is Liam really dead?
Read the full review at TV Fanatic.
Dynasty – Mother? I'm At La Mirage (3×05)
There's always a party on Dynasty.
Fallon was on her worst behavior on Dynasty Season 3 Episode 5 as she attempted to get her company, Femperial, back from Kirby, and went to extreme lengths to make her seem ill-fit for the role.
It was all very sad, even for Fallon, who spoke of "women empowerment" as she started pumping Kirby with alcohol to then shame her and make her out to be an alcoholic.
Every one of the Carringtons does questionable things, but this girl-on-girl crime had to be the lowest of them all.
Sabotaging a judge (classic Cristal) is one thing, but attacking someone that's supposed to be your friend is even worse.
Kirby deserves a cold shoulder or two; she didn't play nice when she broke Fallon's trust and took Femperial from her, but Fallon took it too far.
There were other ways to get her message across or, crazy idea, just start a new business.
Although, I'm not at all upset with Fallon's hilarious and snarky quips towards Kirby. When she called her a wombat, I damn near lost it.
Femperial isn't established anyhow, Fallon never cared about books, and we know she has the money to invest in something else that's near and dear to her heart.
But that's the thing — Fallon had absolutely no idea why she was acting the way that she was until Kirby pointed it out.
She was subconsciously trying to get back to Liam by throwing herself into her career.
At first, it seemed like she was merely trying to stay busy, but in reality, she wanted to become his editor so she could make him fall back in love with her.
When you look at it from that angle, Fallon's desperation made sense; this was her last shot at getting her man back.
Once Kirby made Fallon aware of that, Fallon knew it was time to make like Elsa from Frozen and let it (and Liam) go.
And in true soap-opera fashion, the moment she moved on with Evan was the moment Liam began to get his memories back.
Both Fallon and Liam made poor decisions when it came to this amnesia situation.
Fallon overloaded him to make him remember their love while Liam gave up on their relationship too quickly because he couldn't remember.
What about just giving it some time without making any rash decisions?
The doctors warned that Liam's memory loss could take a bit of time.
They created this mess entirely on their own.
Dynasty – Something Desperate (3×04)
Because it's Friday night and I just-just-just got paid.
Oh, sorry, I'm just keeping the musical spirit alive after watching Dynasty Season 3 Episode 4.
This was the musical episode we never knew we needed or wanted.
Some parts were great, mainly anytime Fallon or, surprisingly, Adam delivered a tune.
Other moments could have been autotuned a bit more or left out completely. Sorry, Cristal.
But overall, it was an enjoyable musical that made the singing feel as organic as possible through Fallon's hallucinations.
Her reaction to seeing these musical numbers play out in front of her was priceless.
Adam's musical moments were so enjoyable, I'd even go as far as saying that I warmed up to him slightly because of the energy he brought to the screen.
And I enjoyed Blake and Adam's father-and-son duet way more than I should have.
It all came to a head when the gas leak, inadvertently caused by Adam, exploded right in his face and prematurely ended the wine tasting.
There's a possibility that Adam will lose his eyesight and after all the damage he's caused, this is karma at its finest.
That might sound mean-spirited, but need I remind everyone that this is the same person who made Steven believe he was going insane and drugged him in the mental hospital, who purposefully shoved his mother's face into the fireplace, and who tried to kill Liam and caused his amnesia.
Adam had this coming for a long time. Blake's "you saved all of us" comment meant nothing.
Not to mention it's Adam's fault the gas was leaking in the first place.
If he hadn't tried to sabotage Cristal because of his insecurities none of this would have happened.
I'm waiting for the glorious day that Steven and Alexis return and Liam gets his memory back so that can take him down.
When I spoke to Adam Huber (who plays Liam), he said he hoped Adam would get what he deserved.
Losing your eyesight is bad, but Adam deserves way worse.
The only way to hurt him is to take away Blake's love.
Fallon's attempts at winning back Liam bordered on desperate, but you can't blame her.
With Liam gearing up to marry Ashley, time was of the essence.
Sadly, giving him the manuscript didn't have the desired effect.
Instead of falling back in love with her, Liam realized Fallon is a selfish, egotistical, and narcissistic person.
Is he off base? Not entirely. But there are plenty of good qualities in Fallon that he's overlooking by not giving her a chance.
While #Falliam fans are freaking out, there's not a doubt in my mind that these two will find their way back to each other eventually.
While we wait, Dynasty needs to bring back the badass Fallon who worried more about building a dynasty than pining over a man.
We want boss babe Fallon back!
Fallon and Sammy's team-up felt like the good old days.
Their friendship has been greatly missed since Sammy's been pre-occupied with his hotel.
Liam's amnesia storyline is getting harder and harder to believe.
Even without his memory, why would he agree to marry Ashley knowing that there's a chunk of his life that he doesn't remember?
And why isn't he more concerned and vocal about his mother's actions?
Dynasty's Adam Huber on Liam's Amnesia, #Falliam Future & That Kid Storyline
Adam Huber plays the uber dreamy Liam Ridley, the latest addition to the Dynasty cast.
Huber scored the title of series regular ahead of Dynasty Season 3.
But even without the coveted upgrade, the heartthrob has been a fan favorite since his debut on Dynasty Season 1 Episode 15, you know, the episode where he married Fallon, a complete stranger, on a whim.
Since then, Fallon and Liam have had a tumultuous yet epic relationship.
Nothing about their relationship has been conventional.
After they overcame a love triangle with Culhane, a messy situation with Liam's uncle, a divorce, and Fallon's attempts at winning him back from Ashley, it seemed liked things were going to work out.
Dynasty Season 3 Episode 1 Review: Guilt Trip To Alaska
Fallon proposed to him on the Carrington lake, and despite losing the ring in the water, Liam still said 'yes."
But their happiness was short-lived when her tyrannical brother, Adam, clobbered Liam upside the head and locked him in the pool closet.
After regaining consciousness, Liam crawled over to the pool, fell in, and woke up with amnesia, which is where we left off when I spoke with Huber.
Huber dished about Liam's amnesia, what's next for their relationship, his possible revenge on Adam, and the storyline he's dying like to explore.
Dynasty is back and with it returns all of that Carrington craziness!
Sure.
Amidst all of that, you've been up to series regular. Congrats. Were you expecting it? 
No, I honestly wasn't.
There have been other people. Wakeema, whose on the show and plays Monica Colby. You know, me and her were kind of doing the same thing we were just recurring, and you kind of go until you book another show or they give you a contract.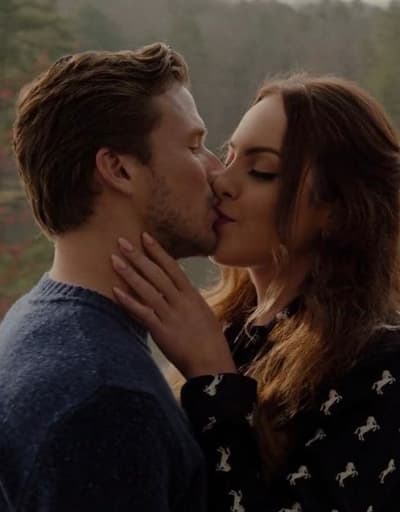 And I was testing actually on another show, NYPD Blue is doing a reboot. I got very close to that. And right around the same time, they asked me to be a series regular.
So, you know, it worked out well. I wasn't getting on PD Blue, so they had me a series regular. No, I was expecting it. I was just kind of chilling. I was just happy to be there.
It's a great role to have. 
Right?
Has the way you approach and prepare for the character changed now that he does have a deeper storyline and is so loved by audiences?
I have been putting, I think, more work into it. I mean, I've always put work into it, and definitely just trying to stay fresh and just trying to understand him.
We're very similar, but we're also different. You want to keep his story fresh. I have a journal that I do character journaling in.
I take what I know, and then just create a story around him.
Like, what was the relationship like with my dad? What is the relationship like with my uncle who is on the show played by C. Thomas Howell? And I do that with all the other people in his life. Does that make sense?