Liam and Fallon had quite an eventful re-engagement party on Dynasty Season 3 Episode 14.
What was supposed to be one of the happiest days of their lives was ruined by an explosion, a sex tape leak (a la Keeping Up With the Kardashians), and the unanticipated arrival of Liam's 10-year-old estranged son, Connor, and his baby momma, Heidi.
Yeah, it's safe to say Liam has a lot on his plate right now.
Connor's arrival puts the couple in a very interesting predicament because they aren't in a place where they want to have kids right now.
It didn't make sense that Liam was so eager to get to know his son and was so excited to be a father when just a few episodes prior, he made it very clear that he did not want children.
It was equally as jarring that Fallon was so opposed to Connor (even though he was sprung on her while she was in latex lingerie) since she was the one who could see kids in their future together.
The roles seemed reversed with Liam embracing the role of "daddy" (and not in a cute, millennial way) while Fallon tried her best to get Connor and Heidi out of the picture.
Thankfully, when they both had an honest conversation, they seemed to be on the same page: Liam's actions were just reactions to a stressful situation, and Fallon was fine with it being just the two of them for now.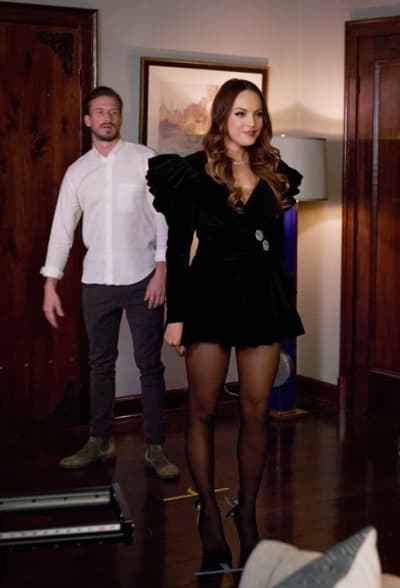 And it makes sense. They've had a tumultuous relationship and are just getting their relationship back on the right track; they're planning a wedding, starting their lives together (again) on the right foot, and hoping to build successful empires.
Which is exactly why the audience should have expected that Connor would end up their responsibility by the end of the evening.
As Fallon predicted, Heidi had selfish reasons for blowing into town.
Fallon simply wasn't right in guessing what they were.
Heidi didn't want Liam's money — she wanted to dump her child on him and get a fresh start.
While there are some pretty terrible mother's on this series, Heidi takes the cake.
We have Alexis, who abandoned her children and then came back and pretended like nothing ever happened, and we have Dominique, who slept with her daughter's boyfriend so that she could "advance her career."
Yeah, like I said, terrible mothers.
And still, Heidi earns the award of the worst mother of the year for quite literally leaving her young child at Liam's door during his engagement party.
Follow CRAVEYOUTV on socials
Dynasty Season Finale Review – Fallon's Showdown With Eva (4×22)
What an explosive season finale!
Can I just say how glad I am that Dynasty didn't leave us hanging and wondering who was shot?
The end was set up in such a way where it would've totally made sense for them to pursue that avenue, but it's so much more satisfying that we know it was Fallon.
Now, it's highly unlikely that Fallon is going to die considering she's the glue that holds the whole show together.
But it is a heartbreaking turn of events that likely could've been prevented had she and Liam contacted the proper authorities.
This isn't the first obsessive stalker that they dealt with, so they should know better. Just like Liam should know better than to turn his back to a psycho in his hotel room. Thank god Eva didn't pull anything when she was there because I was convinced that she was going to lash out after Liam turned her down.
Fallon and Liam definitely have a lot to work through after she cheated on him with Colin but almost losing her is going to put him in a more forgiving mood.
I love that Fallon wasn't trying to shirk responsibility for sleeping with Colin either.
She owned up to it because, in the end, it was her decision.
One might argue that if it hadn't been for Eva's manipulations and sabotage, she wouldn't have even pursued it, but even then, she had a choice to turn Colin down and she didn't.
It's important that both Fallon and Liam acknowledge that moving forward, though, my guess is that they're going to welcome a second chance with open arms after her near-death experience.
Eva was good, but as most obsessive psychos, she got sloppy towards the end.
She became too confident and jumped the gun by pursuing Liam immediately after he broke things off with Fallon.
If she really wanted to make this work, she'd move in gradually and make him fall in love with her.
But that just goes to show you how unhinged she actually was underneath that sweet little act.
The moment she made a move on him, Liam began piecing it all together and realized Fallon was right.
And I'm glad he arrived at that conclusion himself because it definitely redeem him in my book slightly.
It was hard watching Liam side with Eva, a complete stranger, throughout this whole ordeal. Even if Fallon betrayed him, they had such a strong relationship that he should've believed her initially.
Thankfully, by coming to Blake's campaign gala of his own free will, Liam proved that the love was strong even through intense heartache.
I thought Fallon's rendezvous would've ruined #Falliam for me, but, in a strange way, I love them even more because it proves just how much love they have for each other.
Cheating is a hard thing to forgive, but showing up meant that he was willing to put this behind them, and that's half the battle.
Eva was a pretty good villain this season. She meticulously crafted a plan to wedge herself between Fallon and Liam, so it was kind of disappointing when the series made her out to be a stereotypical stalker.
At that point, her behavior became so predictable and uninteresting.
It would've been juicer if they revealed Eva had some kind of former connection to Liam rather than just having her "fall in love" with him because she read his book.
And I still stand by my original theory that Eva and Colin were in cahoots. Wouldn't that have been so much fun to watch?
Both Beto and Colby showed up to the campaign party/ club relaunch wielding guns, so it's possible that Fallon isn't the only one who was shot.
I think Beto got spooked and ran off before he could take his shot at Blake, but I don't know if Culhane made it out safely.
Colby wasn't in his right mind due to the neurotoxicity. His paranoia was getting the best of him, so he wasn't thinking straight. He could've pulled the trigger unintentionally or without even knowing it.
The worst part is that he wasn't entirely wrong about Brady. Thanks to the tracker he placed on his phone, he knew that Brady was working with Alexis. Unfortunately, he misinterpreted the motivation and thought Brady was stealing all his Colby Space research, when, in fact, he was trying to humiliate Dom and get all her money.
I hope this incident spooked Brady all the way back to where he came from. I didn't vibe with Dom initially, but she's grown on me throughout the season, and she's been trying to become a better version of herself. She doesn't deserve this.
Plus, Alexis is in jail, so Brady is better off just calling it quits.
Truthfully, Adam framing his mother is the one thing we should've seen coming but didn't. We were blindsided by Adam's quirky personality and how much he's adapted as part of the Carrington family, but the truth is, Adam has never been above murder or turning on his mother to save himself.
He pushed her into the fire head first for goodness sake. This is what he does.
Based on his behavior, Adam did seem slightly remorseful, but he also seemed relieved that his plan worked and that he wasn't being suspected for the murder.
However, Adam likely should've played his cards better because right now, all roads lead back to him anyway.
Why else would his mother kill the colleague Adam fired? And the same colleague who came back to the hospital looking for his research?
Amanda Carrington work on the legal side of things, so she's going to figure it out. And we know her loyalty is with Alexis over Adam.
Maybe this will finally bring to light all the other horrible things Adam did, including making Steven think he's crazy and getting him committed?
One could only hope!
Adam likely felt like he had no choice and was pushed into a corner by Bob. Poor Bob thought he could get away with blackmailing Adam — and he probably could have if he didn't get greedy. If he just took the 5 million, he could've been on his way.
Poor Alexis is going to get chewed up in prison. She's devious, but this isn't her playing field at all.
Also, wouldn't news of her arrest immediately make the news and taint Blake's campaign?
Both the shooting and her arrest for murder are not a good look.
He was so worried about Beto when he should've been more focused on his family.
Sadly, it's also not a good look for Sammy Jo by proxy. He just wanted to host a great event to boost his hotel, but instead, he's being dragged down by all this Carrington drama.
I just want to see Sammy thrive. He deserves it, especially after he poured his soul into this project and even found his footing without Ander's guidance.
I have to admit I love how much Anders has played a role from beyond the grave. I think he's impacting them all a lot more in his death than he did in life.
The little tribute at the hotel was especially touching, though, it did feel like his official sendoff in the series.
What did you think of the finale? Will Fallon come out of this unscathed? Will she get a newfound perspective on her relationship?
Wasn't there security or, at the very least, an invite list for the campaign party?
Is Culhane ok? Will Alexis prove her innocence? Does Adam have a plan to get his mom out of jail?
Share your thoughts about the finale with us in the comment section below!
We'll see you next season, Cravers!
Dynasty Back-to-Back Episode Review – Affairs of State and Affairs of the Heart (4×20 and 4×21)
Ahead of the season finale, Dynasty delivered a supersized penultimate episode.
The back-to-back episodes raised the stakes, changed the game, and then flipped the narrative on its head.
Nothing was the same, and no one is coming out unscathed.
The most heartbreaking turn of events was the expected but unnecessary demise of Liam and Fallon.
Things between them were pretty bad this season when Fallon prioritized her career (and quite literally everything else) over her relationship with Liam, but the damage wasn't irreversible.
It's not the kind of stuff you want to see from newlyweds that are still supposed to be waist-deep in their honeymoon phase, but this is a primetime soap, so drama is par for the course.
Liam instituted a break, but not the Friends version of a break; all he really wanted was some time and space to figure things out.
Eventually, he did while talking it out in the Truth Tent.
Liam realized that he wasn't just upset that Fallon was investing so much time in her career. He was projecting and taking his frustrations about himself out on her. In reality, he felt less than and inferior to his boss babe wife.
This was the very definition of "it's not you, it's me."
Of course, Liam's behavior up until now wasn't excusable as he made Fallon feel guilty for being such a go-getter, but it made sense.
Marriage comes with its fair share of gray areas, but communication and over-communication are the keys to working it all out.
Sadly, Fallon broke the cardinal rule when she let her inhibitions go and slept with Colin.
Yes, I know she was being manipulated by Eva, but that doesn't excuse Fallon's behavior.
Regardless of how sad and lonely she was feeling about the possibility of Liam wanting a divorce (which was a lie planted by Eva), she knew better than to cheat.
She's a grown woman who can clearly understand the consequences of her actions.
Plus, she was simply guided by assumptions rather than waiting for Liam to explain himself. Does she think so low of him that she thought he'd seek a divorce without even talking to her about it?
But most importantly, Fallon's biggest mistake was allowing too many people into her relationship. She's trusting, which is nice, but too many people had a hand in this demise that shouldn't have even been involved.
Had it not been for Fallon's deception, she and Liam would've found a way back to each other and likely stronger than ever.
Of course, Liam is also at fault because he allowed Eva into his life as well by being so friendly and kind.
Eva just jumped in and took advantage of it all.
Fallon and Liam's crumbling marriage played exactly into Eva's hand. Fallon confided in her, and she sold the supportive employee and act friend all too well while being a meddling menace in real life.
Sometimes the biggest villains look the sweetest.
Eva set her sights on Liam, and there was no stopping her. I wonder if she purposefully took the job with Fallon because she wanted Liam, or if she decided to pursue him after she got the gig.
You would think someone as obsessive would be sloppy, but her approach was pretty strategic and impressive.
Sadly, that delusional book will be her undoing. I just hope Fallon figures it out before Eva does any real damage since she's a serious threat to Liam.
Liam might be hurting after what happened with Fallon, but I don't think he'd just jump into bed with Eva as he considers her a friend.
And if he rejects her, I could see Eva snapping.
The biggest surprise with this storyline (aside from my disappointment in Fallon's actions) is that Eva and Colin weren't working together. Wouldn't that have made so much sense?
Eva would've pursued Liam, while Colin could've taken over the company. I guess, in the end, Eva didn't need anyone.
While those two weren't in cahoots, Alexis and Brady surely are. I'm not sure what the connection between them is but considering Brady showed up shortly after Dom told Alexis about him, it's not a surprising twist.
Though I was rooting for Brady to be a good guy, I realize there's no fun in that!
Whenever a woman gets any bit of success, there's always someone ready to bring her down and take it from her.
You would've hoped that Alexis would've learned her lesson by now as she's already alienated most of her children.
Colby is losing it, which doesn't bode well for any of his space race plans.
It's unclear why he stopped taking his neurotoxicity medication, but it's also a nice loop back to that storyline and a reminder that Adam Carrington was once a really dangerous man despite taming his ways and finding the light or whatever.
The writings of a mad man on the walls could either be a stroke of genius or something genuinely concerning.
Only time will tell.
Adam may not be poisoning people or stuffing their faces into the fire, but he's not that innocent either.
He stole research from Dr. Larson, a former colleague, to inform his own drug anti-aging drug trial, which he fast-tracked in hopes of making millions and starting his own dynasty.
It's strange that I find myself rooting for Adam in the Adam versus Amanda saga because it's clear that Adam is in the wrong, but he's turned into such a likable villain.
Amanda is hard to stomach, even if she is helping a man take back the research he's entitled to.
Shouldn't Amanda just be above all of this?
Adam was ruthless in his pursuit by calling in every "IOU" card.
Cristal and Sammy both came through for him, reluctantly.
You can say whatever you want about Adam, but at least he's had both of their backs. He was there for Cristal during her brain tumor scare, and he helped Sammy eliminate Leo after he was hurting his business.
The Carrington family may be a lot of things, but they rarely turn their back on family.
Sammy learned just how much he mattered to the family when Cristal and Blake sold him out to the media to divert the negative attention away from Blake's campaign.
While Sammy was hurt by their actions, Blake reminded him that it's how the family treats each other.
However, Cristal really came through this episode and managed to right the wrongs and deliver on promises.
She convinced Blake to hold his campaign gala at the hotel as his support would restore La Mirage's image.
And when Blake decided to pull out of the Senator race and disappoint Culhane, she found a way to play to Blake's desire for more power in order to convince him to stay on the ticket.
Cristal is proving that she's a real one, and it's nice to see her finally get a strong storyline of her own.
She's no longer Blake's shiny accessory — she's the brains behind. the operation. Blake's motivations for running may be vain as all he really wants is the land for his airport, but Cristal wants to power to evoke real change, and she wants Culhane to also have that ability.
The two of them are doing it for charity and community. Culhane's storyline is also a nice circle-back to his father's death. The writers are embracing some continuity, and it makes the storylines that much stronger.
And then there's Kirby. No one pays really notices her, but she's the one that actually yields all the power.
Thanks to Anders's burn book, she has the power to destroy the whole dynasty!
While it was noble of Culhane to suggest that they destroy it to keep her in check, I'm glad Kirby had copies stashed in her drawers.
Even if she never uses it, she'd be stupid to destroy that kind of leverage. Anders loved Blake beyond words and still wrote down all those secrets as collateral.
Kirby's made some pretty stupid decisions but this wasn't one of them.
And my guess is that the copies will come in handy one day when Blake finally crosses her.
Other Carrington Musings
The scenes with the medium were pretty pointless but hilarious, nonetheless. Sammy is a scene-stealer, and it's all because of his great chemistry with Fallon.
Sammy and Kirby bring such a lightheartedness to the series — her quirky comments and his telenovela acting at the hospital were some of the best parts of the episodes.
Seeing Liam cry made me really sad. He was so hurt and broken.
Colby's self-funded space mission is going to bankrupt him!
The question isn't whether Beto will sabotage Blake's campaign, it's how.
Who would have thought we'd ever see Blake in plaid!
I'm just waiting to see Blake and Fallon get revenge on those who wronged them; it's going to be delicious.
What did you think of the two episodes — Dynasty Season 4 Episode 20 "You Vicious, Miserable Liar" and Dynasty Season 4 Episode 21 "Affairs of State, Affairs of the Heart."
Dynasty Review – Fallon's Showdown with Amanda (4×18)
Fallon may not have done right by her marriage with Liam, but she had a good hunch about her sister, Amanda.
On Dynasty Season 4 Episode 18, Fallon invested all of her time trying to dig up dirt on Amanda to prove that she was simply trying to use the Carrington name to get ahead.
Liam figured she simply prioritized something else over their marriage once again, and when Amanda proved that the restraining order against her came as a result of a controversial affair with a judge, it really seemed like Fallon was grasping at straws.
Even she admitted that assuming the worst about a random sibling was a toxic Carrington trait.
However, the moment she let her guard down, Adam swooped in to confront Amanda, who definitely had some bad blood in her.
Honestly, nothing gets past Adam because evil recognizes evil. While Fallon was determined to protect the Carrington dynasty, Adam was able to recognize the liar and opportunist in his new sister. After all, regardless of the progress he's made, he came into the family under terrible pretenses.
But Adam may have found his match in his sister, who knew his exact weak spot was not getting enough of daddy's love.
Adam started out as the show's biggest villain, but he's been reformed, so it was only a matter of time until they brought someone in that was willing to start more trouble. Adam has his limits, but we don't know that much about Amanda, so her character is limitless.
Why else would Amanda petition to legally change her name mere days after finding out she was a Carrington unless she was bad news.
I can't even remember how we ever thought that Adam was a threat because he's downright hilarious these days. His quips, his facial expression — it's all so great.
But it's important not to let this version of him cloud our judgement because he's done some truly terrible things.
Fallon finally acknowledged that she had been neglecting her relationship with Liam. but the damage had already been done.
Liam felt like a complete afterthought to Fallon, and while there was definitely some validity in his feelings, much of that was Eva's doing.
She weaseled her way into Liam's life by taking up his hobbies in hopes of vibing with him in a way that Fallon didn't.
She's a manipulative snake who is taking advantage of Liam's vulnerable state, and it's heartbreaking to watch.
However, he does have a point about Fallon never learning from her mistakes. She's constantly apologizing, yet she keeps repeating the same actions over and over.
Her apology didn't even come from a genuine place because she wasn't entirely sure why Liam was mad in the first place.
She thought he was overreacting the whole time and even had the nerve to call him out about not being able to handle a businesswoman.
Liam has always been supportive of her career, but that's the only thing that matters to her lately. Something has to give, and right now, it's her relationship.
Heck, Fallon gave Colin more of her time than she did Liam.
And we all saw her and Colin have a moment, just how we saw Liam and Eva have a moment, as well.
I can't shake the thought that maybe Colin and Eva are in cahoots. What if they're trying to break up Liam and Fallon so that they can get her empire. I wouldn't put it past them.
It cannot be a coincidence that Colin is suddenly "recently divorced." Or that he's expressing an interest in Fallon.
I hope Liam and Fallon prove that their relationship is stronger than this, but at this point, it's not looking good.
Kirby hit the jackpot when she tracked down not one but two of Anders's USBs to learn that she inherited a fortune.
But you know what's likely worth more than that fortune? The Carrington family secrets.
She now has all the leverage necessary to get anything she wants!
I love that despite Ander's close relationship with Blake, he still kept a record of evidence so that he could use it as blackmail if he ever needed it.
Anders was one smart man.
What's on that USB and how will she use it against them? Will she meddle in Blake's run for Senate?
There's definitely a danger to giving a recovering addict such a large sum of money, so hopefully, Kirby invests it or does something smart with it.
Kirby wasn't the only one inheriting the family fortune. Cristal became the owner of the Flores Empire after her father's arrest.
Her brother, Beto, blew into town hoping to find evidence of their father's illegal activity so that he could it over to the cops. He came under the pretenses that he was trying to free himself from their father, but in reality, he was trying to get the family business for himself. And by using Cristal's evidence, he would wash his hands of it and pit his father's demise on her.
I would say I'm bummed for him for being completely screwed over by his own plan, but I can't say that I am. He tried to pull a fast one over Cristal in order to get everything for himself. He deserves what's coming.
Plus, he used and manipulated Sammy's feelings to steal the files. Could this guy go stoop lower?
It's possible we might see the wrath of Beto when it comes to Blake's campaign, which would surely stir up some drama.
Blake spent much of the episode trying to secure the Black vote.
Black constituents saw right through his pandering and weren't afraid to call him out on it, so he turned to his half-sister Dom for help.
I'm glad that he was put in his place and informed that the typical political behavior wasn't going to work.
Dom knew exactly what she was doing; she waited her whole life for Blake to ask her for help, so she knew how to make the situation work in her favor.
And she even got Culhane and Colby in on it, which I never would have expected.
Turns out, everyone has a price, you just have to know what it is.
It's unclear what Culhane's request might be if Blake wins, but Colby is definitely going to utilize Blake's role in his space mission.
Will Blake win the run for Senate with Culhane, Colby, and Dom's support?
What is Amanda's ulterior motive? Are Eva and Colin working together to destroy Fallon's relationship? Seriously, what other reason would Eva have to gaslight Fallon?
And what will Kirby do with all that money and blackmail?
Sound off in the comments below with your thoughts about the episode!