Fallon is getting married to Liam… again.
But before she walks down the aisle and exchanges 'I do's,' it's time for a bachelorette party!
From the photos of the Dynasty season finale, it seems like a wild time as Fallon gets a lap dance from a male dancer.
However, this is the Carrington family we're talking about so they're obviously going to get into a wee bit of trouble as Fallon, Sammy, and Cristal are seen talking to security.
Elsewhere, Colby and Alexis are having an intense convo. Is their "arrangement" over now that Colby has a second shot at life?
Follow CRAVEYOUTV on socials
Dynasty Season Premiere Review – Fallon and Liam's Rehearsal Dinner (4×01)
It's been one very long year, but Dynasty is finally back!
And there was no shortage of rich people antics to bring all the drama back to life. Man, I missed all the theatrics!
Much of the premiere focused on Fallon and Liam's preparations for the wedding rehearsal/day.
And mostly, they were navigating all the issues that were being thrown their way.
As all of Fallon's big plans derailed, she assumed that was cursed and tried to get back on track by finding something borrowed, new, old, and blue.
I would have never taken Fallon for a superstitious person, but when you want the biggest day in your life to go right, it's understandable that you'll go to extremes.
The most concerning part is that most of the omens — aside from the church flooding and the officiant getting an allergic reaction — targeted Liam. First, the crystal cake topper shattered and decapacitated the groom, and then his mother punched a hole through his picture at the rehearsal dinner.
Could this be a foreshadowing of Liam's death?
I wouldn't have placed so much emphasis on these moments if it wasn't for the opening scene that was set 6 months in the future and showed Fallon sitting alone at a funeral.
It's not immediately clear whose funeral it was, but I'm guessing that if it was anyone other than Liam, the rest of the family would've been sitting front and center.
On the other hand, it would be a huge mistake to kill off Liam considering his appeal with fans. I think they would literally boycott the show.
Not to mention it's way too obvious.
Maybe the series will finally tackle and put an end to the Steven Carrington storyline?
For now, let's focus on the positive — Liam still found a way to find the silver lining following that disastrous rehearsal dinner.
Fallon comes from quite a chaotic family, so we never expected the dinner to go smoothly.. Has there ever been a calm and peaceful Carrington event?
However, it was bound to take a toll on Fallon considering her day of incredibly bad luck. Everything that could go wrong did.
The parents even stole the spotlight from the bride and groom when it was revealed that Cristal slept with the priest (the new officiant) and Blake stepped out with the groom's mother, Laura, who crashed the event.
Fallon's reaction was completely within reason.
But as I said, Liam, the only sane and grounded person in the family, somehow managed to salvage the night with the cutest and most thoughtful something old — napkins from each place he and Fallon went on a date.
He's such a keeper, it's no wonder Fallon is fighting so hard to make this wedding perfect.
And she probably should've stopped relying on items from her family members who have never had a successful relationship or marriage.
Fallon's bout of bad luck turned out to be manmade… Ethan, her scorned ex-lover, ended up being responsible for flooding the church and likely poisoning the officiant.
Will he take his revenge to the next level and come after Liam?
After the explosive fight at the rehearsal, Blake and Cristal promised they'd do the work and commit to working on their marriage.
I'll believe it when I see it.
Blake's romantic relationship wasn't the only thing on the verge of sinking. Carrington Atlantic was nearing bankruptcy and holding on by a thread. He attempted to get a loan to salvage what was left of the company by replenishing the oil that was destroyed in the refinery explosion, but when he was denied, he agreed to leverage his personal assets. Big mistake.
Little did Blake know, Alexis (or should I say Cruella) and Jeff Colby had their hand in it.
It's going to be a delicious, juicy mess.
Sammy and Ryan, the stripper he married in the Dynasty Season 3 finale, finally got their marriage annulled.
However, Ryan stuck around and ended up lying to Sammy about his flight cancellation.
Is there really something shady going on or did Culhane just plant those ideas in Sammy's mind and now he can't shake them?
If Ryan was a gold digger, I don't think he'd sign off on the annulment. Though you can never be too careful these days, I guess.
It's been a year and I'm still not invested in Dominique's storyline. She and her sleepwear brand "Doma-Sleek" remain as irrelevant as ever.
And finally, is Adam turning over a new leaf?
He's been the family's bad apple since he came to the mansion, but it seems like being in a relationship with Kirby is turning him into a better person.
And that would explain why he's so worked up about Anders exposing his past. Adam was scared that if Kirby found out the truth, she would leave him.
When he learned that Anders talked to the nurse in charge of his mother's care, he confessed to all of his past sins.
I never thought I'd see the day that Adam openly talks about pushing Alexis into the fire and murdering his mom via an overdose.
It was probably the most shocking twist in the episode followed by Kirby's reaction. Instead of running for the hills, she grabbed his hand and assured him that everyone has secrets.
And while that's true, I think some secrets outweigh others.
Then again, Kirby was grateful that Culhane always accepted her and never judged her, so she's just extending that same courtesy to Adam.
Since Adam is on this honesty trail, I'm even more inclined to think that Steven Carrington's storyline will bubble up to the surface and Fallon is attending her future several months down the line.
What do you think? Who won't survive the season?
Did you enjoy the season premiere? Was it worth the wait?
Let us know in the comments below!
Grade It: How Would You Rate Dynasty Season 3?
There was no shortage of drama on Dynasty Season 3 with the introduction of Cristal 3.0 and Alexis 2.0.
The season also explored expected soap tropes including amnesia, kidnapping, a long-lost child, and a crazy stalker.
Dull moments are a rarity in the Carrington household, but on the occasion where a storyline falls a bit flat, we ride it out because we know it's usually followed by jaw-dropping, over-the-top twists that leave us aching for more.
Even after three seasons, the series hasn't lost its spark as it puts betrayal, manipulation, and jealousy at the forefront of each episode and continues to be a guilty Friday night pleasure.
Let's break down some of the best, worst, and favorite moments of Dynasty Season 3.
Best Character: Fallon
There is no Dynasty without Fallon. She runs the show, no, scratch that, she carries the show on her back. Liz Gillies was made for the role of Fallon, and as season's progress, that only becomes more evident.
We look forward to her charismatic approach to any situation, her witty one-liners always infuse the episode with laughter, and we've enjoyed watching her grow into a more rooted character through her romance with Liam and her desire to step out of Blake's shadow.
Worst Character: Cristal
Surprisingly, it's not Adam Carrington. It's hard to specify a "worst character" on a show where everyone has an ugly side and they all do terrible things to each other to get ahead.
Blake technically should've taken the title considering he got away with murder, cheated on his wife, and then put his business ventures above their relationship when it was already strained, however, it's expected of him.
Instead, Cristal takes the honor. She plotted to kill Alexis and almost got her brother killed in the process, she tried to become a better person and ended up sleeping with a priest, and she blamed Blake for the breakup of their marriage without acknowledging the role she played in it.
Most Shocking Moment: Cristal sleeping with a priest
It may have been one of Cristal's lowest moments, but it was also one of the most shocking! Who would have thought that Cristal would get down and dirty with a man of God in the bedroom she shares with her husband, Blake?
She ended things with Father Collins because the guilt was unbearable, but it cannot be the last we've seen of him. No one ever goes away that quietly on Dynasty. My perfect twist? She's pregnant with his child!
Storyline That Was Finally Addressed: Liam's kid
Fans have been waiting to meet Liam's child since he was first mentioned a few season's back. Connor finally made an appearance at the worst possible time following Liam and Fallon's engagement. They can never just get a moment of happiness to themselves.
After Liam bonded with Connor and Fallon developed a relationship with the child, Heidi came clean and revealed that it wasn't his kid on Dynasty Season 3 Episode 15. Connor was Liam's step-brother — a product of Heidi's love affair with Liam's father.
Can you say, "dodged a bullet."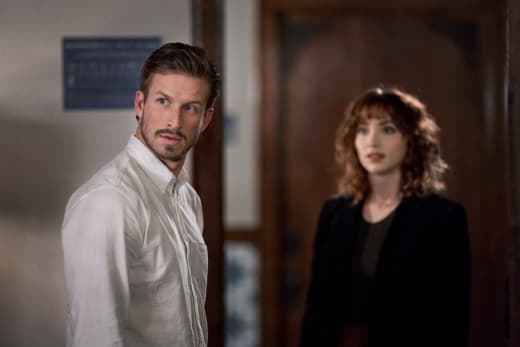 Funniest Storyline: Moldovia kidnapping
The Moldavia kidnapping on Dynasty Season 3 Episode 19 was the most outlandish storyline but that's what made it so funny. It was also enjoyable to see all the men working together towards a common goal, plus, Sammy was a drugged-out hoot.
The episode kept you on your toes because it wasn't clear where things were going to go or how they would turn around for Blake and Anders.
The bachelorette party on Dynasty Season 3 Episode 20 would be a close second because it was a blast watching them retrace their steps to figure out what happened while they were blackout drunk.
Best Couple: Liam and Fallon
This one is a no-brainer. The fans love Liam and Fallon and for good reason, the couple has managed to overcome a lot in their relationship.
They may have lost each other there for a moment (and Liam's amnesia caused him to briefly forget Fallon), but they found their way back to each other and more importantly, fought for each other. Their relationship grows stronger with each episode.
Liam accepts Fallon for who she is and never tries to change her, and she's never been so vulnerable around anyone else.
We didn't get the intended finale with their (second) wedding, but we'll patiently wait until season 4.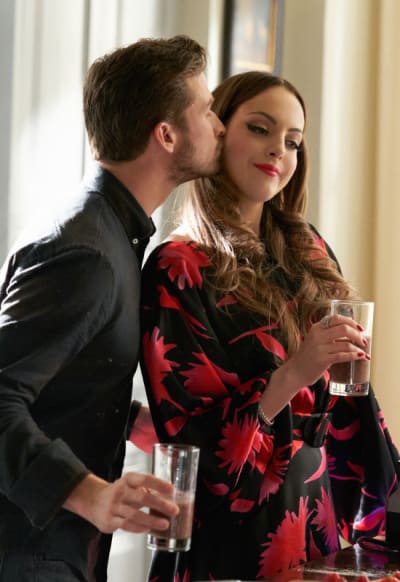 Dynasty Season Finale Review – Married a Stripper (3×20)
If you were getting flashbacks from The Hangover while watching Dynasty Season 3 Episode 20, I don't blame ya.
The episode — which also served as the season finale since coronavirus shut down production before they were able to finish out the season — took a page right out of the Bradley Cooper-led movie swapping Las Vegas for New Orleans.
The "what did we do last night" bachelorette party trope is cliche, but it's a cliche that works well when you have a group that vibes and plays well off of each other.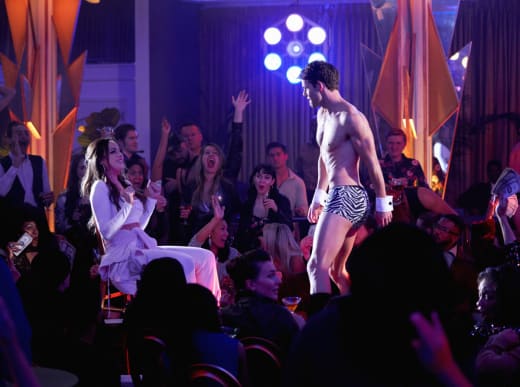 Sammy organized a surprise bachelorette party for Fallon that quickly took a wrong turn when they were "roofied" by some herbal potions made by Mistress Delphine. If you've ever been to New Orleans, you know those drinks will get the best of you!
The whole night was a blur, and they spent most of the episode retracing their steps and piecing it all together, which was almost as fun as the time Fallon planned a girls trip to stalk Liam and his ex and they got into a bar fight.
This time, however, they got arrested for shoplifting, and Fallon worried that she married a stripper named "Scorpio" because she was mad at Liam for lying to her about his trip to Moldavia.
Fallon may have a bit of a track record for marrying strangers, but it was a relief to find out that this time, it was Sammy who tied the knot in an impromptu wedding.
When Sammy said "Sammy Ho" was coming out to play, he really meant it.
Ryan may have been a drunken mistake, but it seems like Sammy is considering pursuing the relationship. Fallon found long-term love with a man she barely knew, so maybe Sammy will too.
Fallon was more upset with Liam's choice to rush to Moldavia to save Blake than I imagined she would be.
Her desire to put together a prenup with rules proved Liam's point about her being over-the-top; Liam didn't tell her because he didn't want her to worry and act irrationally, which is what she was doing.