Dynasty Review – Liam Proposes to Fallon, But Will They Get Their Happily Ever After? (3×13)
Do you know what was more dramatic than Liam's espionage noir pitch on Dynasty Season 3 Episode 13? That cliffhanger.
While the latter half of the episode was an emotional rollercoaster, the first half fell a bit flat.
The black-and-white theme wasn't incorporated in the best way, but it did challenge the cast to break out of their cliched characters, which was exciting for everyone.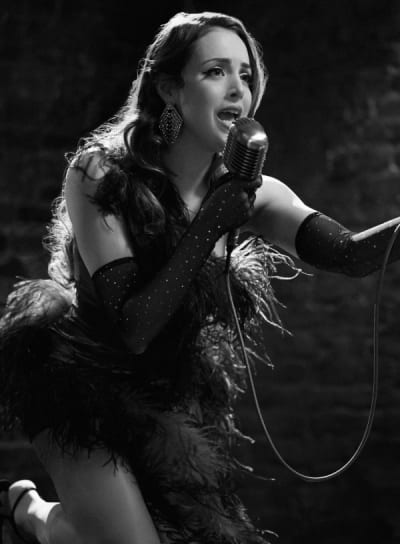 Liam got his time in the spotlight as his character, Leland, was the protagonist of the story and led the mystery of the missing peach diamond.
Fallon's character, Veronica Cabot, stayed mostly the same, though, it did allow Liz Gillies to show off her impeccable vocals. We'll never complain about that.
Anders and Blake switched places as Sanders and Blaine, and it was a joy to see Grant Snow take on the role of the "help." The role of Blake comes so naturally to him, but here, he was forced to flex his acting bone.
And honestly, Adam in a dress, well, there are very few scenarios where that could've made sense. Sadly, this wasn't one of those moments, but we'll let it slide.
The noir angle was enjoyable only to the true fans of Dynasty and those who figured out that this was all part of Liam's very elaborate plan to propose. In a way, it was a dramatized version of their love story sans the ending.
Somehow, I read Liam's mind and figured it out early on because Liam and Fallon would be the couple that tries to out-propose each other.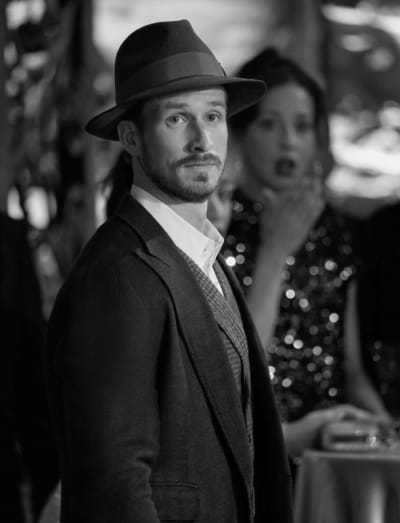 Also, Fallon initiated the first go-around, so it's only fair that the fandom gets a proper romantic moment between the lovebirds. The Falliam fandom has been waiting for this, and you have to give the people what they want if you stand any chance at boosting those ratings.
I wouldn't have been opposed to Fallon popping the question either as it would have been very modern, and Fallon is the modern woman.
While I had an inkling the proposal was going to happen, it didn't take away from how incredibly cute the moment was.
What did throw me off was how quickly they were back in Atlanta following the engagement.
Sure, they have a private jet and all, but the flight to London is at least 8 hours, so why wouldn't they want to stay there a bit?
It's also concerning that Fallon went to Europe and didn't stop to visit her brother, Steven. The actor may be off the show, but it could have been an off-screen meeting that was mentioned when they returned home.
Why does no one care about him anymore?
Follow CRAVEYOUTV on socials
Feelin' generous? Support our site and podcast (Mimosa Talk) on Patreon and KoFi.
Dynasty Review – Stepmom Fallon Bonds with Connor as Liam Searches For Heidi (3×15)
After a lengthy hiatus, Dynasty Season 3 Episode 15 returned with a mediocre episode.
I'll be honest, the weekly parties have started to lose their pizazz. Even Blake Carrington wasn't in the mood for one.
It didn't make sense why Vanessa chose to host her single release party at the Manor instead of at Sammy's hotel, which would have been great promo for him.
But I guess they needed to emphasize that Dominique and Vanessa are living large now even if no one wants them around.
I'd fall into that same boat as Dominique's storyline has never felt exciting to me. I thought that Vanessa would at least challenge her mother with her independent and fiery personality, but instead, she was a let down proving that the apple doesn't fall far from the tree.
The fact that she would stick by her mother, who purposefully slept with her boyfriend and released the sex tape, says everything you need to know about Vanessa.
Unless she's simply trying to get back at her mother and Culhane at the same time by pretending to be all in. It's hard to figure out her motives.
For now, it seems as all Vanessa cares about is advancing her career, but is that her ultimate goal?
While Culhane messed up by sleeping with her mother, a part of me feels for him because he continues to be a pawn in everyone's twisted little game. He can't get himself out of this toxic lifestyle to save his life.
The whole "wanting to be a Kardashian" reality TV storyline also seems forced and like the little engine that could is running out of ideas.
Though I'll admit, it was fun to see Sammy working it for the camera.
The only downside is that they've reduced Sammy's character to once again being nothing more than a prop.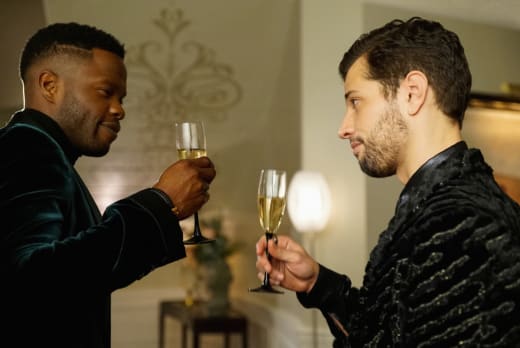 The only redeemable part of the episode was Liam and Fallon slowly coming to terms with the idea of being Connor's parents.
Initially, I didn't think I'd be a fan of the Connor storyline, but it's such a joy to watch Fallon tap into her maternal instinct.
She was worried she wouldn't be a good mother because she didn't have one growing up, but the fact that her mother also ran away was a bonding moment for her and Connor and allowed her to connect with him.
Fallon knows what constitutes a bad mother and when it comes down to it, that has taught her what kind of mother she doesn't want to be.
After spending a day with Liam's kid while he was out looking for Heidi, she went from yelling at Connor for getting mud on her peacoat to accepting that he spilled hot cocoa all over her outfit.
She was enjoying the responsibility of caring for someone other than herself.
So, understandably, when they spotted Heidi at the hotel, Fallon was ready to bring out the claws.
Dynasty Review – Liam Becomes a Baby Daddy (3×14)
Liam and Fallon had quite an eventful re-engagement party on Dynasty Season 3 Episode 14.
What was supposed to be one of the happiest days of their lives was ruined by an explosion, a sex tape leak (a la Keeping Up With the Kardashians), and the unanticipated arrival of Liam's 10-year-old estranged son, Connor, and his baby momma, Heidi.
Yeah, it's safe to say Liam has a lot on his plate right now.
Connor's arrival puts the couple in a very interesting predicament because they aren't in a place where they want to have kids right now.
It didn't make sense that Liam was so eager to get to know his son and was so excited to be a father when just a few episodes prior, he made it very clear that he did not want children.
It was equally as jarring that Fallon was so opposed to Connor (even though he was sprung on her while she was in latex lingerie) since she was the one who could see kids in their future together.
The roles seemed reversed with Liam embracing the role of "daddy" (and not in a cute, millennial way) while Fallon tried her best to get Connor and Heidi out of the picture.
Thankfully, when they both had an honest conversation, they seemed to be on the same page: Liam's actions were just reactions to a stressful situation, and Fallon was fine with it being just the two of them for now.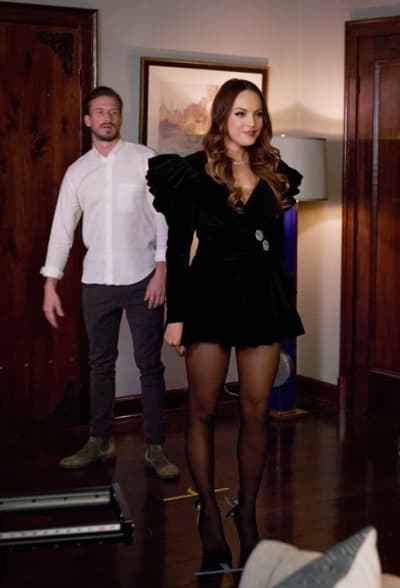 And it makes sense. They've had a tumultuous relationship and are just getting their relationship back on the right track; they're planning a wedding, starting their lives together (again) on the right foot, and hoping to build successful empires.
Which is exactly why the audience should have expected that Connor would end up their responsibility by the end of the evening.
As Fallon predicted, Heidi had selfish reasons for blowing into town.
Fallon simply wasn't right in guessing what they were.
Heidi didn't want Liam's money — she wanted to dump her child on him and get a fresh start.
While there are some pretty terrible mother's on this series, Heidi takes the cake.
We have Alexis, who abandoned her children and then came back and pretended like nothing ever happened, and we have Dominique, who slept with her daughter's boyfriend so that she could "advance her career."
Yeah, like I said, terrible mothers.
And still, Heidi earns the award of the worst mother of the year for quite literally leaving her young child at Liam's door during his engagement party.
Dynasty Review – Fallon Gets In the Streaming Business (3×10)
Fallon is spiraling on Dynasty Season 3 Episode 11, and it's not a good look on her.
Despite all the progress that she's made these past few seasons, Fallon always finds herself back at square one: wanting to get out of Blake Carrington's shadow.
Their back-and-forth tussle between the father and daughter is reminiscent of Dynasty Season 1, but it's pointless drama that doesn't do either of the character's any favors.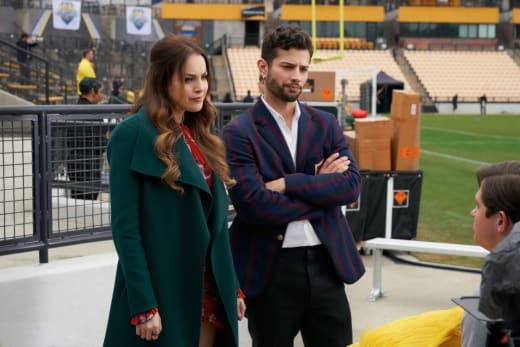 There's no reason that Fallon cannot be independently successful. They can both exist in the same orbit without any sticking their noses into each other's business. The world is big enough for them both.
Hopefully, the realization she had thanks to Culhane will finally stick because, at this point, her character seems to be regressing rather than continuing on a trajectory of female empowerment that we've come to know her for.
Fallon has always had potential, but she botches nearly every plan she's ever had.
They all tend to go up in flames — her plan of going international quite literally — and yet she keeps trying.
On one hand, her drive and ambition are admirable, but on the other, it would be so much more effective if she just picked a lane and stayed in it.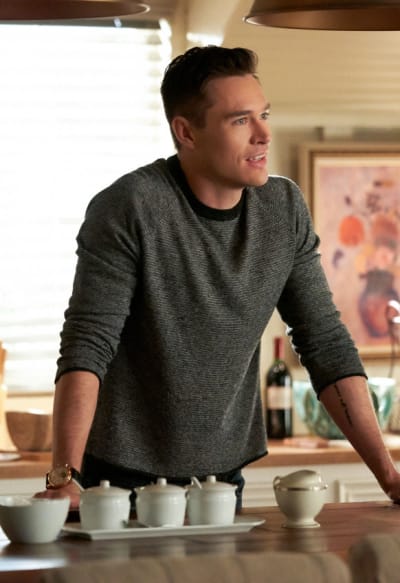 From publishing company to magazine to streaming service, she wants to do everything and thus, she does nothing.
The comments about her streaming service, while hilarious, echoed those thoughts exactly.
No one even knows what she does anymore because she can't stick to anything. If she keeps this up, she really will be the "forgotten Carrington."
On Dynasty Season 3 Episode 10, Fallon started the episode by throwing things, and this time, Blake followed suit even though it turned out to be a nightmare. (I was about to question how many glasses this family went through a week!)
Blake poured so much of himself into rebuilding his image and getting control back, and yet, he didn't recognize that he was acting out to ignore the real problem.
He was running away from the anger and resentment he felt towards Alexis.
Buying up companies left and right was his way of repressing his emotions and pretending the problem didn't exist rather than facing it head-on.
He wanted Cristal to let her anger go, but he failed to notice he had so much of it pent up inside that it was manifesting as nightmares.
However, the nightmares also served as a premonition. The moment Blake realized he needed to get back to his legacy at Carrington Atlantic, it was revealed that Alexis and Jeff Colby were one step ahead of him.
In this regard, the series is returning to its roots and hopefully, to the storylines that enthralled audiences.
The empire that Blake built seems like the right investment if they want to stick him where it hurts, and it's going to be one hell of a fight now that they've already set the stage for the acquisition.
Since Alexis and Jeff announced their marriage, fans have been trying to figure out what their game-plan is and slowly, it's coming together.