Adam Huber plays the uber dreamy Liam Ridley, the latest addition to the Dynasty cast.
Huber scored the title of series regular ahead of Dynasty Season 3.
But even without the coveted upgrade, the heartthrob has been a fan favorite since his debut on Dynasty Season 1 Episode 15, you know, the episode where he married Fallon, a complete stranger, on a whim.
Since then, Fallon and Liam have had a tumultuous yet epic relationship.
Nothing about their relationship has been conventional.
After they overcame a love triangle with Culhane, a messy situation with Liam's uncle, a divorce, and Fallon's attempts at winning him back from Ashley, it seemed liked things were going to work out.
Dynasty Season 3 Episode 1 Review: Guilt Trip To Alaska
Fallon proposed to him on the Carrington lake, and despite losing the ring in the water, Liam still said 'yes."
But their happiness was short-lived when her tyrannical brother, Adam, clobbered Liam upside the head and locked him in the pool closet.
After regaining consciousness, Liam crawled over to the pool, fell in, and woke up with amnesia, which is where we left off when I spoke with Huber.
Huber dished about Liam's amnesia, what's next for their relationship, his possible revenge on Adam, and the storyline he's dying like to explore.
Dynasty is back and with it returns all of that Carrington craziness!
Sure.
Amidst all of that, you've been up to series regular. Congrats. Were you expecting it? 
No, I honestly wasn't.
There have been other people. Wakeema, whose on the show and plays Monica Colby. You know, me and her were kind of doing the same thing we were just recurring, and you kind of go until you book another show or they give you a contract.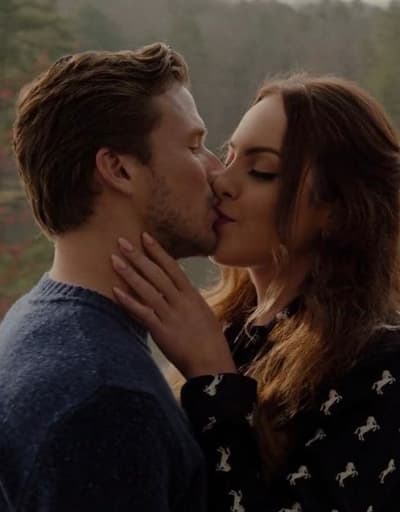 And I was testing actually on another show, NYPD Blue is doing a reboot. I got very close to that. And right around the same time, they asked me to be a series regular.
So, you know, it worked out well. I wasn't getting on PD Blue, so they had me a series regular. No, I was expecting it. I was just kind of chilling. I was just happy to be there.
It's a great role to have. 
Right?
Has the way you approach and prepare for the character changed now that he does have a deeper storyline and is so loved by audiences?
I have been putting, I think, more work into it. I mean, I've always put work into it, and definitely just trying to stay fresh and just trying to understand him.
We're very similar, but we're also different. You want to keep his story fresh. I have a journal that I do character journaling in.
I take what I know, and then just create a story around him.
Like, what was the relationship like with my dad? What is the relationship like with my uncle who is on the show played by C. Thomas Howell? And I do that with all the other people in his life. Does that make sense?
Follow CRAVEYOUTV on socials
Hilary Duff Announces She's Pregnant with Baby #3
Lifetime Announces 30 Christmas Movies as Part of the Holiday Lineup Starting This Friday
The 2020 holiday season is fast approaching, which is a good thing because we've never been in more need of holiday cheer.
Your home may still be decked in orange twinkling lights for Halloween, but the mood starting October 23 is all Christmas, Why? Because that's when the first Lifetime holiday film premieres. Hallmark is launching their roster of over 40 holidays films starting Saturday!
The reason the joyful movies are starting early this year? There's also 30 of them to watch.
Some highlights include Feliz NaviDAD with Saved by the Bell's Mario Lopez, Dear Christmas with 90210's Jason Priestley, Sabrina the Teenage Witch's Melissa Joan Hart, and One Tree Hill's Hilarie Burton and Antwon Tanner, and Merry Liddle Christmas Wedding, a sequel starring former Destiny's Child member Kelly Rowland.
The network is also embracing diversity by adding A Sugar & Spice Holiday, its first film with an Asian-American family in the lead and The Christmas Setup, an LGBTQ film.
Check out the full 2020 Lifetime Holiday Schedule below:
'Virgin River' Announces Season 2 Premiere Date Just in Time for the Holidays!
Season 2 of Virgin River officially has a premiere date!
The Netflix drama will return less than a year after the first season debuted on Dec 6, 2019.
Fans can catch up with Mel, Doc, and Jack Sheridan on Friday, November 27th! If you think about it, it's the perfect day for a feel-good show to premiere as everyone will be sitting at home stuffed after Thanksgiving dinner. And since Black Friday sales are going virtual to tame the spread of COVID, less shopping gives everyone ample time to kick up their feet and binge-watch!
Virgin River season 1 focused on Mel (played by This Is Us' Alexandra Breckenridge), a nurse practitioner who moved from LA to a remote Northern California town who was forced to face her past and grieve before being able to call Virgin River home.
If You Loved 'Sweet Magnolias,' You're Going to Want to Check Out 'Virgin River'
Season 2 teases: "Engagement. Babies. Heartbreak. Murder. For a small town, Virgin River has its fair share of drama — and Mel Monroe is often in the middle of it."
Yep, we can't wait.
Also returning for season 2 are Annette O'Toole, Lauren Hammersley, Colin Lawrence, and Grayson Gurnsey. Sarah Dugdale will join the cast as Lizzie.
While there isn't a full trailer of the upcoming season, the Netflix November lineup video shows some great snippets: