Adam Huber plays the uber dreamy Liam Ridley, the latest addition to the Dynasty cast.
Huber scored the title of series regular ahead of Dynasty Season 3.
But even without the coveted upgrade, the heartthrob has been a fan favorite since his debut on Dynasty Season 1 Episode 15, you know, the episode where he married Fallon, a complete stranger, on a whim.
Since then, Fallon and Liam have had a tumultuous yet epic relationship.
Nothing about their relationship has been conventional.
After they overcame a love triangle with Culhane, a messy situation with Liam's uncle, a divorce, and Fallon's attempts at winning him back from Ashley, it seemed liked things were going to work out.
Dynasty Season 3 Episode 1 Review: Guilt Trip To Alaska
Fallon proposed to him on the Carrington lake, and despite losing the ring in the water, Liam still said 'yes."
But their happiness was short-lived when her tyrannical brother, Adam, clobbered Liam upside the head and locked him in the pool closet.
After regaining consciousness, Liam crawled over to the pool, fell in, and woke up with amnesia, which is where we left off when I spoke with Huber.
Huber dished about Liam's amnesia, what's next for their relationship, his possible revenge on Adam, and the storyline he's dying like to explore.
Dynasty is back and with it returns all of that Carrington craziness!
Sure.
Amidst all of that, you've been up to series regular. Congrats. Were you expecting it? 
No, I honestly wasn't.
There have been other people. Wakeema, whose on the show and plays Monica Colby. You know, me and her were kind of doing the same thing we were just recurring, and you kind of go until you book another show or they give you a contract.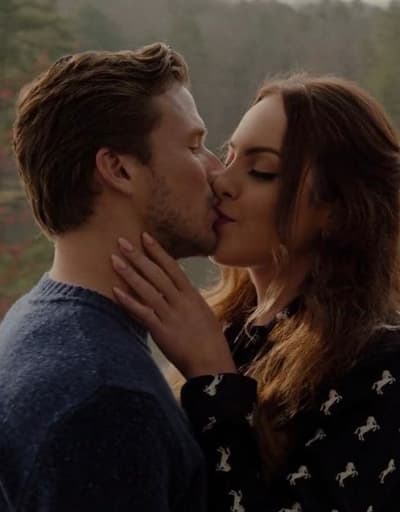 And I was testing actually on another show, NYPD Blue is doing a reboot. I got very close to that. And right around the same time, they asked me to be a series regular.
So, you know, it worked out well. I wasn't getting on PD Blue, so they had me a series regular. No, I was expecting it. I was just kind of chilling. I was just happy to be there.
It's a great role to have. 
Right?
Has the way you approach and prepare for the character changed now that he does have a deeper storyline and is so loved by audiences?
I have been putting, I think, more work into it. I mean, I've always put work into it, and definitely just trying to stay fresh and just trying to understand him.
We're very similar, but we're also different. You want to keep his story fresh. I have a journal that I do character journaling in.
I take what I know, and then just create a story around him.
Like, what was the relationship like with my dad? What is the relationship like with my uncle who is on the show played by C. Thomas Howell? And I do that with all the other people in his life. Does that make sense?
Follow CRAVEYOUTV on socials
You're Going to Want These Festive 'Elf' Coffee Creamers When the Holidays Roll Around
If you think it's too soon to talk about Christmas in July, you're right. But how am I not supposed to talk about Christmas when International Delight just announced that's its preparing to unleash the best new item for the holiday season: Elf-inspired coffee creamer!
The Instagram account @candyhunting gave followers a sneak peak at the new creamer.
The Elf packaging envelops three different flavors.
The yellowish bottle will feature the new flavor, caramel waffle cookie.
Seasonal favorite peppermint mocha will be available in the red bottle.
And lastly, frosted sugar cookie will be at your disposable in the green bottle.
"These are already starting to hit shelves, so be on the lookout," Candy Hunting wrote in the caption of the post: "Huge thanks to International Delight's PR group for sending the creamers!"
You know it's serious when we haven't even passed Halloween and yet people are scavenging for holiday coffee creamers to add to their iced coffee.
You would think that since the flavors are inspired by the 2003 hit film, the flavors would be a bit more on-par with Buddy's taste buds.
One comment even pointed out the huge oversight on the company's part writing: "What an opportunity for maple syrup and they didn't take it!"
While it makes sense, I doubt the flavor would go over too well with the general public. Though, no judgement if you're into that sorta thing.
Another user referenced a classic line in the film with the comment: "I wonder if these make the world's best cup of coffee."
Which one do you want to try eventually when the holiday season rolls around?
And…. is it too early to curl up on the couch and watch Elf? Asking for a friend, obviously.
What's the Most Overrated TV Show In Your State? 'Parks and Rec' Tops the List
Are you over Parks and Recreation? Do you find yourself telling your friends that you think it's overrated? Well, you're not alone!
Reviews.org looked at the most overrated shows in every state and found that was nominated the most times in a total of eight states! Sorry, Leslie Knope.
If you want to know which states you need to blacklist for ever even thinking about offending Jim O'Heir, it's Colorado, Kansas, Minnesota, Missouri, New Mexico, Ohio, Oregon, and Rhode Island.
Now, simply asking people "is it overrated" feels like it would prompt a ton of nods and heck yes's, but it's still fun to see what America disagrees (or agrees) on. Plus, the publication notes the study was conducted with a 95% level of confidence, and numbers don't lie!
58% of people said Rick and Morty was overrated.
Women felt Game of Thrones was overrated while men leaned towards Friends being overrated, and though we love both shows, we kind of get it.
The second most overrated show in America was The Simpsons, and you can thank Idaho, Mississippi, Nebraska, North Dakota, Oklahoma, Utah, and West Virginia for that.
Here's the full breakdown by state:
3. The Big Bang Theory in Delaware, Iowa, Maryland, New Hampshire, New Jersey, Vermont, Wisconsin.
4. The Walking Dead in Alabama, Alaska, California, Connecticut, Hawaii, Illinois, Texas.
5. Rick and Morty in Arizona, Arkansas, Maine, Massachusetts, Montana, Nevada, Wyoming.
6. Game of Thrones in Florida, Kentucky, New York, North Carolina, Tennessee.
7. Friends in Georgia, Indiana, South Dakota, Washington.
8. The Office in Louisiana, Michigan, Pennsylvania, Virginia.
9. Breaking Bad in South Carolina
South Carolina, what gives? Don't make us call Walter White.
What shows do you think are overrated? Which ones would you add to the list? Sound off in the comments below!
Bella Ciao – 'Money Heist' Confirms Fifth and Final Season on Netflix
"The heist comes to an end."
That's the message posted on the official La Casa de Papel (Money Heist) Twitter account.
It confirms what fans have feared — that Netflix's Spanish-language drama is officially coming to an end after the fifth season. It's also a confirmation that the series has been renewed for a fifth season, which was a given not only because of the show's massive success but also considering Alvaro Morte (the Professor) posted a photo that production on the season was underway.
El atraco llega a su fin. #LaCasaDePapel5 pic.twitter.com/D3s3uE5CHD

— La Casa de Papel (@lacasadepapel) July 31, 2020
Entertainment Weekly reports the series will officially begin production on Monday in Denmark before venturing to Spain and Portugal.
The season will wrap up the ongoing heist at the Bank of Spain, which is where season 4 left off.
https://www.instagram.com/p/CDT5hyGoXgg/
The eight-episode fourth season, which premiered in April, ended with the robbers inside the bank losing a critical member of the team as the Professor is ambushed by the former police inspector, Alicia Sierra, who has gone rogue.
According to Pop Culture, series creator, Alex Pina, said the series will be "moving from a chess game — a mere intellectual strategy — to a war strategy: attack and contention" in the final installment.
He also went on to say it's the "most epic" yet, which is hard to believe since every season has been epic, thrilling, and full of anxiety.
Money Heist: Who Is Alicia Sierra and How Is She Connected to the Professor and the Overall Heist?
"Adrenaline is within Money Heist's DNA. Every thirty seconds things take place and disrupt the characters, a turn of the screw to the action. The adrenaline mixed with feelings arising from absolutely complex, magnetic, unforeseeable characters will continue until the end of the heist to the Bank of Spain," Pina said. "However, the gang will now be pushed into irreversible situations, into a wild war: it is the most epic part of all the parts we've shot."
https://www.instagram.com/p/CDT5epSI7Ud/
The first four seasons are available for streaming. You can also watch the documentary, which is equally as thrilling and informative as the series!
This isn't the first time the show has said goodbye. While season 3 and 4 are "Netflix Originals," the series initially aired on a free, local channel in Spain where it didn't get much love and was cancelled after season 2. Netflix ended up putting the show on its service, and it began to gain momentum through word of mouth. As its popularity grew, it was hard for Netflix to ignore what millions of people worldwide were now aware of — the show was fantastic. And thus, they commissioned additional seasons!
Fast-forward to today, and Money Heist is one of Netflix's most successful shows. The fourth season drew in over 60 million viewers making the show more watched than Tiger King and the top watched non-English show. It was also one of the most-watched shows during the coronavirus quarantine!
Goodbyes are never easy, especially when it comes to a show that has captivated the nation, but it's better to say "ciao" now while the show is still in its prime. We wouldn't want it to overstay its welcome, and the chances of them getting out alive and pulling off another heist are slim to none.