Adam Huber plays the uber dreamy Liam Ridley, the latest addition to the Dynasty cast.
Huber scored the title of series regular ahead of Dynasty Season 3.
But even without the coveted upgrade, the heartthrob has been a fan favorite since his debut on Dynasty Season 1 Episode 15, you know, the episode where he married Fallon, a complete stranger, on a whim.
Since then, Fallon and Liam have had a tumultuous yet epic relationship.
Nothing about their relationship has been conventional.
After they overcame a love triangle with Culhane, a messy situation with Liam's uncle, a divorce, and Fallon's attempts at winning him back from Ashley, it seemed liked things were going to work out.
Dynasty Season 3 Episode 1 Review: Guilt Trip To Alaska
Fallon proposed to him on the Carrington lake, and despite losing the ring in the water, Liam still said 'yes."
But their happiness was short-lived when her tyrannical brother, Adam, clobbered Liam upside the head and locked him in the pool closet.
After regaining consciousness, Liam crawled over to the pool, fell in, and woke up with amnesia, which is where we left off when I spoke with Huber.
Huber dished about Liam's amnesia, what's next for their relationship, his possible revenge on Adam, and the storyline he's dying like to explore.
Dynasty is back and with it returns all of that Carrington craziness!
Sure.
Amidst all of that, you've been up to series regular. Congrats. Were you expecting it? 
No, I honestly wasn't.
There have been other people. Wakeema, whose on the show and plays Monica Colby. You know, me and her were kind of doing the same thing we were just recurring, and you kind of go until you book another show or they give you a contract.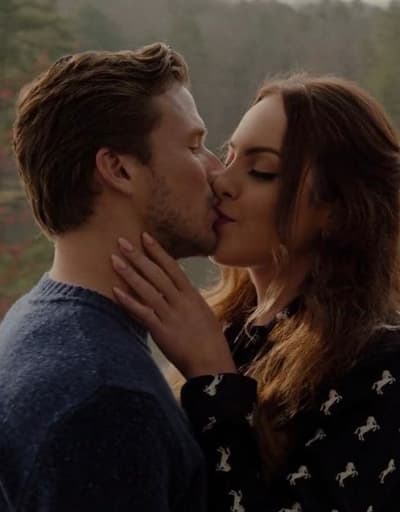 And I was testing actually on another show, NYPD Blue is doing a reboot. I got very close to that. And right around the same time, they asked me to be a series regular.
So, you know, it worked out well. I wasn't getting on PD Blue, so they had me a series regular. No, I was expecting it. I was just kind of chilling. I was just happy to be there.
It's a great role to have. 
Right?
Has the way you approach and prepare for the character changed now that he does have a deeper storyline and is so loved by audiences?
I have been putting, I think, more work into it. I mean, I've always put work into it, and definitely just trying to stay fresh and just trying to understand him.
We're very similar, but we're also different. You want to keep his story fresh. I have a journal that I do character journaling in.
I take what I know, and then just create a story around him.
Like, what was the relationship like with my dad? What is the relationship like with my uncle who is on the show played by C. Thomas Howell? And I do that with all the other people in his life. Does that make sense?
Follow CRAVEYOUTV on socials
Lili Reinhart Supports Black Lives Matter Movement, Comes Out as Bisexual
Lili Reinhart revealed she is bisexual on Instagram.
The Riverdale star was using her platform to promote the West Hollywood LGBTQ+ for Black Lives Matter protest when she made the announcement writing and encouraged fans and supporters of the movement to join.
"Although I've never announced it publicly before, I am a proud bisexual woman. And I will be joining this protest today. Come join," she wrote in the caption.
She also opened up her Instagram to continue to conversation about the Black Lives Matter movement.
"I want to open up my Instagram to any influencer from the black community who wants to say a few words or share their thoughts— I will do an Instagram live with them and they can have my platform to speak about this issue. Any requests? Who should I reach out to?" she wrote later changing out "influencer" to "activist."
I want to open up my Instagram to any influencer from the black community who wants to say a few words or share their thoughts— I will do an Instagram live with them and they can have my platform to speak about this issue. Any requests? Who should I reach out to?

— Lili Reinhart (@lilireinhart) June 3, 2020
Lili is reportedly single after splitting from boyfriend of three years and Riverdale co-star, Cole Sprouse.
The pair has not commented on the news, but Cole's twin brother, Dylan told ET that his brother has been isolating with co-star KJ Ap. "In the very beginning of quarantine ended up staying together atKJ's place in Los Angeles. So, they're isolating together, which is very cute," he teasingly said.
Cole recently took to Instagram to reveal he was arrested for peacefully protesting George Floyd's murder.
Where Is Aunt Becky? Character's Absence Explained on Final Season of 'Fuller House' as Lori Loughlin Faces Jail Time
From the Full House to the big house. Well, at least Lori Loughlin, who is most famously known for her role of Aunt Becky on the wholesome and cheeky family series that debuted in the 80s, has agreed to plead guilty to paying people off to get her daughter's into college.
Meanwhile, Fuller House, which dropped its final season on June 2nd, explained Aunt Becky's absence in a less dramatic way.
In a brief scene, Uncle Jesse informs the Tanner-Fuller-Gibbler clan that Aunt Becky is taking care of her mother in Nebraska. In other words, she's not involved in criminal activity like Loughlin.
The character isn't mentioned again, but her absence is felt throughout moments in the series, particularly in the series finale as the three leading ladies wed their soulmates in a triple wedding.
It's unfortunate that Aunt Becky suffered because of Loughlin's actions.
In th real world, Loughlin and her husband, fashion designer Mossimo Giannulli, were accused of paying $50,000 to get their two daughters into the University of Southern California as fake crew team recruits.
According to CNN, Loughlin will plead guilty to the following crimes: conspiracy to commit wire and mail fraud.
Her agreements require her to serve two months in prison.
Her husband will plead guilty to conspiracy to commit wire and mail fraud and honest services wire and mail fraud. He'll serve five months in prison.
Loughlin also faces a $150,000 fine, two years of supervised release and 100 hours of community service, according to the news source. He will get $250,000 fine, two years of supervised release and 250 hours of community service.
They are reportedly set to plead guilty on Friday, per prosecutors.
The scandal has, understandably, rocked Loughlin's world and cost her some longtime acting gigs on her Hallmark Channel series, Where Calls the Heart, and the Full House spinoff, Fuller House. As it enters its fifth and final season, the Netflix will move forward without her character.
It's a hard lesson to learn, but don't try to bribe your children's way into college.
While I've always loved Lori Loughlin in every production (mainly cause I thought of her as my own Aunt Becky), if you have the nerve to dish it, you have to know how to take it.
Ben Affleck, Keke Palmer, Ariana Grande and More Celebrities Protest George Floyd's Murder
Over the past few days, protests have taken to every major city across America to fight racial injustice and police brutality.
The protests aim to condemn the senseless and tragic death of George Floyd, an African American man who was killed by a white police officer who knelt on his neck for over 8 minutes.
While many protests took a violent turn with riots and looting breaking out, it's important to note that plenty remained and continue to remain peaceful as they fight for justice and equality.
A handful of celebrities have been very vocal in their support of the #BlackLivesMatter movement. Chrissy Teigen vowed to donate $200,000 to organizations that help bail out protestors.
Others took to the streets to march with protestors.
Ariana Grande documented her experience at a Los Angeles protest on Saturday afternoon. She wore a mask and a sign that read "Black Lives Matter."
.@ArianaGrande joins the LA protest for the #BlackLivesMatter Movement today. ✊🏾

— Pop Crave (@PopCrave) May 31, 2020
hours and miles of peaceful protesting yesterday that got little to no coverage.
all throughout beverly hills and west hollywood we chanted, people beeped and cheered along.
we were passionate, we were loud, we were loving.
cover this too please. #BLACKLIVESMATTER https://t.co/vD90CEtF94 pic.twitter.com/GZ6uKDfPM7

— Ariana Grande (@ArianaGrande) May 31, 2020
Cole Sprouse opened up about being arrested for peacefully protesting in Santa Monica. In his Instagram note, he explained that despite dispersing as police ordered, all protestors were arrested regardless.
Singer Halsey also marched in a Los Angeles protest and shared videos on social media about police officers fighting back crowds. Other videos captured her and Yungblud helping protestors who were hit with tear gas. She explained that they were also hit with rubber bullets even thought "we did not breach the line."
They also held signs that read "Black Lives Matter" and chanted with crowds.
I WAS NOT ARRESTED.

Im safe. There were ppl I had to get to safety as many of them have VISAs. Myself + many of my peers were shot, gassed + antagonized. The frontline was calm + did not provoke

BUT MANY ARE NOT SAFE + MANY ARE IN CUSTODY

DONATE TO BAIL ORGS!!!
I AM CURRENTLY

— h (@halsey) May 31, 2020
Actor John Cusack protested in Chicago and shared a video of Chicago police charging at him "with batons" while he was on his bicycle because they didn't like that he was recording.
Cops didn't like me filming the burning car so they came at me with batons. Hitting my bike.
Ahhm here's the audio pic.twitter.com/tfaOoVCw5v"

— John Cusack (@johncusack) May 31, 2020
Jamie Foxx and Nick Cannon protested on in Minneapolis where Floyd was murdered.
Foxx said he wasn't there as a celebrity but to support his brothers. "These are my brothers. This means everything because, at the end of the day when we see you guys out here on the frontline, we want to let you know you got support."
Jamie Foxx joins social justice advocates in Minneapolis, Minnesota, in solidarity over the death of George Floyd: "All I wanted to do is let you know that we're not afraid to stand…we're not afraid of the moment." https://t.co/elUVBZ8dWy pic.twitter.com/StA6R7mH2u

— ABC News (@ABC) May 29, 2020
Keke Palmer has gone viral for a very powerful video in which she pleads with the National Guard to march with the protestors and be the change. While they couldn't necessarily leave their post and march because of orders, they did offer to walk to the protestors and took a knee for them.
Watch all of this. pic.twitter.com/YHq0QhXrnw

— Gadi Schwartz (@GadiNBC) June 2, 2020
Richard Madden attended a peaceful Hollywood protest.
Richard Madden is at the protest today too!! pic.twitter.com/Qor7r7G5Wa

— Trisha ⧗ᵇˡᵐ (@romanoffnparker) June 2, 2020
Shawn Mendes and Camila Cabello were spotted marching with protestors while wearing masks to protect from the coronavirus outbreak.
https://www.instagram.com/p/CA56QsiAD4C/?utm_source=ig_embed