Fall TV season is upon us! Check out our list of top 5 shows, you need to tune into this season! 
1. Gotham is going to be Fox's new hit. The tale looks at some of the most iconic villains through the eyes of Detective James Gordon. It's a time when there is no Batman, because the man who will become Batman, is just a young boy, who has lost his parents. It's risky to do a Batman show, without Batman, but the lineup of villains and the backstory to one of our favorites heroes of all time, seems promising.  It premieres Sept 22.
2. How To Get Away With Murder rounds out TGIT- Thank God It's Thursday. Let's be honest, Thursday is Shonda Rhimes night and it's the beeeest night of television. Murder focuses on Professor Annalise Keating, a Criminal Law 101 professor at a prestigious Philadelphia university. She becomes intertwined in a murder scandal, along with her students. Scandal, murder, and mystery? Um, we're in. Murder premieres Sept. 25 on ABC.
3. Jane the Virgin is really about a brilliant hotel receptionist and soon-to-be teacher, who finds out she's pregnant after a mix up at the doctor's office. Can you say artificial insemination? Becuase that's the only explanation since Jane is a virgin, who values and treasures her virginity.  Imagine the shock of waking up one day pregnant! It's based off a Venezuelan telenovela, but it does have moment so charm. Plus, didn't the title make you want to tune in?
4. Vampire be gone, because 2014 is all about kids with incurable diseases.. apparently. Red Band Society is about unruly kids, who are being mentored by adolescents. It's set in a Los Angeles pediatric hospital. It's a little bit Glee, a little bit The Breakfast Club, with a hint of The Fault in Our Stars. The whole story of the group of youngin's and their mentors is told by Griffin Gluck, starring as a coma patient. Downfall of this show might be the fact that glamorizing kids with diseases isn't something Hollywood should be proud of. Anyone who has ever been sick can tell you, it's nothing like it's portrayed on TV. But maybe the emotionally substantial moments will be enough to save it? It premiere Sept. 17 on Fox.
5. Another 2014 theme…. DC superheroes. Cause everyone needs a hero in these times. It's a spinoff of Arrow, so it also already has quite a good amount of fans. Seeing his mother get murder (just like Batman) and his father wrongly accused, Barry Allen gets taken in by Detective West and his family. Hoping to find out what really happened to his mother, and clear his father, he stumbles upon an accelerator which causes an explosion and puts him in acoma. Nine months later, he wakes up with superhuman speed. But there are also other superhuman created in the explosion, and Allen becomes the Flash, protecting Central City.
 
That wraps up our Top 5 Must See Shows of the Fall. Here are our "Give it A Shot" nominations.
They have potential… but they also have potential to be super cliche and fail miserably. Only time will tell.
There's something so thrilling about summer affairs, right? Showtime's The Affair is a provocative adult drama about two couples whose marriages are seriously put to the test by an affair. The series shows us the affair from all angles, and point of views, so it's fun to make your own conclusion based on which character's story you believe. West, is a novelist and father, who is happily married, until he falls into bed with a young waitress. Potential? Definitely. Especially with the Maura Tierney and Joshua Jackson. The tension is there. The story is there. But are the viewers there? It premieres Oct 12.
 The new Sherlock-Holmes-y inspired Forever has an immortal twist. But can the show stay immortal? Forever focuses on Dr. Henry Morgan, a gifted and intelligent medical examiner who happens to be immortal. He dies in the first episode, and somehow always returns naked, in water. He's not sure if he can die, why he keeps coming back, and that's why he studies the dead. He wants answers. It's an interesting concept, but the execution is pretty bland compared to all the other good shows out this season. Do we even want to begin trying to solve the mystery? Do we want to get involved? It stars Ringer's Ioan Gruffudd, which gives it a 50/50 chance and makes me skeptical, since I got involved last time and was left hanging! It premieres Sept 22.
Photo Credit: Gotham/FOX
The 2019 AMAS Were All About Statements and Nostalgia
"Less is more" was the takeaway of the 2019 American Music Awards.
The night celebrated the years most popular songs and artists, but it was the oldies that made the show resonate with audiences both inside the Microsoft Theatre in Los Angeles and watching worldwide.
There was plenty of nostalgia going around starting with Kesha's first performance in 6 years that included her latest single "Raising Hell" but also her 2011 hit "Tik Tok."
She was finally granted permission to sing her old songs following a public battle with Sony and producer Dr. Luke.
The crowd also had warm reactions to these oldies but goodies: "Green Day's 1994 "Basket Case," Toni Braxton's 1996 "Unbreak My Heart," and Shania Twain's 1997 classic "I Feel Like a Woman."
Plenty of statements were also made at the AMAs as artists proved that they were no longer afraid to stand up to the status quo.
The biggest statements of the night came from the three pop powerhouses, Taylor Swift, Halsey, and Kesha.
All three ladies aimed their jabs at the music industry.

Halsey's powerful speech shaded the GRAMMY Awards following her absence from the nominees that were announced early last week.
"I am so thankful to the AMA's because they are the world's largest fan-voted awards show," she said emphasizing the fan aspect.
Read the full review at TV Fanatic.
God Friended Me Sneak Peek Clip: Does Arthur Make the Right Decision?
Is the God Account pulling the strings for everyone in Miles' life?
On God Friended Me Season 2 Episode 5, was tasked with decision that would alter the course of his future.
After Bishop Thompson resigned from the church leaving the position of Bishop of New York, the opportunity fell into the retired reverend's lap.
Thompson suggested that Arthur was the only qualified person to fill the role.
The offer would have been a dream come true for Arthur just a few months ago when he and Thompson ran against each other. Obviously, Thompson one.
But since then, Arthur has taken a break from the church; he's in a new phase in his life.
God Friended Me Season 2 Episode 5 Review: The Greater Good
Being retired allows him time to play tennis and hang out with his soon-to-be-wife, Trish, who isn't exactly thrilled to see him recommit to the church.
And still, Arthur continues to be drawn to it because it's his destiny.
Therefore, this decision is momentous.
Does he listen to his fiance's advice and pass or does he accept a position that he's worked towards his whole life?
Luckily, TV Fanatic has an exclusive clip from God Friended Me, which revealed that Arthur doesn't think twice about accepting this second chance.
Watch the clip HERE!
Dynasty's Adam Huber on Liam's Amnesia, #Falliam Future & That Kid Storyline
Adam Huber plays the uber dreamy Liam Ridley, the latest addition to the Dynasty cast.
Huber scored the title of series regular ahead of Dynasty Season 3.
But even without the coveted upgrade, the heartthrob has been a fan favorite since his debut on Dynasty Season 1 Episode 15, you know, the episode where he married Fallon, a complete stranger, on a whim.
Since then, Fallon and Liam have had a tumultuous yet epic relationship.
Nothing about their relationship has been conventional.
After they overcame a love triangle with Culhane, a messy situation with Liam's uncle, a divorce, and Fallon's attempts at winning him back from Ashley, it seemed liked things were going to work out.
Dynasty Season 3 Episode 1 Review: Guilt Trip To Alaska
Fallon proposed to him on the Carrington lake, and despite losing the ring in the water, Liam still said 'yes."
But their happiness was short-lived when her tyrannical brother, Adam, clobbered Liam upside the head and locked him in the pool closet.
After regaining consciousness, Liam crawled over to the pool, fell in, and woke up with amnesia, which is where we left off when I spoke with Huber.
Huber dished about Liam's amnesia, what's next for their relationship, his possible revenge on Adam, and the storyline he's dying like to explore.
Dynasty is back and with it returns all of that Carrington craziness!
Sure.
Amidst all of that, you've been up to series regular. Congrats. Were you expecting it? 
No, I honestly wasn't.
There have been other people. Wakeema, whose on the show and plays Monica Colby. You know, me and her were kind of doing the same thing we were just recurring, and you kind of go until you book another show or they give you a contract.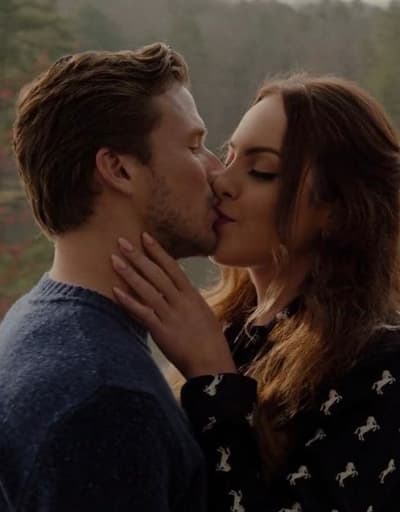 And I was testing actually on another show, NYPD Blue is doing a reboot. I got very close to that. And right around the same time, they asked me to be a series regular.
So, you know, it worked out well. I wasn't getting on PD Blue, so they had me a series regular. No, I was expecting it. I was just kind of chilling. I was just happy to be there.
It's a great role to have. 
Right?
Has the way you approach and prepare for the character changed now that he does have a deeper storyline and is so loved by audiences?
I have been putting, I think, more work into it. I mean, I've always put work into it, and definitely just trying to stay fresh and just trying to understand him.
We're very similar, but we're also different. You want to keep his story fresh. I have a journal that I do character journaling in.
I take what I know, and then just create a story around him.
Like, what was the relationship like with my dad? What is the relationship like with my uncle who is on the show played by C. Thomas Howell? And I do that with all the other people in his life. Does that make sense?