The mystery surrounding Piper thickens on Emergence Season 1 Episode 2 as we try to figure out who she is, where she came from, and who is after her.
There's a great deal of suspense as Jo, Chris, and even Benny, peel back the layers of the mysterious plane crash and its lone survivor.
But this is one mystery that we're not going to be able to crack alone.
It 's almost better to sit back and enjoy the episode for what it is than try to figure out what's happening.
The plot remains vague but that's on purpose — we'll get all the answers when the time is right.
We could wrack our brains coming up with theories, but what's that going to do for us?
For Emergence to remain as intriguing throughout the season as it was on Emergence Season 1 Episode 1, it has to keep some of its cards close to the chest.
Read the full TV Fanatic review HERE!
Did 'Legacies' Manage to Successful Revamp the Old Love Triangle Trope?
Love triangles are the most popular trope on television.
It's the "go-to" storyline for nearly every series looking to cause friction between a group of characters.
And it's usually done regardless of whether or not it makes sense for a character's arc.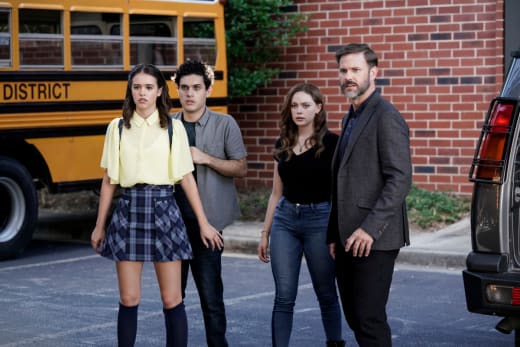 Love triangles have become such a staple on show's that my passive-TV-watching husband has asked me if it's a requirement to be in love with two people at once.
My answer? When it comes to television, absolutely yes.
Julie Plec is known as a repeat offender; she loves nothing more than to include love triangles for every character in her series.
Just take a look at her track record: On The Vampire Diaries, the love triangle centered around Elena Gilbert, a high school student torn between two elder vampires, the Salvatore Brothers. They were drawn to her because of her uncanny resemblance to their former lover, Katherine.
TVD's Caroline, step-mother of Lizzie and Josie Saltzman on the current Legacies, was also torn between a few men, including Stefan Salvatore and baddie, Klaus Mikealson.
And now, her daughter and Klaus's daughter are embroiled in their very own love triangle with brooding Pheonix Landon, but the circumstances surrounding their situation are vastly different than those of their parents.
Plec stepped her game up and revamped her approach to the love triangle . . . Pun-totally-intended.
The supernatural nature of these shows has long allowed writers and characters to explore different realities, but Legacies managed to do something unique with the often familiar trope that its predecessors, The Vampire Diaries and The Originals, never could.
This new approach doesn't necessarily better the storyline if you hate love triangles, to begin with, but it terms of how it unfolds, it's less predictable and gives characters more to play with.
Riverdale Review: Thanksgiving Includes Cannibalism & Framing Mr. Chipping (4×07)
Thanksgiving was an eventful holiday in Riverdale as Jughead and Betty linked up to solve the mystery of Mr. Chipping's death, an ice storm hit Riverdale, and Archie got a gun pulled on him at his dinner at the rec center.
Oh, what fun.
Betty and Jughead's sleuthing is always in tip-top shape, and Betty had an extra level of sass that I was lovin'. She looks sweet, but she's not, okay Donna.
Unfortunately, no matter Jughead and Betty's best intentions, Bret and Donna were one-step ahead of them.
Also, can someone please explain to me their idea of fun because wearing bunny masks and walking around with axes isn't a joke. Bret's lucky Betty didn't kill him to protect Jughead.
Jughead hasn't learned his lesson of not talking openly about his plans to unearth the school's mysteries in public, and Bret overheard everything.
Therefore, Jughead and Betty may have thought they had the upper hand, but they were really helping Donna and Bret frame Mr. Chipping.
Women tend to not come forward about sexual assault out of fear that no one will believe them. Sadly, Riverdale is perpetuating that by offering up Donna's affair storyline with Mr. Chipping, which seems to be fabricated in order to destroy his integrity and squash any doubt that his death was anything but a suicide from being a terrible person. At first, Mr. DuPont tried to convince Jughead that Chipping's alcoholism played a role in his death, and when that didn't work, they attempted to make him a predator.
Mr. Chipping was a favorite of the school until he wasn't. And it's those last words he said before he jumped that underline the notion that this was not a willing suicide. He was coerced or blackmailed by Mr. DuPont.
Everyone at Stonewall Prep is in on it, and they're determined to shut Jughead's investigation down because he'll likely figure out the school's deepest and darkest secrets if he doesn't.
Then, there's the fact that Bret and Donna set up a camera that is videotaping everything in Jughead's dorm room including his more intimate moments with Betty.
Are they going to try to use that against him? Do they think they'll have the same power of Jughead as they did over Mr. Chipping.
The good news is that neither Betty nor Jughead truly believed what was being presented, and Betty has it all mapped out on an investigation board so she'll likely get to the bottom of this and any secret society that's involved.
Archie's good intentions of hosting Thanksgiving dinner at the rec center turned sour when Dodger's family turned up for a side dish of revenge.
And look, it's understandable that Dodger's mother wants answers, but her actions and threats were stupid.
She wanted so badly to blame Archie when he wasn't involved (at least not directly) with Dodger's beating.
Also, your son is an asshole and a bully, Mrs. Dickinson, so I can't say anyone feels too terrible about what happened.
The deep-fried turkey explosion caused enough of a distraction for Mary to grab the gun and threaten to kill 'em all if they didn't get out of dodge. Badass Mary, you can stay.
Though, having Mary make comments about how much she misses having her husband around and their whole moment of grace was irritating. I hate when a show suddenly changes the narrative to fit the story they're trying to tell. For most of Riverdale, it was just Archie and his dad while Mary was in Chicago. You don't get to bring up all these old memories when you weren't even here for the last few years.
But all of this was included for a greater purpose — Archie dedicated the rec center to his late father who would've been proud.
Hiram Lodge is Mayor already because, of course, he is. Why would anyone try to stop the most dangerous man in Riverdale from wielding an uncontrollable amount of power? He ran unopposed and won, and figured that meant he could shut down Archie's festivities because "they were dangerous."
Little did he know, Veronica was serious about not being part of the family and playing nice. The Thanksgiving dinner on the dining room floor is proof of just that.
Hiram seriously brings out the worst in people. Case-and-point, FP, who almost slashed his throat with a broken bottle and then decided there was no law against him being the Sheriff of Riverdale and the leader of the Serpents. Only in Riverdale, friends. Only in Riverdale.
And then we have the absurd storyline happening at Thistlehouse. The writers just won't give this one up even though it's bordering on disgusting at this point.
The storyline isn't doing Cheryl any favors, and it's a mystery as to why T.T is sticking around and accepting of all of this.
After they killed Uncle Bedford, Cheryl devised a wicked plan to scare away Aunt Crickett so that they could dump the body in Sweetwater River.
It sounds messed up even without revealing their unsavory plan.
Having a corpse of your dead brother around is one thing, but to pretend to serve up human flesh at Thanksgiving dinner and threaten to go public with the act of cannibalism to protect your maple syrup industry. Honestly, Cheryl's gone off the deep end.
The only redeeming factor here is that she never actually served up Uncle Bedford for dinner, she just made them believe she did.
But still, it's in everyone's best interest, including Cheryl and Toni's, if Riverdale drops this deranged storyline.
What did you think of Thanksgiving in Riverdale?
Is Donna lying about Mr. Chipping?
Angel the Series: Why The Series is The King of Found Family Shows
Spoilers for the entirety of "Angel the Series" below
Everybody wants to be a part of something; a team, a club, a gang, a family. It's human nature to want to connect to others, and yet rarely in life does a person happen upon that perfect blend of acceptance and love that they seek.
But we can find it on television!
There is a long history of television shows that feature "found families," better known as groups of people that aren't related by blood but through experiences. These groups bond over time and create close-knit units that resemble a family.
There are many examples: Cheers, Friends, The Office, Buffy the Vampire Slayer, crime procedurals like Law and Order, even Scooby-Doo! All of these are series about a group of people who find each other and create that perfect unit that understands and accepts you in a way that you can't find elsewhere; a place where everybody knows your name.
I find, however, that as ironic as it may seem, found family shows rarely reflect the nature of what actually being a family means. I suppose this is only natural considering the escapist nature of many of these shows, but still, sometimes I find shows touting the values of family without diving into what it really means to be one.
These series show internal conflicts and arguments within each group to test the limits of their bonds. Sometimes characters disagree with each other, lie to each other, or say hurtful things, but an overwhelming amount of these conflicts get resolved with an apology and a hug.
Buffy exemplifies this idea several times throughout its run, most notably at the end of its fourth season. The core group of friends, Buffy, Willow, and Xander have a huge argument, but soon after come together and hug it out. A few scenes later they, quite literally, become one greater being to defeat the big bad of the season heavily symbolizing the nature of their relationship. They are stronger as one unit, and they will always be there for each other.
Our real families don't always get along this well or reconcile so easily. These series provide ideal units that always stay together when their limits are tested, but real-life families don't just test the limits of their bond, they break them. Therefore, the harsher a show attempts to break a family apart, the further a show can dive into what it actually means to be one. No show breaks limits like Angel the Series.
Angel, like so many other found family series, takes a group of outcasts and brings them closer to each other through their adventures and experiences until they consider each other family.
Angel, a vampire with a murderous past who is attempting to redeem himself after gaining a soul, is at the center of the group. He hires Cordelia, an aspiring actress, Wesley, an expert on all things mystical, and Gunn, a vampire hunter from the streets, to help him fight monsters and save lives in the city of Los Angeles. As their adventures progress, they create the standard television "found family" (which will eventually also include Fred, a brilliant scientist, Lorne, a demon who can read your aura when you sing, Angel's son, Connor, and Spike, basically Angel's vampiric brother).
Angel goes so far as to make this overt by having Angel claim he is Cordelia's family at the end of season one, with her returning the sentiment in the closing moments when she urges Angel not to be embarrassed for drinking some blood in front of her; she doesn't judge his vampiric needs because they are family. They've had their ups and downs, sure, but in the end, they are there for each other.
That is until Angel fractures the family by kicking everyone out of his house. Angel is separated from the group for half of the second season, and when he does finally apologize and return, he is only allowed back into the group if he agrees to take a secondary role to Wesley.
While Angel is forgiven, the way he broke their trust isn't forgotten and several comments are thrown at Angel regarding his lack of familiarity with the current unit. From this point onwards, Angel never fully regains Gunn's trust as a friend, and due to Wesley's position as the new leader, he and Angel have a building conflict that erupts when Wesley, trying to avoid a terrible prophecy, kidnaps Angel's newborn son, Connor.
The series continues to push these people into situations where the absolute worst parts of them aren't just exposed but personified. After the kidnapping, Angel doesn't just threaten to kill Wesley, he attempts to. Gunn commits murder against Fred's wishes, breaking her illusion as to who he is and what he is capable of. Connor, after growing up in a hell dimension and developing many personal demons, drops his own father into the ocean in a metal crate.
The team willingly releases Angelus (Angel's murderous past self) to help them defeat an all-powerful beast. This series has a much less overt "we are family" message, and instead develops a subtle allusion to the fact that these people consistently use their demons to solve problems.
And who better to let your demons loose on than your family? There are moments that happen between families that are so ugly we'd only ever let them be seen by our families. Sometimes these actions lead to apologies, often they don't, and even more often those apologies lead to the cycle repeating. Angel may be a show about literal demons but the parallels we can draw to our own lives make it a series that anyone can relate to, especially those audience members who have wished their families were a bit more perfect.
Angel himself wishes his family was more perfect. While at the bottom of the ocean (he's unable to die due to his vampire superpowers), he passes the agonizing time by fantasizing about the perfect family dinner, which includes him and Cordelia happy, Gunn and Fred together, and Wesley back at the table – he's sharing a meal with the people he loves. It is a scene directly out of any other found family show. But here, like in reality, this family is a fantasy.
When Wesley pulls Angel out of the ocean, there is no reconciliation. He drops Angel off with the rest of the group and immediately retreats. When Angel comes face to face with Connor, they argue and fight, and the scene ends with Angel saying, "I love you, Connor. Now get out of my house."
None of these scenes feel good to watch. Unlike so many other found family shows, Angel doesn't provide its audience with the comfort of family, but the reality of it. It doesn't always feel good to be part of your family or the one you've chosen. Families get angry and livid. After all these events, the characters in Angel harbor feelings towards each other that bend quite a ways away from love. Some of them not only dislike each other, they actively can't stand one another. Trust isn't a given, and they hit each other much more than they ever hug each other.
Yet the love and commitment within this group prevails. Despite Angel threatening to kill Wesley if he returned, Wesley still spends months searching the ocean for Angel. Angel still loves Connor while knowing that Connor wanted him to suffer for eternity. In the final season, the team still accepts Gunn after he makes a decision that results in Fred's death. The acceptance of these crushing low points and the choice to love in spite of them is what separates Angel's family from the rest. The past is never forgotten, and in many cases not even forgiven, but this only proves their strength as a unit. Despite the disastrous team they have made and despite the wedges that have driven them apart, they still stand together. If none of those horrible conflicts could tear these people apart, well, nothing can.
Audiences, myself included, watch these found family shows for escapism. We enter a blissful place where everyone is loved and conflict pushes people closer together instead of pulling them apart. Angel reminds us that's not how real life works. Sometimes we make each other suffer.
By not pandering to our fantasy, Angel creates a refreshingly realistic portrayal of family and proves how powerful your own family unit can be even with all its imperfections, providing a better perspective on the families we have in real life. This is why Angel is the king of found family shows.
The final scene of the series shows four people, most of whom at some point have tried to kill each other, standing side by side in the rain. They aren't a perfect unit and they aren't about to become one being, proving how strong their bonds are. Instead, they are four flawed individuals with their own goals, own beliefs, own morals, and own reasons for being there, who still choose to stand side by side in the rain, ready to fight and die together.
If that's not a family, I don't know what it is.