It's been seven months since we last caught up with the members of Intelligence on Chicago PD.
Since Episode 20, the world has changed quite drastically with the onset of a global pandemic and the Black Lives Matter movement protesting police brutality.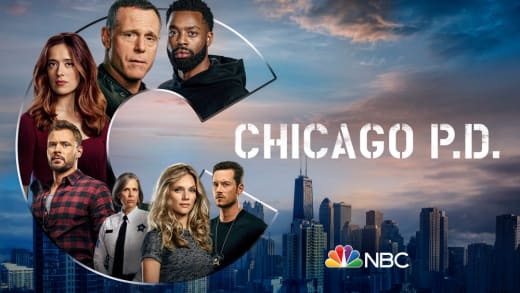 Understandably, this brings into question our favorite police procedural. How will the series handle the unavoidable new realities?
Here's everything we know as we gear up for Chicago PD Season 8!
Police Reform
Tackling police brutality is going to be more of an uphill battle for Chicago PD as Intelligence is known to cross lines and boundaries in the name of justice.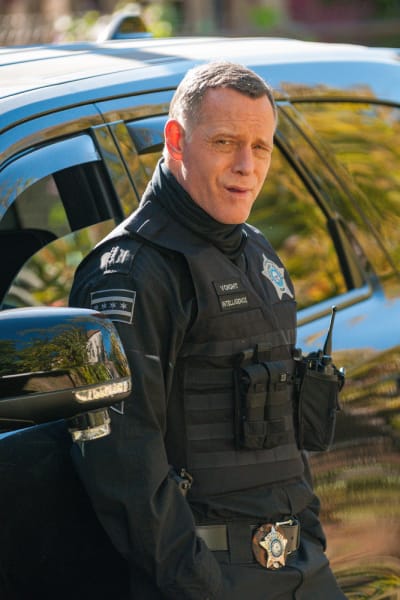 As times are changing, the show needs to address this very real issue. Showrunner Rick Eid told TVInsider that police reform will be at the forefront of the season and it boils down to Sgt. Voight, who has a reputation of being a bit of a "corrupt cop."
According to Eid, Voight will have to figure out if he's "part of the problem or part of the solution" after facing backlash from not only the community but also his superiors.
Per the official synopsis for Chicago PD Season 8 Episode 1, "the team responds to the shooting of a 5-year-old girl andmust work the case while facing the heightened attention on police reform."
Jason Beghe, who plays Voight, seems eager for the change in light of recent events.
"Because of all the stuff that's going on with police and Black Lives Matter, for the three weeks before shooting, we were in heavy communication with each other and certain advisers," Beghe told FBI: Most Wanted's Julian McMahon during Wolf Entertainment's "Unscripted" video on Monday, October 26.
"We're continuing from there and kind of drawing out the bigger things. As we pick up, it's post-George Floyd. My character is a real old school, 'I know what I'm supposed to do but I do what I have to do,' kind of guy. He breaks the rule and that stuff ain't flying anymore," he said.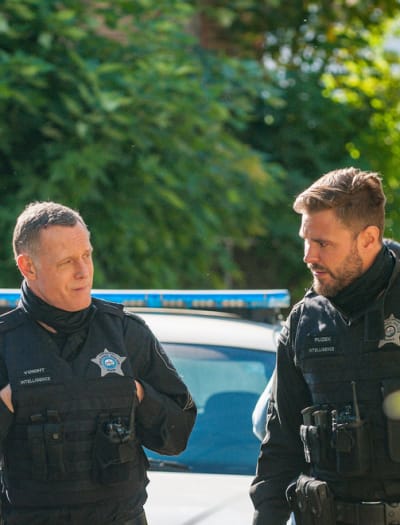 There's a New Superintendent in Town
And she's holding Voight accountable! As TVFanatic previously reported, Nicole Ari Parker is set to recur on Chicago PD as Superintendent Samantha Miller. The deputy superintendent hails from Atlanta and is described as "a progressive, ardent proponent of police reform."
According to Eid, Miller's goal is to abolish the "warrior cop" mentality that has fueled Chicago's police for far too long. In order to do that, she wants to help Voight and Intelligence adapt to a new reality and "views Intelligence as integral in this mission."
She believes that if she can change Voight, the rest of the force will follow suit. But it won't be easy as we all know Voight plays by his own set of rules.
Black Versus Blue
The synopsis also teases that "Atwater is targeted by officers who want to hurt him for standing against the blue wall."
Chicago PD didn't know it at the time, but when Chicago PD Season 7 wrapped prematurely, it handed itself directly into the narrative that would segway perfectly into the real-life racial tensions stemming from the brutal murder of George Floyd.
Follow CRAVEYOUTV on socials
One Chicago Shows Announce 2024 Premiere Dates
It's finally happening—our favorite One Chicago shows are coming home to us!
Chihards, mark your calendars and get ready to sit down in front of the TV on January 17 because that's when Chicago Med, Chicago Fire, and Chicago PD will make their highly-anticipated and long-awaited premieres!
It's truly beginning to feel a lot like Christmas… though I hope that turning around new episodes doesn't mean that the actors will have to work through the holidays.
one chicago wednesdays return January 17 on @nbc and streaming on @peacock!!!

— Top 1% of Burzek shippers (@NBCOneChicago) November 20, 2023
Chicago Med returns for season 9, Fire for season 12, and Med for season 11.
Of course, the full NBC 2024 lineup will kick off on Jan 1 with America's Got Talent: Fantasy League, which means they are wasting no time getting back into the swing of things following the WGA and SAG-AFTRA strike delays.
Law & Order franchises will have their moment on Thursday, Jan 18 with Law & Order: SVU and Law & Order: Organized Crime.
Part 1 of The Voice returns on Feb. 26, along with BC's new Deal or No Deal spinoff, Deal or No Deal Island.
La Brea will air its final season on Jan 9, leading into the final two episodes of Found. The Irrational will also air its final four episodes starting Monday, Jan. 29.
Quantum Leap and Magnum P.I., Lopez vs. Lopez, The Weakest Link, Password, That's My Jam and The Wall currently don't have a premiere date.
It's time to get back to the magic of TV!
'Chicago PD' Shakeup: Tracy Spiridakos Leaving After Season 11
Chicago PD fans—we've got some bad news coming your way.
As you await new episodes of the crime procedural, the cast is getting yet another shakeup (we're still not over Jesse Lee Soffer's exit in the first half of season 10, to be honest).
Variety announced that Tracy Spiridakos, who has portrayed Detective Hailey Upton since season 4, will be leaving the series. She is set to exit after season 11, though it remains unclear if she'll be around for the entirety of the season or pull a move from Soffer's playbook and exit a few episodes in.
The outlet notes that the decision to leave the show was entirely her own; Spiridakos has yet to confirm or release a statement of her own.
Spiridakos joined the Dick Wolf Entertainment drama in 2016 as a recurring character and was quickly upped to series regular starting in season 5. Since then she's become an integral part of Intelligence, getting her hands dirty with Sgt. Hank Voight (Jason Beghe) and sparking a romantic relationship with Soffer's Det. Jay Halstead.
While it's a bummer, her departure does kind of make sense when you look at her overall story. Since Halstead left the city to fulfill an Army task in Bolivia and basically broke her heart, she's had trouble picking up the pieces and finding her place. Hitting refresh—which ultimately means leaving the show—is a logical next step as there's nothing holding her back anymore. The writers could find a way to mend Upstead with her joining Jay wherever his duties take him or she can look for a fresh start in a place that no longer reminds her of her broken marriage.
Spiridakos' character was also involved in a rather intense case that spanned several episodes last season, so they could use that as an excuse to write her off, noting that the case took a toll on her.
The 10th season has been delayed by the writers' and SAG-AFTRA strikes, and while writers are able to get back into the rooms and craft storylines, production remains halted. No premiere dates have been announced yet, so it's unclear how long we'll wait for the upcoming highly-anticipated season… and Spiridakos' last.
Without her, there are only 4 originals left standing; In addition to Beghe, the series stars LaRoyce Hawkins (Kevin Atwater), Patrick J. Flueger (Adam Ruzek), and Marina Squerciati (Kim Burgess). In 2022, newcomer Benjamin Levy Aguilar (Torres) was upped to series regular, rounding out the squad.
The One Chicago franchise has endured plenty of loss as of late, with many notable stars exiting their respective shows, including a total of 5 characters leaving Chicago Med.
Is Adam Ruzek Leaving 'Chicago PD'?
Following Chicago PD Season 5's finale, it's understandable that fans are worried about Adam Ruzek's fate as it hangs in the balance.
Questions and concerns immediately began popping up, with many wondering if Patrick Flueger is leaving the series.
For now, it's unclear as the episode that ended the season left things on a bit of a cliffhanger in terms of Ruzek's health.
During the episode, Ruzek, who was working undercover for months to thwart Richard's, a white supremacist's deadly terrorist plan, blew his own cover to Richard's daughter, Sam, who was trying to skip town after her dad moved up the date for his attack.
Ruzek and the Intelligence team then convinced Sam to inform on her dad and his crew in exchange for immunity for herself and her son, Callum, which she did.
He then advised them to pack up their things and head over to a safe house, which she proposed as a little getaway to Callum. Unfortunately, Cal was so brainwashed by his grandfather that he immediately called him to let him know that his mom was trying to leave.
When Ruzek approached him and saw him on the phone, Cal pulled out a gun. Ruzek tried to diffuse the situation but Cal pulled the trigger, hitting Ruzek in the abdomen. He immediately started bleeding out and collapsed to the ground. Once Sam realized what was happening, she grabbed her son and made a run for it, leaving Ruzek alone to die. Thankfully, he was able to reach Kim Burgess and within minutes, he was in an ambo on his way to Med.
Unfortunately, once he went into surgery, the doctors provided no additional updates, though Platt assured a very concerned Burgess that they got to him quickly.
It's tough to say if Ruzek will survive, especially with so many Chicago PD and Chicago Med exits happening this year, however, Ruzek is one of the fan-favorite characters, so I can't see him leaving the series anytime soon. He's strong and he's a fighter, and he has a lot to live for—he just made things official with Burgess, he's a father to Makayla, and he's an integral part of Intelligence.
My guess is that he will survive the surgery, but he'll be sidelined for a bit and will likely have to go through some rehab and therapy in the same way Burgess did after her near-death experience.
This seems to be a still from an upcoming episode that shows Ruzek still alive post-surgery—though unconscious—with Burgess by his side, which is promising.
While I can't say anything definitively, I firmly believe that Adam Ruzek is not leaving Chicago PD just yet. And we likely won't know more until Chicago PD Season 9 returns in the fall.
You can read our Chicago PD Season 10 Episode 22 review right here.