A minute in and you are hit with the realization that this is no Boy Meets World. The Disney Channel reboot Girl Meets World tried really hard to lure in old fans, while attracting new viewers. (I mean, they said world about 15 times to reiterate their point.) The turn out was a show with elements of the 90's fan favorite intertwined on a typical Disney channel format. The only reason I'll be tuning in every week, is to keep up with Corey and Topanga. (Hey, now that's a show idea.) WARNING: If you don't want to be reminded of how old you are, then it's probably not wise to watch. It'll really make you depressed. 
"Let's get married. Let's have kid. Lets have another kid," Topanga teases in the best quote of the pilot episode. Yeah, what were you thinking Corey? When I pictured "where they are now" a home in New York didn't really come to mind. The whole setup of their life, is much different then it was on Boy Meets World when our favorites, Corey, Topanga, Shawn and Eric were figuring out life in Philadelphia–although it's in line with series finale. Everything is happier. More staged. More Disney Channel. It feels fake, whereas once upon a time, Boy Meets World felt like friends and family going through the same struggles as we were. While this show really got it's buzz around the nostalgia factor, it isn't for us 90's kids. We asked for this show, we wanted to catch up with our favorite characters. We made meme's and dedicated Buzzfeed "remember when's" to them and we're the same people who will jump ship on this show after watching the premiere. Why? Because we wanted a show about Corey and Topanga. Not about her daughter. Not some cheesy-Disney show aimed at 13-year-olds. But that's what we got. And I guess it makes sense, realistically. But it doesn't make sense for us devotees. Maybe we should just shut up and accent the brief C+T moments we do get and suck up the parts that are focused on their daughter? I mean, I don't know anymore. All I know is that I'm a little shattered after this premiere and I don't know how to pick up the pieces aside from tuning into ABC Family and watching a marathon of Boy Meets World. 
But lets get into the show. The 30 minutes are really like 20 with commercials, which really irks me because I basically feel cheated out of half the show. Girl Meets World revolves around Riley Matthews, Corey and Topanga's teen daughter, whose having some growing pains. She wants to be more like her bad, rebelious friend Maya. Instead she's good and predictable, which is great for her parents, but bad for her social life. (Whatever social life that may be.) I understand the concept is about a young girl finding herself the way Corey found himself, but it isn't the same. One thing Corey made clear is that it's still his world, although he really wants Riley to make it hers. Maybe through the coarse of the season she'll find a way to do it.Until then, she's taking pointers on how to be bad from Maya. Her first lesson is how to flirt with a cute boy on the subway. Her second lesson– how to rebel against homework assigned by your teacher, whose also your father. In typical teenage fashion, the two bffs fan girl about boys, eat lunch embarrassed by their parent's antics and rebel against authority. 
Teen drama aside, I do like what executive producer Michael Rosenthal has done with the reboot to try to appeal to original Boy Meets World fans. For instance, as I watched I realized that Riley was Corey. She had boy problems in the same way Corey always struggled with talking to girls in middle school. Maya is the present day Shawn. She's Riley's best friend, but she's the bad seed. She has all the tricks up her sleeve, she's smooth and suave. Ferkle is Minkus. This one is a no brainer. I love the nod to Minkus because I really think Minkus was so underrated back in the day. At this point, Ferkle is my favorite character. And of course, Lucas is the male version of young Topanga. As she was the apple of Corey's eye and their love lasted multiple seasons, Lucas is the apple of Riley's eye. This, I really enjoyed. I wouldn't call it symbolism but their references to the original show. And lastly, Corey is the new Feeny. Isn't it funny how once upon a time, Corey sat in those desks with Shawn and pretended to be so much wiser then the teacher. Gosh, don't you miss those days? Now the roles have reversed.
Even though theres potential, I don't think the show will see as much success as Boy Meets World did. It won't be the type of show to help kids grow as a generation. It won't teach these kids the lessons that BMW once taught us. While it's the same producer, it's simply a different format and style. And most importantly, it's a different generation; one with a chock full of social media insecurities and one liners from the youth. If we want to watch this show, we have to accept that Corey and Topanga aren't the main attraction anymore. Their the parents, just like many of us old fans are now, handing the reigns over to their kids. And that's ok. But if you still want to watch just for nostalgia, well Jacobsen promises to throw in some old inside jokes. And don't forget there's always an appearance from Feeny and Shawn right around the corner! 
Follow CRAVEYOUTV on socials
"Girl Meets World" Has Been Canceled On Disney Channel
Say it ain't so!
The verdict is in – the Disney Channel spinoff Girl Meets World just got cancelled!
After months of speculation, the shows official twitter announced the news Wednesday, January 4.
"It is with incredible pride in our work and complete sadness that things end, that I report to this wonderful audience that our show is over. I just officially got the call, and would like to thank this audience for its incredible love and loyalty. Please watch our January episodes. We leave you with three incredible souvenirs of a show we couldn't be more proud of. As I look back I can tell you with absolute certainty we gave you our best," the account wrote.
The cast was also pretty sad to get the news.
Rowan Blanchard, who played Riley, Cory and Topanga's daughter, posted a long note about the show being the "most significant event" in her life right now.
Read more HERE!
Trina McGee to Guest Star on 'Girl Meets World'
Guess who's coming to Girl Meets World!
Nostalgic fans have been patiently waiting for the return of Angela– Shawn's love interest in the 90's show Boy Meets World.
Now, Disney has confirmed Trina McGee will be returning as a guest star for the show's second season.
Photo Credit: Boy Meets World
McGee will debut in the episode "Girl Meets Hurricane" along with Blake Clark, who played Chet Hunter, Shawn's dad.
Fans are wondering how Chet will be returning for a role, since he died of a heart attack in season 6 of the original series. This has led some to believe that both Angela and Chet will appear in one of Shawn's dreams, which is a little disappointing for all the Angela and Shawn shippers out there.
It does make sense however. New age fans aren't as obsessed with seeing Shawn and Angela back together, especially after the writers touched on the storyline of Shawn dating Maya's mother. Maybe Shawn is just reminiscing what could have been?
William Russ, who played Corey's father, is set to direct the episode making it even sweeter for original BMW fans.
Also set to appear in season 2, Eric Matthews, Corey's brother played by Will Friedle and Mr. Fee Fee Fee FEEENY, played by William Daniels.
Rumor has it, the old  gang is meeting by Feeny's house to retrieve something from their past.
Take a look at the Twitter post from Ben Savage!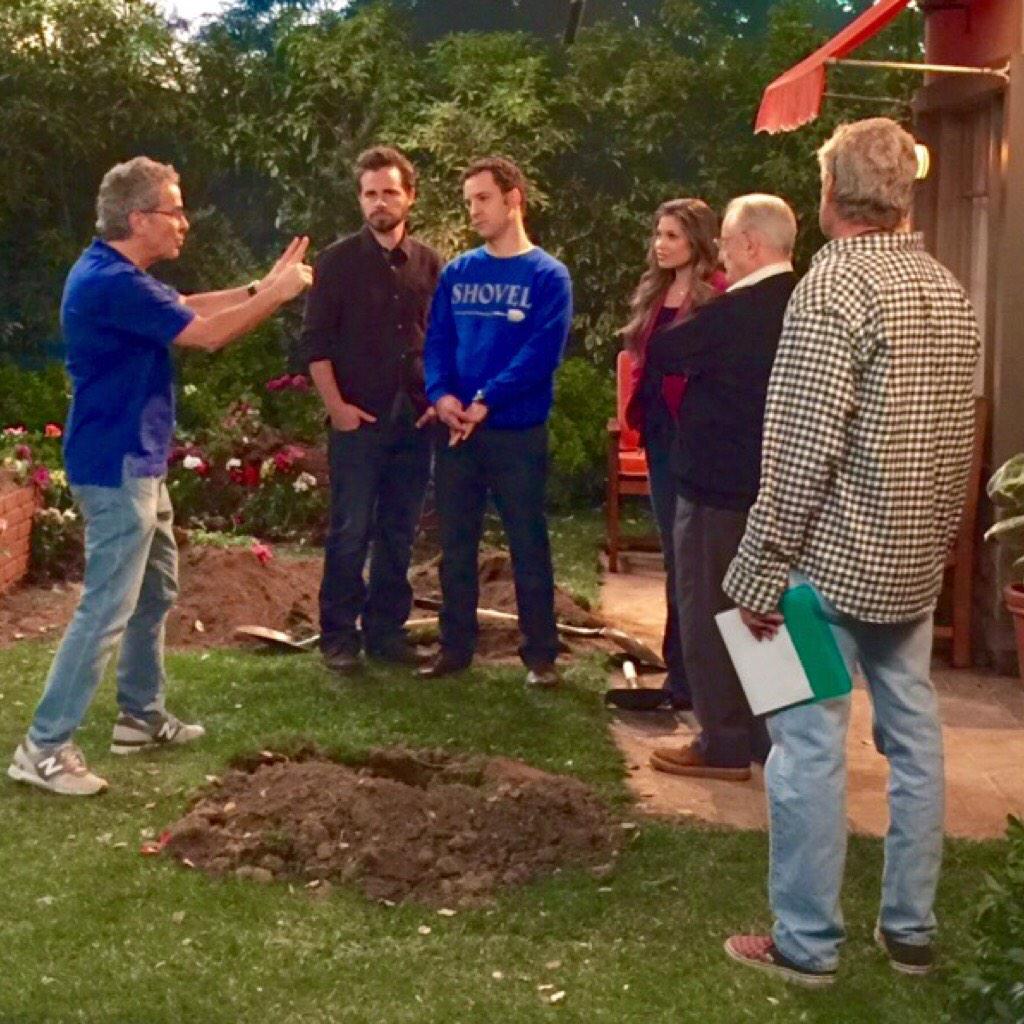 Photo Credit: Ben Savage
Are you excited for all the familiar faces coming back?? Who are you most excited to see? 
Girl Meets World Renewed For Season 2!
More Cory. More Topanga. More Riley!
Good news for Boy Meets World and Girl Meets World fans! The spin off of the popular 90's show BMW has been renewed for a second season, mainly because of its good ratings– the June 27 premiere attracted  5.2 million viewers! (Although I'm pretty sure after all the 90's BMW fans, like me, realized that this wasn't going to be the same show, they quickly tallied off.)
"The series swiftly became a favorite of kids and their parents, many of whom grew up with 'Boy Meets World,'" Adam Bonnett, Disney's EVP of original programming, told TV Guide.
GMW has become the No. 1 TV show among kids ages 2 to 14 on Disney, but in order to keep older fans interested as well, the show has been using cameos from some beloved characters– I'm looking at you Mr.Feeny, Shawn and Minkus! 
Ben Savage and Danielle Fischel, the original stars of the show, took to Twitter to thank their fans for the support. 
"Thank you to all who watch and support us. We appreciate you," Danielle tweeted.
Filming picks up Nov. 2 and the second season is set to air sometime in 2015. In the meantime, you can always catch up on old BWM episodes aired on ABC Family and the season 1 of GMW on Disney Channel. 
Photo Credit: Disney/ Girl Meets World