What a great episode not only to bring us back into the God Friended Me orbit after such a lengthy hiatus, but also to celebrate Valentine's Day and love.
Much of Miles' mission to find out who is behind the God Account was put on the backburner on God Friended Me Season 2 Episode 13, and the episode was better and stronger because of it.
Without that added concern, Miles, Cara, and Rakesh were able to focus on their friend suggestion, spend time together, and most importantly, enjoy doing the work of the God Account.
My biggest gripe with God Friended Me Season 2 Episode 12 was that the episode tried to pack in so much into one hour that each storyline suffered and viewers were left overwhelmed.
But this episode had just the right balance of everything allowing for one of the most enjoyable hours.
Rakesh's soulmate app provided the perfect entry point to an intriguing and enlightening friend suggestion.
Rakesh's first encounter with Lulu happened when she popped up as his soulmate on his app. It was quite the shock for him as he developed the app solely to prove to Jaya that they were a match made in algorithm heaven.
But despite his hesitation and insistence that Lulu wasn't the one, he and Lulu hit it off right away when they ended up grabbing lunch at the same food truck. And, by absolutely no coincidence at all, she was also Miles' friend suggestion.
Rakesh's quickly formed bond with Lulu allowed him to steer the ship and guide the friend suggestion for once, which was a refreshing change of pace.
Despite Lulu being a real-life princess from the country of Longo, these two had so much in common that Miles said she was the female version of Rakesh.
Yeah, Rakesh matched with a princess — how impressive is that?
I loved how natural their vibe was and how the conversation flowed without any awkwardness at all. It seemed like they were longtime friends rather than two people who had just met.
Lulu didn't give off the impression that she needed help from the God Account at first, but that changed when she found out her father wasn't planning on giving her the keys to the kingdom and making her the first female leader.
Instead, he was going to give the honor to his son and her brother, Zane.
Things grew even more complicated when they realized Zane was the one who betrayed and sabotaged Lulu and then lied to her face about it.
The rift between the siblings opened up a very important conversation about female leadership, speaking your mind, fighting for equality, and embracing progress.
Lulu didn't want to keep things the same, she wanted to challenge the status quo and fight for women's equality, which was deemed too risky by her father.
The episode seemed to hone in on the idea that there is no reward without a little risk.
It's a motto that we all need to adopt and infuse into our daily lives.
Lulu learned that her father chose her brother over her because her views were too liberal, and he was scared that the country wasn't ready.
He feared that she would get death threats just like her late mother.
His concerns were valid as a father, however, as a King, his concerns were holding back a country from evolving and progressing.
Lulu argued that the country was ready and they would get there step-by-step, but he needed to take the risk and give her a chance if he wanted positive change
Similarly, Ali's decision to put off treatment for her cancer was a risk, but the reward presented her with the possibility of becoming a mother one-day.
Follow CRAVEYOUTV on socials
Feelin' generous? Support our site and podcast (Mimosa Talk) on Patreon and KoFi.
God Friended Me Review – Can Miles' Friend Suggestion Help Ali? (2×18)
Are Miles, Cara, and Rakesh one step closer to finding out who is behind the God Account on God Friended Me Season 2 Episode 18?
All signs point in that direction.
But if there's one thing I've learned about this series, it's that red herrings are aplenty.
Miles made it very clear that he's not going to let up on his quest for the truth, which is unfortunate for fans that have been dreading this storyline. You are going to have to buckle in and tag along for the ride.
For most of the hour, Miles was focusing on his Friend Suggestion while Cara was making the big moves to contact Corey, the high ranking government official at DARPA, who they believe is involved.
Cara was authoritative when she approached Marcia, Corey's mother, and demanded a sit down with her son.
And when she was approached by a special agent, Cara showed that same resiliency. She wasn't intimidated and she didn't back down. Her perseverance eventually landed them a face-to-face meeting with Corey Smith.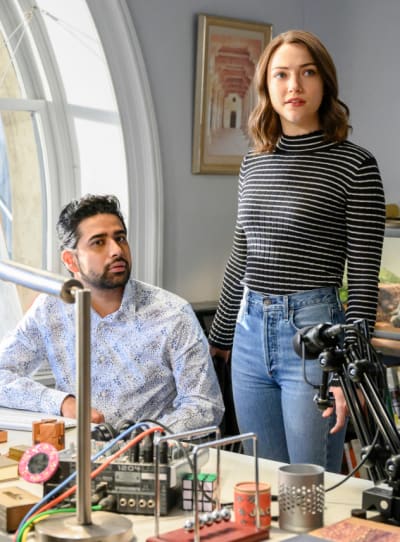 But is Corey the man Miles has been waiting to meet? Will he have the answers that Miles is looking for?
Before I continue, let me just say how exciting it was to see another Scandal face popping up on the series. Is Olivia Pope coming too? Because I'm ready. She would join Miles "God Squad" with her white hat in a minute!
Also, "God Squad" is now the official name for Miles, Rakesh, Cara, and sometimes Ali. Write it down, remember it, cherish it.
Realistically, the God Account's abilities can only be chalked up to a government agency that specializes in intelligence or something similar.
I'd love to believe that this is really God's doing, but I can't see that happening. The blessings are the same regardless of who it is, but there has to be someone behind it who is executing the actions and suggestions.
Though, how Corey fits into all of this remains hazy, and I can't wait to see what he has to say.
They jumped through enough hoops to get a chat with him, so it better have been worth it. His mother also tried to stop them from connecting with him when she visited Reverand Finer, but even he knew there was nothing he could say to make Miles and Cara back off.
They were committed to the truth. When people are so determined to shut you up, it's probably because you're onto something. What does Corey have to hide? Why is everyone protecting him?
Cara's "go get 'em" attitude may have had something to do with the guilt she was feeling over her new relationship. She so badly wanted to prove herself useful to Miles because she was, in a sense, buttering him up to tell him the truth about Adam.
Even without Cara addressing the relationship, Miles became suspicious of Adam on two accounts, which felt out of character because he's not the jealous type.
Cara even explained that Adam was helping her with leads, so Miles' questioning indicated that he was picking up on some kind of vibes.
13 Best Government Conspiracy Shows to Watch During Your Self-Quarantine
Feeling a little restless and bored at home during your self-quarantine? It's understandable. You didn't expect to be living and working from home a month or so.
While you're doing your part to flatten the curve and help prevent the spread of coronavirus, if you don't have something to keep you occupied, your mind begins to wander just a little bit.
That's honestly the only explanation I can think of for all the conspiracy theories I've been reading. While there's absolutely no basis to them, it made me think that maybe there's something there entertainment wise– people are craving a specific genre of television to help them through this tough time.
So, I've put together a list of shows surrounding government conspiracies that you might enjoy while you are cooped up inside.
Manifest (two seasons – currently airing)
Manifest is a mystery inside of a riddle that focuses on the return of Flight 828 five years after its initial disappearance. The plane's re-emergence shocks everyone because they assumed their loved ones were dead. As the passengers begin looking for the truth, they stumble upon a government conspiracy that's dangerous and frightening.
Emergence (one season so far)
Manifest made way for Emergence, a drama about a small-town cop who takes in a young girl at the site of a mysterious plane crash. The young girl begins exhibiting certain supernatural powers, and as high-ranking officials develop an interest in the girl, Jo realizes she's entangled in a mystery larger than she ever imagined.
Stranger Things (preparing for season 4)
When Will Byers goes missing, three best friends in the small town of Hawkins, Indiana begin their search for him along with his mother and police chief Hopper. The investigation leads them to unraveling a series of supernatural mysteries that lead to secret government experiments with an alternate universe.
God Friended Me (two seasons – currently airing)
Not all government conspiracy's have to be dark and dangerous, sometimes, they're feel-good shows! Miles is friended by the "God Account," a mysterious account on Facebook that allows him to help people in need. Miles and his friends try to figure out who is behind the all-knowing account, and the possibility of a government entity is high up on that list.
The Bodyguard (one season)
The British police thriller follows Police Sergeant David Budd, who is a war veteran suffering from PTSD. He currently works for the  Royalty and Specialist Protection Branch of London's Metropolitan Police Service and is assigned as security for Homeland Secretary, Julia Montague, who is rather controversial in the political landscape. It keeps you guessing until the very end over who did what and who knew what.
The Passage (one season)
The series, based on a trilogy of the same name, focuses on Project Noah, a secret medical facility where scientists test dangerous viruses that could potentially be a cure-all. However, there's a chance they could potentially wipe out the whole human race if they get into the wrong hands (this might be a little too on the nose). A federal agent grows to love a young girl who becomes a test subject and attempts to protect her at all costs… even human destruction.
Quantico
Alex Parrish is the one of the top recruits at Quantico, a training facility for only the best and brightest, but she's being set up of masterminding the deadliest attack on U.S soil since 9/11 — a bombing at Grand Central. Can she solve the conspiracy and clear her name before its too late?
Timeless
What's better than a show that combines time traveling to relevant, pivotal, and iconic moments in history with a government conspiracy? Timeless is an adventure series that places you in the middle fo all the actions as Lucy, a historian, Wyatt, a soldier, and Rufus, a scientist, get recruited to thwart a nefarious government institution that wants to change the world as we know it.
Prison Break (5 seasons)
Michael Scofield's brother, Lincoln Burrows, is convicted of a crime he didn't commit and put on Death row. Michael holds up a bank to get arrested and begins his elaborate plan of breaking them both out, which eventually leads into the reason he was framed and yeah, you guessed it, it's an intricate political conspiracy that's really messy.
24 (9 seasons)
Jack Bauer, Director of Field Ops for the Counter-Terrorist Unit of Los Angeles,  thwarts assassination attempts,  torture, traitors, and nuclear attacks, while hoping to save his nation from ultimate disaster.
Designated Survivor (3 seasons)
In a similar vein and also starring Kiefer Sutherland, low-level cabinet member Tom Kirkman ascends to the role of President of the United States after a devastating attack on the night of the State of the Union blows up the Capitol and kills the President and most of the top-reigning officials. Soon, it's revealed that Kirkman wasn't the designated survivor on accident as a government conspiracy unfolds.
The Event (one season)
Sean Walker, a seemingly regular man, begins to look into the mysterious disappearance of his fiancee and exposes one of the biggest cover-ups in American history.
Extant (2 seasons)
After a year in space, Molly Watts (our girl Halle Berry) returns to Earth and reconnects with her husband, a gifted scientist, and her son, Ethan, who has skills and powers that make him incredibly special. However, she begins to realize something isn't just right and the conspiracy that unfolds threatens her career and family. The thrilling drama hails from Steven Spielberg, so even if it's slightly overcomplicated, you know it's bound to be an adventure.
There's likely plenty of other shows… which ones would you add to the list? Share them with us in the comments or on Twitter @CraveYouTV!
Is 'God Friended Me' on Tonight? Why There's No New Episode This Sunday
As you can imagine, the coronavirus pandemic is going to be causing some disruptions in programming for the foreseeable future.
That means it's going to affect some of your favorite shows in various ways.
Production on most shows — network and streaming — has been shut down or postponed. As a result, many shows are airing shorter seasons or skipping weeks altogether.
Tonight's God Friended Me has found itself in that boat, unfortunately. It's unclear if it was bumped due to the pandemic or simply because it's taking a week-long hiatus but nevertheless, it's not on.
The series will not air a new episode this week. 60 Minutes will air in the 7/6c timeslot with NCIS following shortly after.
A new episode of NCIS: Los Angeles will air in the 10/9c spot.
As of now, God Friended Me is set to return with a new episode "Almost Famous" on March 29th!
Here's the synopsis:
Ali is hopeful when she's told that she's a candidate for a new drug trial; Miles is reluctant to get involved with the God account's latest friend suggestion for fear of endangering Ali's chances of being accepted into the drug trial.