There was an exceptionally large amount of drama on what was supposed to be the happiest episode of God Friended Me to date.
Arthur and Trish tied the knot (at last!), but they were blissfully unaware of the problems their children were facing in their personal lives.
Trish was looped in midway through God Friended Me Season 2 Episode 12 that her daughter, Julie, whom we just found out about, was not only pregnant but also getting divorced.
That's a handful to find out any day let alone on your wedding day.
But let me back it up just a little bit – Trish has a daughter?!
Miles echoed those sentiments when he questioned why they've never met her before, but more importantly, why wasn't she ever mentioned? Or maybe she was and I simply don't recall this brief moment. Let me know if that's the case!
Julie came into town and her problems immediately took over the episode as she became Miles' next friend suggestion from The God Account, whom Miles assumed was Alphonse, the owner of New York and Son's and also, his dad's friend coming to the wedding.
In addition to wanting to confront Alphonse about his God Account assumptions and helping Julie with her pregnancy/divorce, Miles was also dealing with Ali's cancer diagnosis.
Oh, and he was Arthur's best man. Yeah, Miles' plate was full.
It was almost too full. At times, it felt like the series was trying too hard to hone in on a point, any point, that would make the audience feel all warm and fuzzy inside.
The show excels when heartwarming moments happen naturally like on God Friended Me Season 2 Episode 11 after Abe was reunited with his sister thanks to Miles and Joy.
Abe's desire to find his sister remained the focal point of the story and had an ending that proved exactly why Miles needs to continue his role within the God Account. It was a winning formula for the series.
During that episode, there were other minor storylines floating around but they weren't fighting over our attention as was the case with the wedding.
We weren't able to enjoy Trish and Arthur's big moment because it was constantly being overshadowed by storylines that could've waited until a later time.
Follow CRAVEYOUTV on socials
Grade It: Best, Worst, and Most Emotional Moments of God Friended Me Season 2
It wasn't until the final few episodes of God Friended Me Season 2 that we learned they were also the final few episodes of the series.
The series was not renewed at CBS, which killed the shows momentum and left fans heartbroken.
Not only was the series picking up steam about the God Account, but it was also delivering some incredibly powerful storylines through the Friend Suggestions and the core trio, Miles, Cara, and Rakesh.
During these difficult and unprecedented times, the series was a beacon of light offering hope and promise. And it continued to be so until the very end with a finale that gave fans closure and brought Miles back to his faith.
Let's take a stroll down memory lane and look back at season 2:
Best Friend Suggestion – Holocaust Survivor Abe
There were plenty of strong and emotionally driven Friend Suggestions this season. As Miles established a groove and embraced his role fully, he was better able to help those who may not have even been aware that they needed his help.
However, one Friend Suggestion sticks out so vividly because I was a complete mess throughout the whole episode. That Friend Suggestion is Abe (guest star Judd Hirsch) on God Friended Me Season 2 Episode 11.
Abe was a Holocaust survivor who spent his whole life looking for answers about whether or not his sister, Rose, survived.
Some Friend Suggestion storylines are predictable and easy to crack, but it wasn't clear if Rose was alive until the very end when Miles and Joy reunited the long lost siblings in what was surely one of the most touching and beautiful moments on television.
Worst Friend Suggestion – Trevor
Some episodes were better than others, and the same goes for Friend Suggestions. The worst Friend Suggestion of the season came towards the end of the season on God Season 2 Episode 21. While Trevor helped Miles realize his feelings for Cara, he was also insufferable.
He had a bone to pick with Miles because he claimed the God Account ruined his life when it reunited the woman he loved, Rose, with Lt. Freemont thus leaving him heartbroken and betrayed.
Of course, Miles had nothing to do with the fact that Rose thought of Trevor as a brother, and when he refused to sabotage Rose and Freemont's relationship on the eve of their wedding, Trevor outed Miles' feelings for Cara in the comments section of his podcast.
Trevor also made terrible decisions like telling Rose how he felt while giving a speech at her wedding rehearsal. I'm still cringing.
Best Team-Up – Rakesh and Zach
Zach was Miles' Friend Suggestion and after they got him out of trouble, Rakesh realized Zach was an incredibly talented coder and a good addition to the team.
He took him on as an intern at Identity Seal, which proved to be useful as Zach came in handy when they wanted to hack the God Account's mainframe.
Mostly, this duo was my favorite because they had such a fun bond and provided witty one-liners. Zach always kept it real.
Character That Needed Closure – Joy
Joy was introduced on the backend of God Friended Me Season 1 when she was sent Miles' name as a Friend Suggestion.
At first, she was cold and unapproachable, but as we got to know her, and the God Account began to make an impact on her, Joy became part of the God Squad.
We learned she was in New York because she gave her daughter up for adoption and while she was able to have some closure by meeting her daughter and seeing that she was doing well, it always felt like Joy's story was far from over.
It would have been nice to have her return for the finale, and who knows, maybe she would've been back somehow if there was a third season.
Couple That Showed True Promise – Ali and Emily
It's unfortunate that Ali found love and a dedicated partner towards the end of the series because we never got to see thier relationship fully blossom.
Ali was skeptical of starting a relationship not only because she'd been burned before but because she didn't want to drag anyone into her mess. When she met Emily while freezing her eggs and gearing up for cancer treatment, it was the worst time but also the best time.
Emily proved to be the best thing to happen to Ali; she by her side throughout the cancer battle, she supported her, and she loved her. It would've been great to see their relationship blossom outside of the cancer storyline and maybe even see them start a family of their own.
Ali always deserved a happy ending.
God Friended Me Series Finale – How Did It All End? (2×21 and 2×22)
And that's the end.
The worst thing about a series getting canceled is that it doesn't get to end on its own terms.
While watching God Friended Me Season 2 Episode 22, I found myself impressed with how neatly everything was wrapping up. I wondered if maybe the showrunners were tipped off about a cancellation prior to the announcement because everything was so perfect.
The episode had all the makings of a series finale — it even switched up formats by including a time jump and narration from Miles.
There are no coincidences with the God Account, so it was not a coincidence that the writers gave closure to most of the storylines while still leaving us on a thought-provoking cliffhanger that was slightly infuriating.
That's another thing that's so frustrating about a cancellation — there are usually so many stories left to tell.
Even if you remove the mystery of the God Account, the series had a roadmap and plan for the future.
The cliffhanger proves that, before getting word of the cancellation, the series was simply wrapping things up in order to reinvent itself for the upcoming season.
If we were to get another season, we'd likely get to explore a potential pregnancy storyline for Ali, the blossoming relationships following the time jump, and Miles's new outlook on faith and the God Account.
The episode kicked off with Miles standing on top of the Annapurna Himalayan mountain. Coming off of God Friended Me Season 2 Episode 21, it wasn't immediately clear why or how.
And to be quite honest, even after the final moments, we still don't really know what he may have found. We likely never will.
It's painful to lose a TV show that has become part of your life.
And there's nothing like all of the burning questions going unanswered before the final bow.
Despite Ali's surgery being a focal point, the episode was uplifting and inspirational as it revealed there was light at the end of the tunnel; the sun always comes out after a storm.
All Miles needed was a little bit of faith.
Faith played a huge role in not only the episode but the series, which isn't surprising since it's a show about God.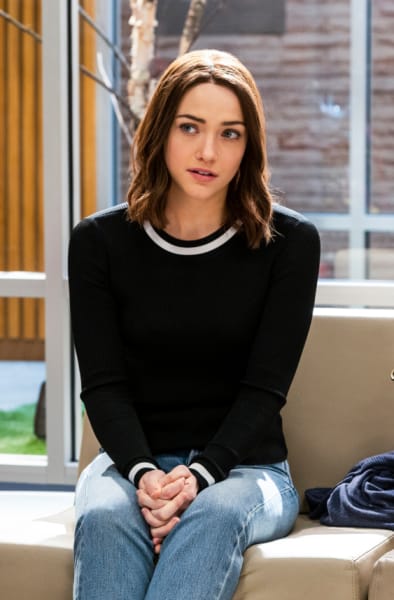 But the last few Friend Suggestions, specifically, have been trying to bring Miles back to his faith. To give him back what he lost when his mother died.
Its boldest attempt was when Ali's surgery hit a bit of rough patch due to an unexpected blood clot.
Miles felt helpless, and that helplessness made him find solace in a church.
Shortly after he turned to the church and prayer, Ali was on the road to recovery. Was it a miracle? An act of God? The blood thinners doing their job?
It's a situation that often plays out in real life, and in both instances, the root cause of the miracle remains a mystery.
The only explanation that matters is the one that you believe.
At the end of the day, that's what faith is. It's your belief in yourself, in science, in medicine, in something greater than yourself.
You cling to that belief because it gives you hope. It would be nice to think that faith looks the same for everyone, but it doesn't.
Miles may not have fully returned to being a believer like his father or Ali, but he does believe in people and being a good person.
Through the God Account, he sees miracles happen when people come together, when they lean on each other, and when they help each other.
That's the reason why this show struck a chord with so many of us. Like Miles, we've all been trying to make the world a better place and do right by each other.
And while the religious aspect may have been a huge draw for some people, most of us stuck around because it was the light that assured us everything would be okay.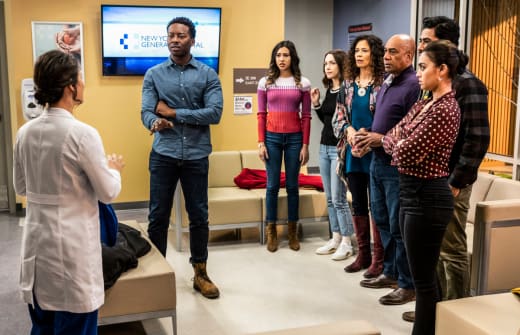 I think Miles summed it best in one of his final podcast quotes that voiced over a montage of Friend Suggestions dating back to the very first one. Cue the nostalgia.
He said: "It doesn't matter what we believe or where we come from. That we are all in this together, that we can all be there for one another. Because when we are, amazing things can happen."
That, right there, is what the show has always been about — bringing people together and celebrating their differences.
It's why the series never leaned too far one way or the other. It never established the God Account as spiritual or physical — It teetered right in the middle till the very end so that it never alienated anyone.
If you think of it that way, maybe it was never in the books to reveal who is behind the God Account because as we've all pointed out one time or another, it would ruin the magic.
'God Friended Me' Series Finale Trailer and Photos
It's heartbreaking for fans, but God Friended Me is coming to an end on Sunday, April 26, with a two-hour series finale.
Many fans are wondering if we'll get closure when it comes to the overarching mystery of the God Account.
Check out the synopsis for both episodes below to get some insight:
God Friended Me – Miracles
Miles helps his new friend suggestion, C.J. (Lonnie Chavis), a young boy who claims an angel wants him to reunite his father, Corey (Cornelius Smith, Jr.), the creator of the God Account's original algorithm, with Corey's estranged father, in the first part of the two-hour series finale of GOD FRIENDED ME
God Friended Me – The Mountain
Miles is forced to examine his lack of faith more than ever before when the God Account sends him his sister, Ali, as a friend suggestion on the eve of her cancer surgery, in the second part of the two-hour series finale of GOD FRIENDED ME, at a special time, Sunday, April 26 (9:00-10:00 PM, ET/PT) on the CBS
God Friended Me
Image 1 of 11
"Miracles" -- Miles helps his new friend suggestion, C.J. (Lonnie Chavis), a young boy who claims an angel wants him to reunite his father, Corey (Cornelius Smith, Jr.), the creator of the God Account's original algorithm, with Corey's estranged father, in the first part of the two-hour series finale of GOD FRIENDED ME, Sunday, April 26 (8:00-9:00 PM, ET/PT) on the CBS Television Network. Pictured L to R: Brandon Micheal Hall as Miles Finer and Cornelius Smith, Jr. as Corey. Photo: Barbara Nitke/2020 Warner Bros. Entertainment Inc. All Rights Reserved.