That was a lot to take in.
Here's what we learned on God Friended Me Season 1 Episode 19: Simon Hayes isn't behind the God Account, Henry Chase is our number one suspect again, and Pria just deleted a project that could potentially help save the world from seismic catastrophes.
No big deal.
Oh, and Rakesh and Cara are both jobless.
As we inch towards the God Friended Me Season 1 finale, the stakes are getting higher.
Truthfully, I don't know why Rakesh, Miles and Cara were so adamant that Simon Hayes was behind the God Account.
Sure, all signs pointed in his direction and he was suspiciously coy about his secret project, but there was always the possibility it wasn't him, and our trio never even considered it.
Maybe it's because they wanted him to be responsible so badly that they just ran with it full speed?
The closer they got to unmasking Simon Hayes, the more they felt that their future with the God Account was being threatened.
Read the full review on TV Fanatic!
INTERVIEW: God Friended Me Show Creators Talk Season Finale Cliffhanger, the God Account, & Cara's Big Move
Sometimes, a season finale is so well done, it could hand itself to a series finale.
If I didn't know the series was renewed for a second season, I would have thought God Friended Me Season 1 Episode 20 was closing the book for us.
Or at least, closing the chapter of the God Account.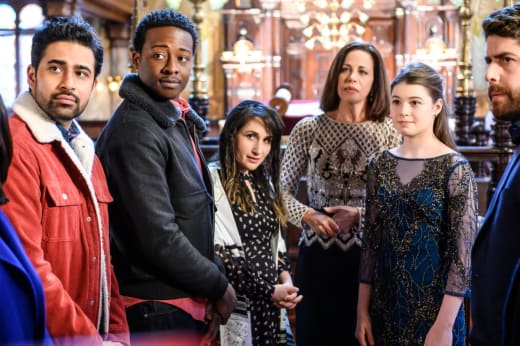 Though Miles, Cara and Rakesh always run into some troubles, everything always has a way of working itself out.
By the end of the hour, it truly felt like Miles' work with the God Account was done and Cara and Rakesh were starting their own journey independent of Miles.
Related: God Friended Me: Violett Beane Teases What's Ahead for Miles and Cara
But then… the God Account flipped the script by bringing in another character into the fold, a woman named Joy, who was friended by the God Account and sent Miles as a Friend Suggestion.
I spoke with show creators Bryan Wynbrandt and Steven Lilien below who said that God Friended Me Season 2 will explore why Miles became a friend suggestion — is it because he knows how the account operates or is it because he needs help this time around?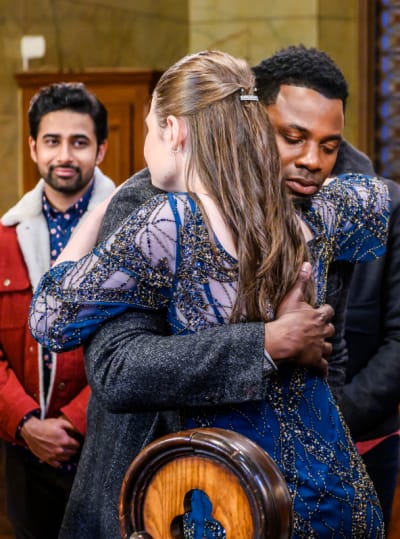 The finale also revealed that Henry Chase is not behind the God Account as previously believed.
After searching for Chase throughout most of the season, Miles, Cara and Rakesh were finally able to track him down thanks to Graham Hastings, a previous friend suggestion who played chess with Falken aka Henry.
Tracking Henry down was nearly impossible for much of the season, so why was it so easy in the end? Why didn't they think of this sooner?!
While we initially believed Henry was the creator of the God Account, upon meeting him, we realized he needed Miles' help just as much as the previous Friend Suggestions.
Read the full interview and review at TV Fanatic!
God Friended Me – The Dragon Slayer (1×17)
If only all humans were as good as Miles.
Week by week, this series restores my faith in humanity.
Most of God Friended Me Season 1 Episode 17 focused on Miles' friend suggestion, Ben Evans, a homeless man whose run of bad luck was getting the best of him.
God Friended Me – Two Guys, a Girl and a Thai Food Place (1×15)
"I think it's nice to see people realize that they were right for each other all along."
Long pause.
Well, God Friended Me Season 1 Episode 15 finally gave us the moment where Miles took his own advice.