Good Girls started the episode by doing something that was extremely enjoyable to watch — they juxtaposed Beth's prim and proper morning routine with the messy, chaotic routine of the FBI agent we saw at the end of "Nana."
The agent has a picture in her mind of the type of woman she's trying to "draw out of a cave," and I can guarantee it isn't a suburban, chipper, charming mom hiding in plain sight. This has always been Beth's greatest weapon, but it can't protect her forever.
While Beth got herself ready to take on the day without a care in the world (though, we know that isn't true), the agent was clearly not a morning person.
Why does the series constantly make it seem like following the law leads to a miserable, bottom-of-the-barrel life? Is there a reason why every law-abiding citizen's life looks like it's a rinse, wash, repeat?
Seeing it from this angle, you can almost understand why Beth's gotten so deeply involved in the criminal lifestyle, but the series quickly reminds you that the grass ain't always greener on the other side.
Beth's motivation and confidence didn't stem from the fact that that she was rolling in the fake cash that she was washing, no, she was thrilled that they finally had enough money to hire a professional to take out Rio.
Yup, the suburban mom is engaging in murder-for-hire plots and acting like it's just another Tuesday. This is what her life is now.
You can't blame her for it either as Rio isn't just a pain in her side, he's a man who is destroying her life piece by piece. She's still sleeping without furniture, they're still broke, and Rio "incentivized" Beth by getting her fingerprints all over a gun he claims they used to kill Boomer.
Rio is good. He's really good. And if Beth wants to take the throne and eliminate him, she has to be equally as good.
Rio admitted her was running out of ways to incentivize Beth, but by getting her prints on the gun, he has the leverage to destroy her if she ever missteps again.
Rio thinks he understands Beth, and for the most part, he's pretty on point, but his drastic move didn't incentivize Beth in the way he wanted.
Instead of falling in line, Beth decided to act on part three of her plan.
But as I said previously, Beth has to be really good to pull one over on him.
And while double the price gets her a sniper with arms — don't get me started on the fact that Max told them his cousin with no arms would snipe Rio for $30k — it's not like she can check out a Yelp review or see a Google rating for this man. She's going in blind, and she has to trust that the man who says he can take care of Rio will actually take care of Rio. Hopefully, the guy isn't a cop or something, though, I can't be the only one who saw the paintball mark on Rio's car in the teaser episode!
Beth needs to be careful because hiring a hitman and giving the "okay to shoot" order adds on a charge that's much more dangerous than printing counterfeit money.
But back to the cousin with no arms, Good Girls loves to lean on dark comedy to get through the tough times, and it works. I was out of breath from laughing at this whole scene.
When he said he likes to dabble in explosives, and Ruby said "really," it was genuinely one of the best moments this season.
Beth sacrificed a lot to set up a meeting with the hitman including attending Dean's award ceremony, so obviously, getting Rio out of her life is of the utmost importance.
It becomes more evident with each week that she needs to free herself, the ladies, and their families from his grasp.
Beth may think that taking out Rio is the answer to all of her problems, but in life, once you solve one issue, another one tends to pop right back up.
And in this case, that issue is the FBI agent I mentioned in the beginning. The FBI is hot on her trail and she doesn't know it because she's so laser-focused on Rio being the biggest obstacle in her happiness.
When Beth suggested they don't need any more of the recalled nail polish color to gloss the fake cash, I was hoping and crossing all my fingers and toes that it was because she knew something was off. Sadly, it wasn't.
Recalling the nail polish was the female agent's idea and it officially makes her more dangerous than Tanner ever was because she's incredibly savvy. She wasted no time narrowing down the exact color.
She hoped that the recall would lure out the "woman" to get more of the color so that they could ID her.
However, the agent has no idea who she's dealing with. Beth and the ladies are cheap, which seems to be their saving grace. They're not just going to pay that insane mark-up. Nope, that's what normal people do when they're in need of a product that's high in demand.
These ladies, well, they take it to the next level.
As Beth is to suburban mom, Ruby is to a good Christian woman. She used that to her advantage by offering all the underprivileged women at her church a day at the spa where they could get their nails — both hands and toes — done. It was her treat!
It was also the perfect cover to pull off a robbery. Since the salon where the nail polish color was stolen from was filled with women who all had motive and needed money, there was no way the FBI could pinpoint the woman down.
Beth, Ruby, and Annie saved themselves without even knowing, and it's that sheer luck that has kept them out of any real trouble over the years.
Ruby also made Sara an accomplice when she stole the nail polish by having her fake getting a period for the first time.
The situation didn't sit well with me at first because Ruby is exposing her daughter to her criminal doings and as we've seen before, Sara has also had a few brush ins with the law as she emulated the behavior of her parents that she thought was okay.
However, the moment led Ruby to tell Sara about how she had to do whatever it took, even something illegal, to steal her a second chance.
The realization scared Sara to the point where I don't think she'll ever cross a line ever again. It gave her a new appreciation for her parents that she may not have had before. It's easy to judge someone for the action without knowing the decision behind it, but Sara learned that if her mother didn't put her neck on the line, she wouldn't have survived.
When she revealed who she wanted to help with the money from the jar, it broke me — she wants to help the family of the girl whose lung she got.
Sara may have made a few bad decisions, but she's a good kid. Stan and Ruby raised her right.
I've seen many fans comment that they don't want another FBI storyline, but realistically, how long could the ladies have gone with producing fake cash before someone caught onto them?
My biggest gripe with this storyline is that the FBI doesn't seem to have any connection to Turner's findings.
Since they narrowed the money down to Detroit, couldn't they pull up the branch and see if anyone locally has stumbled upon a similar case? It seems like the most obvious thing to do especially since Turner dealt with fake cash and had a whole case built around them before he got killed. The very fact that an FBI investigating gangs and fake cash was killed should sound some kind of alarm.
I'm assuming the FBI agent will become Beth's adversary, but what if the series wanted to show us her monotonous lifestyle because she would be the kind of person to join Beth's operation and got sucked in by the allure of street life?
It's more likely that she'll go undercover to get in with the ladies instead, but I can't say I'd be opposed to a twist the would find her becoming a "good girl."
Annie was or of the best parts of the episode.
She has the type of personality that connects with anyone, even Lyla, whom she wanted to grill about her relationship with Josh.
After a few glasses of wine, she learned that they don't get nasty because they attend "Egyptology" class for fun, and used that to her advantage when she forced Josh to face the reality of his feelings.
The one thing you can never take away from Annie is that she's honest, unapologetically herself, and enjoys life for what it is not what she thinks it should be.
Josh isn't enjoying his life; he's living a life that makes sense on paper, which is no way to live.
There's no spark in it, which s why he's so attracted to Annie and her wild, spontaneous, and carefree attitude.
There's a chemistry between them that's undeniable that he clearly doesn't have with Lyla. With Lyla, everything is by the book, but with Annie, it's almost an animalistic attraction that he's trying to fight but failing, especially when she called him out and watched him squirm.
I think Annie is equally as interested in getting him to admit his feelings as she is proving a point. And once again, Josh has become an unattainable conquest for her, which is how he summarized her behavior when she first walked into his practice.
Where this goes from here, we'll see, but it was enjoyable to watch the tables get turned. Annie is smart when she wants to and needs to be.
Of course, kissing Greg wasn't smart, but she's the queen of bad decisions and her and Greg have a history of falling back into bad patterns.
What really bothered me is that Greg has no respect for Annie, Nancy, or their children. Heck, he doesn't have respect for himself. He pulled away from Annie not because she was drunk or because it was the right thing to do since he has a wife but because he "does the night feeding" with the baby.
Seriously, Greg. Shut up. There was a time I rooted for him, but it's evident that he tries to absolve himself of any wrongdoing and always blames Annie for any slip-up.
Her life is a mess, but again, at least she owns it instead of hiding behind some facade.
Wait till Annie and Josh start getting it on and he realizes she's dating the therapist he paid for!
Other Good Girls Musings
The fact that Dean felt bad about himself because he thought Beth ditched him to run to Rio (when in reality she was trying to hire a hitman to save her family) shows just how low his self-esteem is, but also, how he doesn't recognize how much Beth is doing to set them free from his grasp.
Dean never asks where she goes or what she does for Rio, but he has so much to say and criticize her for. Beth isn't without fault, but he should know what happens before jumping to conclusions.
Dean is so hung up on "Brio" that he even made out with Gayle. He regretted it immediately, and it was nice to see him take responsibility and own up to his actions.
I actually did feel bad for him when he said "I don't want her," and it's likely why Beth allowed him to stay instead of kicking him out of the house. She realizes that Dean loves her despite everything the family has been through, but I truly hope the writers don't bring them back together.
Stan saying guess no one will watch when the iceberg hits was too telling in light of the FBI revelation. Something bad is coming.
This hasn't been my favorite season. The season continues taking competent characters and dumbing them down for the sake of getting them into problematic situations to propel a storyline that has already been done.
It's been painful watching the girls make terrible decisions to undercut Rio, plan assassinations plots that don't have a very high success rate, and resort to robbing grocery stores like they did when they first got into the business.
They continue making mindless choices when they should be advancing and learning from experiences, even if the stakes keep getting higher.
It seems we've come to a standstill and need something to really shake things up in a new direction.
And even if they do succeed in getting rid of Rio, which won't sit well with his fanbase (plus I don't think Beth could go through with it because she low key loves him), there's always the issue of the FBI that's closing in on them.
They aren't looking for the men who have been washing the cash, they're looking for the Queen B(eth) that's printing the money.
There's potential here, but again, not if the writers don't do anything new with it.
And the series should really tap into its strength and give the people what they want, which is Rio. The season has been sorely lacking when it comes to Rio's arc. He's become such a "hot" character, both in popularity and physically, but the show is doing him a disservice by reducing him to a few scenes throughout the episode that either take place in a bar or as he walks to pick up the money in their exchange.
We want more not only because we like him but also because we barely know anything about him.
Beth doesn't need to know everything, but the audience is craving to find out how he got in the game, what his deal is with Rhea, who we haven't seen in a while, and who that woman was that he met up with to play tennis way back in the first season.
There are so many layers to Rio, and we haven't peeled any back this season, which almost seems like a waste.
Your turn, Cravers.
What do you want more of in Good Girls? Did you enjoy the episode?
Follow CRAVEYOUTV on socials
Big Brother All-Stars Review: Another Boring Week (22×20)
I really truly thought that after last week's insanity, maybe, just MAYBE, we could get another one just like it, where the possible target could be someone in the Committee alliance, but it doesn't seem so. Controversy surrounds the house, and it causing the place to implode in completely boring fashion.
After BB14 winner Ian was sent packing by a 5-3 vote, confusion ran around the house, leading to the 3 dissenting votes wondering who flipped. It was revealed that David, Kevin, Da'Vonne, and Nicole teamed up to try and tie the vote, causing Dani to break the tie. However, with Nicole being a part of the Committee, as well as a mean person to her friend in the house, voted to evict Ian. Kevin was nervous that David might be lying to keep Ian since he likes Tyler so much, but David only wanted to tie it so that all the blame could go on Dani, making Dani and Nicole furious with David. They plan to convince the rest of the house that David was the one that flipped, rather than Nicole
This week's Head of Household competition was a 3D puzzle of a fire hydrant. Kevin, Day, and David know that they could be set up on the block if they don't win, so it comes down to this puzzle. Dani says that she didn't use her power to compete for HOH again because she wants to sit in the shadows and spread seeds around, rather than be in the forefront. The only people who seemed to be doing well on the puzzle where David, Memphis, and Tyler. After failing and misplacing pieces, Memphis put the puzzle together the fastest, and became the new Head of Household. Dani didn't see too enthused to hand the key to him, but she knows that she's safe.
Before moving on to the rest of the episode, I just want to say that Memphis does not deserve to win this game. He was overheard on the feeds saying various racial slurs about some of the HouseGuests. After last season's fiasco, it's insane that nothing has been done about this. The fact that a week after open racism as said in the House, he gets all the power, is just so stupid. I don't have much to say about it anymore, other than I hope that CBS does better in their casting.
When the competition was over, David, Day, and Kevin are the most nervous, considering they do not talk a lot of game with Memphis in the first place (Memphis also doesn't try to talk to them…). Da'Vonne believes that David was the one who did not vote to his word, confiding in Nicole about this, even though it's Nicole who flipped.
Nicole has revealed on the live feeds that she couldn't care less about Ian, pretty much pretending to be his friend, and making fun of him behind his back. Yet the edits make her look like a deceiving and great player and making Day and David look stupid. I'm over the edit on the show this season. I'm just done with it.
Day and David continue to fight over the "rogue vote" that David cast. Day doesn't believe him at all when he says that he voted out Tyler. It turns into a game of he said, she said, since Nicole says she kept Ian, but didn't. This causes David to have a mini breakdown, screaming that even no one who looks like him believe him in the game. It's kind of insane how David, who is the most inexperienced in the game, knows that he's set up, but it's sad seeing that no one will believe him.
What follows next was the selection of the Have-Nots. Da'Vonne selected Christmas, and Christmas was angry and confused as to why she was picked….Does she not realize that she nominated Da'Vonne and almost sent her home?! She assumed she was going to pick Kevin, and I'm confused why she would POSSIBLY think that. David selected Cody, and he was sad because he was about to eat some tacos that he made for the house.
There then was a segment where Christmas, Nicole, and Dani were chilling in the hot tub, and Nicole slipped and fell out. It was insanely pointless and I didn't need to see it.
While Kevin and Da'Vonne were wondering who Memphis was going to nominate, David walked into the room, causing Da'Vonne to immediately leave the room. It was super uncomfortable, and I hate that they don't understand that David is telling the truth.
Memphis reveals in the Diary Room that he wants to target David, but only through backdooring him in case he wins the Veto. Memphis makes a deal with David to try and make it happen, by saying he wants to go after someone else, not play the Veto, or keep the nominations the same. David believes him, but it's a clear lie.
At the nomination ceremony, Memphis says he didn't tell anyone his plan, because he's scared that someone in his alliance will spread it around. He nominates Da'Vonne and Kevin for eviction, which is the first step in his plan to backdoor David, since he's not in the Committee (neither are Day and Kevin). So he's only going after the people of color left in the house, and I'm livid. The show has always been controversial for its treatment of people of color, and here is a prime example. Before the episode ended, the announcement voice said that ZingBot will be making his yearly appearance in the house to roast the House! Hopefully he'll rip them to shreds.
Best Player of the Episode: 
Probably Enzo. He's in a good position in the house, and I think he's playing a solid game.
Worst Player of the Episode: 
Memphis. I don't like the way he's playing, and it's getting to a point where I want the production team to take him out. He's being hateful on the feeds, and it needs to be taken care of.
The Boys Review – Homelander hooks up with Stormfront?! (2 x 05)
Episode 5 of The Boys Season 2 "We Gotta Go Now," ends shockingly with Homelander and Stormfront joining together in more ways than one.
Stormfront, who's actually a Supe formerly known as Liberty, with a history of Neo-Nazism (or some other kind of superiority complex) got under Homelander's skin in the previous episode by killing Kimiko's brother Kenji and scores herself some points on her public image.
Meanwhile, Homelander has been on edge and has increasingly become frustrated with everything that's going on at Vought and the Compound V scandal.
And things take a turn for the worst for the diabolical Suped-up villain when this happens . . .
Watch Where You're Pointing Those Laser Eyes!
As shown in the above video, Homelander accidentally kills an innocent bystander while haphazardly dealing with a Supe-terrorist. Consequently, this drops his approval rating by a whopping 9 and 1/2 points, which definitely doesn't sit well with him.
He struggles to repair public perception regarding the incident and nearly loses his cool at a rally protesting him when he imagines just cutting everyone down with his laser vision.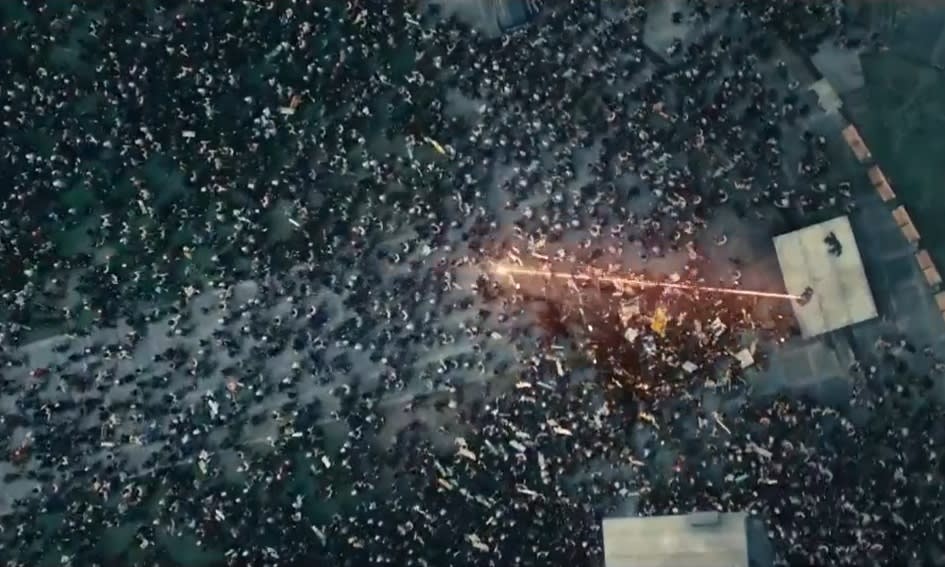 He manages to keep a level-head but his attempt to appease people doesn't go as planned, so he reluctantly seeks the help of Stormfront and her army of meme lords and queens.
As a result, Homelander's approval rating jumps back up 5 points, and he thanks Stormfront for the assist. She then sarcastically asks how he's going to pay her back, and the scene that follows is straight bonkers.
Homelander and Stormfront Get . . . Super-Kinky
What can only be described as a match made in superhero hell, the two deviant Supes engage in some intense, gratuitously masochistic, and superhumanly physical sex.
Their unlikely union has some hellish implications that could lead to some diabolical misdeeds, which means bad news for everyone. How this situation shakes things up is definitely one of the must-see dynamics to look forward to in the series.
Other Key Events In This Episode
Billy goes back to his aunt Judy's home where he leaves his dog, named Terror, for safekeeping. Terror, of course, comes straight from the comic books and his likeness to the source material counterpart is uncanny.
The "Dawn of the Seven" movie (a clear reference to the DC Extended Universe film– there's even a Joss Whedon reshoot joke throw in) is underway that doubles as a sort of farewell performance by A-Train as well as a way for Homelander to mess with Maeve by backhandedly complimenting her sexual orientation and parading her to the public as an LGBTQ+ symbol along with Elena, who gets forcibly roped into the public relations campaign.
On top of that, Starlight and Stormfront have growing tensions on set as both know each other's secrets and blatantly threaten to expose each other. Though neither do so just yet and both continue to bear with the "Girls Get It Done" propaganda.
Billy, in a depressive state after failing to rescue Becca, tries to sacrifice himself to save Hughie, MM, and his aunt Judy against Black Noir, who has tracked them down and set his sights on assassinating Billy. They only escape their demise when Billy issues a clever bluff – exposing Homelander raping his wife and hiding his son Ryan from public view.
Kimiko becomes a hitwoman for hire as a way to cope with her brother's loss, and Frenchie (unsuccessfully) tries to comfort her. The two come at odds and Frenchie walks out on her. That might be the smart move for now because Kimiko is on a rampage and is doing things like, well, this . . .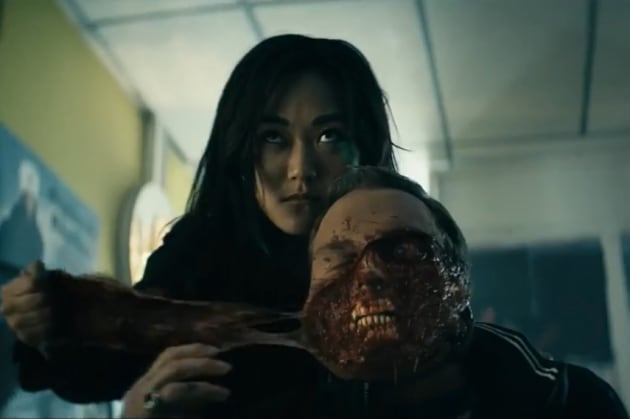 The Deep is married now but it's all so obviously fake. He even goes on an interview with Katie Couric to publicize the relationship all in an ill-conceived attempt to rejoin The Seven.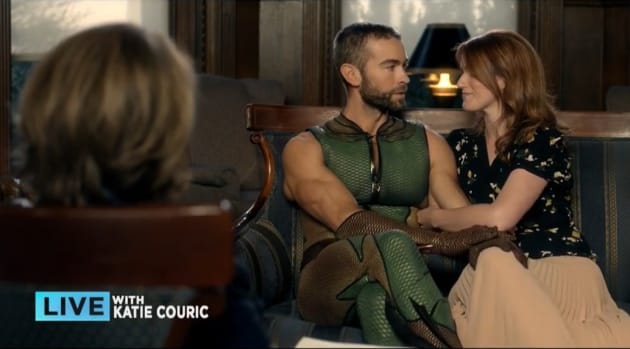 Shawn Ashmore (better known as Bobby Drake/Iceman from the X-Men films) makes a brief appearance having a phone call conversation with Stormfront. He's rumored to be playing Lamplighter, another Supe from the comics.
Episode Rating: 9.0/10
The Boys new season 2 episodes stream on Fridays on Amazon Prime Video.
Big Brother All-Stars Review: The Sixth Eviction (22×19)
A former winner and a BB legend face their Housemates, and one of them will be evicted from the Big Brother house and become the first member of the jury. Things have been crazy the last 48 hours in the house, and NONE of it made the CBS edit, which lead to an anti-climatic eviction, and further proof that the power alliance called the Committee take no chances in the game, leading this to be the most boring All-Star season of any show ever.
Winner of BB 14, and BB 20 runner-up Tyler sit on the block, after David used his Disruptor power to remove himself, and Da'Vonne used the Power of Veto on Kevin, leading to these powerhouses facing eviction. Dani said from the start of her HOH reign that she wants to possibly backdoor Tyler, but all the powers and Veto wins messed up her goal, leaving her to nominate 4 total people this week, which is a lot of pressure. Ian was already a target for The Committee, since he was not in the alliance, and as a former winner, it's an easy target. However, Dani didn't want to send him out right away. Ian knew that he only needs 4 votes to cause a tie, so he has been campaigning hard to everyone to possibly cause a rift and force a tie. I consider Ian one of the best players of all time, and he is good at campaigning, so I was hoping something would come out.
CBS then aired a segment where they show the other winner in the house, Nicole, cry hard over the fact that her best friend might go home. It was never shown that Nicole was one of the people making fun of Ian behind his back, making herself cry before going into a room with him, and lying to his face that she was going to keep him. Nicole is a bold-faced liar, and yes, that's a part of the game, but she's being rude behind his back to the point of attacking him personally. Thank the live feeds for exposing the 99% of what we don't see on the edits.
Ian is convinced that he has the 4 votes needed to tie the vote, and have Dani's support if she has to cast the deciding vote. Dani thinks in the Diary Room that if she had to break a tie, she actually might send Tyler packing, since he is more likely to win the entire game compared to a previous winner. She also talks to the rest of the Committee to possibly keep Ian, but Cody, Enzo, and Memphis are not phased by this and are more than willing to vote out the former winner before an alliance member. Okay, guys, just keep telling yourselves that until you see Julie give Tyler a check $500k.
At the live vote and eviction, Ian spoke about having more to give to the game that he loves so much, and Tyler plugged his jewelry company and his girlfriend's cookbook. At the end of the vote, Ian was evicted on a 5-3 vote. Da'Vonne, David, and Kevin were the 3 votes. Nicole distributed more fake tears to vote out Ian, then quickly regained her composure and went back to the group. Ian hugged everyone, wished everyone luck, and joined Julie outside the house, mask and all. Julie gave Ian a really uncomfortable eviction interview, pausing every few words, and stopped mid-question, and changed questions. Not sure if she was given the right set of question cards or technical difficulty, no idea, but it was odd and I felt bad for Ian. He will be the first member of the jury, and will be in the jury house where he and 8 others will vote for the winner at the end of the season.
Before the Head of Household competition, Julie revealed that Dani did not use her BB Basement power, which could give her the ability to play in the next HOH competition, so she is not competing for power. Good move by her, especially with the week she had. For the competition, the players have to make a 3D puzzle of a fire hydrant, but they have to run back and forth to get pieces. The winner was not shown on the episode, but it will be announced on the live feeds shortly.
Right as she was signing off for the night, Julie revealed that next Thursday, a Big Brother legend will be moving into "the neighbor's house," which could really mean anything. I'm hopinIg it's a legend that could mess with the game, or break up the Committee, cause I'm bored of them.
Who Will Be Nominated?
It all depends on who wins the HOH competition. If it's anyone in the Committee (Memphis, Tyler, Nicole, Enzo, Christmas, Cody), then they will put up a combination of David, Da'Vonne, and Kevin (eye roll, for several reasons). I hope it's either one of the those three, because that can send the house into disarray and I would love to see that happen (cough, cough, MEMPHIS).