That was low even for Rio.
He's done some pretty terrible things in his criminal lifetime but killing sweet, innocent Lucy has to be at the top of the list.
His decision to end her life in such a point-blank way without any hesitation or remorse is a stark reminder that he's a truly dangerous criminal.
It's easy to get lost in his eyes, or charmed by his good looks, intoxicating glimpses, and husky voice that we tend to forget who we're dealing with, what he's capable of, or how far he'll go to get what he wants.
It almost doesn't add up that Beth, Annie, and Ruby are still alive with how nonchalantly Rio went about killing Lucy.
He had a permanent solution to a temporary problem. Lucy was a loose string, I get that, but she was also valuable just like Beth, Annie, and Ruby. Sure, Rio got what he wanted when she made the template, but as we've seen before, her skills aren't disposable.
We never saw a body as the gunshot rang out in the distance. It may have been the show's way of sparing us the brutality of the scene, or it might be that Rio only injured Lucy as a warning to Beth and the ladies.
I always preach TV's number 1 rule: no body, no death, and we have to consider that possibility here.
Still, when that gunshot rang out and Lucy was "killed," a numbness took over and filled the eerie silence.
The "good girls" felt it, and I, sitting in my living room under my warm blankie, felt it. It crept in and took hold with its cold, clammy hands.
Lucy didn't deserve that, especially not after she helped Rio and did exactly what he wanted. She was innocent in all of this and was only brought into this mess because of Beth. She lived a simple with her boyfriend and her bird.
Beth tried protecting her by standing up for all of them. Through her fear, she gave an inspired speech about how Rio needed "the chef" and needed all of them, but he adamantly told her "no."
I think Beth's rebellion is what got Lucy killed.  Rio had to do something so that his men would still view him as a leader and not someone who could be controlled by the woman who tried to shoot him multiple times.
Beth tried to flex her authority, and Rio was forced to flex his.
Which brings me to Dean's statement that "you don't kill something you love." Beth countered that it's money, and that's true, but it's not entirely true.
As I mentioned before, it's surprising that Rio has put up with all of Beth's crap especially when he has had ample chances to kill her and punish her for all that she's done.
One could argue that she's been spared several times because she's proven herself useful, but listen, if she successfully figured out how to print money, anyone can.
Beth's resourceful and independent, but she's not one of a kind in this world, which means that Rio has to be keeping her alive for other reasons.
You could argue that he finds her profitable, but he can get money with our without Beth. A guy who goes into protective custody and still has loyalty from his men is not someone who is aching for dough.
It can't even be about money because if it was, he would have let her pay off her $100k debt and walk away.
It all boils down to Dean's statement being somewhat accurate.
Rio loves to watch Beth squirm; he's interested in her mind and how she reinvents herself whenever pushed into a corner. He likes that she's quick on her feet, fiercely protective, and always ready to fight until the very end.
What is keeping Beth alive is that Rio sees something in her that's a reflection of himself. He's going to want to cling onto that for as long as he can, but admitting that he wants her around is weakness. The whole final scene proved that.
Related: All the Thirsty Tweets About Rio on 'Good Girls'
Rio never shows weakness, which is why he can't just jump back into bed with the woman who shot him. What kind of message would that send to his guys? Which only leaves him with the option of toying with Beth to keep her around and grooming her to be by his side by making her jump through hoops and proving herself over and over again.
By the time he's done with her, she'll be ready.
Plus, he knows that she's still deathly afraid of him, so in that regard, he does have some semblance of control.
However, how long can his lust or like for Beth keep her alive? Rio is determined to eliminate the middle man, in this case, Beth and her gal pals.
By trying to find out how to print money and getting his own panel, he's proving that he's inching for a time where he no longer has to rely on her. Beth proved to know a lot about the process that he doesn't, but it's only a matter of time before he gets the hang of it.
Then, there's Dean.
When you really think about it, Dean has played a large role in how things have unfolded; he's the catalyst.
He claims he doesn't want Beth to be around "gang friend," but by destroying the template for the money, he merged her fate with Rio's once again.
Dean had a few "better" moments this season, but he can no longer shake his responsibility in this situation. He continues putting a target on their backs, which forces Beth deeper into this mess as she tries to undo what he's done.
He wants Beth to be free of Rio, but buddy, she's trying. If it were easy, she would have done it a long time ago. In order to win, or survive, at the very least, you have to play the game.
Beth was doing that until Dean destroyed the template which led the good girls to ask Lucy for help. She assumed they had a gambling problem and refused so Annie broke into her house (in the daytime, might I add) to steal her beloved bird as collateral.
This meant that Beth wasn't at work when Rio paid her visit and he befriended awkward and overly-trusting Lucy, learned about her skills, used her, and killed her.
Dean doesn't even know half the things Beth has seen or done to protect herself, her friends, and her family from Rio, and yet, he has the nerve to destroy her only lifeline because the guy intimidates him.
And while I'll acknowledge that Beth has also put herself in this position by printing money in the first place, she wouldn't have needed to resort to any of these drastic measures had it not been for Dean screwing around and making their family broke in the first place.
It all goes back to Deansie.
Other Moments Worth Mentioning
What's the point of Kevin? It's supposed to show that Annie has sunk to a new low, but I don't understand the point of him parking outside of her house and getting anywhere near Ben. It's weird and makes me realize how much I miss Noah. Maybe the fact that Ben called her an "addict" will convince her to return to therapy and stop lowering her standards cause right now, they're barely existent.
Ruby telling Annie that "game recognizes game" shouldn't have been so satisfying. The only difference between Ruby's game and Annie's game is that Annie owned up to her crimes because of the guilt while Ruby's soul is so tainted, she likely never will. With this latest murder on their hands, they're never going to get out from under this.
Is no one concerned in the slightest why there are dudes with tats crawling a cute little card shop? Rio isn't trying hard enough to keep his business his business, which seems strange because, after all the unwanted attention from the Feds, you'd think the last thing he'd want to do was raise any eyebrows.
At least the bird survived…. which brings us back to poor Lucy. When her boyfriend told Beth that Lucy didn't have many friends aside from her, it just made the situation that much more painful. Beth will carry this with her for the rest of time.
Beth also needs to think of a lie because Lucy's boyfriend is going to launch an investigation and there is a witness that puts Lucy at the store late that very night.
If the cops come looking and asking questions, this could get very messy for Beth. Not to mention she has Lucy's bird!
Also, how could she forget the phone and the purse? The moment gave me so much anxiety. Imagine if the boyfriend saw it just laying there.
What did you think of the "Au Jus?"
Who is to blame for this mess? Is Lucy really dead? Why is Rio keeping Beth and friends alive?
Follow CRAVEYOUTV on socials
Big Brother All-Stars Review: Putt-Putt for Power (22×23)
After seven grueling evictions, it looks like we are in for an eighth. Da'Vonne's exit from the house last week means that the Committee alliance moves a step closer to wiping everyone out, and after tonight's Head of Household competition, the group moves in closer to their targets.
The nine remaining HouseGuests immediately wonder who cast the two votes to evict Kevin (Nicole and Dani). Nicole lied to Christmas saying that it might have been David that threw the vote over, but Christmas saw right through it, since she's been manipulating David into doing the Committee's dirty work, only to cut him later on. Nicole also feels like she made good on her word with Da'Vonne, having not voted for her, and telling her that she ended up voting for Ian (even though it was in her goodbye message). Whatever helps her sleep at night, Da'Vonne didn't like the way you told her about Ian. Also, the whole Ian vote has been plaguing Nicole for weeks, and if she knew this would happen, she would've voted out Tyler. Oh well, she'll see her bad gameplay later on.
The other thing that plagues the house is Dani's Replay power. With this power, the HOH who is leaving power can play in the next HOH competition and get the power again. Nicole and Cody both know that she has this power, and aren't sure if she'll use it, because if Kevin or David win HOH, the Committee won't be in power, and they'll have to turn on each other. Dani tells Memphis that she wants to use it on him, and that no one knows who uses the power. Memphis says privately in the Diary Room that he doesn't want to compete; he's done his job with getting Da'Vonne out, and doesn't want to get too much blood on his hands. Dani uses the power anyway, thinking that if she uses it, she can show the alliance that she is loyal to them, when she's really wanting to start turning on them. A big announcement is played in the house, letting Memphis know that he can compete in the next HOH competition. The announcement also said that all BB Basement powers are now expired, meaning Christmas' power she obtained is now gone.
Dr. Will Kirby teased at the end of the last episode that both power and prizes will be given to tempt the house, and it stayed true during the new Head of Household competition. One at a time, the HouseGuests went to the backyard to a giant putt-putt course. They had the option to putt for 2 things: $10,000, and the title of Head of Household. Each person got 3 chances to shoot a golf ball into targets labeled 1-20 for either prize. Since it's golf, they wanted to try and get the lowest score. The catch was if they got one number, and shot again, that number replaced the previous one, whether the number was higher or lower. This affected a lot of people because Kevin shot a 5, but then shot the ball out of bounds, so he was given a score of zero. When it came to the money, if people tied, then the money gets split, but no one knows who won it.
Some people went for both, while others just went for one. People who felt safe in the house (Enzo, Dani, Tyler), went for the money, while everyone else tried to go for the Head of Household. Once everyone went, it was revealed that there was a tie for the $10k, which was Tyler and Dani. Both were upset on their own terms, since they would have rather had the full cash prize, but hey, something better than nothing. Memphis then announced that Cody won Head of Household with the lowest score of 2. I groaned a large groan after this, because that means that the Committee is in power once again, and Cody has been going crazy on the live feeds with power, and I'm so sick of it.
After the competition, Dani pointed out to the new HOH that Christmas looked visibly upset that Cody won, planting the seeds into his mind to possibly nominate her for eviction. Cody said that despite that, he wants to nominate David and Kevin, the only people that he's not aligned with. This is typical new-school Big Brother: those nominations would be so boring, and it's been done. Flip on the alliance, and get rid of the targets! Enzo tries to get Cody to nominate Christmas and Kevin, because of the Wise Guys deals that he made with Memphis. If Enzo could get Cody to break up one of those final three deals, Memphis would most want to stay connected with Enzo and Cody to the end. Cody then says he wants to get rid of Kevin first, then Christmas, David, and Dani, so WHY is he wanting to not nominate Christmas right away? I know there's a veto to be played, but if you don't have beef with David, don't throw him up.
Nicole asked Cody what he wants to accomplish for the week, and he said his main target is Kevin (without giving a reason why…insert eye roll), but if Kevin wins the Veto, he wants to put up Christmas and send her out. Nicole tells him that that's a ridiculous thing to do, and to not do Dani's dirty work. Nicole tells him to do what he feels is best for the game.
Much to his chagrin, Kevin goes to talk to Cody to try and persuade him to not nominate him. In a way, Kevin threatened Cody saying that if he targets him, he may not give him his jury vote. Cody jumped on the defensive saying that Kevin is personally attacking him, and to stop making digs at him. Kevin retaliated at him saying the world doesn't revolve him, and to stop whining and playing victim. This was great for me to watch for two reasons: I strongly don't like Cody as a game player, and Kevin stuck it to the HOH. Kevin will probably go home because of this, but it was hilarious to see this little banter happen between them, and Cody throwing a complete temper tantrum while Kevin just sat there.
At the nomination ceremony, Cody stuck to his "safe" plan and nominated Kevin and David for eviction. Cody said he nominated them because he got into the fight with Kevin, and that he hasn't been able to really reconnect with David recently. He wants the nominations to stay the same, but is prepared to put up Christmas if he needs to. Kevin and David both know that they only have to rely on themselves to win the Veto and take themselves off, since they know that the house is not there to support them.
What makes me the saddest about this episode is that they teased showing Dr. Will Kirby living next door, but never showed him. So hopefully they show him in Wednesday's Veto episode or before the triple eviction night.
Best Player of the Episode:
Enzo. My winner pick is planting small seeds into the HOH's mind. He outed the other Wise Guys alliance to Cody to get Christmas out of the house, and it's pretty smart that he did that. Enzo sits in a great spot in the house: he's friends with everyone and hasn't done much to upset people.
Worst Player of the Episode: 
Cody. His temper tantrum to Kevin was immature and embarrassing to watch for me. Kevin showed a lot more maturity in that conversation, and Cody took everything personally. He also has been saying a lot of cruel things about the reasons why Da'Vonne, David, and Kevin played the game this year (they all came in to be the first Black person to win). He's been mean, and a bully, and it's affecting how people outside the game are viewing him.
The Boys Review – Lamplighter's Debut Answers Burning Questions (2 x 06)
In The Boys season 2 episode 6, "The Bloody Doors Off," Lamplighter (Shawn Ashmore) makes his first full appearance where he sheds some light on the mysterious Sage Grove Center, his connection with Stormfront, and the tragic history he shares with Frenchie.
As usual, there's a lot of gratuitously bloody violence involved in this episode as well as some shocking scenes (one of which involves someone getting choked by an elongated phallus) and game-changing revelations about Vought International.
The main focus of the episode revolves around the Sage Grove Center which is being used by Vought as a testing center for stabilizing Compound V with the goal of creating an army of Supes by injecting them into adults instead of infants.
The Boys Visit Mysterious Loony Bin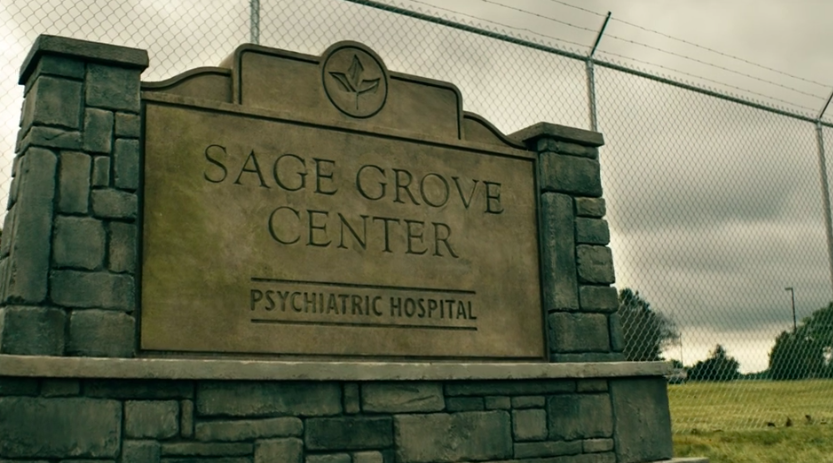 As it turns out, the hospital is run by Stormfront on behalf of Vought where she supervises Lamplighter, who is ordered to burn test subjects when they're no longer needed.
This is a startling revelation, along with the fact that Stormfront admits to Homelander that she was born on 1919 in Berlin, Germany during the Nazi regime. During which she fell in love and married Frederick Vought and learned everything he knew.
She then became the first successful test subject for Compound V – essentially making her the original Supe, which explains why she is so powerful and able to manipulate her way around Vought so easily.
Moreover, her Nazism has extended throughout her time behind the scenes, and sees Homelander as "everything [she and Frederick Vought] dreamed of." Implying that the goal of Compound V coincides with Nazi values – Yikes!
Fortunately for Billy and The Boys, Lamplighter is more amiable than they expected and is willing to atone for his sins and work with them.
Lamplighter and Frenchie's Traumatic History
After the patients of Sage Grove Center accidentally break out, Lamplighter, MM, Frenchie and Kimiko find themselves trapped in the hospital with a bunch of unstable and dangerous Supes. One of which is a patient named Cindy who shows considerably dangerous psychokinetic powers – she is shown at the end of the episode hitchhiking and could be a factor later in the season.
On a more humorous note, MM has an unpleasant encounter with a Supe patient who has the unseemly power to control his elongated elastic phallus, which he wraps around MM while trying to choke him out. (So yeah, this show is basically pure insanity at this point.)
The main takeaway from their time at the hospital, however, is the confrontation between Lamplighter and Frenchie who are finally able to discuss face-to-face a traumatic event from their shared past that has haunted both of them for years.
During Lamplighter's time with The Seven, he is blackmailed by Colonel Mallory and The Boys to be their mole at Vought Tower. Their association ends in tragedy, however, when Lamplighter attempts to assassinate Mallory in her sleep to try and get out of their arrangement but instead mistakenly burns her innocent grandchildren instead.
To make things worse, Mallory tasked Frenchie to track Lamplighter on the night of this event but he is sidetracked into rescuing his best friend from overdosing and was unable to prevent Lamplighter from committing the horrible act.
So essentially, both Frenchie and Lamplighter blame themselves for the deaths of the children.
Other Key Events In This Episode
Starlight removes the chip implanted by Vought on her with the help of Frenchie, and she has a heartfelt hug with Kimiko.
The Deep invites A-Train to join the Church of the Collective.
Elena discovers a video (dropped off by Deep) of Maeve and Homelander abandoning the falling airplane from season 1, which Maeve plans to use as blackmail against Homelander.
Starlight accidentally kills someone while trying to commander his vehicle when she and Billy needed to take Hughie to the hospital after he sustained injuries caused by one of the escaped Supes from the Sage Grove Center.
Frenchie is a huge fan of The Golden Girls and considers himself as a Betty White type. And, of course, the episode ends with The Golden Girls theme song.
Episode Rating: 9.5/10
The Boys new season 2 episodes stream on Fridays on Amazon Prime Video.
Big Brother All-Stars Review: The Seventh Eviction (22×22)
Misreads and miscommunication continue to plague the house, and it all culminates in tonight's latest eviction, where either Da'Vonne or Kevin will be shown the door, and join Ian in the jury house.
At the Veto meeting, Tyler decided not to use the power, leaving Memphis' nominees the same. Da'Vonne figured that this would happen, but felt very optimistic that Dani and Nicole could work with her to gather the four votes needed to evict Kevin. The frequent thing that caused Da'Vonne stress was confirming whether or not Nicole voted to evict Tyler or Ian in the previous week. Nicole lies to her face saying she voted to evict Tyler (she didn't), but said quietly that she will tell Day the truth, but has to find the right moment to do so.
Head of Household Memphis decides to shift his focus onto the next phase of the game, and created two sub-alliances within the Committee. He lets Enzo know that he is going to form two final 3 deals, but have Enzo in both, so that his final 2 deal is with Enzo. That way if the Committee crumbles, he has people to back him up. Enzo takes this deal, thinking that he can beat Memphis in the final 2 should they get that far, and decides to work with Memphis. The first group has Memphis, Enzo, and Cody, and the other has Memphis, Enzo, and Christmas. Memphis calls both alliances "The Wise Guys." All I have to say is that even though Memphis should not win this game, this is pretty smart. He has a feeling that the Committee is falling apart, so finding smaller groups to take to the end could help him. I hope it all falls in his face, because that jerk (putting it lightly) needs to go now.
Dani believes that keeping Da'Vonne is what's best for her game, so she starts going around trying to get the votes. Christmas sees right through the campaign, and believes that Dani, Nicole, and Day are working together to destroy the Committee from the inside. She then goes to David and lets him know that she knows that David voted out Tyler, and that Nicole is lying to Day, so that Day can target him, and the only way to stop it is to send her out. David is happy that someone finally agrees with him, since his vote was seen as a lie throughout the entire week. Now David wants to work with Christmas which is dumb, because Christmas is a horrible player, and she'll vote him out without losing any sleep.
Before the vote, Da'Vonne gave a brilliant speech about how no Black women has ever won this game, except for Tamar Braxton, who won the celebrity version of Big Brother a few years back. She declared that she wants to continue to fight to be the first African-American woman to win the show and credits previous HouseGuests Cassandra (season 1), and Danielle Reyes (season 2), as some of the greatest influences to her, and why she loves the game she's played three times. Kevin had to keep his speech short for time, but had a similar speech, saying that companies and corporations need to do more than a Zoom representation and diversity training, and start practicing what they preach. Both speeches were incredible, and I'm glad that these two took the opportunity of this platform to spark conversations in a world that is much bigger than the house.
Powerful speeches aside, Da'Vonne was evicted from the house by a 5-2 vote. Dani and Nicole were the two votes for Kevin. After Nicole almost tore Day's earring out while giving her a hug goodbye, she put on her mask and joined Julie outside. When Julie asked how she was feeling, Day said that she was relieved because she was sick of those people. My reaction to that: me too, Day. Me too. When Julie showed the goodbye messages, Nicole revealed that she is a part of a big alliance, and that she voted to evict Ian to protect the alliance. In that moment, Da'Vonne lost all respect for Nicole, saying that if she had just told the truth from the get-go so she didn't have to attack David, she would've been okay with the decision. She now heads off to join Ian in the jury house, where they will wait the next evictee.
Before the episode ended, Julie revealed not one, but two large twists coming for the week. As teased, a BB legend is moving in next door, and that legend was revealed to be Dr. Will Kirby, the winner of season 2, and one of the first villains to play the game. He said he's living next door, and will be tempting the HouseGuests with power and prizes, and it'll be up to them to decide what they want. I'm very excited for this, because Dr. Will is a great player, and will hopefully bring some drama and tear up the house.
Julie then revealed a twist that has never happened before. A week from today, the first ever TRIPLE eviction will occur in a special 2-hour episode. That's right, 3 people will be sent out the door next week, which will cause a lot of stress through the house. I can't WAIT for this. Double evictions happen every year, but a triple is a first. I hope this will be a time for someone from the Committee (cough, cough, MEMPHIS) to go home.
My New Winner Pick: 
Because I changed my winner pick to Da'Vonne, I now have to pick a new prediction for the winner of BB22. With so few people I genuinely want to root for, the pickings are slim. However, my pick is going to lie with Enzo. He has great relationships with everyone, and joined the Wise Guys with Memphis. He also has won competitions, and no one has come for him in any capacity. I think he has a good place in the house, and I think he could take it to the end.