"There are only some people you can love by not being with them"
Let me just kindly apologize for the delay of my Gossip Girl review. Unfortunately The CW thinks its alright to cut into my programs with some baseball junk so I had to frantically search for the episode online today. Lets just say this, if I was to ever imagine a Blair Waldorf bachelorette party it sure as hell would not look like it did.  Nor would I imagine she would spend it with her minions and Louie's evil bitch sister. And where the hell was S? I mean really  couldn't she wait till the party was overt to bring down Tripp? Its your best friends bachelorette party! Although Blair didn't seem to mind much, I certainly did. Maybe if Serena was there, none of this would have happened. Or maybe worse things would have happened… You know how things get when Alcohol and Serena Van der Woodsen mix.
Seems like people can turn over a new leaf, which is what Beatrice seems to have done. Her character was an iffy one, never quite as talented at scheming as Blair, yet she actually out schemed Blair in this episode. Maybe it is the fact that Blair has started being more naive in her ways, trusting the wrong people, and pulling herself away from the people that actually have had her back for years now. Besides for Humphrey, her trusty sidekick, who seems to be doing a little scheming of his own lately.  First he's faking a relationship with Serena to protect Blair than he's keeping a huge secret of hers and lying to everybody about it and now he wrote Louie's wedding vows. The tragic part in all of this is that Blair found those vows and was convinced that Louie was the right choice. Deception is never the answer. You know why? Because it can stand in the way of true love finding its path. If you cannot write your own wedding vows, than why do you even deserve the bride? 
Getting back to my original point, this was probably the last we have seen of Beatrice (well until the wedding, cause I'm assuming she will go to Africa after the wedding). She ended her romance with the priest (highly inappropriate and so downgrading to the Catholic religion) but now he is on a mission to stop this wedding himself, along with his accomplice Chuck Bass. What's disgusting to me is that the writers of GG have made Chuck seem desperate and unstoppable. He doesn't care who he is going to hurt in the process and doesn't think for a second about how Blair is affected by his wrong doings. He is fighting for true love and as romantic as that is he is doing it in the wrong way. And all of his friends are doing everything in their power to keep him away from Blair. Is everyone really that blind on this show? Despite everything Blair is depressed and its obvious. I mean she got drunk for crying out loud and kept insisting they do anything, just as long as Chuck Bass isn't around. For a girl whose supposably getting married to the Prince of Monaco another man should be the least of her worries. How funny was it to see Blair get drunk though? I mean the girl is actually real and funny! And than when she got arrested because she thought the cops were male strippers. What a hoot!
Well at least now its fairly obvious that the wedding will be interfered by someone with God on his side, a corrupt priest. For all the selfish reasons he's going to screw this wedding up, one good thing will eventually come out of it. I hope. Wouldn't the writers throw fans for a curveball is Blair actually ended up marrying Louie. The end of the world would come sooner than expected.
Is the Tripp vs. Nate storyline done? There really was no point to it. As of now it came to a dead end. Nate stood up to his grandfather, again. He realized he's going to be an honest and trust worthy person, again. Tripp is probably going to disappear and create a scandal around the archibald name, again. It's getting to a point that's just too much. But does this mean that Serena is going to get re-hired and compete with Gossip Girl? Seems to me their both back in business and Serena is gaining fans fast, I mean did you guys see the way Rufus was laughing at the blog?! Speaking of, who would have thought the tables would turn so drastically. Back in season 1 lonely boy was fighting to get the beautiful blondes attention. Now, that beautiful blonde has to fight to keep a "fake relationship" going with lonely boy and suppress her hidden desires for him. Yep, S has really stooped that low. Dan wants to break free from her control and she will not let go. God, this wedding will be the wedding of all weddings! I Cant Wait!!! Maybe Lil J will make an appearance. (A girl can always dream right?)


Memorable Quotes
Chuck: Sometimes to get your needs met you need to choose an unsavory partner.

Nate: Be careful theres a fine line between surveillance and stalking.

Chuck: Yeah getting caught which I don't plan on.

Beatrice: Even without the male strippers and penis cake I cannot wait!

Blair: I love Louie but I feel the devil on my shoulder.

Priest: Which devil?

Blair: Chuck Bass of course

Dan: I was really hoping to stretch on this one.

Editors: Than take a yoga class.

Priest: This is what is known as divine intervention, I'd take it if I were you Mr. Bass.

Dan:vWell i've already crashed her bridal shower i'm sure it wont matter if I crash another pre-wedding event.

Blair: You are almost as schemy as me, but we are cut from the same cloth.

Girl:A priest in a bar? Kinky.

Priest: You have no idea.

Dan: We're Dan and Serena you can tell me anything! It must be true, I read it online.

Chuck: Its one thing I learned from Blair, you don't give up on the people you love.

Priest: I know what's in Blair Waldorf's heart and if you don't want this wedding to happen together we could make sure it doesn't.

GG: You know what they say talk is cheap. So if you don't have anything nice to say maybe you should just shut your mouth. XOXO Gossip Girl.
"Bless us father, we're about to sin"
FOLLOW ME ON TWITTER   @ twitter.com/CraveYouTV
Follow CRAVEYOUTV on socials
'Gossip Girls' Lily and Rufus Actually Dating?
Before I get into this new dating scoop, I'm going to tell all of my Gossip Girl fanatics and Upper East Sider's to take a deep breathe. You ready? Okay.
Lily and Rufus may be dating in real life!!!
They might not have ended up together in the show, but they seem to be getting another chance.
It's rumored the actors that portrayed Serena and Dan's parents–Kelly Rutherford and Matthew Settle– are an item.

The hashtag "Lily and Rufus" became a trending topic on Twitter last night.
So, what sparked these rumors? Instagram. Turns out, these two are pretty fond of each other… and their both single.
And if that isn't enough…. Settle posted a pic of him and Rutherford with the caption, "Happy Valentines," with the hashtag 'Settleford.'
And most recently, Feb 20th to be exact, he added a picture of a chess board, tagging Rutherford and adding the caption, "Things are never black and white."
So, are they or aren't they?
I say yes. And that may be the best news I've heard all day!
Breaking: Blake Lively Pregnant!
Her lovely baby bumps.
Blake Lively is pregnant everyone!
The Gossip Girl star is expecting her first child with husband, Ryan Reynolds.
She announced the exciting news on her lifestyle website Preserve, while launching "Preserve Celebration of Family." She posted pictures of happily pregnant women, congratulating them, before throwing in one last picture– of her and her growing baby bump.
Photo Credit: Preserve/ Eric Lively
The picture is a gorgeous reveal, taken by her brother Eric Lively. She's beaming down and cradling her tummy, surrounded by the sunset.
Lively has been very vocal about  wanting a big family, ever since marrying Reynolds in 2012. "I gotta get started," she told Marie Claire in its September 2014 issue. "If I could spit out a litter of kids, I would."
She's also gushed about what a great father Reynolds would be, adding, "The fact that he lived so much before we got together, he's the exact realized person that he should be. And so I get to share my life with the person he's become, and we get to grow from there."
Lively and Reynolds met in 2010 on the set of The Green Lantern and married in 2011. Reynolds was previously married to actress Scarlett Johannson, who welcomed her first child, Rose, with her fiance earlier this year.
Check out more pictures of the baby bump
Lively seems genuinely happy and committed to this relationship, so no doubt, she will be the cutest pregnant woman. And her child, will be gorgeous!  Gossip Girl will really have something to write about now– Serena's little baby bump. Xo Xo.
What do you think? Boy or Girl? It's never too early to start placing bets!
Blake Lively Takes Over Vogue's Twitter- Reflects on GG
Gossip Girl here!
Blake Lively took over Vogue's twitter on Monday Aug 4 and gave fans the answers to all their questions! It seems that ever since GG, Lively hasn't been able to stay away from blogging and tweeting. 
One thing Lively admitted was that she would love the share the screen with hubby Ryan Reynolds again. The duo famously fell in love after co-starring in 2011's The Green Lantern.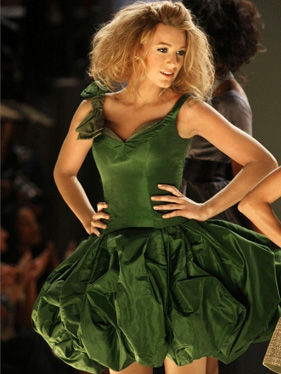 When a fan asked if she would do another movie with her husband of nearly two years, Lively responded, ""In the olden days, a couple could be in every movie together, but it's just not like that anymore. We both wish we could go back to then, because that would be a lot of fun."

There were also questions about Gossip Girl… obviously. One fan asked if she missed her role as NY socialite Serena van der Woodsen. Lively tweeted back saying, ""I miss the people that I worked with, our cast and our crew. But I don't miss the 16-hour days."
One of Lively's favorite seasons to shoot was the first one. Think 2007. "It was the 1st year I lived in New York City and what a way to live in NY," she explained. "It was very special and surreal."
Lively also took the time to explain her participation in the Beyonce and Jay-Z "On the Run" tour promotion video. "It was the first moment in my life where I truly felt cool," she tweeted. "It gave me a high sense of self-esteem for a good 10 min."
Lively is currently working on her lifestyle website Preserve. But we're secretly hoping she gets back to the big– or small– screen very soon. And we wouldn't mind if it was with her dashing husband. 
 Photo Credit: Gossip Girl/The CW