"Crashing parties is one of our favorite past times."
You know they say distance makes the heart grow fonder. This break from Gossip Girl was exactly what was needed for the season to return for its last 10 episodes and be exceptionally, good. However, I believe that anyone who accentuates a Chuck and Blair limo scene with music from The XX is just brilliant. This weeks season premiere was everything that I could have wanted from a premiere and more, especially since the laughs and funny innuendo's did not stop coming.


Returning after such a long hiatus, all the characters reconciled with one mission in mind; find Serena van der Woodsen, who has been missing the whole summer. But each of them had a different reason for wanting to find Serena. Blair felt bad because she kicked her out of her house. Dan didn't really know why he was looking for Serena and Georgina was just looking for a dramatic ending to Dan's book. Either way, when everyone met up in the woods where Serena was last spotted, it was a moment that made me think, "Damn, I'm going to miss this group."

The Blair and Chuck relationship has got to be on everyone's mind. Although I have been rooting for them since the beginning of time, I'll be the first to admit that maybe putting themselves before their romance is a pretty good idea. If you don't love yourself you cannot love anyone else. Chuck doesn't love himself, Blair loves too many people all at once. They are the perfect couple and they will be together by the end of this season. Come on, if we waited it out for so many seasons a couple more episodes wont hurt us. Plus, its not like were not getting any Blair and Chuck action either. That opening sex scene. Oh mah god! I would take a pact like that with Chuck any day. 



Truth be told, Serena is better off on her own. When she was confronted at the door by a crowd of her friends, it was a realization that they only drag her down. Everytime she's around them she is the uglier version of herself. It seems that when she runs away and pretends to be someone else, she's actually doing pretty good. Unfortunately, that's not the way things go and of course, by the end of the episode she found herself back at the loft in Manhattan. Old habits die hard. We didn't learn to much about her new beau Steven, so its only a matter of time until we're able to tell if this will be a long term thing or not. 


As for Lily, its depressing to see her so blind in Bart's shadows. It hasn't even been a full season since she's changed from being this independant and down to earth woman (well as down to earth as an Upper East Sider could be) to a spoiled and stuck up socialite. Clearly, her husband has no love for her. What kind of mother wouldn't even worry about her own child for 4 months?? Pathetic. But I think its safe to say that Rufus is the bigger loser in this situation. Sleeping with Charlie Rhodes? Oh, I'm sorry Ivy Dickens. Disgusting!!! Of course its even sadder because he's getting played. Really, the role of an actress is perfect for Ivy, but this is a plan between her and the real Charlie. Why are they trying to seduce and manipulate poor Rufus?? 


Dan's life has got to be confusing enough, without having to see his father have sex with a crazy bi-polar chick. I mean, dude is in love with Blair. He got dumped by Blair because she's in love with the idea of Chuck. He's writing a tell all book about his ex-gf Serena, who just was missing the whole summer and now has assumed the identity of Sabrina at David and David's wedding, and his partner in crime is Georgina. Where he went wrong, I'm not sure. But say what you want, Georgina brings a lot of spice and excitement. Her antics with Blair and her insanely out of this world ideas are just what this season needed to brighten up.

I'll finish off by touching upon Chuck. His work in Dubai is going to prove to be very useful. Hopefully, it results in the decline of Bart's Empire and makes room for Chuck's empire, the one where Blair is his queen. As for Nate, well I think he's finally getting a story line. As he sold his top breaking story to Gossip Girl, he needs to find a new way to make his magazine stay afloat. I'm sure an underage sex scandal is not the way to go about it, but that seems to be the direction this story is going. After all, what legit boss agree's to grab a drink with a student?? Oh, its great to be back Upper East Side. XoXo

Memorable Quotes
Gossip Girl: Welcome back Upper East Siders. Call me superstitious but I've got a feeling this fall could be my last season. I've been at this a long time but age breeds wisdom and this I know, the best is yet to come.

Georgina: The part where you get it on is Fifty Shades of boring. No offense.

Chuck: Maybe you can translate for me, do you speak unstable psychopath?

GG: From all around the world, your favorite Upper East Siders are asking the same question. But I couldn't care less. Serena van der Woodsen is dead. At least to me.

Chuck: I don't understand.

Blair: Its noble and self less. Of course you don't understand.

Georgina: Something about mental hospitals really just gets me going.

Dan: Yeah, thats because your insane.

Blair: This isn't a reality show Sparks. This is reality a concept I know your a little fuzzy on.

GG: I think someones about to toss her cookies and the only thing more disturbing than finding her on drugs or in a psych ward is seeing her happy and healthy. Who wants that?

Dan: You think you two have an epic love but all you have are excuses.

Blair: The two of us in your limo, really tempting fate you know that. Unless thats your intention of course.

Chuck: Its the boy that blames the girl, not the man.

GG: Whats old is new again. I may not have much time left but some things are forever. The promise of love, the threat of war, and the fall of the mighty. And just because I've seen it all doesn't mean I've seen everything. And I gotta say, no one saw this coming. You may think my best days are behind me but this old girls still has some tricks. XoXo Gossip Girl.
'Gossip Girls' Lily and Rufus Actually Dating?
Before I get into this new dating scoop, I'm going to tell all of my Gossip Girl fanatics and Upper East Sider's to take a deep breathe. You ready? Okay.
Lily and Rufus may be dating in real life!!!
They might not have ended up together in the show, but they seem to be getting another chance.
It's rumored the actors that portrayed Serena and Dan's parents–Kelly Rutherford and Matthew Settle– are an item.

The hashtag "Lily and Rufus" became a trending topic on Twitter last night.
So, what sparked these rumors? Instagram. Turns out, these two are pretty fond of each other… and their both single.
And if that isn't enough…. Settle posted a pic of him and Rutherford with the caption, "Happy Valentines," with the hashtag 'Settleford.'
And most recently, Feb 20th to be exact, he added a picture of a chess board, tagging Rutherford and adding the caption, "Things are never black and white."
So, are they or aren't they?
I say yes. And that may be the best news I've heard all day!
Breaking: Blake Lively Pregnant!
Her lovely baby bumps.
Blake Lively is pregnant everyone!
The Gossip Girl star is expecting her first child with husband, Ryan Reynolds.
She announced the exciting news on her lifestyle website Preserve, while launching "Preserve Celebration of Family." She posted pictures of happily pregnant women, congratulating them, before throwing in one last picture– of her and her growing baby bump.
Photo Credit: Preserve/ Eric Lively
The picture is a gorgeous reveal, taken by her brother Eric Lively. She's beaming down and cradling her tummy, surrounded by the sunset.
Lively has been very vocal about  wanting a big family, ever since marrying Reynolds in 2012. "I gotta get started," she told Marie Claire in its September 2014 issue. "If I could spit out a litter of kids, I would."
She's also gushed about what a great father Reynolds would be, adding, "The fact that he lived so much before we got together, he's the exact realized person that he should be. And so I get to share my life with the person he's become, and we get to grow from there."
Lively and Reynolds met in 2010 on the set of The Green Lantern and married in 2011. Reynolds was previously married to actress Scarlett Johannson, who welcomed her first child, Rose, with her fiance earlier this year.
Check out more pictures of the baby bump
Lively seems genuinely happy and committed to this relationship, so no doubt, she will be the cutest pregnant woman. And her child, will be gorgeous!  Gossip Girl will really have something to write about now– Serena's little baby bump. Xo Xo.
What do you think? Boy or Girl? It's never too early to start placing bets!
Blake Lively Takes Over Vogue's Twitter- Reflects on GG
Gossip Girl here!
Blake Lively took over Vogue's twitter on Monday Aug 4 and gave fans the answers to all their questions! It seems that ever since GG, Lively hasn't been able to stay away from blogging and tweeting. 
One thing Lively admitted was that she would love the share the screen with hubby Ryan Reynolds again. The duo famously fell in love after co-starring in 2011's The Green Lantern.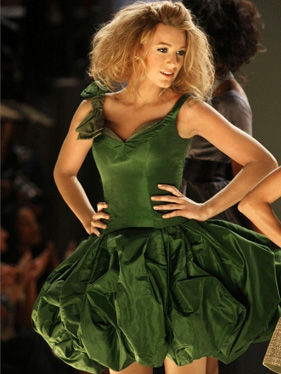 When a fan asked if she would do another movie with her husband of nearly two years, Lively responded, ""In the olden days, a couple could be in every movie together, but it's just not like that anymore. We both wish we could go back to then, because that would be a lot of fun."

There were also questions about Gossip Girl… obviously. One fan asked if she missed her role as NY socialite Serena van der Woodsen. Lively tweeted back saying, ""I miss the people that I worked with, our cast and our crew. But I don't miss the 16-hour days."
One of Lively's favorite seasons to shoot was the first one. Think 2007. "It was the 1st year I lived in New York City and what a way to live in NY," she explained. "It was very special and surreal."
Lively also took the time to explain her participation in the Beyonce and Jay-Z "On the Run" tour promotion video. "It was the first moment in my life where I truly felt cool," she tweeted. "It gave me a high sense of self-esteem for a good 10 min."
Lively is currently working on her lifestyle website Preserve. But we're secretly hoping she gets back to the big– or small– screen very soon. And we wouldn't mind if it was with her dashing husband. 
 Photo Credit: Gossip Girl/The CW