"Do you think you could ever love another mans child?"


Who should never doubt Gossip Girl and its writers again? Me. I clearly underestimated them and everything they were doing with this whole story line because by the end of Monday's episode I was left speechless, in tears, and holy crap confused! I'll start with the minor stories and build my way up.
Dan Humphrey a hero. I always knew lonely boy was an honest true man. After his book got picked up again he had to write an alter- ending. Serena suggested why not write about where everybody is now. That got them all thinking about how their lives have transformed and where they want to be as people. Dan decided to be a helping hand to Blair, only because he wanted to tell her how he really feels. In the end though he saw her heartbreak after Chuck couldn't cross a line and be her fathers baby, so he snuck Blair out and brought her over to the Van der Woodsen's were Charlie was having a "welcome" party so to speak and arranged a secret meeting for the love-birds. Finally.
Charlie was just trampled in this 'who am I' mess and it took a huge accident to wake her up from her delusions. After Max threatened to expose her, saw that he couldn't sell his story to Nate, he took it up with Tripp Archibald (who had his own agenda in this episode consisting of family drama, family favoritism, sabotage, and politics) who planned to- and heres were I take a guess and hope I don't come off like an asshole- have Nate crash in an accident in order to prevent him from going on the trip with his grandfather? I feel like I am missing a piece of the puzzle because I don't really understand why Max would want Nate to crash? Why would this help him get back at Charlie? I mean I understand by damaging the car he finally got the money he wanted but was it really all necessary? I feel like there must be more to this. Anyways Charlie took the first step and admitted to Rufus (and lets clap cause Rufus was actually present in this episode for more than morning pancakes) that she is the one thats a fraud. Is she going to run away and hide forever? Will she come clean. I assume coming clean could be potentially dangerous, and if she does that she is exposing Carol. 
Which brings me to my short summary of Nate finding out that the whole Tripp's wife is cheating scandal was thanks to his grandfather, who was behind it all. But Grandfather confessed and all was well. Tripp was bitter because grandfather gave up on him and pushing his career to the limit and is now concentrating on Nate so he decided to use Max to his advantage and what harm Nate? Honestly, the Van der Woodsens might be messed up but at least their not homicidal and what not. Props for Nate though for being the stand up, all around good guy in this show. He really stepped up in the last couple of episodes and if I had any say in things I would just have him be in a suit every episode. 
Serena…. Besides the fact that she looked exceptionally gorgeous today is she really heading down the Humphrey road again? I mean I understand their not really related.. but close enough. I just feel like the writers have built the Dan/ Serena relationship as so platonic that seeing them as that romantically cute and sexual couple from season 1 is just odd. I guess she is starting to realize that she has made no progress compared to all of her friends and is leaning on the fact that Dan was the best thing that ever happened to her? I am iffy on this storyline… but am really enjoying the fact that Serena is motivated to bring Gossip Girl down. Go get em' girl.
Saved the best for last! Chuck and Blair have been carrying this show throughout the whole season. I'm ashamed to admit that I might even watch it every week because I am obsessed with their relationship. After fighting an internal battle with herself Blair avoids seeing Louie because she is not ready to commit to him "forever." After realizing that she wants to be with Chuck she calls him to see if he could ever love another mans baby. He tells her that she should be with the dad and she is completely heartbroken. He doesn't realize his mistake in judgement until he speaks to Lily who tells him that if he ever needs anything she's there for him because she loves him unconditionally. "You may be my child only through marriage but I love you like my own." Those words hit home to Chuck and he suddenly realized that he is the guy for Blair. After he ditches Louie (god knows where) Dan leads him into a room with Blair where Chuck confesses his love for her and promises he will love her baby just as much. They are then tipped off that the paparazzi are around the house and Nate leads them through the back into their limo. Little do they know they get into the wrong limo's and Chuck and Blair get into the one that has been tampered with. As they start on their journey the happy couple is kissing in the backseat (As they have done since season one :)) and planning their futures and paparazzi swarm around them violently on motorcycles. In the blink of an eye, they crash into the forest or whatever and are rushed to the E.R. Lily is informed that Blair is doing well (no word on the baby) but Chuck isn't… Nothing was really revealed by that except Lily started crying and so did I. 
They cant have Chuck die can they? Blair will never marry Louie. And in the next years previews we see Blair praying that Chuck doesn't die. What did you think of the midseason finale? Is everyone satisfied that Blair and Chuck FINALLY admitted their feelings? It breaks my heart that it was taken away so soon though. And finally to conclude my post… What the hell does Diana have to do with JACK BASS and Nate's grandfather? I mean I understand she was connected to the Bass family somehow but how and why and Jack? Could this really be Chuck's mother? AHHH I WANT TO KNOW!


Memorable Quotes
Gossip Girl: Apololigies have been made and the security breach fixed, but 2 weeks later and still not one tip. Apparently no one can hold a grudge like an Upper East Sider and no one can lie like one either. 

Rufus: That young man had a lot of problems

Dan: No wonder that Serena was so into him.

Dan: I have no idea what to write. I'm starting to understand the appeal of heroine or womanizing or whatever it is that writers do when they write.

Chuck: It's a bold move Nathaniel. I'm aroused. 

Chuck: These stories are invented to sell papers to women that collect ceramic cats.

Dorota: Same thing happening to me pregnancy fingers swell up like kielbasas.

Dorota: Say it like magic spell bibbitty bobbitty boo I will never leave you. Poof. Louie will feel safe again and you'll live happily ever after.

Serena: Seeing where our characters ended made us realize exactly where we didn't want to be. 

Blair: I plan on having my child the old fashioned way… Fully Sedated.

Blair: Princesses don't go to queens.

Dorota: Need to marry Louie to be princess.

Gossip Girl: I guess its time for me to accept that if you want something badly enough you have to go out and get it yourself. Watch out kids the end of me might just turn out to be the end of one of you.

Blair: I haven't even spoken to Chuck

Dan: You dont have to. You two have some strange forcefield effect on each other. A physicist should study it.

Chuck: I can't imagine it would be a mistake to marry the father of your child right?

Serena: Telling her your feelings is not going to change your ending its going to mess with hers.

Charlie: If you deserve to be that person then own it and never look back.

Blair: Apparently there are some risks even Chuck Bass isnt willing to take.

Gossip Girl: Sorry boys but didnt you know that if you wait too long to seize the day the one you want can get away.

Chuck: The us I should have fought for when you called. The us thats not just you and me but you, me and your baby.

Blair: Then why did you tell me to choose Louie?

C: I thought it was selfish if I was the one to tell you to break up your family.

B: That was the moment you chose not to be selfish?

C: Timing was never my strong suit. I had it all wrong. Just because Louie is the father of your baby does not mean you should be with him. You should be with me.

B: Why?

C: Cause I am going to love your baby as much as I love you. 

Max: No actress wants to play the same role their entire life.

Max: How can their love be real when your a total fake.

Gossip Girl: We all like to think that were in the driver seat of our own lives. But the idea that we can control out fate is an illusion. You can choose the most loyal friends, the dream job, the truest love. But at the end of the day our fate is decided for us. All we can do is hope we have the strength to cope with the hand she deals us. 
SEE YOU MY FELLOW GOSSIPERS IN 2012!!!!
Follow CRAVEYOUTV on socials
'Gossip Girls' Lily and Rufus Actually Dating?
Before I get into this new dating scoop, I'm going to tell all of my Gossip Girl fanatics and Upper East Sider's to take a deep breathe. You ready? Okay.
Lily and Rufus may be dating in real life!!!
They might not have ended up together in the show, but they seem to be getting another chance.
It's rumored the actors that portrayed Serena and Dan's parents–Kelly Rutherford and Matthew Settle– are an item.

The hashtag "Lily and Rufus" became a trending topic on Twitter last night.
So, what sparked these rumors? Instagram. Turns out, these two are pretty fond of each other… and their both single.
And if that isn't enough…. Settle posted a pic of him and Rutherford with the caption, "Happy Valentines," with the hashtag 'Settleford.'
And most recently, Feb 20th to be exact, he added a picture of a chess board, tagging Rutherford and adding the caption, "Things are never black and white."
So, are they or aren't they?
I say yes. And that may be the best news I've heard all day!
Breaking: Blake Lively Pregnant!
Her lovely baby bumps.
Blake Lively is pregnant everyone!
The Gossip Girl star is expecting her first child with husband, Ryan Reynolds.
She announced the exciting news on her lifestyle website Preserve, while launching "Preserve Celebration of Family." She posted pictures of happily pregnant women, congratulating them, before throwing in one last picture– of her and her growing baby bump.
Photo Credit: Preserve/ Eric Lively
The picture is a gorgeous reveal, taken by her brother Eric Lively. She's beaming down and cradling her tummy, surrounded by the sunset.
Lively has been very vocal about  wanting a big family, ever since marrying Reynolds in 2012. "I gotta get started," she told Marie Claire in its September 2014 issue. "If I could spit out a litter of kids, I would."
She's also gushed about what a great father Reynolds would be, adding, "The fact that he lived so much before we got together, he's the exact realized person that he should be. And so I get to share my life with the person he's become, and we get to grow from there."
Lively and Reynolds met in 2010 on the set of The Green Lantern and married in 2011. Reynolds was previously married to actress Scarlett Johannson, who welcomed her first child, Rose, with her fiance earlier this year.
Check out more pictures of the baby bump
Lively seems genuinely happy and committed to this relationship, so no doubt, she will be the cutest pregnant woman. And her child, will be gorgeous!  Gossip Girl will really have something to write about now– Serena's little baby bump. Xo Xo.
What do you think? Boy or Girl? It's never too early to start placing bets!
Blake Lively Takes Over Vogue's Twitter- Reflects on GG
Gossip Girl here!
Blake Lively took over Vogue's twitter on Monday Aug 4 and gave fans the answers to all their questions! It seems that ever since GG, Lively hasn't been able to stay away from blogging and tweeting. 
One thing Lively admitted was that she would love the share the screen with hubby Ryan Reynolds again. The duo famously fell in love after co-starring in 2011's The Green Lantern.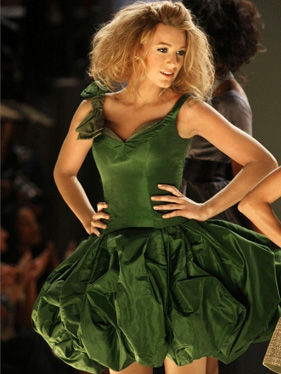 When a fan asked if she would do another movie with her husband of nearly two years, Lively responded, ""In the olden days, a couple could be in every movie together, but it's just not like that anymore. We both wish we could go back to then, because that would be a lot of fun."

There were also questions about Gossip Girl… obviously. One fan asked if she missed her role as NY socialite Serena van der Woodsen. Lively tweeted back saying, ""I miss the people that I worked with, our cast and our crew. But I don't miss the 16-hour days."
One of Lively's favorite seasons to shoot was the first one. Think 2007. "It was the 1st year I lived in New York City and what a way to live in NY," she explained. "It was very special and surreal."
Lively also took the time to explain her participation in the Beyonce and Jay-Z "On the Run" tour promotion video. "It was the first moment in my life where I truly felt cool," she tweeted. "It gave me a high sense of self-esteem for a good 10 min."
Lively is currently working on her lifestyle website Preserve. But we're secretly hoping she gets back to the big– or small– screen very soon. And we wouldn't mind if it was with her dashing husband. 
 Photo Credit: Gossip Girl/The CW