There was no shortage of drama on Dynasty Season 3 with the introduction of Cristal 3.0 and Alexis 2.0.
The season also explored expected soap tropes including amnesia, kidnapping, a long-lost child, and a crazy stalker.
Dull moments are a rarity in the Carrington household, but on the occasion where a storyline falls a bit flat, we ride it out because we know it's usually followed by jaw-dropping, over-the-top twists that leave us aching for more.
Even after three seasons, the series hasn't lost its spark as it puts betrayal, manipulation, and jealousy at the forefront of each episode and continues to be a guilty Friday night pleasure.
Let's break down some of the best, worst, and favorite moments of Dynasty Season 3.
Best Character: Fallon
There is no Dynasty without Fallon. She runs the show, no, scratch that, she carries the show on her back. Liz Gillies was made for the role of Fallon, and as season's progress, that only becomes more evident.
We look forward to her charismatic approach to any situation, her witty one-liners always infuse the episode with laughter, and we've enjoyed watching her grow into a more rooted character through her romance with Liam and her desire to step out of Blake's shadow.
Worst Character: Cristal
Surprisingly, it's not Adam Carrington. It's hard to specify a "worst character" on a show where everyone has an ugly side and they all do terrible things to each other to get ahead.
Blake technically should've taken the title considering he got away with murder, cheated on his wife, and then put his business ventures above their relationship when it was already strained, however, it's expected of him.
Instead, Cristal takes the honor. She plotted to kill Alexis and almost got her brother killed in the process, she tried to become a better person and ended up sleeping with a priest, and she blamed Blake for the breakup of their marriage without acknowledging the role she played in it.
Most Shocking Moment: Cristal sleeping with a priest
It may have been one of Cristal's lowest moments, but it was also one of the most shocking! Who would have thought that Cristal would get down and dirty with a man of God in the bedroom she shares with her husband, Blake?
She ended things with Father Collins because the guilt was unbearable, but it cannot be the last we've seen of him. No one ever goes away that quietly on Dynasty. My perfect twist? She's pregnant with his child!
Storyline That Was Finally Addressed: Liam's kid
Fans have been waiting to meet Liam's child since he was first mentioned a few season's back. Connor finally made an appearance at the worst possible time following Liam and Fallon's engagement. They can never just get a moment of happiness to themselves.
After Liam bonded with Connor and Fallon developed a relationship with the child, Heidi came clean and revealed that it wasn't his kid on Dynasty Season 3 Episode 15. Connor was Liam's step-brother — a product of Heidi's love affair with Liam's father.
Can you say, "dodged a bullet."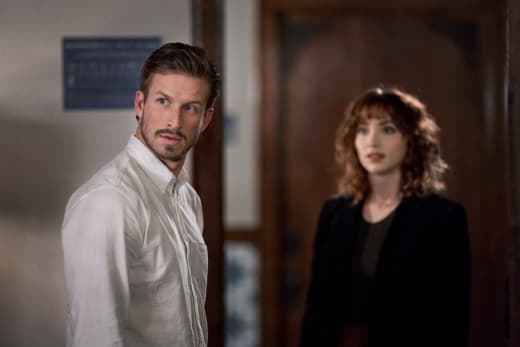 Funniest Storyline: Moldovia kidnapping
The Moldavia kidnapping on Dynasty Season 3 Episode 19 was the most outlandish storyline but that's what made it so funny. It was also enjoyable to see all the men working together towards a common goal, plus, Sammy was a drugged-out hoot.
The episode kept you on your toes because it wasn't clear where things were going to go or how they would turn around for Blake and Anders.
The bachelorette party on Dynasty Season 3 Episode 20 would be a close second because it was a blast watching them retrace their steps to figure out what happened while they were blackout drunk.
Best Couple: Liam and Fallon
This one is a no-brainer. The fans love Liam and Fallon and for good reason, the couple has managed to overcome a lot in their relationship.
They may have lost each other there for a moment (and Liam's amnesia caused him to briefly forget Fallon), but they found their way back to each other and more importantly, fought for each other. Their relationship grows stronger with each episode.
Liam accepts Fallon for who she is and never tries to change her, and she's never been so vulnerable around anyone else.
We didn't get the intended finale with their (second) wedding, but we'll patiently wait until season 4.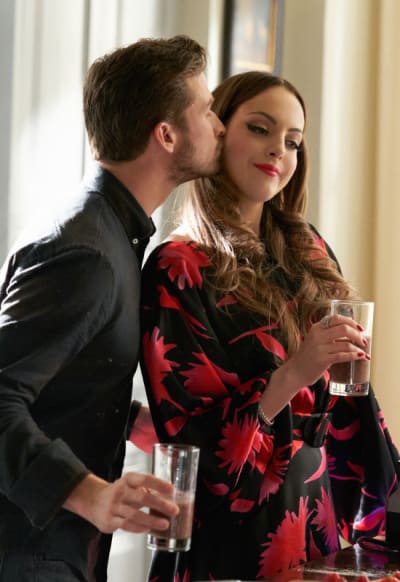 Follow CRAVEYOUTV on socials
5 Biggest Moments from 'Virgin River' Season 2
Netflix dropped Virgin River Season 2 as a Black Friday gift for fans, and there's so much to unpack!
You can read all of our episodic reviews here.
Or, check out the 5 biggest moments from the 10-episode season below:
1. An Accidental Death
After her abusive ex comes to town, Paige is terrified for her and Christopher's safety, especially since he punished her for running away. He tells Paige to pack up their things, but when she refuses, the two get into a tussle and she accidentally pushes him down the stairs. Since Wes, a decorated cop, made it so that Paige would never be able to win in court, she knows that "self-defense" won't hold up. Preacher helps her skip town and takes care of the body. Connie puts two-and-two together when she learns that Wes is an official missing person. As someone who lost her mother to an abusive father, she vows to help Preacher come up with a solid alibi in case they find the body. Preacher refuses, and when he learns that Wes' partner turned on him and there's no a warrant for his arrest, he thinks his problems are over. That is until he sees Wes show up at his bar. Turns out, it's his identical twin brother, Vince, who is hellbent on getting revenge.
2. Twins!
Charmaine's high-risk pregnancy poses problems for Jack, who does not want to be with her romantically. This is only intensified when Mel confirms that Charmaine is pregnant with twins. Charmaine goes out of her way to get Jack to fall in love with her, but when she realizes that it's never going to happen, she punishes him by telling him that she's going to get married one day and that man is going to be the father of her babies and not Jack.
3. An Engagement
After a whole season of sneaking around and trying to get it right, Doc finally proposes to Hope, who initially turns him down because she thinks he was sneaking around with another woman, Muriel. When Doc reveals that Muriel helped put him in touch with a vintage jeweler to reset Hope's ring, she says "yes," and agrees to have a vow ceremony and reception. Doc then decides to tell Hope about his illness, but before he gets to tell her what's troubling him, they're surprised by an engagement party.
4. Brady's Mess with Calvin
After getting fired from Jack's, Brady picks up a job working for Calvin. He immediately realizes that something shady is going on, but the idea of making a lot of money entices him. That is until Calvin tasks him with shooting Spencer, one of his men who was trying to rat him out to Jack. Brady pretends to shoot Spencer, but instead, helps him and his family get out of town so that Spencer can testify against Calvin to bring down the whole operation.
5. Jack, can you hear me?
Calvin warned Jack not to get involved in his business. When he felt like Jack was overstepping, he sabotaged his bar and got dozens of customers sick. While it's unclear who shot Jack, it's believed that it was either one of Calvin's men after Mel paid a visit to Emerald Lumber to talk to Brady. Mel had just opened up to the idea of pursuing a relationship with Jack after pushing back for months because of her fear of getting hurt again. She wanted to prove that Brady didn't kill Spencer to ease Jack's conscience, but she may have ended up making things worse. That is unless someone else is to blame for the shooting.
All of this means that we need season 3 of Virgin River now more than ever!
Things We're Thankful For At CraveYouTV: 2020 TV Edition
2020 has put a lot in perspective.
While it's easy to say that it's been a terrible year, it's also been a year that has allowed us to reflect on and appreciate all that we have.
It's the kind of year where we recognize all that we're thankful for… and really mean it.
To celebrate the holiday, CraveYouTV has put together a list of some of the TV-related things we're grateful for this year:
For shows slowly but surely coming back after the COVID hiatus. It was a hard few months without new content, but we're grateful they've found safe ways to resume filming.
For McDreamy's brief return on Grey's Anatomy. Honestly, that alone could've made 2020 somewhat bearable.
For the second season of Virgin River coming to bless us this Thanksgiving.
For Tayshia Adams taking over the reigns from Clare Crawley and making The Bachelorette more tolerable this season.
For 15 grand years with Sam and Dean on Supernatural. The finale wasn't to everyone's liking, but it gave us all closure. It was bittersweet to say the least.
In general, for the ability for shows to have proper endings and finales. It's always nice when a network lets a show sign off on its own terms.
For the ability to watch older shows! With less airing on TV and streaming, it's given us a chance to re-watch some oldies but goodies.
For the well-crafted mysteries on The CW's Nancy Drew.
For medical shows tackling the real-life COVID pandemic to raise awareness.
For Rio (and Manny Montana) on Good Girls.
For Emma Corrin's portrayal of a young and troubled Princess Diana on The Crown. The role came with plenty of criticism, but she took it in stride and gave an outstanding performance.
For Atwater's powerful stance against racist cops on Chicago PD. He's one of the best characters to grace our screen.
For Netflix expanding its holiday movie universe and giving fans some hope at a possible holiday movie crossover in the future. We're looking at you Princess Switch 2!
For The Masked Singer putting the fun back in masks!
For a two season renewal of Cobra Kai returning in January 2021.
For The Mandalorian season 2, and Baby Yoda in general! We can't get enough of the little guy.
For the Star Wars Lego Christmas special on Disney+.
For a second season of The Boys, a series that continues to intelligently skewer super hero fads while simultaneously reveling in what makes them fun.
For a new season of The Great British Bake Off to heat things up.
For the new trend of movies being released on streaming and in theaters at the same time.
For The Good Place endings its four season run on a beautiful, melancholy note.
For the entire Rose family on Schitt's Creek. And that they finally got the recognition they deserved during the Golden Globes.
For the 40th season of Survivor, which gave us some of the best gameplay with the greatest players ever!
For Netflix's revival of Money Heist, which let the thrilling adventures of The Professor and his gang continue!
In general, for Netflix allowing us to watch TV shows from all over the world and in many different languages!
For Fallon Carrington's wit, sass, and style!
We'd love to hear from you! What are you grateful for? What would you add to the list?
And now, we hope you don't take this personally, but we're going to take this day off to enjoy a delicious meal and some much-needed R&R with our immediate families. We hope you do the same!
Happy Thanksgiving from all of us at CraveYouTV!
Yes, That Is Queen Amber from 'A Christmas Prince' in 'The Princess Switch: Switched Again'
Everyone loves a good Easter egg.
It's always a treat when a show that exists in the same "realm" includes a few nods to its sister show simply to appease audiences. In its last season, Netflix's Chilling Adventures of Sabrina had plenty of Riverdale references that delighted fans.
And The Princess Switch: Switched Again was no exception.
In a blink-and-you'll-miss-it moment, Aldovia's Queen Amber (Rose McIver), King Richard (Ben Lamb), and their royal baby from Netflix's A Christmas Prince franchise all made a small cameo at Lady Margaret's coronation in the Princess Switch sequel.
The brief appearance further entwines Netflix's holiday movie universe in a way that has fans questioning if it could possibly be teasing a future crossover movie!
Just imagine Princess of Belgravia, the Queen of Montenaro, and the Queen of Aldovia all working together to save Christmas!
If you think about it, it makes sense. Royal's from other countries have long formed alliances and often interact for both business and pleasure, so thus, Queen Amber's appearance during Montenaro's was completely justified and necessary!
A crossover would be one epic Christmas offering; the only thing missing is Her Majesty Amelia Mignonette Thermopolis Renaldi, Queen of Genovia! You know we had to.
However, some fans were confused as to how all the films were connected since in the first Princess Switch, Margaret and Kevin actually watched A Christmas Prince in the film.
As one CraveYouTV reader pointed out, maybe they were streaming a "documentary."
Netflix did give some clarity explaining that The Knight Before Christmas (also starring Vanessa Hudgens), Holiday Calendar, The Christmas Inheritance, and Holiday in the Wild are also entangled in the Christmas Movie Universe. Here's how:
Welcome to Netflix's Holiday Movie Universe, an interconnected world of eight films (and counting) where anyone could become a princess and your soulmate may be hiding in plain sight — or the past!

Here's actually how these holiday faves became so entwined… pic.twitter.com/5uNjEknHac

— Netflix (@netflix) December 6, 2019
"It felt like a natural fit to show one of our other films available on Netflix," Amanda Phillips Atkins, EVP of production company MPCA that produced the films, shared about the connections. "That one seed of an idea soon turned into fun opportunity to tie the various worlds together with small easter eggs from movie to movie."
Regardless of whether a crossover is on the horizon, seeing Amber and Richard was a sweet treat for fans of Netflix's robust Christmas collection during a time we need it the most!
Read our review of The Princess Switch: Switched Again now.