There was no shortage of drama on Dynasty Season 3 with the introduction of Cristal 3.0 and Alexis 2.0.
The season also explored expected soap tropes including amnesia, kidnapping, a long-lost child, and a crazy stalker.
Dull moments are a rarity in the Carrington household, but on the occasion where a storyline falls a bit flat, we ride it out because we know it's usually followed by jaw-dropping, over-the-top twists that leave us aching for more.
Even after three seasons, the series hasn't lost its spark as it puts betrayal, manipulation, and jealousy at the forefront of each episode and continues to be a guilty Friday night pleasure.
Let's break down some of the best, worst, and favorite moments of Dynasty Season 3.
Best Character: Fallon
There is no Dynasty without Fallon. She runs the show, no, scratch that, she carries the show on her back. Liz Gillies was made for the role of Fallon, and as season's progress, that only becomes more evident.
We look forward to her charismatic approach to any situation, her witty one-liners always infuse the episode with laughter, and we've enjoyed watching her grow into a more rooted character through her romance with Liam and her desire to step out of Blake's shadow.
Worst Character: Cristal
Surprisingly, it's not Adam Carrington. It's hard to specify a "worst character" on a show where everyone has an ugly side and they all do terrible things to each other to get ahead.
Blake technically should've taken the title considering he got away with murder, cheated on his wife, and then put his business ventures above their relationship when it was already strained, however, it's expected of him.
Instead, Cristal takes the honor. She plotted to kill Alexis and almost got her brother killed in the process, she tried to become a better person and ended up sleeping with a priest, and she blamed Blake for the breakup of their marriage without acknowledging the role she played in it.
Most Shocking Moment: Cristal sleeping with a priest
It may have been one of Cristal's lowest moments, but it was also one of the most shocking! Who would have thought that Cristal would get down and dirty with a man of God in the bedroom she shares with her husband, Blake?
She ended things with Father Collins because the guilt was unbearable, but it cannot be the last we've seen of him. No one ever goes away that quietly on Dynasty. My perfect twist? She's pregnant with his child!
Storyline That Was Finally Addressed: Liam's kid
Fans have been waiting to meet Liam's child since he was first mentioned a few season's back. Connor finally made an appearance at the worst possible time following Liam and Fallon's engagement. They can never just get a moment of happiness to themselves.
After Liam bonded with Connor and Fallon developed a relationship with the child, Heidi came clean and revealed that it wasn't his kid on Dynasty Season 3 Episode 15. Connor was Liam's step-brother — a product of Heidi's love affair with Liam's father.
Can you say, "dodged a bullet."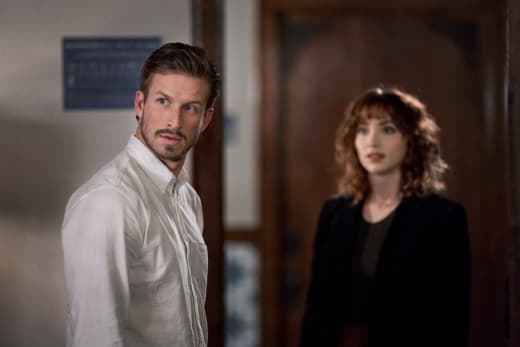 Funniest Storyline: Moldovia kidnapping
The Moldavia kidnapping on Dynasty Season 3 Episode 19 was the most outlandish storyline but that's what made it so funny. It was also enjoyable to see all the men working together towards a common goal, plus, Sammy was a drugged-out hoot.
The episode kept you on your toes because it wasn't clear where things were going to go or how they would turn around for Blake and Anders.
The bachelorette party on Dynasty Season 3 Episode 20 would be a close second because it was a blast watching them retrace their steps to figure out what happened while they were blackout drunk.
Best Couple: Liam and Fallon
This one is a no-brainer. The fans love Liam and Fallon and for good reason, the couple has managed to overcome a lot in their relationship.
They may have lost each other there for a moment (and Liam's amnesia caused him to briefly forget Fallon), but they found their way back to each other and more importantly, fought for each other. Their relationship grows stronger with each episode.
Liam accepts Fallon for who she is and never tries to change her, and she's never been so vulnerable around anyone else.
We didn't get the intended finale with their (second) wedding, but we'll patiently wait until season 4.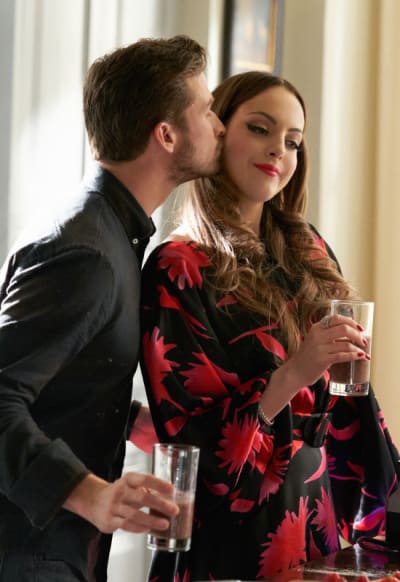 Follow CRAVEYOUTV on socials
Let's Talk About What #Barchie's Steamy Shower Scene on 'Riverdale' Means for the Ship
It finally happened, #Barchie fans!
If you're a #Bughead fan, you might want to stop reading at this point because this is a full post dedicated to the Betty and Archie hook-up!
After several seasons, Riverdale finally gave fans the Betty and Archie moment they've been waiting for.
This moment has been a long time coming.
There were some close calls through the years, though mainly, fans were left disappointed and wondering if the pairing would ever see the light of day.
At the end of season 4, the duo shared a romantic kiss but ultimately decided to bury their feelings out of respect for their significant others.
But you don't just write a love ballad for someone and forget about them!
The long-awaited and highly-anticipated moment finally came via a steamy shower sex scene following a seven-year time-jump. It was so hot, I found myself wondering if this is even allowed on The CW. That steam wasn't from the hot shower, that's all I'm going to say!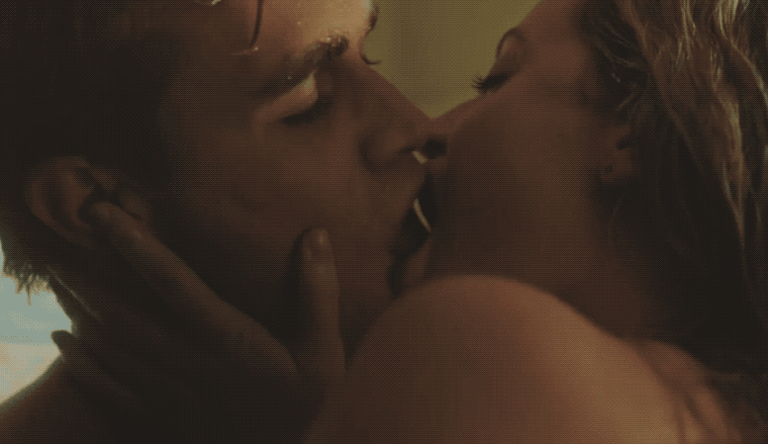 Archie, who survived a war, and Betty, who has been catching serial killers while training to be an FBI agent at Quantico, reunited and fell right back into their old feelings without even realizing it.
Post hook-up, when Archie questioned what just happened between them, Betty informed him that it's something "we've been wanting to do since high school but never got around to it." And you have to appreciate her honesty here.
Since they're both mature and single adults — Archie's ex Veronica is "happily" married, while Betty hasn't been with Jughead for years — they decided to keep the moment of passion under wraps.
Riverdale can be a bit ridiculous at times, but this was the smartest decision these two ever made. They don't owe anyone, including Veronica and Jughead, anything.
This moment singlehandedly changed the Betty and Archie relationship forever.
And when I tell you fans were thrilled, I mean they were straight geeking out on Twitter.
"Something we've been wanting to do since high school but never got around too."

THIS SCENE WAS EVERYTHING!
The chemistry between KJ & Lili is everything! Truly one of riverdales best! Can't wait to see where this story goes! #BARCHIETIMEJUMP #Riverdale pic.twitter.com/yAPo86hhkN

— Barchiedaily (@Barchiedaily) February 18, 2021
The lip bite makes a return 10 years later #Barchie #Riverdale pic.twitter.com/E3zegfrWzR

— Barchiedaily (@Barchiedaily) February 18, 2021
But what does this mean for #Barchie moving forward? Was it a one-time thing that they needed to get out of their system?
Based on the glowing aftermath, methinks not. The chemistry and sexual tension is there, and they're clearly into each other. And for the first time, they're both in a place where they can pursue a relationship.
Well, there is the small issue of Betty's boyfriend, Glen, back in Virginia, but I doubt that will pose much of a problem since she seemed to forget all about him. She didn't even call him to inform him she decided to stick around for a while and teach at her old high school, which tells you everything you need to know!
And while Archie and Jughead's new roomie situation may make things a bit more complicated and awkward, I think Archie and Betty owe it to each other to explore these longtime feelings.
They've never been given the opportunity to figure what these feelings truly mean — is it love or is it just lust? — because they've always repressed them out of respect for others.
There's no better time like the present to put them to the test.
Though, if I'm being completely honest, I don't see it lasting long. I'd love the idea of #Barchie babies, but with the core four back in each other's orbits, they're bound to fall into old habits.
Jughead and Betty don't seem like they're going to get back together anytime soon, but based on their conversation, they never got closure following their abrupt breakup. With a new mystery in tow, I see their paths merging again, though, I am really digging that Betty and Archie have been working together on the "Polly mystery."
As for Ronnie, she may be married, but it's not going to last long. She and Chadwick are already having marital issues that stem mainly from his insecurities and jealousy. I wouldn't rule out a post-divorce reunion for Archie and Veronica.
She's always wanted someone who can handle her Lodge independence, and Archie has always been that man.
So, while Betty and Archie might not be able to keep their hands to themselves in the short-term, I don't think that there's potential for them in the long run. And that's okay too.
Sometimes the best thing before settling down is the fling you've always fantasized about!
At the end of the day, I'm rooting for the ships that will bring each other happiness — whoever that may be!
Don't forget to check out our full review of Riverdale Season 5 Episode 5 now!
Why We Should All Want More (And Better) Episodic Television Shows
I started watching Cowboy Bebop in the last few months. I'm not yet through the series, and I've enjoyed it so far, but something that has caught my attention since I began watching it has been the conversations I've had surrounding it.
"I started Cowboy Bebop last night."
"Oh, nice! I like that show. It doesn't really have an overarching story but it's still pretty good."
"I can't hang today, I'm watching Cowboy Bebop right now."
"Oh, I watched that but it's pretty episodic."
Why does the quality of this show seem to come with a disclaimer that it's episodic?
Serialization has taken over television in the past two decades and is fairly synonymous with the rise of the Golden Age of TV. With this rise in serialization, episodic television started to crumble; specifically the dissolution of how episodic television is perceived.
The word "episodic," in many cases, is currently seen as an automatic con. The word "procedural" makes some TV fans run away in disgust, rushing to their favorite show to cleanse their minds with some sweet serialization. What is it about serialization that is so great? And what about episodic that is so wrong?
Episodic television provides singular stories within each episode that often don't connect to each other in any significant way. Whether that's solving a new mystery each week or getting into a new crazy situation with the gang, each episode stands alone. Due to their bite-sized nature and adherence to a status quo, major plot lines don't move forward very quickly, if there are even any at all. Common complaints towards episodic television are its repetitiveness and lack of build to any major climax – two issues that serialization can solve quite nicely.
Serialization provides an opportunity for consistent character development, multiple intriguing plots, and major changes in the status quo – all ingredients to create an engrossing story from start to finish. It's easier to get sucked into the story because each episode plays as a chapter within a larger plot, begging you to hit play on the next episode to find out what happens next. Cliff hangers and plot twists galore! Now THAT's entertainment. They also provide something that episodic television shows don't get to benefit from – a crutch.
Serialized television means that the story doesn't end at the conclusion of an episode. This promise of a continued story lures viewers into watching the next episode based on what might happen, instead of being solely dependent on the quality of previous episodes. Serialized shows can lean on this crutch to help carry their stories and audiences with them throughout the series. You have to watch them all because each episode matters by its relation to what's come before and what will happen next.
Episodic television doesn't have this crutch. Instead, they have to go through the difficult process of making each episode matter on its own terms. Creating meaning for singular episodes is not easy, but when done correctly episodic television shows can provide a wider (and in some ways deeper) exploration of character and themes.
Lost Discussion 10 Years Post-Finale: What Worked, What Didn't, and What Should've
To highlight the power of episodic television, let's once again turn to my favorite beautiful mess of a series: Lost. Viewers got hooked on Lost due to its intriguing characters and tantalizing mysteries, and many fans stuck with the series until the end just to see how it all ended, despite falling out of love with the show long before. Each season ended with a massive cliffhanger that kept viewers checking their calendars for the return of the show, and even today encourages binge-watching with its serialized "find out what happens next" format.
And yet the series' most acclaimed episode, "The Constant," is one of the most stand-alone episodes of the series. It uses characters and plot threads from previously established episodes, sure, but the story of a man hopping back and forth through time and reconnecting with his long lost love is very self-contained. The logistics of the plot-line are all explained and concluded within the episode, and the love story is told in a way that first-time viewers can immediately identify with. The contained story also helps keep this potentially convoluted time-hopping plot clean and centered, forcing the story to be as lean as possible and not giving it a chance to overstay its welcome.
When episodic television is taken full advantage of, wild and risky story-telling techniques can be attempted without threatening to derail the series. As episode counts for seasons get shorter, I fear that these riskier episodes will be tossed aside in favor of consistent storytelling for a long-form narrative. An episode like Buffy the Vampire Slayer's brilliant "Hush" doesn't seem as likely to be green-lit if that means 10% of the season is going to be dialogue-less. Episodes like Breaking Bad's "Fly" will become less and less acceptable the further we get from episodic storytelling, and you don't have to go much further than the split reaction to that episode to understand why.
"Fly" is the most unique episode of Breaking Bad for many reasons. Its plot-line is razor-thin, its cinematography is much more experimental, and it doesn't move the main plot along at all. But this experiment allows us an in-depth look at Walt's mental state and the thematic resonance the fly represents to his world. The changes to the usual structure of Breaking Bad proved to be too much of a departure for many fans, though. This wasn't the Breaking Bad they had signed up for.
This is ironic because, as I stated before, one of the biggest criticisms of episodic television is its repetitive nature and adherence to a status quo. Tune in, solve a mystery with your favorite characters, and see you next week, folks! It's almost like comfort food (which in some circles is somehow seen as a bad thing).
I'd argue that serialized formatting encourages the "comfort food" idea even more, despite its ability to change its characters and status quos, because serialization requires consistency – consistency in writing, direction, character choices, musical score, etc. The world and characters may change each episode, but the structure normally does not.
Episodic television doesn't have this limit. It allows for structural changes. Characters can be explored not just through varying situations, but through varying storytelling techniques. You can look at an apple with the naked eye, but you'll see it differently under the lens of a microscope, or through a window, or in a mirror. This is what episodic television can provide when taken advantage of – completely different approaches to the story and characters, or perhaps even completely different characters!
Yet today the format is ignored by many outside of comedies. For some reason, singular episodes are just fine for providing us laughs, but not for drama. Perhaps this is a result of too many episodic shows resting on their laurels and just repeating what works, or maybe it's the result of some of the greatest dramas ever created pushing serialization to its finest peaks.
However, I hope the conversation around episodic television changes, and instead of dismissing the format audiences instead begin pushing for series that actually take full advantage of what an episode structure can provide in terms of storytelling. Some of the most inspirational series ever created were episodic (The Twilight Zone, Columbo, The X-Files), and I hope the format lives on, both on its own and within serialized stories, and receives the respect it deserves.
What do you all think of episodic television versus serialized? Am I totally out of touch and all of your friends love episodic TV and hate serialization? Let us know in the comments below!
(As I was editing this article, I came about this quote from an interview on IO9 about Netflix's live-action Cowboy Bebop remake: "Another reason for making tweaks to Bebop's story is that the team behind the show wanted to broaden out Spike's story into a longer narrative in and of itself…"
So it seems as though even the episodic show that inspired this article will be remade to be more serialized. Take that as you will!)
7 Most Romantic TV Shows to Watch on Netflix Right Now
Romance is in the air!
With Valentine's Day coming up, there's no better time to get lost in a show that makes you feel and mushy and gushy inside.
Seeing a character's romantic adventures is thrilling, exciting, and fills you with hope.
Every series has some kind of romantic-arc whether it be forbidden love, romantic love, or a love triangle.
So grab your significant other or besties — here are the most romantic dramas on Netflix to watch right now!
Also check out: 6 Sexy Shows to Watch for Valentine's Day
Bridgerton
Obviously, Netflix's hit series tops the list with romance, scandal, and plenty of steamy scenes. Dubbed the Regency-era Gossip Girl, the first season is a brilliant and entertaining period piece that centers on eight close-knit siblings of the powerful Bridgerton on their quest to find true love. And Regé-Jean Page isn't bad on the eyes.
Sweet Magnolias
The real romance of this series is between the three best friends — Maddie, Dana Sue, and Helen — who are navigating new relationships, family drama, and career in the Southern town of Serenity. See more Sweet Magnolias content.
Crash Landing On You
The South Korean rom-com establishes an unlikely secret romance between a South Korean heiress and a high-ranking North Korean officer who helps the heiress' go into hiding after a paragliding accident causes her to crash-land on his turf and into his arms!
She's Gotta Have It
What do you need in life from a man? Spike Lee's adaptation of his 1986 film of the same name aims to find that when Nova juggles three relationships with three very distinct men.
Dash & Lily
The limited-series may be set during Christmas, but since it's still winter, it doesn't feel odd watching it. In this romantic story, a cynical Dash and an optimistic Lily form a bond as they share dreams and goals in a notebook they pass back and forth. Will the spark be there when they finally meet face-to-face? Read our review of Dash & Lily now.
Easy
The anthology explores the ups-and-downs of the modern dating world by following several stories and relationships between people in Chicago. If you're in the dating pool right now, it's a relatable series that can be watched as standalone episodes making it easily digestible.
Velvet
The Spanish series in 1950s follows the romance between a heir to a fashion house and a seamstress who works for the family. And let's just say, it doesn't get the families blessing!