There was no shortage of drama on Dynasty Season 3 with the introduction of Cristal 3.0 and Alexis 2.0.
The season also explored expected soap tropes including amnesia, kidnapping, a long-lost child, and a crazy stalker.
Dull moments are a rarity in the Carrington household, but on the occasion where a storyline falls a bit flat, we ride it out because we know it's usually followed by jaw-dropping, over-the-top twists that leave us aching for more.
Even after three seasons, the series hasn't lost its spark as it puts betrayal, manipulation, and jealousy at the forefront of each episode and continues to be a guilty Friday night pleasure.
Let's break down some of the best, worst, and favorite moments of Dynasty Season 3.
Best Character: Fallon
There is no Dynasty without Fallon. She runs the show, no, scratch that, she carries the show on her back. Liz Gillies was made for the role of Fallon, and as season's progress, that only becomes more evident.
We look forward to her charismatic approach to any situation, her witty one-liners always infuse the episode with laughter, and we've enjoyed watching her grow into a more rooted character through her romance with Liam and her desire to step out of Blake's shadow.
Worst Character: Cristal
Surprisingly, it's not Adam Carrington. It's hard to specify a "worst character" on a show where everyone has an ugly side and they all do terrible things to each other to get ahead.
Blake technically should've taken the title considering he got away with murder, cheated on his wife, and then put his business ventures above their relationship when it was already strained, however, it's expected of him.
Instead, Cristal takes the honor. She plotted to kill Alexis and almost got her brother killed in the process, she tried to become a better person and ended up sleeping with a priest, and she blamed Blake for the breakup of their marriage without acknowledging the role she played in it.
Most Shocking Moment: Cristal sleeping with a priest
It may have been one of Cristal's lowest moments, but it was also one of the most shocking! Who would have thought that Cristal would get down and dirty with a man of God in the bedroom she shares with her husband, Blake?
She ended things with Father Collins because the guilt was unbearable, but it cannot be the last we've seen of him. No one ever goes away that quietly on Dynasty. My perfect twist? She's pregnant with his child!
Storyline That Was Finally Addressed: Liam's kid
Fans have been waiting to meet Liam's child since he was first mentioned a few season's back. Connor finally made an appearance at the worst possible time following Liam and Fallon's engagement. They can never just get a moment of happiness to themselves.
After Liam bonded with Connor and Fallon developed a relationship with the child, Heidi came clean and revealed that it wasn't his kid on Dynasty Season 3 Episode 15. Connor was Liam's step-brother — a product of Heidi's love affair with Liam's father.
Can you say, "dodged a bullet."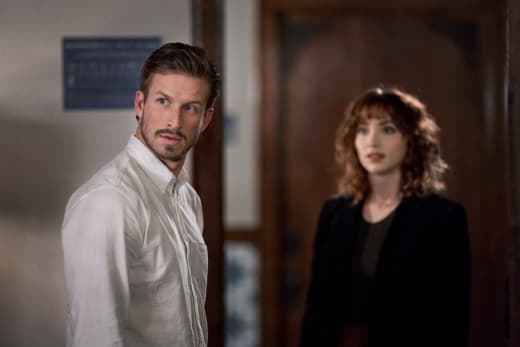 Funniest Storyline: Moldovia kidnapping
The Moldavia kidnapping on Dynasty Season 3 Episode 19 was the most outlandish storyline but that's what made it so funny. It was also enjoyable to see all the men working together towards a common goal, plus, Sammy was a drugged-out hoot.
The episode kept you on your toes because it wasn't clear where things were going to go or how they would turn around for Blake and Anders.
The bachelorette party on Dynasty Season 3 Episode 20 would be a close second because it was a blast watching them retrace their steps to figure out what happened while they were blackout drunk.
Best Couple: Liam and Fallon
This one is a no-brainer. The fans love Liam and Fallon and for good reason, the couple has managed to overcome a lot in their relationship.
They may have lost each other there for a moment (and Liam's amnesia caused him to briefly forget Fallon), but they found their way back to each other and more importantly, fought for each other. Their relationship grows stronger with each episode.
Liam accepts Fallon for who she is and never tries to change her, and she's never been so vulnerable around anyone else.
We didn't get the intended finale with their (second) wedding, but we'll patiently wait until season 4.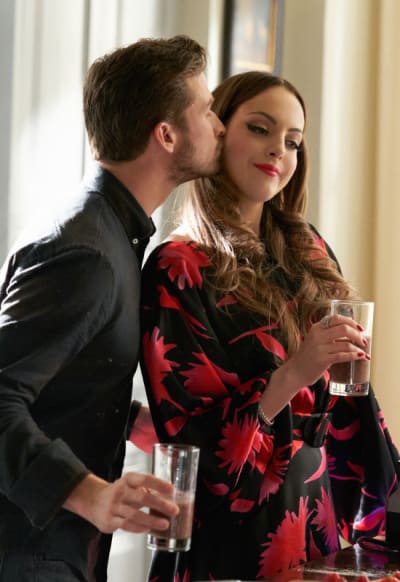 Follow CRAVEYOUTV on socials
How to Watch 'Hamilton' on Disney+ this Fourth of July
This July, you're getting the best seat in the house for Hamilton and you aren't paying hundreds of dollars for it!
On July 3, Disney+ will begin streaming the Lin-Manuel Miranda smash Broadway musical, which follows the life of Alexander Hamilton and the Founding Fathers.
The version of the original production was filmed at the Richard Rodgers Theatre on Broadway in June of 2016.
While you'll be able to enjoy it from your living room, Miranda has gone out of his way to give you full Broadway experience. He tweeted the screen-adaptation will feature "whole show, every note & scene, & a 1-minute countdown clock during intermission."
Here's everything you need to know about streaming Hamilton on Disney+
How to Watch?
Hamilton will be available to Disney+ subscribers. You can stream it on online or on your streaming devices.
How Much Does Disney+ Cost?
You can snag a subscription with on-demand access annually for $69.99 per year or monthly for $6.99. The annual membership saves you about $14 yearly. This gives you access to all of Disney and Marvel content!
You can also get the bundle with ESPN+ and Hulu for an additional $12.99 a month. Bundling the three gives you a 25% savings or roughly $5 bundled rather than subscribing to each service separately.
What's Hamilton Rated?
Miranda recently revealed the screen adaptation will be exactly the same as the stage performance sans two swear words. In order to qualify for the "PG-13" rating, the film must not have more than one swear word. The rating warns of "language and some suggestive material."
Is It Worth My Money?
Disney has an extensive catalog and much like other streaming services like Netflix, Hulu, and Amazon Prime, it adds new content monthly from classic films, shows and cartoons, animated films, and brand new originals.
For those who like Hamilton, Disney+ also offers the stage-to-screen film adaptation of Newsies. And if you're looking for more of Miranda's work, Disney+ is streaming the reboot of Mary Poppins and Moana.
'Fuller House' Season 6: Is the Door Open For Another Reboot?
Fuller House came to an end after five seasons earlier this month, but the cliffhanger felt as if the series intentionally left the door open for another reboot.
Even DJ emphasized: the door is always open.
But was that intentional? While it doesn't seem like Netflix has any interest in keeping the show around, the cast and showrunner are remaining optimistic.
In the final moments of the series, Kimmy and Steph said their goodbyes before moving families out of the Fuller-Tanner house for good.
Following their exit, DJ becomes emotional as the usually full, loud, and alive house falls eerily quiet. Someone knocks on the door and it turns out to be her sister and childhood bestie informing her that they don't want to leave.
Stephanie then drops another surprise that could carry the show for a few more seasons — she's pregnant. (Read our reviews/recaps of the final season of Fuller House here)
For an audience who grew up with these characters, it's hard to say goodbye and come to terms with the idea of not being there for their next steps.
But while it's one thing for the audience to want to continue the series, it's another when the actors are fully on-board.
Both Andrea Barber (Kimmy Gibbler) and Candace Cameron Bure (DJ Fuller) told TV Insider that they are keeping their fingers crossed for another reboot in the future.
"We talk about that all the time and put it out there so much. Who knows what will happen in 10 or 15 years. Never say never," Bure said. "If there is another opportunity, I know all of us would reprise these characters again."
Barber added that wrapping up season 5 did not feel final. "I really want to play this character and see where she is and see her grow," Barber said. "We've seen Kimmy, DJ, and Stephanie since they were 5 and 10. Let's continue it into our 60s. Let's see them as the Golden Girls of the new generation. I'm ready."
In fact, Cameron-Bure told E! News that she would play DJ forever if she could.
"I would play DJ Tanner for the rest of my life," she said in 2018. "If the audience wanted it and the networks wanted it, I would do it forever."
So, yeah, there's a huge chance the cult-sitcom could see a reboot somewhere down the line that would find the She-Wolf pack dealing with grandchildren.
Not many shows get the luxury of catching up with their fans every so often, but in this case, even with declining ratings, there's a ton of love for the 90s sitcom.
Of course, by that point, we hope Stephanie and Kimmy and their families actually moved out of DJ's home.
The San Francisco house is big, but it's not that big.
Would you want the show to return in the next decade? Or is Fuller House milking it?
7 Reasons Why We Love Fallon Carrington on 'Dynasty'
Fallon Carrington is one-of-a-kind.
Fans were initially drawn to The CW's Dynasty because of the scandalous drama but we've stayed because of Liz Gillies, who does an incredible job bringing the female protagonist and lead heroine to life.
Gillies' Fallon is a diva (in the best possible way), a businesswoman, a fashion icon, and more often than not, the show's saving grace. She's always ready for a good scheme, just as long as she comes out on top. But underneath that pristine exterior, she's just a girl who loves and wants to be loved.
Fallon is the queen of Carrington Manor, and we wouldn't have it any other way!
Here are some of the reasons we love Fallon Carrington on Dynasty!
She's Bold, Ambitious, and Confident
Fallon is the girl boss in her personal, professional, and romantic life. She won't let anything stand in her way, and she's not afraid to speak her mind or roll up her sleeves and do the work or get a little dirty. Even when she's out of her league or element, Fallon will dive in headfirst because she's confident and aware of her own capabilities.
Her Closet Is the Dream
Staple pieces, shoes, handbags, oversized hats, Fallon has it all! Everyone's fashion on Dynasty is superb, but Fallon's is unbeatable. It's a huge part of her character and reflects her personality. She's able to pull anything off including business chic, preppy casual, or evening bombshell. Her closet is so impressive that even Kirby borrows some staple pieces (we wouldn't mind getting some hand-me-downs either)!
She's Business Oriented
Fallon has money on her mind. In the early days, she's driven to follow in her father's footsteps and become the new CEO of Carrington Atlantic. When that falls through, she proves that she's determined to pave her own way as an entrepreneur. Throughout the seasons, she's found many ways to reinvent herself and reinvest her time while making business-savvy decisions.
Her Love for Family
The Carringtons are one of the most dysfunctional families on television and the family tree is rather complex. But what remains clear is the love that they have for each other. Despite the constant arguing and betrayal, they always have each other's backs.
Fallon is a daddy's girl through-and-through, and while their relationship might not always be perfect, all she wants is for him to love her back and recognize her potential. Her care and appreciation also extends to friends like Culhane and Monica who she treats like family.
She'll Fight For What she Wants
When Fallon sets her mind on something, nothing will get in her way of achieving that goal. When she wanted to win back Liam, she went out of her way to eliminate the competition and prove that she was the best. Her determination is to be admired because it's what helps her back up anytime she gets knocked down. We can all learn a thing or two about being resilient from Fallon.
Her Witty One-Liners and Comebacks
Fallon's words and witty zingers are her weapons. She never hesitates because she's always equipped and ready to hurl the best comeback. Her snark has given fans some of the best and funniest quotes from the reboot.
How Vulnerable She Is Around Liam
Fallon rarely shows her heart, but if there's anyone who is able to bring down her walls and help her open up, it's Liam. The love she has for him is pure, and while she sometimes makes some questionable decisions, he's always around to keep her grounded and level-headed. Their relationship is full of passion, mutual respect, and genuine love. They're a perfect match — he keeps her accountable while she's helped him live a life he enjoys.
Do you love Fallon as much as we do? Share your favorite things about her in our comments below! And check out our reviews of Dynasty here!