Unfortunately, this week was a lackluster episode for Grey's. This isn't surprising considering the season premiere was such a huge event for us all.
Mer's still on trash pick-up duty, Alex and Richard are still trying to maintain a semblance of normalcy at their new hospital, and Bailey's back to teaching after Katherine demoted her.
Oh, but hey Jo's back and better than ever, and she's a hot commodity! She's already looking better, and back to her chipper-self with the help of Alex. Already throwing out ultimatums to Bailey and making herself a general surgeon. Good on you Jo! Show them what you're worth.
While Jo's rising the ranks, the other interns are fighting to be the next Alex and Meredith. Meredith is now pulling an Izzie and Heather Brooks, helping desperate patients in the parking lot of the hospital.
We love a woman who puts her career at risk to help the less fortunate, and apparently, Andrew does too, "You're just very very sexy when you're about to burn your whole life down."
She successfully pulls the assistance of Schmidt and Avery to diagnose her parole officer's lymph node cancer. And, she's working on publishing her findings of the lack of health insurance for the lower class. No matter what, you can't stop Meredith Grey from working!
Addressing current nationwide issues is Grey's forte. With the future election on the horizon, the question of healthcare is a huge cause for concern for many of the middle and lower classes. It'll be interesting to see how the show lays out the foundation of this issue while the democratic debates continue doing the same. Maybe Shonda is a fortune teller and knows the fate of our nation, that would be no surprise.
Meanwhile, Amelia's struggling with the decision of whether to terminate the pregnancy. She tells Link about the pregnancy and he's stunned. They both have challenges with their past and fear bringing a child into the world. Link's fears are too wholesome, and thankfully Jo helped him realize that he would make a great father. The child better have his hair!
It may appear the show enjoys throwing around pregnancy announcements like they do unsuspecting deaths, but this one is different. Though, they better not throw in a plot twist and tell us it's Owen's because then we'll be having a hissy fit. Amelia's tragedy with Christopher left her with a lot of grief, so we hope this is an easy pregnancy, drama free.
Link's stable for her, and she deserves stability.
Teddy's lack of visibility must be attributed to an underlying reason from her portraying actress Kim Raver. Any news? All I can say is I miss Teddy.
The conflict between Tom and Owen is elementary, but Tom has every right to be angry with Owen. Owen just comes in after breaking Teddy's heart time after time. There can't be more drama for Owen and Teddy, otherwise, that would just be mean.
Poor Tom trying to assert his dominance as Owen's boss, and by the end, he's the one on his knees. Certainly, Owen had the help of the defibrillator to accidentally shock Tom to his knees, ouch.
Tom's restraining order against Owen is extremely excessive but again warranted. At least he's not taking his anger out on Teddy.
Richard's mini sentimental monologue to Alex about why Grey Sloan Memorial is his home is worthy of a final scene voiceover. I felt that one close to my heart.
The separation in hospitals is like a spoof of earlier seasons with the battle against Mercy West. How long is this going to last? I'm not a huge fan of the split storylines.
What do you think is next for the doctors? Will Meredith's license be taken away? How will Alex and Richard eventually return to the hospital? And is Link really the father of Amelia's child?
Please leave your thoughts below!
Additional Sidenotes:
Damn Maggie, tell us how you really feel. Maggie's really going downhill since her relationship with Jackson, but it looks like Jackson's really on the uprise with Vic.
#Freedom, iconic and classic.
Ranked number one in mortality rate, patient dissatisfaction, and facilities. What a sad result for Alex and Richard.
Pretty sure texting a guy to drop a pregnancy announcement is already a thing.
"We'd make an amazing kid and I kinda want to meet that kid."
Helm's old crush on Meredith has manifested into wanting to now become Meredith! "I'm so Meredith Grey."
When did that room become a plant room? Wasn't it originally just a blank room for relaxation? Either way, I want one!
"I'm really sorry to bother you but I think that guy's dead."
Grey's Happy Patient Tally continues with a total of 3!
12 Crazy Moments from the Riverdale Season 4 Fall Finale
Riverdale is known from its crazy plot twists, and given that this was the midseason finale, we were expecting the cream of the crop.
We were not disappointed.
Take a look back at the wildest moments of the night.
Caution: spoilers ahead. 
You can read the full review of Riverdale Season 4 Episode 9 right here!
1. Polly Clawed off a Nurse's Face
We haven't seen Polly for a hot minute. If I'm being exact, I think the last time we saw her was when she tried to drown Alice as part of some Farm "rebirth" ritual. And now when we saw her, she was tied up to a bed after disfiguring a nurse at Shady Grove named Betty. Yes, disfiguring.

2. Alice Tries to Attack her Daughter with a Butcher Knife
Honestly, the headline says it all. Both Alice and Polly went full psycho after picking up a phone call that hypnotized them into attempting to kill Betty. Somehow, there's a logical explanation.

3. Tangerine, Tangerine, Tangerine
Anyone else wondering if there's some unrevealed backstory to the word tangerine? Does Betty hate tangerines? Did she give them to a student that was allergic? Or is the word innocent enough to hide the fact that it hypnotizes people into turning into Betty and attempting to kill her dark side aka her?
In Betty's case, that means she'd have to kill herself, which was all part of The Farm, Edgar, and Evelyn's plan. Seriously, how is she still getting phone privileges?

4. Cheryl Gassing Thistlehouse
While gassing the house up maybe have been a bonkers idea, it worked to snuff out the darkness hiding within the brick walls of Thistlehouse: Penelope. Cheryl figured out it was her mother who was gaslighting her in hopes that she'd lose her mind because of the Julian doll. Who knew a little roach gas was all she need to see clearly?

Read the full post at TV Fanatic! 
Stay Connected with CraveYouTV 
Like What You See? Fuel our Reviews! 
Did 'Legacies' Manage to Successfully Revamp the Old Love Triangle Trope?
Love triangles are the most popular trope on television.
It's the "go-to" storyline for nearly every series looking to cause friction between a group of characters.
And it's usually done regardless of whether or not it makes sense for a character's arc.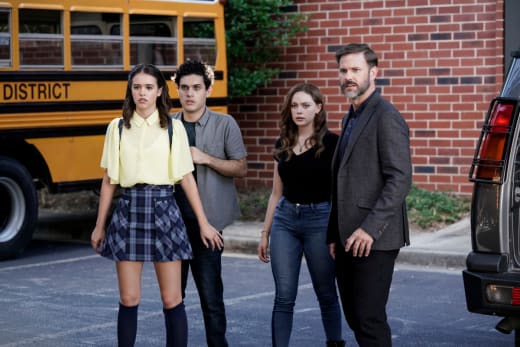 Love triangles have become such a staple on show's that my passive-TV-watching husband has asked me if it's a requirement to be in love with two people at once.
My answer? When it comes to television, absolutely yes.
Julie Plec is known as a repeat offender; she loves nothing more than to include love triangles for every character in her series.
Just take a look at her track record: On The Vampire Diaries, the love triangle centered around Elena Gilbert, a high school student torn between two elder vampires, the Salvatore Brothers. They were drawn to her because of her uncanny resemblance to their former lover, Katherine.
TVD's Caroline, step-mother of Lizzie and Josie Saltzman on the current Legacies, was also torn between a few men, including Stefan Salvatore and baddie, Klaus Mikealson.
And now, her daughter and Klaus's daughter are embroiled in their very own love triangle with brooding Pheonix Landon, but the circumstances surrounding their situation are vastly different than those of their parents.
Plec stepped her game up and revamped her approach to the love triangle . . . Pun-totally-intended.
The supernatural nature of these shows has long allowed writers and characters to explore different realities, but Legacies managed to do something unique with the often familiar trope that its predecessors, The Vampire Diaries and The Originals, never could.
This new approach doesn't necessarily better the storyline if you hate love triangles, to begin with, but it terms of how it unfolds, it's less predictable and gives characters more to play with.
Riverdale Review: Thanksgiving Includes Cannibalism & Framing Mr. Chipping (4×07)
Thanksgiving was an eventful holiday in Riverdale as Jughead and Betty linked up to solve the mystery of Mr. Chipping's death, an ice storm hit Riverdale, and Archie got a gun pulled on him at his dinner at the rec center.
Oh, what fun.
Betty and Jughead's sleuthing is always in tip-top shape, and Betty had an extra level of sass that I was lovin'. She looks sweet, but she's not, okay Donna.
Unfortunately, no matter Jughead and Betty's best intentions, Bret and Donna were one-step ahead of them.
Also, can someone please explain to me their idea of fun because wearing bunny masks and walking around with axes isn't a joke. Bret's lucky Betty didn't kill him to protect Jughead.
Jughead hasn't learned his lesson of not talking openly about his plans to unearth the school's mysteries in public, and Bret overheard everything.
Therefore, Jughead and Betty may have thought they had the upper hand, but they were really helping Donna and Bret frame Mr. Chipping.
Women tend to not come forward about sexual assault out of fear that no one will believe them. Sadly, Riverdale is perpetuating that by offering up Donna's affair storyline with Mr. Chipping, which seems to be fabricated in order to destroy his integrity and squash any doubt that his death was anything but a suicide from being a terrible person. At first, Mr. DuPont tried to convince Jughead that Chipping's alcoholism played a role in his death, and when that didn't work, they attempted to make him a predator.
Mr. Chipping was a favorite of the school until he wasn't. And it's those last words he said before he jumped that underline the notion that this was not a willing suicide. He was coerced or blackmailed by Mr. DuPont.
Everyone at Stonewall Prep is in on it, and they're determined to shut Jughead's investigation down because he'll likely figure out the school's deepest and darkest secrets if he doesn't.
Then, there's the fact that Bret and Donna set up a camera that is videotaping everything in Jughead's dorm room including his more intimate moments with Betty.
Are they going to try to use that against him? Do they think they'll have the same power of Jughead as they did over Mr. Chipping.
The good news is that neither Betty nor Jughead truly believed what was being presented, and Betty has it all mapped out on an investigation board so she'll likely get to the bottom of this and any secret society that's involved.
Archie's good intentions of hosting Thanksgiving dinner at the rec center turned sour when Dodger's family turned up for a side dish of revenge.
And look, it's understandable that Dodger's mother wants answers, but her actions and threats were stupid.
She wanted so badly to blame Archie when he wasn't involved (at least not directly) with Dodger's beating.
Also, your son is an asshole and a bully, Mrs. Dickinson, so I can't say anyone feels too terrible about what happened.
The deep-fried turkey explosion caused enough of a distraction for Mary to grab the gun and threaten to kill 'em all if they didn't get out of dodge. Badass Mary, you can stay.
Though, having Mary make comments about how much she misses having her husband around and their whole moment of grace was irritating. I hate when a show suddenly changes the narrative to fit the story they're trying to tell. For most of Riverdale, it was just Archie and his dad while Mary was in Chicago. You don't get to bring up all these old memories when you weren't even here for the last few years.
But all of this was included for a greater purpose — Archie dedicated the rec center to his late father who would've been proud.
Hiram Lodge is Mayor already because, of course, he is. Why would anyone try to stop the most dangerous man in Riverdale from wielding an uncontrollable amount of power? He ran unopposed and won, and figured that meant he could shut down Archie's festivities because "they were dangerous."
Little did he know, Veronica was serious about not being part of the family and playing nice. The Thanksgiving dinner on the dining room floor is proof of just that.
Hiram seriously brings out the worst in people. Case-and-point, FP, who almost slashed his throat with a broken bottle and then decided there was no law against him being the Sheriff of Riverdale and the leader of the Serpents. Only in Riverdale, friends. Only in Riverdale.
And then we have the absurd storyline happening at Thistlehouse. The writers just won't give this one up even though it's bordering on disgusting at this point.
The storyline isn't doing Cheryl any favors, and it's a mystery as to why T.T is sticking around and accepting of all of this.
After they killed Uncle Bedford, Cheryl devised a wicked plan to scare away Aunt Crickett so that they could dump the body in Sweetwater River.
It sounds messed up even without revealing their unsavory plan.
Having a corpse of your dead brother around is one thing, but to pretend to serve up human flesh at Thanksgiving dinner and threaten to go public with the act of cannibalism to protect your maple syrup industry. Honestly, Cheryl's gone off the deep end.
The only redeeming factor here is that she never actually served up Uncle Bedford for dinner, she just made them believe she did.
But still, it's in everyone's best interest, including Cheryl and Toni's, if Riverdale drops this deranged storyline.
What did you think of Thanksgiving in Riverdale?
Is Donna lying about Mr. Chipping?