Grey's Anatomy Review – Manic moments, a few breakups, and surprising confessions (16×18)
If only Meredith Grey and Grey Sloan Memorial weren't just a part of a fictional world, because we need them right about now. This pro bono episode came at just the right time when the shortage of hospital beds and a broken healthcare system is revealing the cracks in our country and causing a scary collapse.
In typical Grey's Anatomy fashion, there were manic moments, a few breakups, and surprising confessions during this hour.
Meredith's voiceover really resonated, "Healthcare became a commodity only sold to those who could afford it." I have never heard a truer statement. She explained the history of healthcare and how it originally used to be a human right. Hospitals were once a place of refuge, and have now become a place of avoidance for most because of the outrageous medical bills that result.
It was sad to see the work Meredith was giving as a service to the community taken as a last resort for many that caused a mini outrage. Nevertheless, the episode had some interesting cases.
DeLuca was treating a patient who initially came in with a rigid abdomen. She was brought in by a woman who claimed to be her aunt, but their dynamic seemed so suss, DeLuca was positive he saw signs of human trafficking.
My first guess was a kidnapping, but I guess human trafficking is basically the same thing. The girl's behavior seemed just off, but almost not enough for me to really think there was anything wrong.
The entire hour I just wanted to slap DeLuca in the face. I wished he was wrong the whole time, but it certainly seemed like he was right about something.
I'm not sure this is entirely fair as he truly suffered from a manic episode, but he's always annoyed me as a character. Sure he made Meredith happy for a bit and acted stupidly "chivalrous" at times, but mostly he's just been an annoying, self-righteous prick who needs to be written off.
I admire his courage to speak out and do anything he could to try and protect his patient, but on the other hand, he didn't necessarily handle the situation properly and resulted in them running away.
Who knows if we'll find out if he was right or not!
Meanwhile, Amelia and Teddy teamed up to help a marine veteran. Teddy always feels akin to these cases, and I always find these special moments.
It's important the show touches on the lack of resources and care for veterans and Teddy's storyline with veteran characters is always super heartwarming.
Teddy was low key distracted by her latest rendezvous with Koracick and could hardly act normal around Owen. After Amelia barged in and announced freely that Link was in fact the baby, Teddy couldn't seem to justify her latest acts of infidelity.
I will continue being a huge supporter of Teddy and Koracick so I've written off her misconduct as love. I don't want to believe that she wouldn't just run to Koracick out of pure selfishness. I'd like to think she ran to him because she does love him. She's experiencing the difficulties of loving two people.
Owen has no suspicions of her cheating, and I wonder if or when Teddy will break the news to him. It was disheartening watching Koracick bow out as he explained that he would never cheat with a married woman. Seeing as Teddy didn't try and change his mind and found comfort in Owen's embrace, I can't see Teddy choosing Koracick, no matter how much I want it.
What are your thoughts though? Do you see Teddy choosing Owen or Koracick? And whom would you prefer? Hopefully, we'll get an answer soon enough. It better be quicker than the time it took for us to find out Amelia's baby daddy!
Additional Side Notes:
Nico's so beautiful. That smile, those dimples, those eyes! I'm not surprised Schmidt and Nico broke up, they didn't really have that strong of a relationship. But I would hate to see Nico's beautiful face go. Please don't take the new job!
It's true, Helm said it right, Meredith is legendary. I feel like there should have been a How I Met Your Mother Barney voiceover saying something like "She's legen-wait for it-dary."
It was sad watching Jo go through the aftermath of her abrupt divorce. I can't believe she's going through the whole process of rediscovering herself as an independent woman. She took off her ring and changed her last name!
Vic and Avery are officially over! At least Avery can now connect with Richard on a single man's heartbreak club. Katherine's separation papers are making things all too real. There are too many couples breaking up I can't keep track!
Follow CRAVEYOUTV on socials
Chicago PD Review – Is Burgess Ready to Be a Mom? (8×03)
Intelligence is kicking off 2021 on a high note.
Following Atwater's powerful storyline, Chicago PD Season 8 Episode 3 shook things up and reminded fans of the good old days when the focus remained largely on the case-of-the-week.
It's been a while since we've seen the team go full-in on a case, especially one as compelling as the murder of Makayla's entire family.
While gang retribution was the go-to motive, the case took a surprising twist when it was revealed that all three family members died protecting the little girl from her father, Tareek, who was recently released from prison.
The case was interesting even without a personal connection, but hinging the plot on a young, innocent girl not only provided an emotional hook, it also allowed the narrative to circle back to Burgess' miscarriage from Chicago PD Season 7.
Voight was determined to nail down a suspect and get justice for the family, so the "by the book" police reform storyline kind of went out the window. Sometimes, I wonder if the series even remembers the plotlines it's introducing.
There wasn't even any reference to Atwater's situation with the racist cops; it's almost as if it never happened.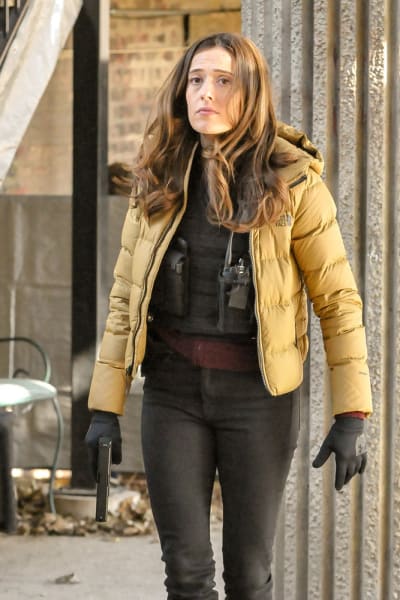 However, it was nice to see that Burgess was still dealing with the aftermath of the miscarriage.
Following such a traumatic experience, Burgess convinced herself that she didn't want children. It was a tactic to protect herself from getting hurt again.
But after forming a personal connection with Makayla, she began to see the possibilities that she could have it all: a family and a career.
Her motherly instincts kicked in when she saw that the girl was in danger — motherly instincts she didn't even know she had.
It was such a treat to see her in "mama bear" mode.
Their bond never seemed forced either as Burgess genuinely cared for the young girl and found her purpose in protecting her. She even put her job on the line to ensure that she could stay by Makayla's side until they found the people hunting her down.
But it begs the question . . . what happens next? Was this the show's way of warming everyone up to the idea of a Burzek baby again?
They already let us down once; I don't want to get ahead of myself and get my hopes up again.
Chicago Fire Review: A Malfunctioning Case (9×03)
It's been quite a while since we last saw our favorite firefighters take on the streets of Chicago, and they came back in full swing. Quick recap: Boden wants Kidd to be a lieutenant, Casey and Sylvie made out and then Casey let it slip that he's still in love with his ex-wife. After nearly two months off, it's time to get back into action.
The episode begins with Kidd and Severide arriving to work, with Severide assuring his girlfriend that he's going to help her study for the lieutenant's test that Boden recommended she take. As they arrive inside, Chief Boden is showing Kidd's protégé, Kylie, arriving for her first day as Boden's new assistant.
As Casey and Sylvie begin to have a talk about their little hook-up at the end of the last episode, the bells ring, and Firehouse 51 jumps into action. As they arrive to a warehouse that's on fire, Kidd notices that there are people on the roof that need help, and Mouch, being the great ladder operator, hops on and steers it up. As Casey begins to climb it up to the roof, Mouch notices that the ladder isn't secure, and Casey is flung over the side. Firehouse candidate Gallo runs up, and safely pulls him up. Mouch, ashamed of a possible malfunction, watches on as they continue to help. Inside the warehouse, Severide saves a man, who demands that they go back in to save a car, which he refuses, and Casey berates Mouch for almost severely injuring him.
At the Firehouse, Kylie gets her new boss a standing desk, which will offer the C plot of the episode.
Stella attends her first meeting for the lieutenant's test, and Kidd meets the people who are also involved with the test, who are all impressed that she's there.
Mouch takes the rig out so that he can look at the mechanics of the ladder, and slowly starts to become obsessed with figuring out what went wrong during that warehouse fire.
While looking at the report for the fire, Casey doesn't think that Mouch should get any extra punishment for the ladder mishap. Severide sees the man he saved in the warehouse, named Ken, and Ken tells him that he wants to get back into his warehouse as soon as possible, leading to the concerned looks from Severide. He brings it to the headquarters, who assign him to investigate the warehouse for any clues. As he leaves, Severide sees the chief who's in charge of the lieutenant's test, Conway, and he says a good little biased sentence about how Kidd's ability doesn't matter compared to how it would look for a woman to be a lieutenant. He also says that just because she's dating Severide, that'll be even easier to slide through the ranks, which infuriates Severide to no other.
Gianna and Sylvie talk boys, and Sylvie brushes off any possibility that her and Casey have any sorts of relationship, and inside the Firehouse, Mouch's obsession with the ladder malfunction continues with him scanning the handbook. Herrmann, nervous about his friend, goes to a nearby firehouse, and asks one of their crew about a similar situation where a ladder operator messed up and almost hurt someone. The crew member replied that the person in question was so far into his career, he was "going through the motions," and he was sent to a desk job.
With incredible enthusiasm, Kidd tells Severide that she's excited to get studying for the test, and he can't bring himself to tell his girlfriend the horrible remarks that Chief Conway said. Meanwhile Boden tries to break his new standing desk so he can go back to sitting, but Kylie sees through the ruse and fixes it.
Now the part we were all waiting for, Sylvie and Casey have their renewed talk about their feelings. Casey said that his feelings for her are real "regardless of Gabby," which hurts Sylvie, because there "shouldn't be a 'regardless.'" She tells him that that can't happen again, because she needs to be on her own. Thus breaks the hearts of all of us fans that were shipping them.
Sylvie and Gianna get sent out on a call of a woman who was hit in the face with a drone, and the blades of the drone cut a piece of her nose off (insert some gross and oddly impressive special effects makeup). Gianna finds the piece of the nose, and they assure her that it can be reattached. The person controlling the drone tries to take the drone away, but Gianna knocks it out of the sky with a rake, and they decide to completely destroy it for Sylvie's smash therapy (hey, that's the episode title!)
Severide and Ken head to his warehouse, where they find the car that Ken wanted saving still in pretty good condition, so there was nothing too suspicious going on.
Herrmann, Gallo, and Kylie find some of the paperwork involved with the previous incident like Mouch's, and Herrmann tells Kylie that she needs to be tougher than Boden if she is to keep the job, since Boden goes through a lot of assistants (except for Connie, who was a series favorite before her departure).
While sharing cigars, Casey tells Severide about him and Sylvie, and he says he's gonna pull back on his feelings for her, for the sake of her, which hits home for Severide, since he is in a sticky situation with Kidd.
Kylie catches Boden trying to sit at his standing desk, and Kylie tells him that he can be strict, because she wants to be tough, and she wants to learn from him.
Herrmann finds out through his searching and that the manufacturer of the ladder system was supposed to have product recalls, and it never went through, and informs Mouch and Casey that Mouch did nothing wrong.
At the usual end of episode Molly's scene, Sylvie and Kidd discuss Casey and Severide. Kidd notices the weird behavior that she's been seeing in her boyfriend and will most likely confront him about it. Severide is then shown helping his new buddy Ken fix up the car. Ken even gives him permission to take it on its first test drive. Severide purposely ignores a call from his girlfriend, and he drives off into the night.
The episode was a nice return to Fire's roots. Fighting fires, with a fair amount of share between all the side plots. It was also nice to see Chief Boden attempt to work at a standing desk when he clearly wanted to be sitting. The humanity of Casey being so forgiving to Mouch for the ladder mishap was great to see, especially when Casey can be so cold during the job.
Chicago Fire is taking a two week break before returning. What did you think of tonight's return to the show? Leave a comment below.
Chicago Med Review – Chasing Ghosts (6×03)
New year, same problematic ED.
Better yet, same problematic disregard for patients' wishes from Will Halstead. Does the guy/will the guy ever learn? It doesn't seem like it.
While Chicago Med Season 6 Episode 3 was a solid installment for the first episode of 2021, it did raise some red flags in terms of Halstead's involvement with the medical trial.
Halstead seems to genuinely believe in the trial, so he was coming from a genuine place when he offered it to Reuben, but he was also motivated to find his first patient with heart failure, so in a way, he wasn't prepared to take no for an answer.
He wasn't overly pushy and made sure he reiterated how the trial would work twice so that it was Reuben's decision, but at the same time, I agree with Maggie that I don't think the man was in the right space to fully comprehend what he was agreeing to.
And personally, it just feels off to me that a doctor who is benefitting from the trial is also tasked with finding the patients.
Maggie wasn't the only one questioning Halstead's motives as his daughter, Maria, was also skeptical and made it clear that she wanted to pull her father out of the trial.
It was never addressed if Maria had the authority to speak on Reuben's behalf since he was technically competent enough to make his own decisions, but again, Halstead went out of his way to do the opposite of what she asked because he "knew better."
The whole situation took a nasty turn when Reuben went into cardiac arrest, which Maria obviously blamed on Halstead. And though he redeemed himself by performing a life-saving procedure, the whole thing once again underlined Halstead's ego and inability to respect a patient's wishes.
It's frustrating to watch Halstead continuously repeat the same mistakes and patterns because he is actually a good doctor who trusts his gut and his abilities.
Also, his hair was distracting me the whole episode. Whatever that mess is on his head, it needs to go!
Ethan Choi's mishandling of the ED was to be expected. It's never clear which Choi you're going to get – the one that follows the rules or the one who bends them to help a patient out.
In this case, Choi was following protocol after Goodwin put pressure on him to cut costs and make decisions that will benefit the hospital.
As we've seen before, that often comes at the cost of patients. Even as April and Dr. Charles were informing him that something was up with Lisa, Choi wanted to discharge her because they didn't have the "grounds" to hold her.
Thankfully, Dr. Charles was able to get through to Choi and convince him that there are just some cases where the right thing and the necessary thing are not the same.
Profits are important, but so is a patient's health and wellbeing. If Choi wasn't looking at it with an agenda in mind, he would have been the first to realize that Lisa's behavior was strange and required additional attention on their part.
However, this doesn't excuse April's behavior after Choi pulled her from the COVID ward at all. April thinks that because she and Choi have a past that she's privy to special treatment.
She only respects him in the role of Chief when it suits her. She took his actions personally rather than considering that he was doing what was in the ED's best interest.
Her behavior was unacceptable and highlights how desperately she needs to learn to separate the personal matters from the professional ones.
Choi's decision wasn't to spite or punish her, and he made that very clear. And it's not Choi's place to make her feel worthy or useful. If she's needed in a different department, that's her purpose for the day.
The Lisa/Kelly case was wrapped up way too quickly, which stripped fans from a satisfactory ending.
I'm not saying it isn't possible for a missing person to just walk into a hospital for treatment, but it was convenient that they were able to identify her so quickly. Where did Choi actually get that app?!
It would have been nice to get some answers about Lisa/Kelly's case! How did she get to the hospital? Why was she vitamin D deficient? Was she being held somewhere? Who kidnapped her?
There were so many questions left unanswered!
If this was such a high-profile case, it would likely garner police and media attention. This would have made for a perfect mini-crossover with Chicago PD.
And that's always been one of my biggest gripes with Chicago Med and the case-of-the-week formula. Sometimes, we get so attached to a patient that we want to know more and see the outcome of their storyline, but we're left hanging instead.
Also, if Kelly was missing for 12 years, would she accept reality so quickly? Or would the trauma have more of a hold over her?
I guess we'll never know.
Nat and Crockett's flirtatious banter is cute, expected, and welcome.
She's clearly trying to break through his tough exterior, which will, in turn, allow us to gain more insight into the character and his past.
Up until now, Crockett's been this mysterious man who prides himself on being a playboy. As Natalie peels back the layers, she's realizing that it's his way of avoiding intimacy or getting too close to anyone.
The loss of his child likely plays into it, but this was the perfect opportunity for the series to introduce us to someone from Crockett's past like an ex-wife or the love of his life instead of just a chick that he would casually grab Sazerac's with.
Since Meghan didn't really matter, her whole storyline fell flat.
It did, however, intrigue Natalie, who almost seemed jealous at times. Based on that shoulder rub and kiss, she's opening the door for something more intimate if and when he's ready to pursue something real.
I'm not usually a fan of ED-relationships, but this one I'm shipping simply because I think Natalie and Crockett could be good for each other. Don't mess it up, writers!
Natalie's case-of-the-week may have started out as impersonal, but it honed in on a few very important side-effects of the COVID pandemic.
For starters, the pandemic has left many feeling lonely and isolated. Her patient faked her symptoms so she could have someone to chat with. How sad is that?
However, it also highlighted the fact that people are not seeking out the medical attention they need.
Thankfully, this patient didn't actually need treatment, but there are so many patients who do have symptoms and should see a doctor but refuse to because they're afraid of catching the virus.
This means many patients are going undiagnosed or are being treated when it's too late. Hopefully, this encourages people to seek out help if something is wrong.
And please, check in on your loved ones with a call or text just to make sure they're doing alright!
Chicago Med seems to have found a way to address COVID and issues related to COVID without actually focusing on the virus full-time, which I'm sure is a welcome change of pace for many fans who expressed their disinterest in seeing real-life situations play out on their favorite shows.
What did you think of the episode?
Does it make you excited for the upcoming season?