Damon and Elena have been very off and on this past season, but actor Ian Somerhalder admitted that some of his favorite filming moments including a little romp in his king-sized bed.
"Damon's bed is too king beds together. It fits eight sorority girls…it definitely fits one Elena. There's been some good rolling around. It's cool because you can get a couple of rolls in," he said. Umm, is there enough to squeeze one more in??? You know what, screw Elena, let me in!!
Somerhalder's response to this E! News fan question only reiterates what fans have already known since the off-screen duo broke up; he's crazy about her!! Both in real life and on T.V!
But when it comes to the on-screen romance, Somerhalder doesn't understand why fans are still on Team Stefan or Team Damon. "Oh she needs to be with Damon, she needs to be with Stefan'. But here's the thing does anyone not recognize we've killed her entire family? We killed her, caused her to burn her house down, we've destroyed the town. These two guys have destroyed her life, but everyone for some reason still wants them together," he admitted. Well, when you put it that way, I can see what you mean Mr. Somerhalder, but that doesn't change the fact that I'm still rooting for you two!!
Executive producer Caroline Dries gave us this tidbit on the Delena relationship: "Nothing about Elena and Damon will ever be firm, only because their relationship is so fiery and complicated. But their feelings will be expressed by the end of the season."  I guess a little is better than nothing, right?
Photo Credit: The CW/ The Vampire Diaries
The 2019 AMAS Were All About Statements and Nostalgia
"Less is more" was the takeaway of the 2019 American Music Awards.
The night celebrated the years most popular songs and artists, but it was the oldies that made the show resonate with audiences both inside the Microsoft Theatre in Los Angeles and watching worldwide.
There was plenty of nostalgia going around starting with Kesha's first performance in 6 years that included her latest single "Raising Hell" but also her 2011 hit "Tik Tok."
She was finally granted permission to sing her old songs following a public battle with Sony and producer Dr. Luke.
The crowd also had warm reactions to these oldies but goodies: "Green Day's 1994 "Basket Case," Toni Braxton's 1996 "Unbreak My Heart," and Shania Twain's 1997 classic "I Feel Like a Woman."
Plenty of statements were also made at the AMAs as artists proved that they were no longer afraid to stand up to the status quo.
The biggest statements of the night came from the three pop powerhouses, Taylor Swift, Halsey, and Kesha.
All three ladies aimed their jabs at the music industry.

Halsey's powerful speech shaded the GRAMMY Awards following her absence from the nominees that were announced early last week.
"I am so thankful to the AMA's because they are the world's largest fan-voted awards show," she said emphasizing the fan aspect.
Read the full review at TV Fanatic.
God Friended Me Sneak Peek Clip: Does Arthur Make the Right Decision?
Is the God Account pulling the strings for everyone in Miles' life?
On God Friended Me Season 2 Episode 5, was tasked with decision that would alter the course of his future.
After Bishop Thompson resigned from the church leaving the position of Bishop of New York, the opportunity fell into the retired reverend's lap.
Thompson suggested that Arthur was the only qualified person to fill the role.
The offer would have been a dream come true for Arthur just a few months ago when he and Thompson ran against each other. Obviously, Thompson one.
But since then, Arthur has taken a break from the church; he's in a new phase in his life.
God Friended Me Season 2 Episode 5 Review: The Greater Good
Being retired allows him time to play tennis and hang out with his soon-to-be-wife, Trish, who isn't exactly thrilled to see him recommit to the church.
And still, Arthur continues to be drawn to it because it's his destiny.
Therefore, this decision is momentous.
Does he listen to his fiance's advice and pass or does he accept a position that he's worked towards his whole life?
Luckily, TV Fanatic has an exclusive clip from God Friended Me, which revealed that Arthur doesn't think twice about accepting this second chance.
Watch the clip HERE!
Dynasty's Adam Huber on Liam's Amnesia, #Falliam Future & That Kid Storyline
Adam Huber plays the uber dreamy Liam Ridley, the latest addition to the Dynasty cast.
Huber scored the title of series regular ahead of Dynasty Season 3.
But even without the coveted upgrade, the heartthrob has been a fan favorite since his debut on Dynasty Season 1 Episode 15, you know, the episode where he married Fallon, a complete stranger, on a whim.
Since then, Fallon and Liam have had a tumultuous yet epic relationship.
Nothing about their relationship has been conventional.
After they overcame a love triangle with Culhane, a messy situation with Liam's uncle, a divorce, and Fallon's attempts at winning him back from Ashley, it seemed liked things were going to work out.
Dynasty Season 3 Episode 1 Review: Guilt Trip To Alaska
Fallon proposed to him on the Carrington lake, and despite losing the ring in the water, Liam still said 'yes."
But their happiness was short-lived when her tyrannical brother, Adam, clobbered Liam upside the head and locked him in the pool closet.
After regaining consciousness, Liam crawled over to the pool, fell in, and woke up with amnesia, which is where we left off when I spoke with Huber.
Huber dished about Liam's amnesia, what's next for their relationship, his possible revenge on Adam, and the storyline he's dying like to explore.
Dynasty is back and with it returns all of that Carrington craziness!
Sure.
Amidst all of that, you've been up to series regular. Congrats. Were you expecting it? 
No, I honestly wasn't.
There have been other people. Wakeema, whose on the show and plays Monica Colby. You know, me and her were kind of doing the same thing we were just recurring, and you kind of go until you book another show or they give you a contract.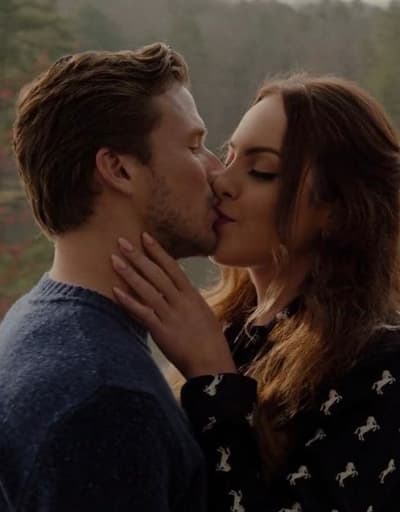 And I was testing actually on another show, NYPD Blue is doing a reboot. I got very close to that. And right around the same time, they asked me to be a series regular.
So, you know, it worked out well. I wasn't getting on PD Blue, so they had me a series regular. No, I was expecting it. I was just kind of chilling. I was just happy to be there.
It's a great role to have. 
Right?
Has the way you approach and prepare for the character changed now that he does have a deeper storyline and is so loved by audiences?
I have been putting, I think, more work into it. I mean, I've always put work into it, and definitely just trying to stay fresh and just trying to understand him.
We're very similar, but we're also different. You want to keep his story fresh. I have a journal that I do character journaling in.
I take what I know, and then just create a story around him.
Like, what was the relationship like with my dad? What is the relationship like with my uncle who is on the show played by C. Thomas Howell? And I do that with all the other people in his life. Does that make sense?