INTERVIEW: God Friended Me Show Creators Talk Season Finale Cliffhanger, the God Account, & Cara's Big Move
Sometimes, a season finale is so well done, it could hand itself to a series finale.
If I didn't know the series was renewed for a second season, I would have thought God Friended Me Season 1 Episode 20 was closing the book for us.
Or at least, closing the chapter of the God Account.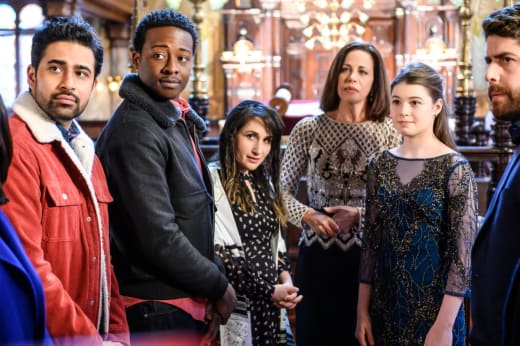 Though Miles, Cara and Rakesh always run into some troubles, everything always has a way of working itself out.
By the end of the hour, it truly felt like Miles' work with the God Account was done and Cara and Rakesh were starting their own journey independent of Miles.
Related: God Friended Me: Violett Beane Teases What's Ahead for Miles and Cara
But then… the God Account flipped the script by bringing in another character into the fold, a woman named Joy, who was friended by the God Account and sent Miles as a Friend Suggestion.
I spoke with show creators Bryan Wynbrandt and Steven Lilien below who said that God Friended Me Season 2 will explore why Miles became a friend suggestion — is it because he knows how the account operates or is it because he needs help this time around?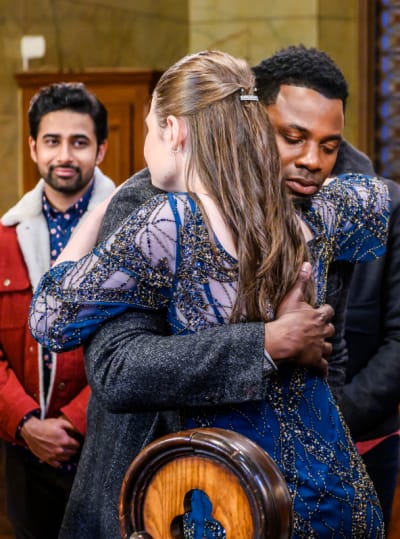 The finale also revealed that Henry Chase is not behind the God Account as previously believed.
After searching for Chase throughout most of the season, Miles, Cara and Rakesh were finally able to track him down thanks to Graham Hastings, a previous friend suggestion who played chess with Falken aka Henry.
Tracking Henry down was nearly impossible for much of the season, so why was it so easy in the end? Why didn't they think of this sooner?!
While we initially believed Henry was the creator of the God Account, upon meeting him, we realized he needed Miles' help just as much as the previous Friend Suggestions.
Read the full interview and review at TV Fanatic!
Follow CRAVEYOUTV on socials
'Saved by the Bell' Revival Reveals Upcoming Fall Premiere Date
Are you ready to return to Bayside High?
On Tuesday, NBC's streaming service, Peacock, announced that the Saved by the Bell revival would debut on Wednesday, November 25.
The sequel reunites longtime fans with their favorites including Zack, Kelly, Slater, and Jessie after nearly three decades.
WATCH: NBC's Peacock Reveals First Teaser Trailer for 'Punky Brewster' and 'Saved by the Bell' Revivals
The revival finds Zack (Mark Paul Gosselaar) as the California mayor who gets into some hot water for closing low-income schools and sending them to other schools in the state like Bayside High. This gives the privileged students including his son, Mac, and Jessie's (Elizabeth Berkley) son, Jamie, a reality check.
Check out the teaser now:
'Scream Queens' Star Billie Lourd Welcomes Baby Boy – See the Name That Pays Tribute to Carrie Fisher
Billie Lourd surprised fans on Thursday morning when she welcomed her son into the world.
The Scream Queens actress kept her pregnancy under wraps before revealing a photo of her baby boy's feet on Instagram.
https://www.instagram.com/p/CFie3M8HhNb/?utm_source=ig_embed
She also revealed she named him Kingston Fisher Lourd Rydell; his name pays tribute to Lourd's late mother and Star Wars' Princess Leia Carrie Fisher.
Lourd is engaged to Austen Ryden, the child's father.
Mark Hamil, her mother's co-star, celebrated the good news on Twitter writing, "Congratulations to #BillieLourd & #AustenRydell on the arrival of their firstborn child: Kingston Fisher Lord Rydell!!! I can't think of another baby with both "KING" AND "LORD" in their name. Nice."
Congratulations to #BillieLourd & #AustenRydell on the arrival of their firstborn child: Kingston Fisher Lord Rydell!!!
I can't think of another baby with both "KING" AND "LORD" in their name. Nice. 👍👶🎂♥️ pic.twitter.com/BJrvh8pARe

— Mark Hamill (@HamillHimself) September 25, 2020
Congratulations to the happy couple.
Just yesterday, This Is Us actress Mandy Moore announced she's expecting a baby boy in early 2021.
And pretty soon, Lourd will be able to have play dates her Scream Queen's co-star Emma Roberts, who is also pregnant!
'Schitt's Creek' Launching in National Syndication Following Emmys Sweep
The small town of Schitt's Creek is going nationwide!
After sweeping the Emmys on Sunday, September 20, the half-hour sitcom is coming to a TV near you.
You'll be able to watch the fan-favorite comedy anywhere as it's being launched into national syndication across U.S broadcast markets starting on September 28, per the press release from Lionsgate's Debmar-Mercury, who owns the domestic broadcast rights.
Prior to Sunday's show, the Pop TV original had zero Emmy's, but now, it's being referred to as a nine-time Emmy Award-winning comedy. Talk about bragging rights.
During the 2020 virtual show, it won all seven of the major comedy categories and became the first to win all four comedy-acting categories in one year.
The cast includes Emmy Award winners Eugene Levy, Catherine O'Hara, Daniel Levy, Annie Murphy and Chris Elliott. Rounding out the cast are Emily Hampshire, Jennifer Robertson, Noah Reid, Sarah Levy, Karen Robinson, Dustin Milligan, John Hemphill, Rizwan Manji, and Tim Rozon.
Schitt's Creek centers on an outrageously wealthy video store magnate, Johnny Rose (Eugene Levy); his former soap-star wife Moira (Catherine O'Hara); and their two adult children – the self-described black sheep of the family David (Daniel Levy) and career socialite Alexis (Annie Murphy). When the family suddenly find themselves broke, they have no choice but to move to Schitt's Creek, a small-town Johnny once bought as a joke. Forced to live out of a motel, with their pampered lives a memory, they struggle to find jobs and relationships and, most importantly, figure out what it means to be a family in the loveable town they've reluctantly come to call home.
Debmar-Mercury Co-Presidents Ira Bernstein and Mort Marcus, commented, "What begins as a fish-out-of-water story quickly develops into a nuanced love letter to family, delivered with warmth, humanity and perfect comedic timing. With a gifted cast and whip-smart writing, it's easy to see why 'Schitt's Creek' appeals to Emmy voters, critics and viewers, and has built a loyal and passionate fan base. We are excited to bring the Emmy Award-winning series to broadcast television stations and introduce the iconic Rose family to a new audience."
Previously, Schitt's Creek was available for streaming on Netflix.