INTERVIEW: God Friended Me Show Creators Talk Season Finale Cliffhanger, the God Account, & Cara's Big Move
Sometimes, a season finale is so well done, it could hand itself to a series finale.
If I didn't know the series was renewed for a second season, I would have thought God Friended Me Season 1 Episode 20 was closing the book for us.
Or at least, closing the chapter of the God Account.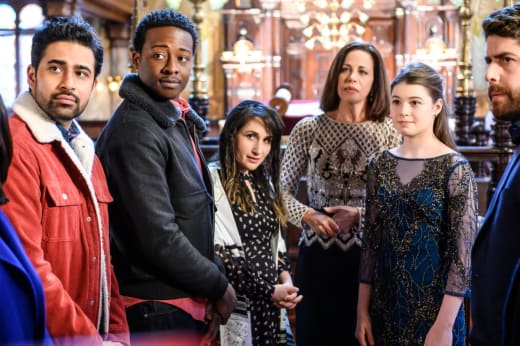 Though Miles, Cara and Rakesh always run into some troubles, everything always has a way of working itself out.
By the end of the hour, it truly felt like Miles' work with the God Account was done and Cara and Rakesh were starting their own journey independent of Miles.
Related: God Friended Me: Violett Beane Teases What's Ahead for Miles and Cara
But then… the God Account flipped the script by bringing in another character into the fold, a woman named Joy, who was friended by the God Account and sent Miles as a Friend Suggestion.
I spoke with show creators Bryan Wynbrandt and Steven Lilien below who said that God Friended Me Season 2 will explore why Miles became a friend suggestion — is it because he knows how the account operates or is it because he needs help this time around?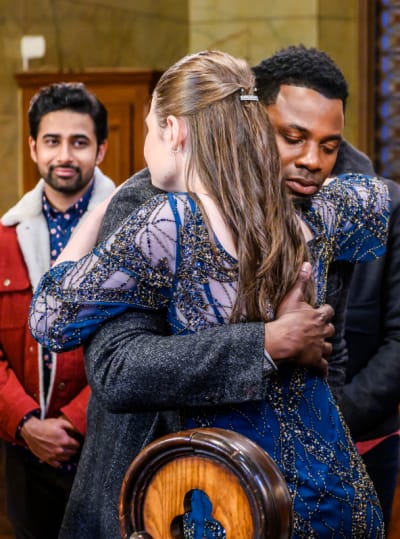 The finale also revealed that Henry Chase is not behind the God Account as previously believed.
After searching for Chase throughout most of the season, Miles, Cara and Rakesh were finally able to track him down thanks to Graham Hastings, a previous friend suggestion who played chess with Falken aka Henry.
Tracking Henry down was nearly impossible for much of the season, so why was it so easy in the end? Why didn't they think of this sooner?!
While we initially believed Henry was the creator of the God Account, upon meeting him, we realized he needed Miles' help just as much as the previous Friend Suggestions.
Read the full interview and review at TV Fanatic!
Follow CRAVEYOUTV on socials
A 'Revenge' Virtual Reunion Is Happening in February with Emily Vancamp, Josh Bowman, and More
Emily Thorne, is that you?
After six years, Hampton's finest are back together again. The cast of 'Revenge' is reuniting virtually this February. The best part? You can be a part of it.
Join Emily Vancamp (Amanda Clarke/ Emily Thorne), Josh Bowman (Daniel Grayson), Nick Wechsler (Jack Porter), and Barry Sloane (Aiden Mathis) on February 6, 2021 for the fun-filled festivities!
Fans will be able to play video games with Barry nd Josh! Per the invite, you can "Play Co-Op or Free-For-All in Call of Duty: Modern Warfare with Barry" or "Play FIFA World Cup with Josh Bowman!"
You can also take part in 1-on-1 virtual hangouts with 2.5 minutes with Josh, Nick, or Barry.
There's an option to snag autographs from Josh, Emily, Barry, or Nick or opt for a personalized video message, which also makes a great gift.
And you can even commemorate the day with a T-Shirt!
According to Vancamp's Instagram story, a portion of the proceeds will benefit St. Jude's, so not only are you getting to catch up with your favorite characters, but it's also for a good cause!
For more information, check out Tixr.com!
'Sex and the City' Revival Officially Happening at HBO Max with Sarah Jessica Parker, Cynthia Nixon, and Kristin Davis
Grab your Cosmopolitan's and your Manolo Blahnik's because the Sex and the City is officially happening.
The start of 2021 may have been a little "meh," but the revival news from HBO Max is here to turn things around.
On Sunday night, Sarah Jessica Parker, who will forever and ever be known as Carrie Bradshaw, posted a teaser to her Instagram page that confirmed a brand new season of SATC.
"I couldn't help but wonder… where are they now? X, SJ @HBOMax@JustLikeThatMax#AndJustLikeThat #SATCNextChapter, " the caption read.
The short clip is accompanied by Parker writing on a computer. The words "And just like that…" flash across the screen followed by "the story continues…"
Both Cynthia Nixon and Kristin Davis shared the video on their Instagram pages confirming that they will be reprising their roles of Miranda Hobbes and Charlotte York Goldenblatt, respectively.
And if that's not enough confirmation… HBO Max put out a press release confirming that the upcoming 10-episode, half-hour season will give longtime fans a glimpse at this next chapter for the ladies.
"HBO Max has given a series order to AND JUST LIKE THAT…, a new chapter of the groundbreaking HBO series, Sex and the City, from executive producer Michael Patrick King and starring Sarah Jessica Parker, Cynthia Nixon and Kristin Davis," the statement read.
"The new Max Original series is based on the book, Sex and the City, by Candice Bushnell and the original TV series created by Darren Star. The series will follow Carrie, Miranda and Charlotte as they navigate the journey from the complicated reality of life and friendship in their 30s to the even more complicated reality of life and friendship in their 50s," it added.
Pop Up Bar 'Cosmo Carrie's' Brings 'Sex and the City' & Cosmos to Chicago
Production is set to begin in the spring, so no release date has been announced for now.
But honestly, this is the best news we've heard in awhile.
Not even COVID can stop these ladies!
The only thing missing is Kim Catrall, who has been very clear over the years that she will never reprise her role of Samantha Jones.
The original series aired on HBO from 1998-2004. It was followed by two spin-off films that premiered in 2008 and 2010.
What do you think of the news? Are you pumped?
'Riverdale' Time Jump: Meet Veronica's Husband (Nope, It's Not Archiekins)
Changes are underway for our favorite Riverdale residents when season 5 premieres and this casting news is not going to sit well with "Varchie" fans.
The CW series cast The Perfectionists Chris Mason to play Veronica Lodge's husband, Deadline reports.
Now, you might be wondering why Veronica has a husband in high school, but the series is planning to time jump several years once it wraps up the remaining episodes from season 4 that were delayed by the COVID pandemic, which include senior prom and graduation.
This all means that in those few years, Veronica and Archie called it quits. Maybe it had something to do with his feelings for Betty Cooper?
First Look: 'Riverdale' Season 5 Trailer Reveals Prom Night, VHS Tape Mystery and More
The casting also reveals that Ronnie will be making her way to the Big Apple following high school as Mason, who will play a Chad Gekko, is described as a Wall Street banker.
And you know how Archie is all easy-going and artistic? Well, that's not Chad at all. Veronica's husband is described as a "controlling and jealous alpha male." Hmmm, sounds like Hiram Lodge, right?
"Chad is threatened by Veronica's life in Riverdale, especially her friendship with Archie," the official description notes.
With Chad and Veronica's relationship already on the outs before it even had a chance to thrive, does that mean there's a chance Veronica and Archie reconcile eventually?
While it's unclear what the future holds, we also know that Vanessa Morgan's real-life pregnancy is being written into the show. Is it a Choni baby? Or has Riverdale's other favorite couple also broken up?
Mason is set to appear in the fourth episode of the series, which returns on Wednesday, January 20, and while we're excited to see how senior year pans out and to finally solve the mystery of those VHS tapes, we also can't wait to see what post-college life looks for everyone!
What do you think of this casting news? Sound off in the comments!