Interview: Jack Messina Talks All Things 'Manifest' Including Bromance with Zeke and Season 3
The characters on Manifest all carry the weight of being "the returned" passengers of Flight 828.
But no character has been more crucial to the storyline and the overarching mystery than Cal Stone played by the brilliant Jack Messina.
Despite being the 'holy grail,' the 11-year-old has infused Cal with depth, wit, and innocence resulting in one of the brightest young characters on television. On Manifest Season 2 Episode 13, he befriended and evaded his kidnappers, he's helped his father, Ben Stone, decode many Callings, and he's the reason Zeke is even in their lives.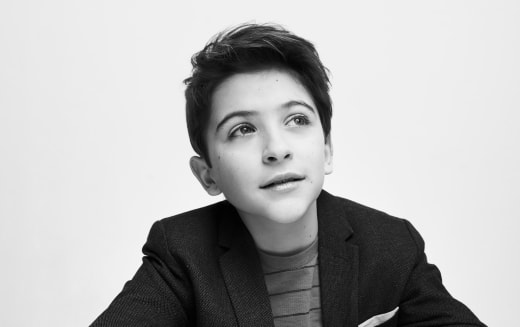 Cal may just be the answer to all of our burning questions.
Thankfully, off-screen, Messina's life is less focused on plane conspiracy theories and more rooted in enjoying his time on set, honing in on his craft, and schoolwork.
Check out the interview below:
The season finale of Manifest was wild and you did a great job as Cal! What insight have you gotten about where his storyline might go in season 3?
I have zero insight on where Cal's storyline might go. Every episode surprises me, and the cast is never told ahead of time what is going to happen. I can't wait to see though.
Where are we at on a season 3 renewal? Manifesters are hoping you have some good news for us!
I haven't heard anything yet about season 3, but the Upfronts are coming in May. We should know by then.
Cal initially brought Zeke to the Stone family through a Calling, and Zeke returned the favor by saving Cal from the kidnappers. Does their connection play deeper into the story?
I think it will. Cal and Zeke have a special bond. I'm sure it will continue.
Is the flash of light that saved Zeke the same one that affected Flight 828? Why did he survive?
I don't know for sure, but I think it's a good guess that the lightening is connected somehow. I think Zeke survived by saving Cal.
Follow CRAVEYOUTV on socials
'Manifest' Season 3 Teaser Focuses on Tail Fin in the Water – What Happened to Flight 828?
When NBC renewed Manifest for a third season, Manifesters jumped for joy. Celebrations only intensified when it was revealed the season would return as part of NBC's fall 2020 lineup in September (or late October given COVID delays).
The trailer released by Manifest hones in on the question we've all been asking ourselves for way too long: what happened to the passengers aboard Flight 828?
Pieces of the second season are spliced together to amp up fans, but there's a huge focus on the specific and major cliffhanger of the fishermen finding the tail fin of the plane in the water. My guess is that tail fin finding is going to propel the series into new and unexpected directions.
Here's what we know to be certain – Flight 828 landed five years after it took off from Jamaica. Upon landing, it exploded in front of all the passengers. Therefore, it's very unlikely that there would be a tail fin floating around in the water.
There's a huge assumption that the tail fin is part of the plane, but it could also be a decoy plane used by the government since we obviously know the government is involved. Maybe they wanted people to think the plane sunk? And they took the real thing to inspect? The government wouldn't be reckless enough to dump the real thing in the ocean.
Users pointed out that when the plane exploded, it didn't actually show the tail fin getting destroyed, so it could be the real thing.
However, another interesting point is that the tail fin being pulled out of the water and the one from the exploding plane look different. It could be another side of the fin, it could be a filming continuity error, or it might not be the same tail fin at all.
There's a chance it's from a different plane. Personally, it looks like it would be from an older model aircraft, so maybe it's from a plane that crashed prior?
Or maybe it's a plane that the survivors will board to try to defy the death date?
Interview: Jack Messina Talks All Things 'Manifest' Including Bromance with Zeke and Season 3
The fishermen are fully aware that Flight 828 returned, so we know that this timeline exists alongside the passengers and in the same dimension.
There's also the possibility that this is the "silver dragon" from the storm episode, which pointed to the possibility of this mystery happening once before in a "lightning always strikes the same place twice." Maybe that Calling was showing them that this is where the plane went down — an "X" marks the spot kind of moment.
Series creator Jeff Rake had this to say about the tail fin, if it offers you any insight: "We saw that plane land in New York. We saw that plane blow up on the tarmac at the end of the pilot. So how can a plane have landed and been exploded and then also be found at the bottom of the ocean? Once the entire world finds out about this tail fin, that's going to re-trigger the global scrutiny and paranoia about Flight 828 and its passengers."
Could it be that the passengers aren't even real? Rake has considered it: "Does this mean that the passengers are not the passengers? And if they're not the passengers, who are they? That's going to be a season-long, science-based, science meets mythology investigation. For those who have been feeling that the episodes have become a little science-light or investigation-light, they have a lot of good material coming down the pike."
We'll have to wait a few more months to get to the bottom of this mystery.
Until then — share your best theories in the comments below!
With Father's day coming up this weekend, it's time to show some appreciation for the fathers that go above and beyond.
The worlds of science fiction are difficult to navigate as they push our minds to think and imagine in complex ways, and fatherhood in these worlds is no easy task. Many stories in these worlds, sometimes optimistic and sometimes pessimistic, stem from broken childhoods and a need to persevere beyond unavoidable circumstances. Still, these stories can also bring a spotlight to loving, supporting relationships.
So here's to the Dads!
BENJAMIN SISKO
Commanding Officer. Captain. Emissary to the Prophets. Husband. Father. Benjamin Sisko experiences his fair share of trials and tribulations throughout his time on Deep Space Nine, but despite the heavy load on his plate, he never failed as a role model to his son, Jake. The relationship between Jake and Benjamin still resonates today, as Ben guided Jake with a gentle hand, existing as a support system for his son, while still allowing Jake to make his own decisions and his own mistakes. Unlike many fathers may have, Ben didn't push Jake into following his footsteps to become a Starfleet officer, but he supported him as Jake found his calling as a writer.
While Benjamin Sisko acted strong, steadfast, and bold as Captain of Deep Space Nine, Jake (as well as Benjamin's other friends among the crew) elicited a softer, gentler side of the captain. Benjamin's Sisko's familial relationships display the different layers of healthy masculinity and outstanding representation between a son and father. His heavily-reciprocated love manifests in Jake's lengths to rescue his father in one of Deep Space Nine's best episodes, "The Visitor." And although Benjamin had to leave his family behind ultimately to answer a higher calling with the Prophets, he left Jake as a fully-realized individual, strong and good-hearted, capable of carrying out his father's legacy until his return.
MONTY GREEN
Monty Green left behind a legacy too important to ignore. Although willing to do sometimes drastic things to help save their people, Monty always looked for another way to do things. He aspired to refrain from violence and preached peace. Despite Monty's limited time as a father during The 100, his son, Jordan, exists as his legacy, and a culmination of all the things Monty and Harper held dearly. Jordan continues to try to follow his father's wishes and morals, reminding Clarke and the others in charge of what his father was about. He doesn't only exhibit Monty's moral system, but he also displays curiosity and playfulness passed down.
Jordan is smart, caring, determined, and kind, things that only his parents could have taught him considering Monty and Harper were the only people he met throughout the first two decades of his life. Even though Monty's time as a father wasn't explored on-screen, Jordan's standing as a good-hearted and passionate man is all the proof needed to see exactly the type of father Monty was.
JAMES COLE
12 Monkeys doesn't always ring a bell to science-fiction fanatics, but the time-travel stories that the show tells regarding love and dedication should resonate with any audience. James and Cassie are the parents of Athan, who later is revealed to them as The Witness, a being responsible for the apocalypse and end of the world as they know it. Despite this revelation, James Cole sacrifices his life over and over again for his family, even as he knows that his son could bring about the end of the world. James never stops looking for Athan, and when it comes down to it, his connection to his son prohibits him from committing an act that would take Athan's life, even if it could potentially save the world. James knows that the end goal should be to stop his son, but instead, he still pushes to save him.
What James Cole actually and desperately wants is to live a regular life with Cassie and their child, and this complex relationship between knowing what is best for the world and what his heart desires makes for a compelling conflict. In the end, Athan ends up creating his own path separate from the seeming destiny implied to James and Cassie and sacrifices himself for his family and the world. James Cole is a loving and passionate character. Although he wasn't able to rescue Athan, his complicated relationship with his son once again showcases the undue burdens placed upon heroes and how personal love is powerful enough to affect the world on apocalyptic-level scales.
Due to James and Athan's actions, however, James gets another shot when everything is said and done — he gets the opportunity to be a husband, a father, and a person. He even defies the laws of nature to retain his memories of his past life, and most importantly, the family he managed to create throughout it.
PRAXIDEKE MENG
When the disaster on Ganymede occurs, Prax's life is uprooted, with his daughter seemingly killed or lost. In a journey that leads him back to Ganymede, Prax will stop at nothing to find his daughter after receiving hope that she's alive in the form of a security feed. The search brings them to Io, where Prax finally locates his daughter. However, even as Prax believed he could do anything to rescue Mei, he still cannot execute the man responsible for her suffering, and instead, leaves his good friend, Amos, to do the deed.
The world of The Expanse remains enormous as one of the most fleshed-out universes on television. Prax, willing to go to many lengths to rescue his daughter, even when all of the odds seem against him, is admirable. Even though his goals don't exactly line up with the Rocinante crew, he adds value to the team, albeit he still leaves his new crew after rescuing his daughter But that's what makes Prax both a hero and a dedicated father: the ability to face the world when his daughter needs it, and the ability to let it go when finally reunited with Mei.
PETER BISHOP
Peter Bishop underwent significant development over the run of Fringe, but perhaps one of the most interesting changes is his journey from a typical nomad bad-boy to a husband and father. Like many other science fiction stories, Peter's time with his daughter, Henrietta, is cut short when the Observers invade, and Henrietta must live out her life, while Peter is frozen in amber. When 'Etta' frees him in 2036, he finally is reunited with her, and they team up in attempts to restore the world to what it should be.
But with a story like this comes more tragedy, and Etta's ill-timed death sends Peter into a spiral of grief, pushing himself to great lengths to avenge her death. Olivia, however, convinces him to return to himself. In the end, it's the power of his love for his family and the loss he experienced when the Observers invaded that drives him and the others to defeat the Observers, correcting the timeline and piecing his family back together. The connection between him and his daughter (and also him and his father) was what ultimately gave Team Fringe the ability to persevere even despite the short time Etta was in Peter's life. And because of that love, Peter can raise Etta without the grief of losing her time and time again.
DANNY FROM MANIFEST
While Danny isn't Olive's biological father, he plays a vital role in her life with the absence of her brother, Cal, and her father, Ben. Danny comes into the picture after bonding with Grace, experiencing a similar loss of his wife, but the relationship he develops with Olive goes above and beyond expectations of the boyfriend of her mother. He steps in and becomes someone Olive can count on, as she grieves in a way different from Grace. Even as Ben and Cal come back into the picture, Olive still feels that she can count on Danny, calling him and speaking to him, even when his relationship with Grace changes due to the reemergence of Ben.
Danny never appears to act selfishly, but with understanding and concern for Olive. He doesn't attempt to replace Ben, but rather be a person that Olive can depend on for understanding and guidance. Danny and Olive's relationship and the love Danny gave Olive deserved more than a quick write-off, especially considering little consideration given to him by Grace after she figures out she's pregnant and not by Danny. Even if he wasn't Olive's biological Dad, he still deserved a place in Olive's life too. But unfortunately, Danny all but vanishes from the narrative left to grieve another loss of family.
JOHN ROBINSON
John Robinson isn't the perfect father, but the connection he has to his family is unbreakable, despite his mistakes in the past. Not unlike the previously mentioned, Danny, he didn't birth Judy but became the only father figure she knows. Even when things became complicated with his wife, his dedication to his children never waned. The decision made by the family to participate in the colonist program brought them back together and gave him the chance to mend the bonds damaged by his desire to serve.
But despite their rocky past on Earth, John is essential for the family's dynamic, and through his absence, he was still able to teach his children, most evident in the strong bond and skills that Judy possesses as she takes after her step-father more than her mother. Despite adopting Judy, John always showed his pride in her, and never tried to erase the existence of her father, who also became lost in space. John shows the different ways people can love their children, by blood or not, and how this love can drive them to improve, even when so much time and conflict has passed. For more on John and Judy's relationship, I would recommend watching the second season episode "Run," perhaps the most beautiful frame and compelling episode of the rebooted series.
Who are your favorite sci-fi Dads? Let us know below in the comments or tweet us at @craveyoutv!
'Manifest' Renewed for Season 3 on NBC!
Buckle up, Manifesters. Season 3 is official a "go!"
After much anticipation and deliberation, NBC has cleared Manifest for a third season takeoff.
https://twitter.com/NBCManifest/status/1272722553845411840?s=20
Fans of the serialized drama waited patiently for months following the April season 2 finale as the network weighed its options.
According to Deadline, the renewal boiled down to the network and the studio, Warner Bros Television, working out financial details.
The renewal restores the hope that fans will finally find out what happened to Montego Air Flight 828, which disappeared on its way from Jamaica to New York only to land five years later without any time passing for the passengers on-board.
Interview: Jack Messina Talks All Things 'Manifest' Including Bromance with Zeke and Season 3
As the passengers are given a second chance, they also become connected through Callings that lead them on a dangerous and adventure-filled journey for the truth.
In the finale, the cliffhanger found men at sea pulling pieces of the "missing but returned flight" from the water.
Show creator Jeff Rake responded to the exciting news writing "Boom."
BOOM.

— Jeff Rake (@jeff_rake) June 16, 2020
The official announcement also included Rake's season 2 recap!
The series, starring Josh Dallas and Melissa Roxburgh, joins previously renewed shows The Blacklist, Chicago Fire, Chicago Med, Chicago P.D., Law & Order: SVU, New Amsterdam and This Is Us.
Not all on-the-bubble dramas were as lucky. Indebted, Bluffy City Law, and Sunnyside were all canceled.